Recently I caught up with an old friend, Bastian Gründler from Germany, whom I have known since his years of playing college tennis in the U.S.A. He grew up playing tennis in Germany before moving to the U.S. to play college tennis for the University of Alabama in Birmingham (UAB) – his brother Philipp played for the UCLA team that won the 2004-05 NCAA Championships. He went on to get his Sports Science diploma from London Metropolitan University in England. He continued to play tennis and went on to win in 2010, the British Universities & Colleges Sport (BUCS) UK Individuals Singles & Doubles Championships, as well as the Team Competition with his university team.
He now works for PACIFIC – a German Tennis goods manufacturer. The company was the Official ATP-Partner for Strings, Grips and Stringing Machine in the years 2007-2012. Having acquired Fischer Racquet Division in 2009, PACIFIC today is a full-range supplier and one of the major players in the string and racket industry.
I have often intended to do Q & A article with faces in the industry, and I believed holding one with Bastian would be a perfect start to the "Sitting Across Mertov's Tennis Desk" series.
Bastian, for starters, can you please provide a brief background of PACIFIC?
BG: PACIFIC Entermark GmbH started as a distribution company for various sports goods, founded in the early 70's. Our own PACIFIC brand has grown stronger over the years, due to high quality production & innovative products. With the quality label 'Made in Germany' – PACIFIC manufactured the 1st electronic Stringing Machine in the 1980's. The company was famous for their own Natural Gut production, equipping world's best player such as for example John McEnroe. As much as the company has grown, it still remains 100% family-owned, with its headquarters located in Stuttgart, Germany. Even with all the revolutionary developments, you still see the best players relying on traditional products! A great number of today's Top 100 players, actually more than 60 out top 100 players, prefer 'Hybrid Stringing' – a mixture of Natural Gut strings combined with synthetic materials. Gut strings provide elasticity and power factor, while synthetic strings provide control & accuracy factor.
What is your area of responsibility with PACIFIC?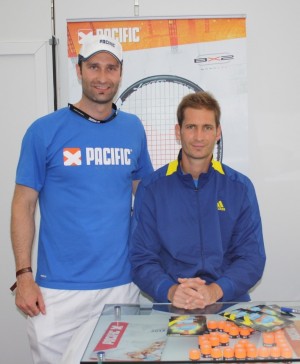 BG: I have been with PACIFIC for 4 years now, and I am working within two divisions at PACIFIC. One the one hand I work with the Int. Sales department where all efforts are combined, providing our worldwide sales partners with everything PACIFIC's got to offer. On the other, I am responsible of the division of 'Global Brand & Player Services on ATP / WTA & ITF Tour'. Together with Tom Parry, our Player Services Director, I am looking after all our sponsored players (see picture with the current ATP #30 Florian Mayer during a signing session), as well as scouting upcoming talents and potential future champions. Furthermore, PACIFIC works closely with more than 250 coaches worldwide, because one of our central concerns is to educate tennis players, improve their 'material knowledge, more importantly, instill the importance of the service factor in tennis.
Can you further elaborate on this aspect that you refer to as the service factor?
BG: By saying 'service factor' I am underlining the importance of serving and educating the
customer with an in-depth knowledge of the full range of products that we have to offer. The company has been holding material & service seminars all around the globe throughout the last +40 years educating sales partners, industry and also consumers on fundamentals. The company's foundation in manufacturing Strings & Grips provided ground for such seminars, demonstrating the actual function of Accessories to the racket itself. Without a motor, no car could move an inch. Without Strings, a racket cannot be used to perform, therefore the Strings are often called 'the engine of the Racket'.
At PACIFIC, we provide our players with best materials & advice. My job is to interact with Players, and also deliver my advice and services onto our global distribution network, retail partners and Tennis specialist stores. It's a well-functioning combination of Sponsoring, Marketing and – obviously what's most important for any company – Sales.
PACIFIC is one of the top companies in the industry competing for the world market for hard goods, especially rackets. Where do you see PACIFIC's current status and in what ways can PACIFIC hold an advantage over its competitors?
BG: A large portion of the tennis market for hard goods, especially rackets, is held by Babolat, Head, and Wilson. However, PACIFIC has become a strong contender for the number 4 position and we plan to aim even higher. Traditional brand names are fading, and loosing share to current major players. It's important to develop & grow key markets, but also invest on your foundation. PACIFIC products are recently available in +80 countries through active distribution network.
PACIFIC's product range provides high quality performance products in all segments, being full-range supplier (except shoes). There are many companies out there, that produce 1 or 2 good products in just 1 category, may it be 'Racket' or 'Grips', while PACIFIC is growing as a strong performer in all product categories.
Bastian, this all sounds interesting in the scope of the industry's ins and outs, but how does it help the consumers in the general population, in other words, your everyday tennis players in the clubs and tennis fans who picked up the game?
BG: Let's give the example of a great champion and work our way to all tennis players. Just like Roger Federer did when switching to a new frame, every tennis player, regardless of their level, should ask themselves the following question: "What is the best product(s) for my individual performance?" A couple of years ago, I was at a tournament in Switzerland. In the evening, I was walking by some local courts when I noticed a senior player who looked to be about 80 years old. It was obvious that he was barely able to hold on to his 'preferred' racket. It turned out that he chose Federer's heavyweight, small head-sized racket to play, and I can assure you that he was not enjoying his Sunday evening performance. So, I walked up to the court and asked him who on earth recommended that frame to him. He responded that he went up to a Tennis retail store to buy the World #1's racket, because that racket 'must obviously be the best one on the market'.
Here again it is my job to combine multiple perspectives such as understanding the player's mind in connection with the game's different facets, analyzing market trends, providing feedback for today's world's best athletes, as well as the consumers. I need to respond to the demands of the professional players as well as the Swiss senior club player. I follow closely the requirements of products, and I seek answers to questions such as how to match products to the individual player's ability and how to enhance performance and while maximizing the joy of playing tennis. What does the player require from his/her product? What are the deciding factors for tennis players & consumers when choosing one brand's product over another? My job is to not only answer these questions but bring in different perspectives and angles to various individuals according to their abilities.
During the 2012 London Tour Finals, PACIFIC Tour Coach Robert Davis (long-time Coach of Aisam Qureshi) held a Kids Clinic (see picture below) instructing young Tennis learners how to mount a grip band. It starts with the simple things.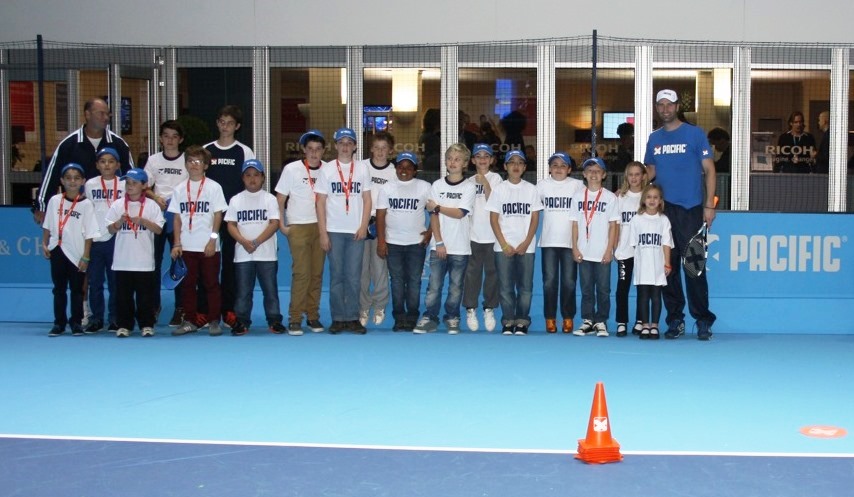 It seems that racket and string technologies have evolved tremendously. Companies are always introducing new models, different technologies with flashy names. I can't even count all the different names given to the various stringing materials. How do you keep up with all this?
BG: Actually, the shape of tennis rackets has practically not changed throughout the last 50 years, while materials absolutely did! Back in the days, rackets were wooden, heavy, and not comparable at all to today's high-tech frames. Then came along a racket made from aluminum, then another from carbon, and yet another from graphite. Eventually, the manufacturing process was industrialized because the technology side became too important for the business. In 2009/10, PACIFIC acquired Fischer Racket Division, a company who has equipped Slam winners such as Michael Stich or Yevgeny Kafelnikov. Starting the company's first own racket production in 2010, PACIFIC and Asa.Tec, a research and development company specializing in raw materials, pioneered in utilizing basaltic fibers during the process of racket manufacturing. In a highly complex process, Volcanic rock is melted and extruded in the form of continuous fiber which is then strategically positioned in PACIFIC tennis rackets, providing enhanced comfort and precise feedback. In short, you asked me how I keep up with all the developments. We are part of the innovations and actively involved in the developments, thus it our job to know everything inside and out.
Considering all your interaction with the players, have you seen any players express strange concerns, or make unusual demands with regards to their equipment?
BG: Absolutely. There is this one top-female contender, who does not want her Grips being touched and prepared for the match by anyone other than her coach! There are several Tour players out there who do not want ANYONE to touch their match rackets other than their trusted personnel or entourage.
Roger Federer was one of the first players to consequently change frames before every ball change because his preferred string tension drops during match play. Today's tour players are very sensitive with their materials, and I mean this in a positive sense. Same with coaches, physical experts and trainers; with regards to material, no stone is left unturned in order to enhance performance. Material experts and specialists are brought in to tweak here & there in order to figure out little advantages for the player.
Bastian thanks for your time. We will keep in touch. Any last word to the readers?
BG: Thanks for your time, and my best advice to the readers: pay attention to details when you get your equipment, and try at least a few varieties before settling on one.