Roger Federer may have missed his best chance to add the Monte Carlo Masters 1000 title to his resume by losing in the finals to his compatriot Stanislas Wawrinka, but there is little doubt that he is the ultimate winner in terms of managing his public profile more profitably than any other athlete in tennis – perhaps in sports. The number of records held by the 17-time Slam winner probably overlaps that of any other player in the history of the game. Nevertheless, his career earnings in prize money from his athletic performances pale in comparison to his yearly income from endorsements from companies such as Nike, Rolex, Credit Suisse, Moet & Chandon and Wilson. In fact, the amount that he earns from endorsements in just two years – around $95 million – surpasses the amount that he has earned throughout his career in prize money – over $80 million and counting.
If one needed an example of how Federer & his PR team successfully negotiate his impeccable image, they need not look any further back then the series of announcements and press conferences since Federer's public acknowledgement back in December of 2013 that he and his wife were expecting their third child. The brief and celebratory announcement that hit the waves via twitter included one sentence: "Mirka and I are very happy to share the news that Myla & Charlene will be big sisters in 2014! Happy Holidays." No other information was provided and there is good reason for that.
Since then, Federer, who notoriously – and rightfully – draws a clear line between his public and private life, rarely mentioned anything about his wife's pregnancy during any press conference, outside of a few words here and there indicating how happy they are. He made statements that were designed to uphold the image of a tightly-knit family, and that image is not hard to maintain because it comes naturally. Federer has always affirmed how much his family means to him, and he has frequently praised Mirka's role in his success. There is no doubt that the happiness that Roger and Mirka and their children display has very little to do with image. They are a very close family.
Peculiarly, or so it seemed at first, none of the announcements included a due date. In this day of improved medical technology, due dates can often be estimated to the exact date, if not within a week of delivery date. However, on each occasion that a journalist initiated the 'when-abouts' of the due date during the press conferences, Federer's reply has been a consistent "I don't know." Some saw it as pandering to the media, while others simply felt that he could opt for honesty and choose to say that he refuses to answer the question. I believe anyone who has had any experience with the media can agree that the latter option goes nowhere with media members. The pandering option is not Federer's style either. He is no Vitas Gerulaitis who gave details of his night life or Boris Becker who has a reputation for wanting to be in front of any camera including the one that you set up in your garage. In fact, when journalists insisted in the Indian Wells tournament, he simply said that even if he knew the date he would not tell them. It's his way of saying "move on to the next question."
Shortly before the Monte Carlo Masters, the tournament organizers announced that Federer will indeed be a part of the field, accepting a Wild Card. In the social media, some speculated that it may have to do with his intention of solidifying his ranking in the top 4 (he is currently ranked #4). There were others that he wanted to try one more time to see if he could capture one of the rare titles that have eluded him. On the Tennis Channel they speculated that he wants to gain more points in case he has to miss a big tournament due to the delivery of their child. However, if I am connecting the dots correctly, I see an even more nuanced picture, one in which the Federer camp is carefully treading the line between providing too much information to the media and making sure that he can make the most of the clay court season during a period where the delivery date falls on a delicate time.
After his second round win over Radek Stepanek, Federer had to deal once again with more questions on the expected delivery date. Once again, he handled them masterfully. He revealed that he would put the birth of their third child ahead of any tournament saying all the right things about how supporting his wife was a "priority" to him. When pushed a bit further and asked if he was willing to miss the French Open specifically, he once again crafted his message to imply that the questions should stop there as politely as possible: "Yeah, let's talk about it when it would happen. At the moment we hope it's not going to be that way." Then, he added "If it is, that's what it is, you know." He essentially came across as a great family man, a dedicated competitor, while not committing to any obligations before due time.
Seeing how delicately Federer is handling the flow of information, I do not believe it is a stretch to assume that the delivery date falls around the French Open: perhaps around the beginning, or late in the second week. If Federer were to announce the date, it would put him in the position of either withdrawing prior to the French Open, or forfeiting a match late in the tournament, making him appear somewhat inconsiderate since everyone would know that he went into the tournament with the knowledge that he would not play it out. If my speculation (and it is not much more than that at this point) turns out to be the case, it would make sense for Federer to avoid revealing the date in order to keep his options open.
For example, if the due date coincides with the final weekend at Roland Garros and Federer has made it that far, it would certainly render his decision to play the final (again, if he makes it that far) more acceptable in the eyes of the public. In another case, if the due date falls within the first couple of days of the tournament, I believe the tournament director would gladly honor his request to schedule his match on the last day of the first round matches, or even in an unusual move, schedule it on the first day of second rounds (provided ATP regulations has no mandate against that). Neither the participants nor the tennis world would perceive that as preferential treatment in the case of a man who puts his child's birth ahead of his work. French open tournament director Gilbert Ysern would happily make that adjustment rather than lose a prime name in the draw. However, none of those options would remain if he were to make an early announcement about the date, basically forcing him to withdraw earlier, even if in hindsight, the actual delivery date would have shown that decision to be a hasty one. Of course, these are mere speculations and Federer may announce the date sooner than later. The string of announcements do however show an intention by the Federer camp to wait as long as possible prior to making a final decision in order to keep the options open.
In any case, this article does not intend to judge Federer's business decisions or his decision-making process in family matters. It simply shows how well he and his camp are handling the situation despite him being the highest-profiled tennis player, and one of the most prominent sportsmen and/or celebrities in the world (a google search will reveal several Forbes' rankings indicating just that). Whatever the outcome of his child's birth, he will come out of this squeaky clean, with his image untarnished, as well as with earning the maximum amount of points to keep his ranking up, thus remain a contender on the tour. The case of the timing of the birth of the Swiss star's third child and how efficiently Federer's PR strategy relates to it should be a case study for all other sports celebrities in order to analyze how they could improve theirs.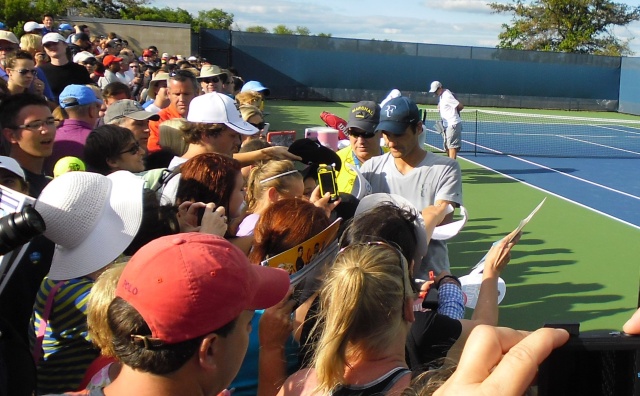 Federer signing autographs for his fans in Cincinnati (2013)