Since the eliminations of the top 3 seeds Serena Williams, Li Na, and Agnieska Radwanska in the early days of Roland Garros, the few left who were still daring to make predictions called on two names to meet in the finals: Maria Sharapova and Simona Halep. To their relief, the two players stayed the course and reached tomorrow's final match, although not without some difficulty in Sharapova's case.
Logic would dictate that with all her previous Slam titles and her mental toughness, Sharapova should overcome yet another challenge by a newcomer to the elite world of "big time" in WTA in the form of Halep. She has already held off challenges by the so-called the 'new generation' by recording remarkable comeback wins against Garbine Muguruza and Eugenie Bouchard, and one other against a proven player in Samantha Stosur. She came back to win in three sets after losing the first against all three. Especially her win against Bouchard deserves special mention.
The 48 hours leading up to the match, a photo of Sharapova taken with an 8-year-old Bouchard circulated all over the social and main stream media, courtesy of the editor at TV Guide who initially posted it on Twitter. The effects of this picture, coupled with Bouchard's reference to Sharapova as her idol – 'back then' Bouchard specified, adding that they are "not friends" now – when asked about it, transformed the match into the image of a champion who stands to cede her younger rival the status of the revered champion and let the newcomer take her place. This was reminded to her more than once in the form of direct question – how did she feel about playing someone who took her as an idol when she was young? –, and in the form of newspaper articles and TV spots, in case she followed the media. She even had to respond to the last-second question by the colorful French TV personality Nelson Monfort on screen right before she walked on the court. He asked her how she felt about being the favorite and Sharapova, probably sick of the hype, bluntly answered that there could be no favorites in a match like this, and walked out. If she lost she would drop out of top 10, and Bouchard would enter it. Thus, it was under tremendous pressure that the Russian took her first steps to the court. To exasperate things further, the Philippe Chatrier crowd overwhelmingly supported Bouchard throughout the match. In short, Sharapova played a match where all the elements worked against her and she had everything to lose, while Bouchard stepped on the court as someone who had everything to gain from a victory.
So, one can understand when Sharapova celebrated her victory as if she won the tournament after her courageous comeback from a set down again. It was not happiness or contentment that she manifested. It was relief! I am not a big Sharapova fan, but I admired her tenacity, her sheer will to find a way to win, or refusal to lose. I believe that she will enter the court much more relaxed against Halep, an recently established top 5 player. She has already passed the toughest mental tests against Muguruza and Bouchard. She will play a match in which she is not the clear-cut favorite, although she is the slightly on paper. Her main advantage is her experience and her awareness that she can accomplish what is necessary when clutch moments arrive.
In contrast, Halep has steamrolled through the tournament, just as she has steamrolled through the last 12 months. If one was to pick the best player on the WTA Tour without a Slam title in the last 12 months, it would be Halep without a doubt. Yet, she has never been to this stage in a Slam tournament. Will that be a factor? It sure did not in her first semifinal in a Slam against Andrea Petkovic. She played the best tennis of the tournament by any player in the first set of that match. Her biggest strength is her footwork. She is able to move around the ball in small steps and get in position better than anyone in the current generation and probably better than any player since Arantxa Sanchez-Vicario of Spain, the French Open winner of 1989, 1994, and 1998. Her forehand is lethal and she does not seem to have a clear weakness.
If the past was not considered and tennis history began in the last 12 months, it would be a 50-50 call. Halep has numerous titles on every surface, skyrocketed to the number 4 ranking. Sharapova recovered from an injury the latter part of 2013, and has won Stuttgart and Madrid. In Madrid and on clay, she did beat Halep in three sets. When the past and the aura are added to the equation, the balance tilts in Sharapova's favor. She has been to this stage, and has won Slam titles. Halep will play in her first final. All indications show that it has the potential to be a final for ages. Let's hope it turns out so.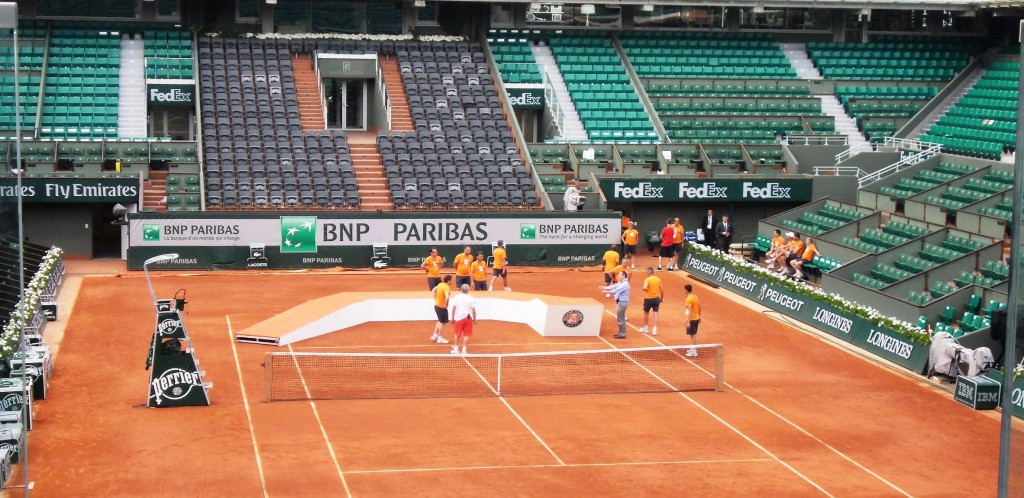 Friday evening – Trophy presentation ceremony rehearsal on Philippe Chatrier