Back in my college coaching days, my ex-roommate and life-long friend named Michael Kreider originally from Buffalo, NY, and a current tennis pro in Atlanta, said to me one time "you are only as good as your second serve." At the time, I would make my team practice second serves as part of our daily serving routine. However, after Michael's reminder, I began designing drills specifically geared towards making my players feel under pressure, and force them to serve second serves under those circumstances. Eventually, I got on the same page with Michael and began believing that second serves were just as important as any other single shot in tennis, if not more. You may have even read one of my pieces where I praise Raonic, Federer, and Isner for being, in my opinion, the best second-serve hitters in the game.
Let's take a quick look at the Wimbledon Men's Draw from the perspective of second serves.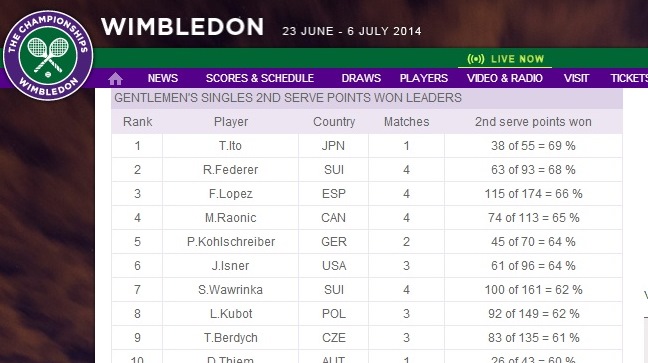 There is a stat called "2nd serve points won" and you can find it on Wimbledon's website. Three of the quarter-finalists are in the top 8 of that list (see picture above). At number 1, there is Tatsuma Ito whose percentage is based on one match only since he lost in the first round, thus not very indicative of the overall second-serve effectiveness. At number 2, 3, and 4, we have Roger Federer (68%), Feliciano Lopez who lost today (66%), and Milos Raonic (65%). At number 7, there is the guy who took Lopez out, Stan Wawrinka (62%). I will also add as a side note that, on the women's list in the same category, after Kristina Pliskova, who also played only one round, you can find Petra Kvitova at #2 with 64%, and Simona Halep at #3 with 63%.
But wait! It does not end there.
It is generally accepted that the serve is an essential factor in playing successful tiebreaks. Until today, Lopez was 6 out of 7 in tiebreakers in his first three rounds. Today he lost two tiebreakers to Wawrinka who is third on the list among the players still alive in the tournament. Additionally, Federer is the leader of the career tiebreak winning percentage category on the ATP Tour.
No, it still does not end there.
Here is an incredible stat from today: against Tommy Robredo, Federer lost only one – yes, ONE – point on his second-serve points in the first two sets combined! Furthermore, since second serve is the shot that determines if you double fault or not, I should add that Federer had 0 – yes, zero! – double faults today, despite hitting them well enough to serve-and-volley on several of them. In fact, today's four quarterfinal winners had a total of only 8 double faults between them. Half of those came from Nick Kyrgios who more than made up for that with his 37 aces against Rafael Nadal.
Is it becoming clear how important second serves are yet? If not, here is one last tidbit…
Out of all 8 men left in the singles draw, Dimitrov and Kyrgios have the highest number of double faults per match. They both average just below four double faults a match. They also average 10 aces (Dimitrov) and 26 aces (Kyrgios) per match. Next, there is Marin Cilic at less than 3 double faults per match and he is averaging 24,5 aces per match. The other five quarterfinalists are averaging less than two double faults per match.
Three of them are still in the tournament in the men's draw. Watch Raonic, Wawrinka, and Federer, on their second serves, and you will see the variation on the spin, slice, speed, and placement. That is why these three players love the pattern of putting the next shot away with their big forehands (or even volleys in Federer's case who serves-and-volleys on second serve occasionally), because they get a number of returns back from their second serves that are placed exactly where they want them for the winning shot.
Does all this mean that a tour player cannot win without a terrific second serve? No, but it does mean that if a player wants to succeed at the highest level, second serves will have to be incorporated into his/her practice routine, just like any other shot in tennis. Not just "serves," but specifically "second serves".