The Case of Zarina Diyas (#52) vs. Irina-Carmelia Begu (#62) – WTA Cincinnati 2014, First Round – Diyas wins 7/6 7/6
On a rather windy morning, two players that have never met each before entered Court 10, one of the "outside" courts at the Western & Southern Open WTA Premier Event. Both Zarina Diyas of Kazakhstan and Irina Begu of Romania came through the qualifying draw. On the one hand, since this is their first meeting, I can understand (to a degree) that they may not know each other's' strengths or weaknesses down to the last detail. On the other hand, isn't that why the players have coaches? Isn't that why they talk to other players or coaches on the tour to get bits and pieces of information on the next opponent? I am not sure if this was the case for Diyas, but there is no doubt that Begu could have benefited from some quality scouting, especially in a match like this where the balance hangs on a very small number of points.
Diyas is a solid baseliner who likes to drive the ball on both sides rather flat, with some spin at times. Her shots can penetrate the court and derail an opponent because they do not bounce particularly high. She is a short girl and likes to contact the ball below the shoulder level, preferably low. Needless to say, her best results have come on fast surfaces, with a third-round breakthrough appearance at this year's Australian's Open and a fourth-round appearance at Wimbledon little over a month ago. She likes to direct the point with her forehand and driving through the ball, especially if she can make contact with the ball at about hip or knee level. Begu is also a baseliner who has more variety in her game, very characteristic of players with a European pedigree, having developed skills by practicing mostly on red clay. She can hit drop shots, heavy topspin, angle shots, and even mix in an occasional slice.
As the match began and I saw point after point, I was a bit surprised that Begu kept on holding rallies with Diyas where she was hitting the ball with the same pace, trying to be aggressive at times, and going for winners at others. This type of game played into Diyas' hands as she gained momentum and began to strike the balls with perfect timing. My surprise turned to downright bewilderment by the end of the match, because Begu attempted to play a Sharapova-like game, in other words, hit the balls hard to the corners, and go for winners by out-hitting Diyas. She did not drop shot or use angles much, but more importantly, she did not try to make Diyas hit the kind of shot that makes her uncomfortable, which is any ball above her shoulder, especially on the forehand side! As you can see in this picture, Diyas hits an open-stance forehand which gathers force from the right foot rotation: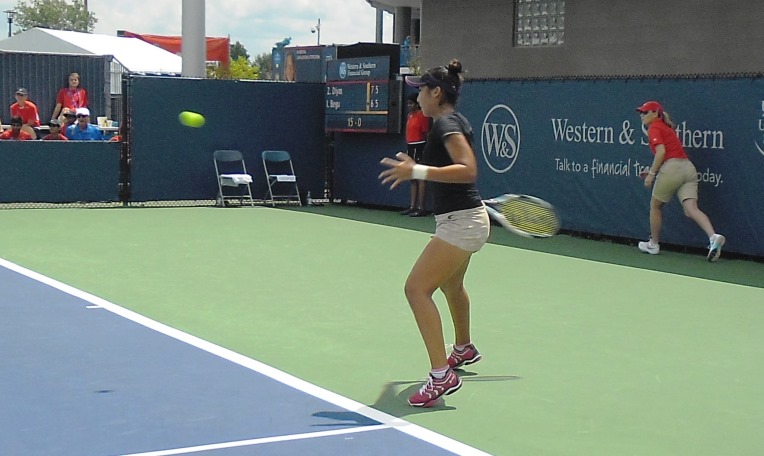 Watch also in this clip how essential the right-foot push is to Diyas' forehand at her comfort zone, as she hits the low forehand on the baseline to force her opponent into a mistake:

A high ball which forces Diyas to make contact above the shoulder may cause her balance to be slightly off, thus take away her control and power. Strangely, Begu forced Diyas to hit forehands above the shoulder level only three times the whole match! First one was at 5-5 in the first set, and it resulted in a short ball by Diyas which allowed Begu to hit a winner. The second was at 4-2 for Diyas in the tiebreaker of the first, and Begu's high and loopy topspin forehand resulted in a direct error by Diyas! The third time and only other time Diyas had to hit a forehand above the shoulder level is in the clip below. You will see Diyas' forehand return fall short because she had to hit it above the shoulder level, out of her comfort zone. Begu should have taken advantage of the short ball and gone for the kill but instead she gives Diyas a second chance, and Diyas ultimately wins the point on yet another forehand from her comfort zone around the hip level:

It's a mystery to me why Begu never centered on hitting high balls to Diyas on both sides and set up the short ball to put the pressure on her opponent? She definitely has that shot in her repertoire and in fact, she used it occasionally against Kimiko Date-Krumm in the first round of qualifying. Yet, she did exactly the opposite against Diyas, mostly hitting the ball hard and going for winners. To exasperate things further, she played that style trying to break Diyas' forehand down (it's the only explanation that comes to mind since almost 80% of Begu's shots went to Diyas' deuce side as you can see in all of the clips in this article too). Without any surprise, Diyas felt right at home, hitting the type of forehands that she likes, at the pace that she likes, moving the ball around at will. Spectators saw plenty of points like the ones in the three clips below. See how Diyas continuously gets to hit precisely the type of ball that she likes, at the same sweet zone, over and over again even though she remains on defense in this first clip:

And now check out this rally where Diyas gets to play a mixture of offense and defense, always in control of the point because what you don't see is Begu running from corner to corner on the other side of the net:

In this next rally, see Diyas as the aggressor, stepping inside the baseline, mounting the pressure, and eventually hitting a forehand winner:

As these clips show, the match was played on Diyas' terms. Considering how versatile her game is, Begu would have done herself a favor by utilizing the full arsenal of shots that she has in her depot, especially the high topspin off-pace ball that she uses on and off on clay courts. Furthermore, a little scouting would have directed the Begu camp in the right path beforehand. Diyas played another Romanian player Monica Niculescu in the last round of qualifying. A close look at that encounter, or some advice from Niculescu's camp would have pointed to Diyas' strengths and weaknesses and helped Begu prepare better for the match. Despite the pattern of points in Diyas' favor, the match's outcome rested on a handful of points and it was decided in two tight tiebreakers. Thus, the right type of scouting and game-plan preparation could have made the difference between winning and losing. That game plan would not have included allowing Diyas to dictate points with below-the-shoulder level strokes, since she is a rather small girl who has no trouble bending her knees if necessary, as this picture shows: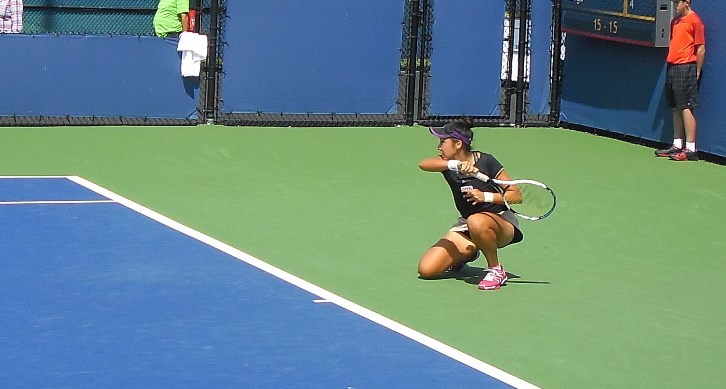 I spoke to Diyas after the match and asked her if she felt comfortable with the type of ball that she was receiving from her opponent. She responded "yes" and when I vaguely touched on the above, she remembered the point in the tiebreaker where she made the mistake on the high ball, and did not really have an answer as to why her opponent did not hit higher balls. She did point out that it was windy and that perhaps it was not easy to direct the ball in Begu's defense, however her response clearly showed that she was very much aware of the fact that she was getting to play match on her terms.
Until next time…