The two Masters 1000 tournaments that take place Canada and Cincinnati often give a solid indication of what is likely to take place in the U.S. Open, which starts one week after the end of the Cincinnati tournament. For example, last year, Rafael Nadal went on to win both tournaments, in Montréal and Cincinnati, and kept rolling through the U.S. Open all the way to his 13th Slam title.
If that trend holds true, in other words, if these two tournaments signal what is to come in New York, one message is clear: the top 15 players in the ATP are either out of form or injured and it may just be the perfect opportunity for an outsider to reach for the elite status. Stanislas Wawrinka did in the Australian Open, but he had to go through two of the world's best — Novak Djokovic and Nadal — in order to hold the Slam trophy.
Djokovic has had the most miserable two-week period of his career in a long time. He played well below his usual level of tennis, often looking like a novice on the court, missing silly balls and appearing afraid to hit the ball. He played four matches during which he never played better than mediocre tennis by his standards. He admitted that the two weeks did nothing for his confidence and that he is heading into the U.S. Open without enough match play in the hard courts.
Rafael Nadal has pulled out of the US Open due to his left-wrist injury. Roger Federer is no doubt the most consistent top player on the tour this summer. However, as good as his results have looked during these two weeks, his tennis has been up and down. Even as he won in Cincinnati, he only played one great match from beginning to end, his semifinal win against Milos Raonic. The rest of his matches featured patches of dry spells filled with strings of unforced errors.
Stan Wawrinka did not make the semifinals in either tournament. After his win against Cilic in the third round of the Cincinnati tournament, he responded to a media member's question by saying, "I am glad I won, but I have to play much better to go further." He did not, and he was eliminated by Julien Bennetteau in the quarterfinals. Tomas Berdych is in a virtual free-fall since Roland Garros and risks being left out of the top 10 by the end of the year unless he recuperates quickly. Andy Murray, meanwhile, still does not have a win against a top-10 player since Wimbledon 2012. Milos Raonic has been more consistent than other top-10 players, but still not playing at the level that got him to the semifinal round of Wimbledon. He is the number 6 player in the world, but he has yet to record a single win against the top five players ahead of him in 21 attempts.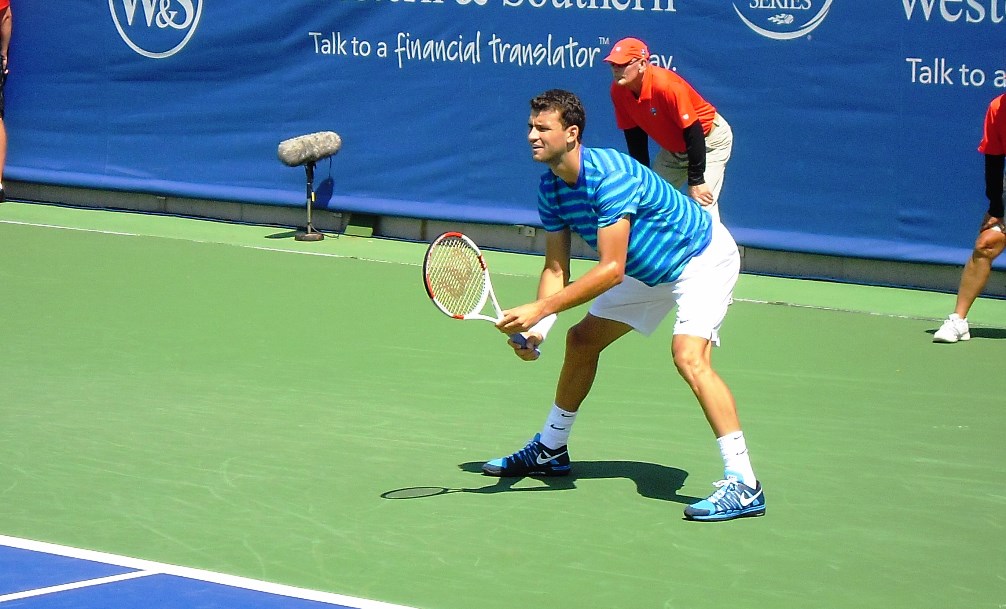 Another newcomer to the scene and the other semifinalist in Wimbledon, Grigor Dimitrov (pictured above), made it to the semis in Toronto, but played dismal against Jerzy Janowicz in his early-round exit in Cincinnati. As for David Ferrer, although he did reach the final in Cincinnati, by his standards, he is having his most inconsistent year on the tour since, well… ages ago. If one considers that Kei Nishikori, Richard Gasquet, and Juan Martin del Potro have all pulled out of the U.S. Open, we can extend this list of out of form attribute to the players ranked in the top 15. Ernests Gulbis (13) and John Isner (14) are not exactly burning the barn, either.
Once the U.S. Open begins on Monday, it will naturally be hard to pick anyone outside the top 15 to win the tournament or even to get to the semifinals. Yet, if the players ranked in the 15-to-40 range take a close look at the field, they should be able to see that this US Open may be their best opportunity to dig far in a Slam and earn valuable points. The big names are clearly not playing well, and an outsider who wants to make a run to the last weekend of the tournament, may not have to go through bunch of them to get there. Unless any one or more of the top players happened to rediscover their form during this week in practice, the window of opportunity is there for one or more outsiders to have a career-building tournament.