Roland Garros Girls' Singles, 2nd Round Match – Tactical analysis
As I strolled into Roland Garros little before the beginning of scheduled matches at 11:00 AM on Tuesday, I knew the main attraction would be later on Philippe Chatrier and Suzanne Lenglen courts where, beginning at 2 PM (or "14 heures" as the French say), two women's quarterfinal matches would take center stage, followed by two men's quarterfinals. My plan until then, consisted of engaging in one of my favorite activities at Majors: watching some of tomorrow's potential stars in the juniors' matches. One of those featured two girls far beyond their ages in terms of mental maturity and on-court I.Q., and ended up grabbing all my attention. The match in question was on Court 6, between the American Catherine 'Cici' Bellis (seeded 4th in the juniors' draw) and the Russian Sofya Zhuk.
The 16-year old Bellis is not an unknown to most tennis fans. Her claim to fame took place when, as a 15-year old at the 2014 US Open, she defeated Dominika Cibulkova, then-ranked 13 in the world. Sofya Zhuk is a fast-rising Russian teenager. At 15 years old, she is 7 months younger than Cici, and not known for any one noticeable win, although steadily improving (I can say this with confidence. I saw her play 2 years ago and the improvement is monumental). Having watched her match in the previous round, I knew that the 4th seed Bellis would face a monumental challenge. What I did not know is what a fascinating mental battle the match would turn into, and how tough these two teenagers would be under pressure circumstances that would make most adult tennis players crumble.
Do not get me wrong, the quality of tennis did have its low moments. There were untimely double faults, a string of bad games from one player or the other, and a topsy-turvy wind that would not allow the players to gain any decent timing on their strokes. Perhaps it is exactly what made the match-up so intriguing: the possibility to observe two teenagers deal not only with adversity in terms of weather conditions, but also with the fact that they had to overcome bad streaks, missed opportunities, and blown break points, and yet, never lost their sanity through a memorable epic crescendo in the third set. By the time it was over and Bellis, unable to hold her tears of joy, ran up to the net to shake Zhuk's hand, I knew I had to add yet another write-up to my "tactical analysis" series on this blog, featuring this match. Its story needed to be told, and more people than the 150 or so people that were there needed to know what "went down".
Bellis broke Zhuk's serve early to start the match, and eventually led 4-2. Zhuk was aggressive on returns, putting pressure on Bellis from the first shot of the rally forward. On a separate note, it may have worked to some degree at least because it led to seven double faults by the young American, few coming at inopportune times. But it was rather a string of unforced (and a few forced) errors by Bellis from the baseline that resulted in Zhuk winning four games in a row to steal the first set 6-4. Zhuk did her part efficiently, avoiding unforced errors altogether during the four-game streak, other than one double fault (and she was not just "bunting" the ball in either, mind you?). It was such a good run that she even recorded her only two aces of the match during that stretch.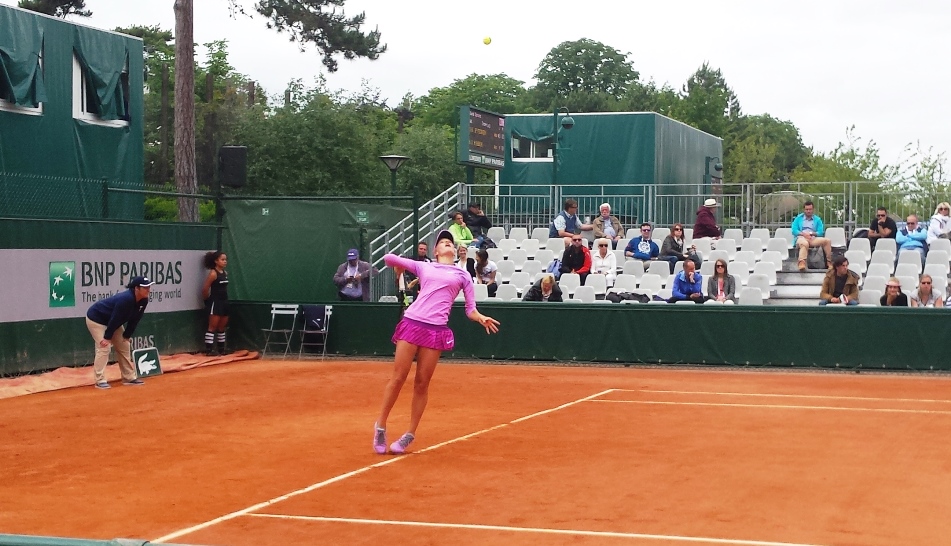 Second set saw the level of tennis drop. Bellis played a great first game, breaking Zhuk immediately to bring her opponent's four-game winning streak to a halt. She went up 40-15 in her service, only to double fault, miss a makeable passing shot, miss an easy forehand sitter, and make another double fault, to lose four successive points and hand the break right back. To return the favor, Zhuk played one of her worst games at 1-1 and lost her serve again. Bellis finally recorded the first "service hold" of the second set to go up 3-1, after which she trimmed down the number of errors and gained confidence, as Zhuk never recovered. The not-so-memorable set (for both, really) ended 6-1 in Bellis' favor.
Then, something that we see too often (unfortunately, I dare to add) happened again: the player that lost the set took a bathroom break. "It is in the rules, so why not use it right?" is the argument that one always hears. I guess until a decent answer is found to that question, it will continue. Maybe in the 1980s and 1990s human beings were made differently because I don't remember ever leaving the court for a bathroom break (except maybe once or twice), and I remember very few others doing so. But it seems in the last ten years or so, somehow bodily needs pop up right when sets are lost. That being said, I don't want to single out Zhuk here because I did a one-on-one feature interview with her this week and I can affirm that she is a genuinely nice girl, a delightful character. If anything at all, I am inclined to believe that either she really had to go, or simply used the rule to recover mentally from a set during which she never held serve. But anyone who has read my articles before knows that this bathroom break business right when the opponent is on a good streak drives me absolutely crazy. So, allow me a few sentences of digression here. Ok, now, let's move on.
Zhuk came back on the court, and lo and behold, it was a 180-degree turn in the momentum. The Russian brought back her accuracy in her ground strokes and put Bellis on the run. It was the second streak of the match during which Zhuk was the one dictating the point with Bellis running down as many shots as she can, basically scrambling to stay in the points, and sometimes failing to do so.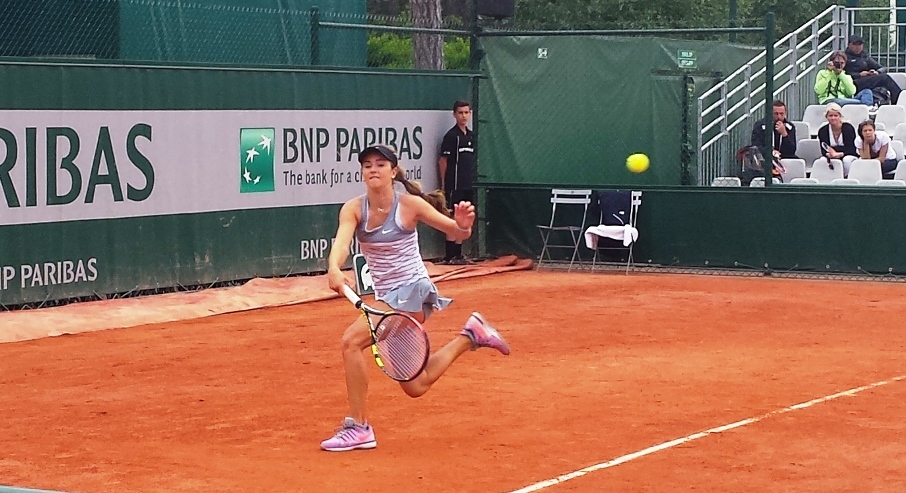 Zhuk won the first three games to go up 3-0, while Bellis who sat down and waited during the break, couldn't buy a shot that went over the net or one that bounced within the singles lines. This is also the streak during which Zhuk garnered a lot of errors from Bellis by steering the ball down-the-line more often than she has done in the first two sets, and catching her opponent on the back foot. The wind also picked up considerably at this point and made both players occasionally hold up before serving due to swirling clay around them. Serving at 3-0 and deuce, Zhuk served a second serve that was called out, one that she believed to have touched the line. A brief argument with the umpire over the mark ensued, enough to keep her thinking about it until the next point which also ended in a double fault (2 of her 5 double faults in the match). Bellis was finally on board in the final set (1-3).
That may be all the push that Bellis needed. She also modified her tactics after she went down 0-3. Instead of trying to out-hit Zhuk who was on a roll at that point, Bellis began to change pace and use more variety. She sliced more than usual, used drop shots, and for the first time, she began to frequently 'moonball.' When Zhuk lost the game and her serve at 3-0, these extended points became crucial and they held the key for Bellis to get back on equal terms in the final set. Now, Zhuk had to be more patient, because Bellis, by now, ceased to make early, easy errors in the rallies, as was the case in the first two sets. The Russian needed to either back up behind the baseline to hit those high balls back, or step in and take them on the rise for a more aggressive approach. Both options brought its different set of problems. Backing up meant giving up the ability to dictate the points, which has own Zhuk a lot of points early in the third set, and taking the ball on the rise meant too high a risk due to the wind and the possibility of a bad bounce on clay.
A very long point at 3-1, deuce, exacerbated the problem for Zhuk. Perhaps the longest rally of the match up to that point, Zhuk put Bellis on the run throughout the exchange while Bellis was content to return the ball high and recover to the middle of the court. At one point, Bellis was really stretched to the deep forehand corner and floated the ball high back to the middle of Zhuk's court. I saw Zhuk take couple of steps in, almost as if she decided to hit a swing volley (which would have been the right choice), but then she backed up and let the ball bounce, giving Bellis time to recover. Bellis ended up winning that point, and you can tell it meant a lot to her as she gave the longest standing fist pump toward her corner up to that point in the match (see picture below)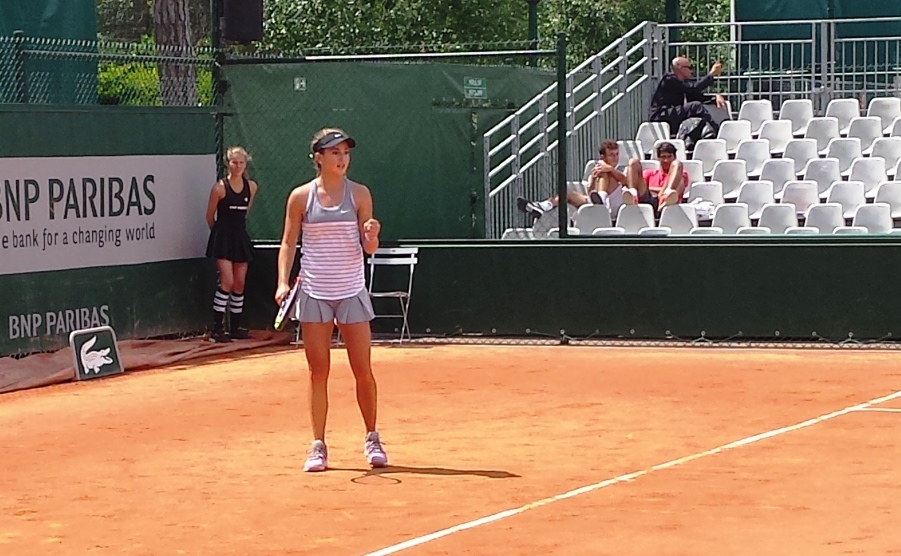 Another digression: This is what I would tell my players in similar situations all the time, with regard to overheads and high swing volleys: "Step in, take the risk, and miss if you have to, but do it! If you don't, and you choose to extend the point and end up losing it, it will be worst for you, and it will pump your opponent up. It will reassure them that the pattern is working. Instead, you choose step in, and even if you miss, you know you did the right thing, and they know that you are willing to do it, so they will think twice next time." Zhuk, in this case, chose to stay back, played into Bellis' hands, and lost. Bellis, naturally, kept playing the same strategy to win the next game. By now, at 3-3, Bellis was feeling good, and Zhuk was in the middle of a nightmare. Points were long and while Zhuk was searching for answers to tilt the momentum back to her favor, Bellis was constantly hindering her plans with wall-like consistency and no-pace high balls mixed in with the occasional slice or flat hit. Then, came the crucial break point which basically reflected everything that you have just read above. Watch how difficult it has become at this point in the set for Zhuk to deal with different height on balls that vary in pace, and how frustrating it gets for her as she tries harder and harder to end the point or collect an error from Bellis.
Just like that, Bellis broke Zhuk to win her fourth straight game since starting the final set down 0-3. Zhuk goes straight to the umpire (you see her take the first two steps at the end of the clip above) and asks for the trainer, pointing to a spot below her right knee. Now, this is where I believe umpires and "rulekeepers" in general should strive to be more efficient. I timed it, and it took close to 5 minutes for the trainer to come out to the court. Court 6 is not one of the outside courts. It's located right by the Chatrier court and close to Lenglen court. It should not take five minutes to get someone out there. Time five minutes, wait through it, and you will see how long it actually is). It took another 45 seconds for the trainer to identify the issue which was followed by the three-minute medical time-out. Bellis had to sit and wait around nine minutes after having won 4 games in a row.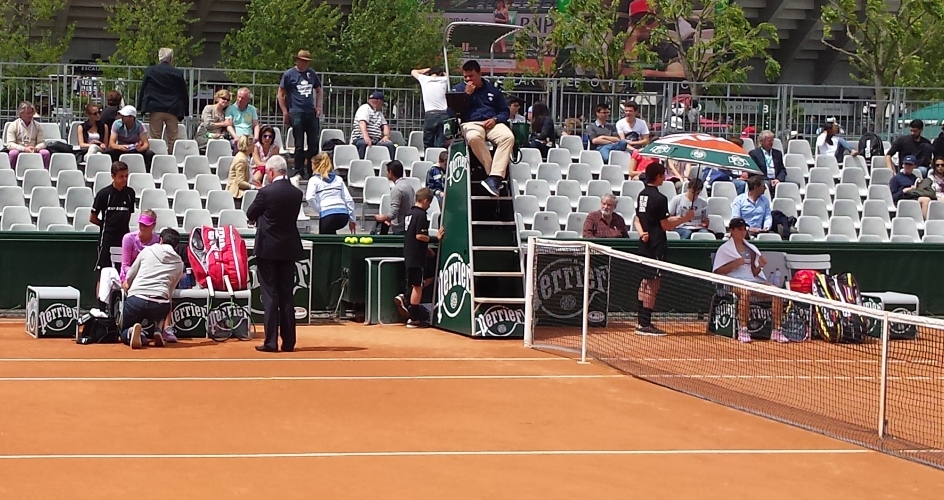 Finally, when the players stepped back on the court, lo and behold (again), Bellis lost four points in a row and the score was 4-4 in the blink of an eye. Three were on unforced errors by Cici, despite the fact that she climbed back from 0-3 to 4-3 precisely by cutting down on errors and frustrating Zhuk with long rallies. Oddly enough, she also stopped the high-ball bonanza that has worked for her in the last 4 games, and went back to duking it out with Zhuk. Perhaps, she felt that her confidence was now back and that she could go toe-to-toe with Zhuk again, even with the pace (if so, she did indeed turn out right).
From that point forward, spectators on Court 6 marveled at two spectacular youngsters, with nerves of steel, who were dealing with the increasingly violent wind, and were attempting to outwit each other. Zhuk remained resilient despite Bellis' several different tactics. She kept yelling "Come on" to herself (which is, according to her, something she consciously does to keep herself focused) even when she was struggling to find a solution to her opponent's consistency. Bellis who was focused, but not so vocal through most of the first two sets, was now in full "war mode". She was posing the questions, Zhuk was answering them. When Zhuk would get the upper hand, Bellis would not panic and pull out another plan from her bag of tactics. Both girls are good athletes who refused to lose, and that led to several games of intense rallies and increasing tension on Court no. 6. Zhuk finally reached a match point on 6-5 in which she missed a forehand long. Bellis won that game to equalize at 6-6. The next game was hotly contested. Zhuk had at least 5 game points (that I counted) and could not capitalize. Bellis, after missing, one herself (maybe two), finally capitalized on this point:
In the 7-6 game, Bellis yet once again came out victorious after Zhuk had more game points to equalize at 7-7. Bellis essentially saved a slew of game points against her in the last three successive games – one being a match point – and capitalized on the few that she had, to come back from 5-6 to win the final set 8-6. How tight was it? The picture below, taken at the moment she won the match should clarify some of it.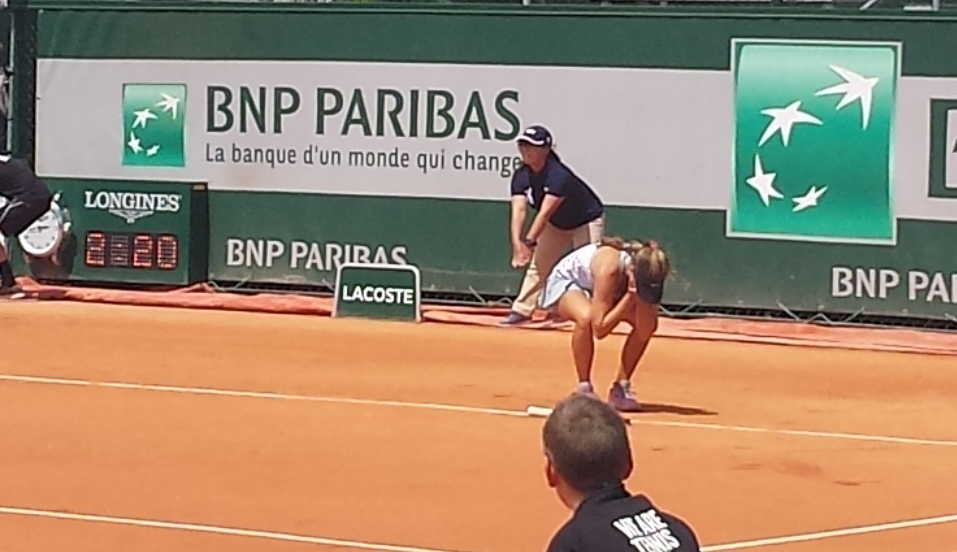 On my tweet, I called it "relief celebration". She got back up, and walked toward Zhuk to shake her hand, barely holding back tears.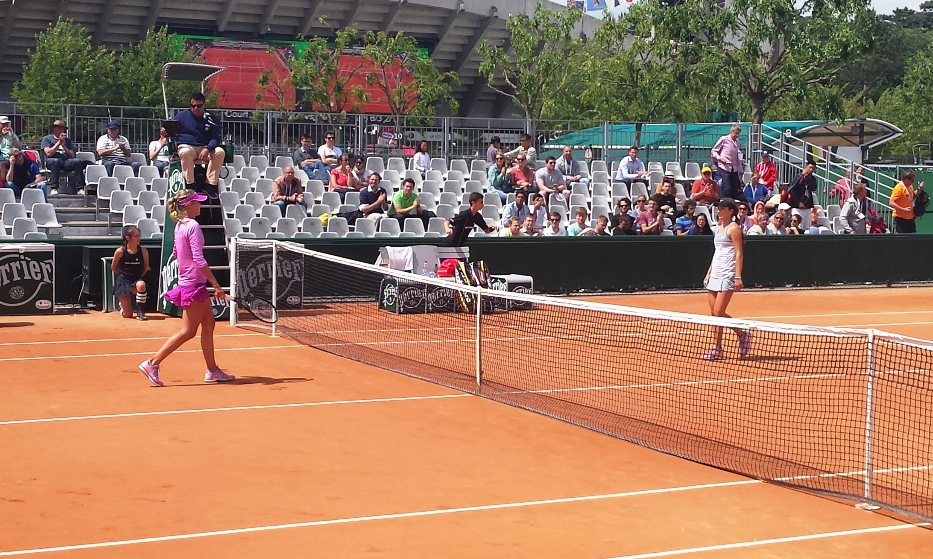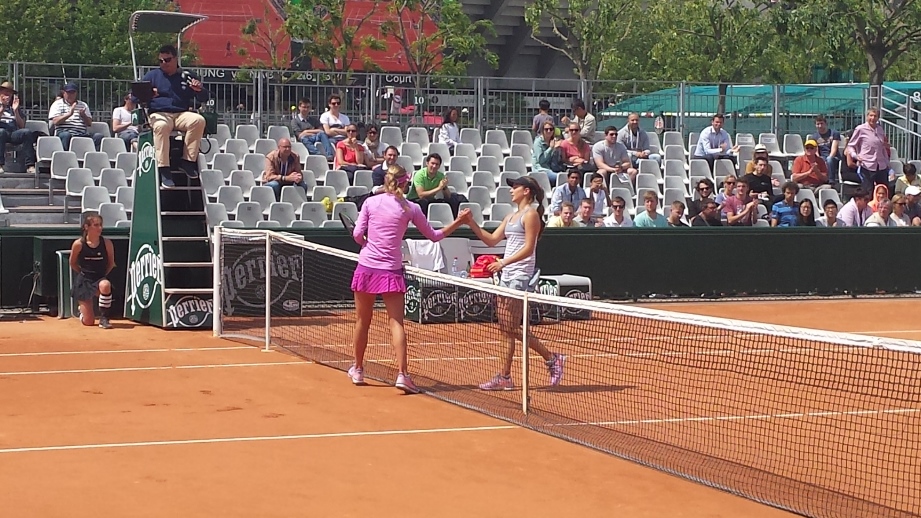 It is one thing to feel the joy of winning a match when one "zones" so to speak. It is another thing to win a match through sheer drive and grit while having to play nothing less than a chess match in the I.Q. department with your opponent.
These two girls, aged 15 and 16, deserve high praise, for sending the message that mentally they are ready to do battle at any level. Just give them a few years to develop their games, get physically stronger, and they will have many more duels to come. On this particular Tuesday, Bellis may have outwitted (and "outgritted") Zhuk, but their on-court awareness and I.Q., along with their athleticism, makes both of these teenagers compelling prospects for the future of women's tennis.
Note: Follow Mertov's Tennis Desk on Twitter for frequent live updates from Roland Garros
Note 2: Thanks to John T. for the clips and the picture during the injury time-out