If you have observed the media write-ups and social media ramblings, you may have sensed the underlying theme behind all the flashy headlines attempting to grab your attention on Dustin Brown's victory over Rafael Nadal. For example, I give ten points to Sun Sport for creativity, for sticking the picture of Brown screaming, and his hair flying everywhere while the headline on top read "Rasta la vista, Rafa."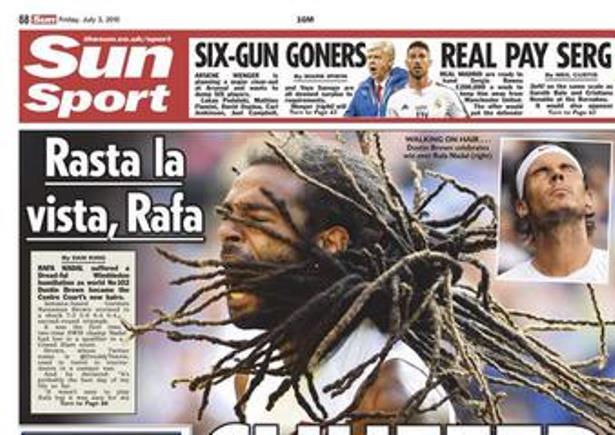 Having said that, the larger question invading most write-ups and analyses center on Rafa, or more precisely, on the question of whether or not he will ever regain the form that made him an elite-level player over the last decade. The fact that this question pops up now deserves its own perspective.
Rafa lost to Novak Djokovic one month ago, on a court that he views as his temple. Let me modify that statement: he got dominated by the Serb in three straight sets, 7-5 6-3 6-1, eroding away as the match progressed. The invincible player was finally taken down from his throne, on the red dirt that he cherishes. Yet, only a few such as this article announced the nadir for Rafa, the way they announced it for Pete Sampras in 2001 or Roger Federer in 2013. Yes, it is true that the challenge imposed on Djokovic to show that he was capable of winning Roland Garros and defeating Nadal in Paris weighed heavier than any other topic. That being said, Rafa losing his iron hold on his favorite tournament to his biggest rival should have raised more uncertainty about his future than it did.
Now we find out that those concerns were patiently waiting in a for his possible defeat at Wimbledon. The fact that he lost to yet another outside-the-top-100 player early in the tournament only added fuel to the fire. Suddenly, speculations multiplied over the last 24 hours on whether or not he will ever be a top player again, or a top-5 player, or even if this may be his last year on the ATP Tour. Let's be clear: the "less-than-a-day-old-yet-explosive" trend of declaring Rafa's rapid downfall originate not in his loss to "Dreddy" Brown yesterday, but in the lingering effects of the one to Djokovic in Paris. Since 2010, Rafa has not advanced to the second week in Wimbledon and has suffered defeats to opponents outside the top 100 (Lukas Rosol, Nick Kyrgios, Steve Darcis) before the one against Brown yesterday. In contrast, Rafa losing to anyone on the Philippe Chatrier court would signify a career-changing moment for Rafa and that someone (ask Robin Soderling) and shatter the economy (ok, I exaggerate). The loss to Brown is the final push that opened wide the heavy door, while Djokovic was the one who removed its rusty hinges, unlocked it and left it ajar. Now the trend of calling for the gloom and doom of Rafa's career is enjoying free entrance into the domain of drama. And the traffic to that entrance is flowing freely!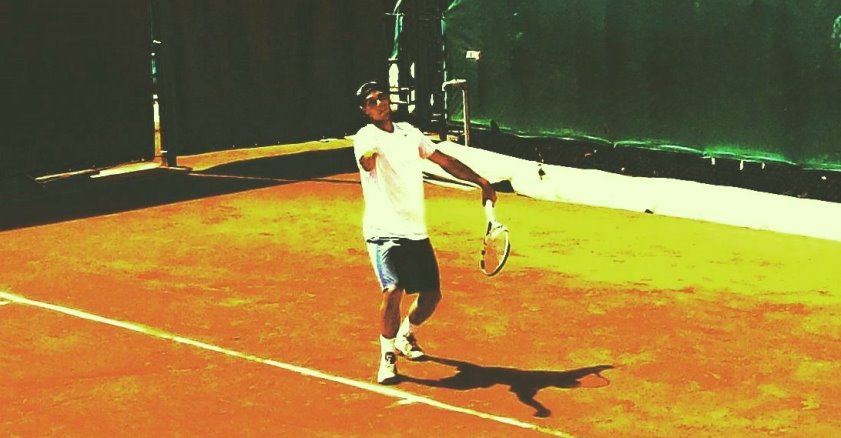 Rafa at his best: practicing hard…
Great champions have always made it their business to prove the pundits wrong, especially if the former believe that the latter is ready to put them in the coffin and send them to the graveyard (yes! I am using metaphors). Pete Sampras, Andre Agassi, Roger Federer, Serena Williams have all done it, as well as Stan Wawrinka (remember how long he was treated a one-tournament wonder after 2014 Australian Open?), Kim Clijsters and Jana Novotna, to a smaller scale. You can bet that Rafa will do everything he can, in order to prove that the latest surge in the call for the end of his career reflects bad judgment. If anything at all, the Big 4 have repeatedly shown that they can reach for higher grounds when most pundits believe the opposite.
In the middle of this "end-of-Rafa" mania, I dare to remind everyone that if Roland Garros started tomorrow, barring Djokovic, Nadal would be the favorite to win. I use "dare" because I did just that earlier on Tweeter and I got anything from "Nadal's bubble has burst" to "err… no" from one gentleman and an overall disagreement (or reserved outlook) from a couple of others. I also got strange looks from two colleagues with whom I dared to discuss it (a third agreed with me, but he was Spanish, does that count?). The reasons given were how bad he has done in other tournaments on clay, how his forehand has regressed, and how the coach-player relationship with uncle Toni has run its course. While I was given the examples of Rafa's losses on clay, how bad Djokovic dominated him in Paris, and his woes on other surfaces, when it came down to it, nobody could say "[fill in the name] would be the favorite against Rafa in a Roland Garros match." While I agree that Wawrinka, Murray and a couple of others can be more competitive against Rafa today in Paris, I would question anyone's objectivity who would call them "favorite" in that setting.
Nadal will get back to work, train hard, and find a way to remain longer among the elite players. On a larger scale, I believe that the call for Rafa's end as an elite player is chaotically premature. Unless he walks away from the game (which is also included in the speculations circulating around, obviously some have somehow built an information streamline into the Rafa camp), I would warn anyone who banks on him to fade away. Can he get back to number 1? Unless Djokovic, Federer, and Murray have historical collapses in form, that seems unlikely in the near future. Can he get back into the top 5? Of course. Can he win another Major? Absolutely. The most likely place would once again be in Paris. There is almost a year before next year's French Open (and shamefully, I am not even discussing the next U.S. Open and the Australian Open).
To claim that Rafa will somehow continue to compete and practice, yet not find his form during that period, or at least fail to get back to a level nearing his top form, seems hasty. Injuries can always halt improvement and end careers, and that remains a possibility with the Spaniard. However, the chances of Rafa getting back to elite level remain a higher possibility if he is not hampered by injuries. One loss (again, namely the one to Djokovic) does not take you from elite level to an ordinary player. If that was the case, top players would not still be on top after those types of losses (remember Serena Williams losing to Virginie Razzano in Roland Garros 2012? Sampras and Federer losing to Bastl in 2001 and Stakhovsky in 2013 respectively, both in Wimbledon?). Rafa losing to Brown? Been there done that in London before, and that never stopped him from remaining at the top. Losing to Djokovic at the French does not mean Rafa can no longer play on clay, or no longer win Roland Garros. The announcements and declarations ending Nadal's career as a tennis player at the top level are not only ill-advised, but they are also hasty and impulsive. I expect cooler heads to prevail overtime.
Note: Follow Mertov's Tennis Desk on Twitter for live updates throughout Wimbledon.