The last time all four men's quarterfinals finished in straight sets was in 1998. Even then, Goran Ivanisevic needed three tight tiebreakers (two extended beyond 7 points) to keep the crafty, left-handed, serve-and-volley specialist Jan Siemerink from winning a set. Since then, men have come twice within one set of having all quarterfinals end in straight sets. First one was in 2000 when the unorthodox Jan-Michael Gambill won a tiebreaker from the legendary Pete Sampras, and the second happened when Lleyton Hewitt also managed to steal a tiebreaker from another legend by the name of Roger Federer.
I am sure many would disagree (is that not the fun part of playing the crystal ball game?), but tomorrow's quarterfinals on the men's side could be another short day at the office, similar to those in 2000 and 2004, and potentially, to the one in 1998.
On top of the draw, Novak Djokovic takes on Marin Cilic. Last year's five-set win by Djokovic over Cilic still echoes in a number of heads because as soon as the Serb finally defeated Kevin Anderson in the fifth set played on Tuesday morning, several people mentioned that match from last year and begged the question of whether Novak could sustain another five-set marathon or not. That should never come into question in this year's case. Djokovic is an established champion, more dominating than last summer, and he is on top of his game. Cilic, for his part, seems to play catch-up (very slowly at that) since coming back down from the clouds where he was residing during the second week of US Open 2014, partially due to a nagging shoulder injury that kept him out of competition. While it is true that he is finally getting back to the form that elevated him inside the top 10, he will need generous help from Djokovic in order to break his serve, or else, he will have to fancy his chances in tiebreakers. Cilic's game depends a lot on aggressive returns that allow him to control the point and to push his opponents around. Djokovic's counterpunching skills, best in that category with Rafael Nadal in the 21st century, coupled with his ever-improving serve, should effectively keep Cilic at bay. When Cilic is not returning, he will need a lot of first serves, not necessarily to garner direct points, but to set up the next shot in order to execute his game plan. Cilic's success hinges on too many things falling into the right places. The chances of a straight-set, lop-sided victory by Djokovic are more likely than a five-set match.
Second quarterfinal of the day will pit Stan Wawrinka against Richard Gasquet. Although it promises some spectacular points scattered here and there, Gasquet will only win a set – thus have a shot at winning – if Stan were to start slow enough to fall behind in the first set, or to simply check out of the match mentally (remember the match vs. Guillermo Garcia-Lopez in the 2014 Roland Garros?). Gasquet and Wawrinka played twice, one too long ago (2006) and the other on clay in 2013. Wednesday's match has different dynamics. Gasquet will now deal with a two-time Major champion, on top of his game, and against whom, the Frenchman does not seem to possess any weapons to tilt the match in his favor. Gasquet can neither overpower Wawrinka nor win through consistency. Federer learned very fast (gladly for him, he was on the brink of going down 2-0 in sets) in last year's quarterfinals that you cannot simply rally with Wawrinka from the baseline, who will slowly catch fire, harass you with rock-solid shots, and push you around far behind the baseline. As is the case in many matches that he won against his countryman, Federer knew to switch from one tactic to another, dig deep into his arsenal of shots, and produce a solution that turned the match around. As talented as he is, Gasquet is not Federer, and furthermore, Wawrinka's level hovers above the one from the summer of 2014. The Swiss has yet to lose a set so far in this tournament, and it could remain that way until Friday.
He would never say it out loud, but if you whispered to Andy Murray's ear ten days ago that Vasek Pospisil would stand across the net from him in the quarterfinals of a Major, let alone Wimbledon, Andy would have given you his conventional half-smile, with his fingers rubbing the side of the eyebrows, before wondering if you became delusional. Yet, here we are in the quarterfinals, and the Canadian being in the final eight is the biggest surprise of the second week. That is partially why he is unlikely to push Murray, who is in another league from his previous four opponents, beyond a straight-set victory. The other half is the difference in the amount of labor done by the two players on the courts of SW19. In his four matches so far, Murray has spent 8 hours 50 minutes on the court. Pospisil has spent 11 hours 32 minutes with only one match going less than five sets (Fabio Fognini in four). Pospisil did surprise me – I should rather admit that he "stunned" me – when he came back from 0-2 in sets to pull a five-set win against Victor Troicki on Monday. He looked tired at the end of his five-set match against James Ward the round before, and I did not believe that his body, that has proven to be fragile at times in the past, could sustain another grueling five-set match once he was led 2-0 in sets. Having said "all that," the big stage in a Major (no, doubles titles do not negate that lack of experience in singles) on the most legendary court in the history of the game, against a home-town legend that has the crowd's support, will prove too much for the young Canadian (assuming 25-year-olds are nowadays perceived as "young" on the ATP Tour?). I see maybe one close set taking place, but nothing more on the horizon for Pospisil.
Roger Federer takes on another French player in a Major for the umpteenth time in his career. Correct me if I am wrong, but I believe the only Frenchman to whom he has lost in Majors is Jo-Wilfried Tsonga (Wimbledon 2011 and Roland Garros 2013). On top of that, Gilou does not have the necessary ingredients to cook up a plan on grass that can take the Swiss out of his comfort zone. Anyone who has followed my articles or has discussed with me the contrast between overachievers and underachievers on the ATP Tour will know that I mention Simon as one of the emblematic examples of overachievers who get the maximum out of their limited talent due to their high on-court I.Q. as well as their ability to create solutions where none seem to exist. But even Simon will have a tough time stopping the Federer Express steaming along so far this year. I have no doubt that the Frenchman has already concocted a plan for the match, but I am afraid that what he is good differs from what he needs to do to beat Federer. His mid-to-hard-paced baseline shots play into Federer's hands because they bounce to about thigh or hip level (Federer's favorite level to strike the ball) and come with enough pace so that the Swiss can punch and accelerate, yet not fast enough to where he will feel rushed. Once Federer takes the lead, watch out, it could be a quick one.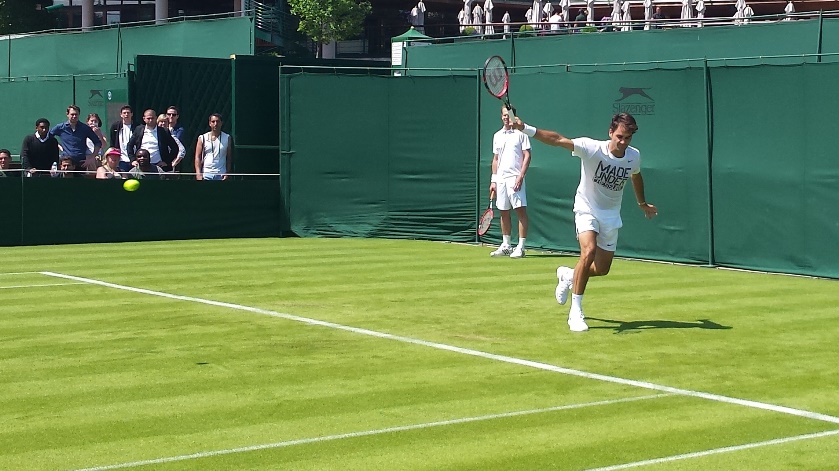 So can it be another 2000, 2004, or even 1998? For the spectators' sake, I hope not. Personally I also see the beauty in a lop-sided match when one player delights the fans with regal shot-making skills. However, four in a row on a day that historically produces at least one electric moment, if not more, would undoubtedly disappoint even the most avid tennis fans. Let's hope that I jinxed that possibility with this article. Instead of a quarterfinal day like in 1998, let's hope for a one quality match after another in which one player excels, and the other goes above and beyond himself to force his opponent to sustain that level while gradually joining him on that plateau of excellence.
(*) "Why the asterisk?" you may ask. Any of my friends with whom I spend any amount of substantial time discussing sports can tell you that I am a horrible prognosticator and that I am notorious for "drying up" some competitors' chances of winning by simply picking them. Hence, this article is for discussion purposes, I would strongly advise you against taking it into consideration if you intend to bet. Now you know why…
Note: Follow Mertov's Tennis Desk on Twitter for live updates throughout Wimbledon.