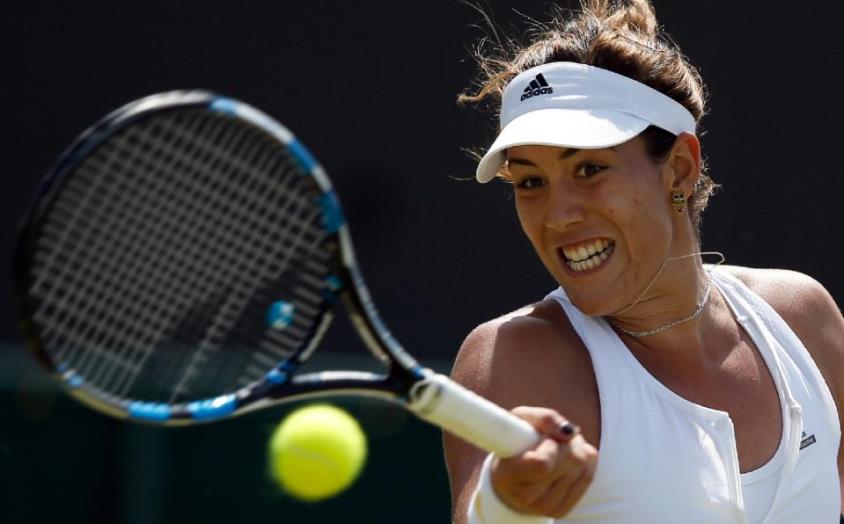 Source: Adrian Dennis/AFP
While Agnieszka Radwanska can take comfort in the fact that she has previously competed in the semifinal stage of a Major (twice: 2012 Wimbledon, 2014 Australian Open) and even went further in London by reaching the finals in 2012, Garbine Muguruza will undoubtedly play the biggest match of her career to this day when she steps on the Centre Court Thursday afternoon. This contrast cannot be underlined enough and should play a significant role in the outcome. On the one hand, it can be similar to the 2002 case of young Andy Roddick who later admitted to being in awe of the big stage, when he entered Arthur Ashe stadium under the lights to take on Pete Sampras in the 2002 US Open. He was flat and swallowed by the occasion, losing to Sampras in three unexpectedly routine sets. On the other hand, it can also resemble the case of Iva Majoli who never skipped a beat and executed one of the most perfect plans in the final of a Major, in her 6-4 6-2 win against Martina Hingis in the 1997 French Open final, although she has never made it past the quarterfinals at that stage, during the rest of her career.
Muguruza played a highly intelligent game against an in-form Timea Bacsinszky, adjusting her game early in the match to play more aggressively, and pulling a few big shots out of her bag on important points. Bacsinszky used drop shots and moved Muguruza around early in the match knowing that the footwork department would be one area where she could outclass her opponent. Muguruza also missed a monumental chance to take charge at 4-3 up and 15-30 on Bacsinzky's serve when she missed wide a routine backhand cross-court winner, from well inside the court. When Bacsinzky stormed back to hold at 4-4, it looked like she would take charge. However, that was the only crucial point to go Bacsinszky's way for the rest of the match. In fact, by the time they shook hands at the net, it was Timea leading the "chances blown away" category by about four or five to one.
Bacsinzky had an easy forehand at 5-5 30-30 on Muguruza's serve and blew it out. When she had a point to get back to 6-6 on her serve, she committed another costly mistake. Finally on set point for Muguruza, the Swiss got tight and did not move inside the court to hit the low forehand which led to yet another one of her uncharacteristic errors. In the second set, the trend continued on the big points, with either Garbine dictating the point or Timea being generous with errors. This is not to take anything away from Muguruza's win because one player's errors often originate in the pressure felt when the other begins to impose his or her game, and that is precisely what Muguruza did. From the fifth game on, she slowly began to get more aggressive from the baseline to counter Bacsinszky's variety, and pushed the Swiss back further behind the baseline. She wore Timea down, pounding the corners, slowly taking away her opponent's options. Having said that, the question mark remains on whether Garbine can sustain the same level against Aga in the semifinals when the crafty Pole gets more of those balls back and gifts nothing away on big points in the way that Timea did yesterday.
In conclusion, tomorrow presents a big challenge for the Spaniard. She will need to rise to the challenge and play the match of her life to get to a plateau that she has never before reached. The good news is that she will not have to do that against Maria Sharapova or Serena Wiliams, who each hold a Career Slam and combine for a total of 25 Major titles, but rather against Radwanska who has appeared in one Major title. After her win over Bacsinszky she was asked if she enjoyed playing on "big courts." She replied: "I like to play on big courts because it's extra motivation. I like when people live, they feel what you feel when you're on the court, feel really good." Tomorrow's big-court showdown guarantees that "extra motivation," sets the stage for an opportunity for Muguruza to establish herself in the upper echelon of the WTA Tour and be a force to reckon with for a long time to come.
Note: Follow Mertov's Tennis Desk on Twitter for live updates throughout Wimbledon.