Interview recorded at Wimbledon, on July 6th, 2015, following Minnen's first-round 6-3 6-3 win vs. Maddison Inglis (AUS) in the Girls' Singles draw.
Greet Minnen is a 17-year-old Belgian player. I watched her play only once before, late in 2014. I thought she had plenty of talent, good overall technique, and the necessary athleticism to be a great tennis player in the future. She had a solid serve, and her game seemed to be better tailored for faster courts. Having followed her mostly from news feeds since that time, I knew that she suffered an injury after the Australian Open (in which she reached the semifinals of the junior girls' draw) that forced her to be off the court for several weeks. In any case, prior to coming to Wimbledon, my mind was made up about interviewing her.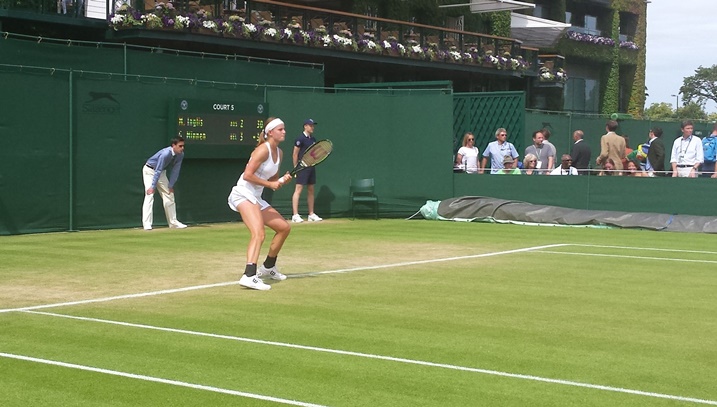 We did the interview approximately two hours after her win vs Inglis. Minnen has played Inglis before, but not on grass. After I introduced myself and asked her how to pronounce her name correctly (definitely not how you would read "greet" in English, closer to but not exactly like "Great"), I congratulated her and she said "thanks" and added that she felt great and in good shape throughout the match, and that she was happy. Shortly after, we began the interview.
Greet was very polite and spoke in a soft-mannered tone. It was truly a pleasure talking to her. She seemed extremely mature and intelligent about the game of tennis, and gave the impression of having a clear vision of her goals. She answered every question with enthusiasm and made an effort not to spare any details despite her limited language skills. When given the choice, she preferred doing the interview in English rather than French. I adjusted a few words and tenses in order to make it more understandable for the reader, but in general, I did my best to transcribe word-for-word, as much as possible, everything that was said.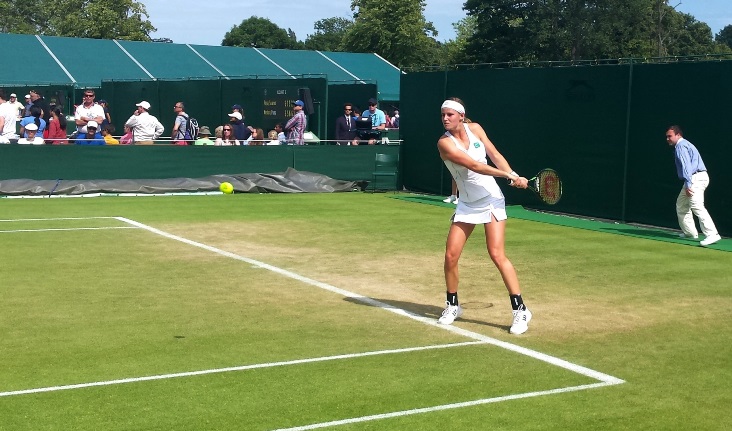 —————-
MT-Desk:
About your match today… It looked from the outside like you were in control of the match from the first point to the last. Did it also feel that way to you inside the court?
Greet Minnen:
I also felt that I was a bit more in control than she was. I knew that when I played well, I could win easy points. But she kept hanging on much better than I expected actually. She served a few good serves, and it was difficult to break her in the second set. But once I did, I knew that I had to hold my serves to win out.
MT-Desk:
You put a lot of pressure on the returns and she double faulted a few times because of that.
Greet Minnen:
Yes.
MT-Desk:
You had a hamstring injury after the Australian Open. Do you feel that by now you have found your form?
Greet Minnen:
Yes, I think it's coming back by now. It's still not the best I ever played. In Australia, I was playing really well, unfortunately I had the injury. It happens. But now, I am getting back to the level that I want to be, I think.
MT-Desk:
Was that your first big injury or have you had one or two before?
Greet Minnen:
I had injuries before but not as big as this one. I was out for two months. I also had a shoulder injury before that lasted one month. But this was the biggest one.
MT-Desk:
What is your practice schedule during the off-season and where do you practice? Do you mostly practice with other players or under the supervision of a coach? Please give details, if you don't mind, on your daily practice routine during the off-season.
Greet Minnen:
I practice in Antwerp at the Belgian Federation. I practice mostly with other players, but not from my age, because there are no players at my age. They are older or younger, it does not matter really. I just finished school so now it's going to be different when I practice. But last year, I used to practice in the morning before going to school for 3-4 hours.
[Greet added later that she worked with coaches from the Belgian Tennis Federation, but not with one coach specifically]
MT-Desk:
You mean you practiced before school, early in the morning?
Greet Minnen:
Yes, around 8:00 or so. Then, I would go to school. Then, in the evening, I practiced again twice: tennis and physical. Then I had to do some homework, and went to sleep. In the mornings, it was mostly drills and a lot of ball hitting. In the afternoon, I would mostly play matches.
MT-Desk:
You seem to have a complete overall game. You hit slice, topspin, flat, you come to the net, hit drop shots. You have a good serve and overhead. Have you always had this type of game since you started playing tennis or did you develop some of these shots later?
Greet Minnen:
Well, my serve was actually there from the beginning already. It was my strongest point with my forehand. But my backhand was kind of my weak point in the beginning, but I think it's getting better now. Also, my slice and drop shots were not there at all in the beginning. So I had to develop them of course.
MT-Desk:
So you developed your touch later?
Greet Minnen:
Yeah. I had some but I did not use it [and laughs].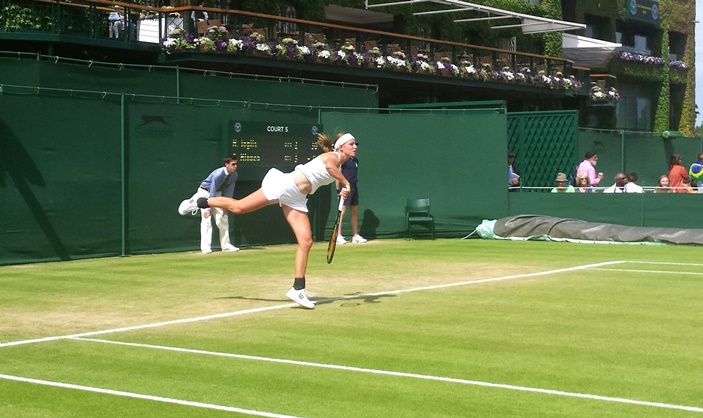 MT-Desk:
In terms of technique, what is your next immediate goal? Is there a specific shot that you would like to develop?
Greet Minnen:
I have to try to come more to the net. Especially on grass, it's very important that you go to the net. I am always like, little bit holding back to go to the net because my volleys aren't that amazing [smiles], but they are ok.
MT-Desk:
I think you have good technique, but I saw that you hit a couple of good forehands during the match and you stayed back, hesitated.
Greet Minnen:
[smiles] Yeah, I was like "I want to go but… no never mind" . Yeah, I have to come much more to the net. I think that's very important for me now.
MT-Desk:
You have hard court season before the U.S. Open, you will continue to work towards that goal?
Greet Minnen:
[Nods firmly] Yes!
MT-Desk:
What about your goals in the next 12 months? You finished school, you will soon finish your junior career. Are you already thinking about post-December?
Greet Minnen:
Yeah, of course! When I finish Wimbledon, I will play a lot of tournaments in Belgium, [ITF] $10,000s. It's very important that I get my ranking back that I lost. But I think, end of this year, I want to be like 600-700 WTA.
MT-Desk:
Is your family into tennis? Are you the first one in your family to play tennis? Can you talk about your family a bit?
Greet Minnen:
My dad used to play tennis when he was younger, but he mostly played soccer. My mom also played a little bit of tennis but not much. So, I think am the first one who really wants to go for it. My brother rides horses, so it's totally different than me. He likes animals, I like tennis balls [smiles].
MT-Desk:
Do they come and watch you play all the time?
Greet Minnen:
My dad, mostly yes. My mom passed away, so, no. My brother, he doesn't come actually, he is not interested really [laughs]. But my dad is really amazing when he comes to watch.
MT-Desk:
I have noticed that players from the younger generation don't like to watch tennis on T.V. for a long time. Maybe a few games, but not a full match [Greet says "Yeah" and smiles]. Do you actually sit down and watch a full match from the beginning to the end?
Greet Minnen:
It depends… If I know the person, like a person from Belgium, then yes, I want to watch the whole match.
[I can't tell if she is trying to give me a message, so I decide to go ahead and mention David Goffin's ongoing match]
MT-Desk:
Oh! David is playing now…
[Greet laughs and says "Yes!"],
so I should let you go!
[laughs again, motions her hand as if to say "it's ok" and continues talking]
Greet Minnen:
But also, when it's like Federer, I also watch the match. But when it's like not such an important match… or I also don't like watching women's tennis in general [and smiles], I don't like how they play.
MT-Desk:
Van Uytvanck was watching your match. Does it feel good because she watched from beginning to the end?
[Alison van Uytvanck, 2015 Roland Garros quarterfinalist, is the highest ranked player from Belgium in the WTA at no. 49. She watched both of Greet's matches from start to finish!]
Greet Minnen:
Yeah, of course. It's amazing that she was there. I play with her sometimes at the Federation. It's like little bit of an example for me on how I should play eventually. So, yes it was really great.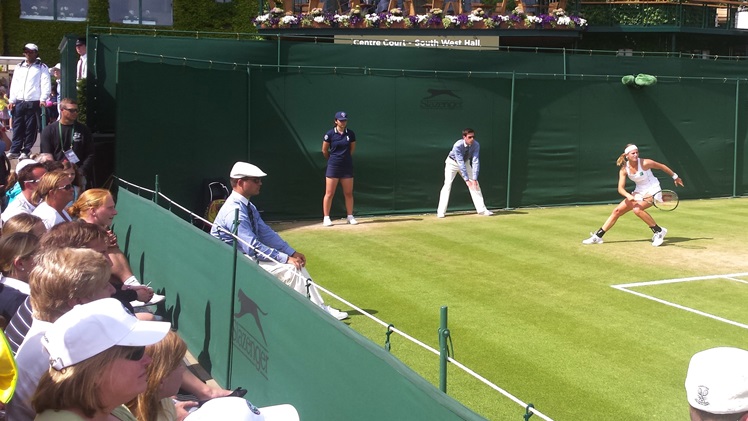 MT-Desk:
Good luck and I hope you continue winning. Thank you for taking the time.
Greet Minnen:
I hope so too. No problem. Bye.
—————-
Unfortunately, Greet lost to Vera Lapko the next day, in an extremely tight second-round match, 6-7 6-3 7-5. Lapko advanced to the semifinals before losing to the finalist Anna Blinkova. This seemed somewhat familiar. I interviewed Sofya Zhuk, a month earlier at the French Open after her first round win. She also lost the next day in a very tight match (was up a match point in the third). CiCi Bellis, who defeated her, also reached the semifinals. Then, Zhuk went on to win the Wimbledon Girls' Singles title. Hopefully for Minnen, the same pattern will repeat itself at the next Major, the U.S. Open.