(Note: This is the English version of my article that was published in the May issue of Tenis Dunyasi, the largest publication in Turkey dedicated to tennis. It was written after her Istanbul Open title and before she qualified for the main draw and won a round at the French Open.)
It is March 9th, 2015 and I am at a dinner with Cagla Buyukakcay and her coach Can Uner in Indian Wells, California. Their hearts are heavy and their expressions gloomy. Silence reigns at the table. About six hours earlier, 15th-seeded Cagla lost 6-3 6-4 to Sesil Karatantcheva in the first qualifying round of the BNP Paribas Open Championships in Indian Wells. It was the first Premier-level tournament that Cagla entered based solely on her (then-) newly acquired career-high ranking. Yet, the excitement of that accomplishment was now replaced by the gloomy reality of having lost on the first day of competition. In an effort to cheer them up, I told them to leave it behind, that there would be many other challenges ahead, and that there would be disappointments as well as victories along the way. Can did not respond. Cagla, for her part, replied with her usual honesty, yet in a sullen tone "you are right Mert, but when you lose like this, it's hard to find it in you to feel alive again."
I regularly spend many weeks on the tour with Can and Cagla. We are close friends and we constantly share our thoughts and knowledge on the sport that we love. I have always admired their positive approach in such a competitive business. I confess that I had never managed to remain as cheerful and as positive as they have for extended periods of time during my years as a player. This added to my sense of helplessness toward my friends at that dinner. I have never seen them in such dismal mood. It saddened me.
Cagla and Can were upbeat during the couple of days leading up to the start of competition in Indian Wells, and with good reason.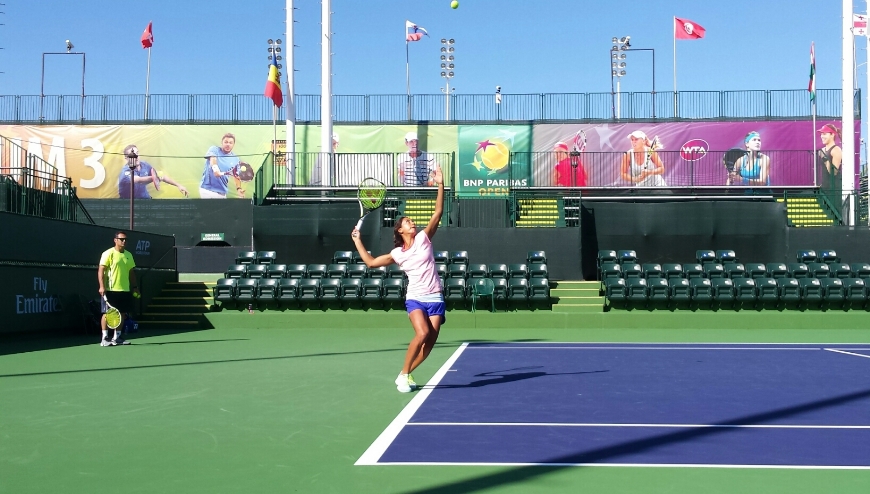 A month earlier in Fedcup, Cagla had recorded the best wins of her career (vs. Heather Watson and Elena Svitolina) and thanks to some terrific results in the previous few months, her WTA ranking had climbed up to a career-best no. 108. However, it was obvious that, deep down, she felt that she had failed the test at a higher "stage" like Indian Wells.
Little did we all know during that dinner that she was about to enter a long period of trials and tribulations, filled with frequent disappointments. Little did we know that between March and September, she was going to only win 6 matches and lose 19, exit every important tournament (including the qualifying rounds of Roland Garros, Wimbledon, and the U.S. Open) after the first-round, and wait until the middle of September, a $25,000 tournament in Batum, Georgia, to remember what it felt like winning two matches in a row. Last but not the least, little did we know that evening, that her ranking was going to plummet from 108 to 192 during that six-month period.
Side note: Although Cagla reached the semifinal and final rounds of two other $25,000 tournaments later in September, it would not be until Dubai in November that Cagla would finally break free of this terrible downswing (more on these later). In other words, the overall focus of this article on an eight-month period rather than a six-month one.
Throughout this period, I remained in contact with Cagla and Can by phone regularly and in-person at a few other tournaments. I can say the following without a shred of doubt: only an exceptional player-coach duo could have survived this period that severely challenged their resolve and character. Usually, in similar situations, some type of deep-crisis moment arrives, necessitating a radical change either in the makeup of a player's team or in the direction of her game. For example, the coach or the player, or both, could lose their belief in their partnership and decide to part ways at times. At others, they could decide that their methods are wrong, and thus, remodel their practice routines, in order to pursue new/other improvements in the player's game. Only the partnership of a player like Cagla who represents the epitome of hard work, dedication, and possesses the ability to use her high-IQ to assess her performance during and after matches, and a coach like Can who can radiate his "positive vibes" to anyone standing within 100 feet of him could have overcome the anguish of that emotionally taxing eight-month-period, and ultimately get rewarded by the 2016 season that Cagla has had so far.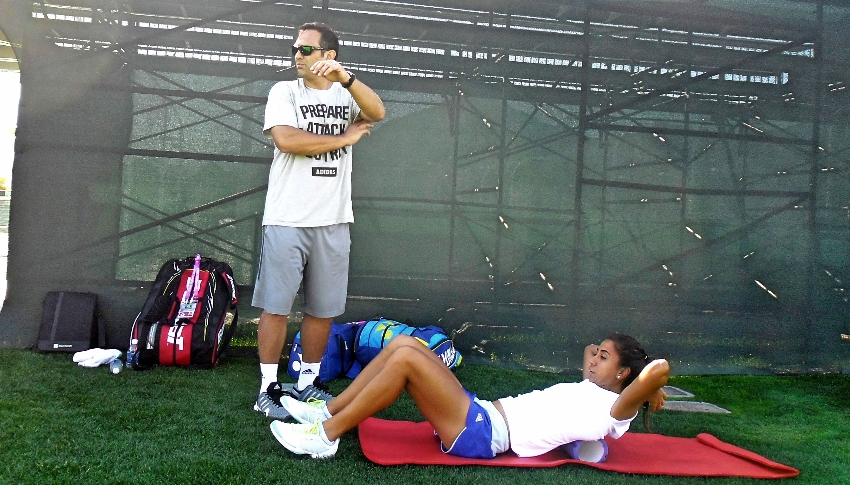 None of the above is to say that they circumvented moments of crisis. There were plenty of them.
One such moment occurred when Cagla lost 6-1 7-6 to Naomi Broady in the first round of Roland Garros qualifying draw. This was a disappointing loss in that Cagla had just had a solid practice week in preparation for the French Open, and therefore, felt extremely upbeat about having found her game for the first time since March. However, as soon as she fell behind early in the match, she turned "passive with her game" as Can would later say. It was not until the second set that she recovered, but that was too little too late to score a come-back victory against a rising player like Broady. High performance in practice followed by an inability to transfer that level to matches often indicates that the player lacks confidence. Cagla would also later admit that during this period filled with disappointments, confidence was precisely what she desperately needed. This defeat was only going to add to the problem.
I immediately sensed the despair in her voice when we talked after the match that day. "Mert, this is so difficult" she said. "This bad period has gone on for too long now and I can't stand it anymore that I can't perform well in matches. I feel awful. I don't know what else to do to turn this around." When I spoke to Can, he did not sound much better: "I can't even tell you how sad I am, my morale is below zero!" Simply put, they were depressed. Cagla needed some wins, and she needed them in a hurry! Anyone who played competitive sports can confirm that winning takes care of a number of issues at once. Even the problems to which you thought there was no solution can quickly get resolved as if a magic wand had touched them.
In the meantime, Cagla and Can had decided in 2014 to revamp and modify her game. It was a decision made after years of remaining in the 100-to-200 area in the rankings. The fact that she had been unable to enter the top 100 (she turned pro in 2006 and outside of a brief period in 2011-12, she had been ranked top 200 since 2010), and had never qualified for the main draw of a Major in her career, was beginning to weigh heavy in her mind. This is why Cagla and her coach had made, back then, the decision to go ahead with major modifications to her game. She began to work extensively on adding new shots to her repertoire, as well as adjusting the existing ones to enhance the aggressive dimension of her game. For example, they focused on increasing the variety on the placement of first serves. They committed to making the drop shot and the swing-volley regular components of her game. They began to pay particular attention to punishing any short balls that came Cagla's way, and firmly decided that if the opportunity presented itself, she would not think twice about approaching the net. They had worked on these and more for the last several months, and Cagla was successfully starting to integrate them into her "A" game in practice. In matches, however, she was still apprehensive about using them, and would often revert back to her comfort zone, which was to rally from behind the baseline, remain consistent, and count on winning on her opponents' errors.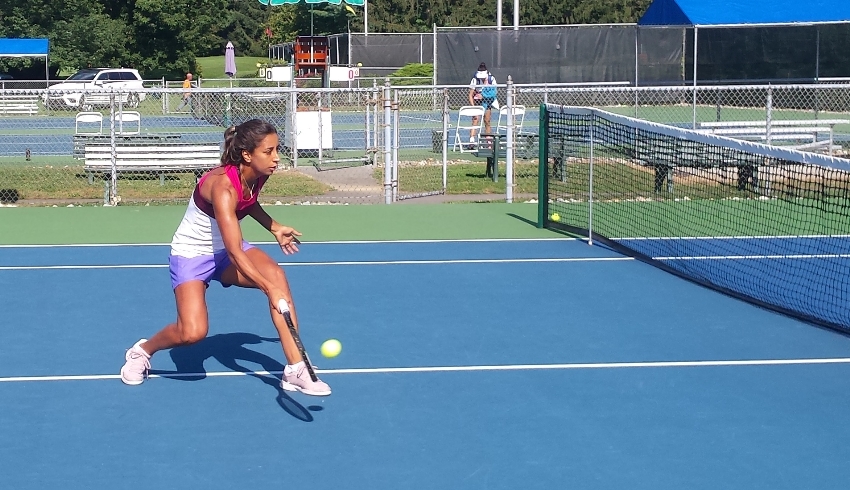 Side note: I neither have the space nor the time to get into the details of this process, but suffice it to say that it is an extremely testing time when a player who has been fairly successful with a particular game plan for an extended period of time attempts to introduce riskier elements to her game that are outside of her "comfort zone." Here is a quick summary of what awaits a player who had made such decision. In order to accomplish this progress, the player must first work on the new (or modified) shots in practice to settle the technical details. Then, she must do it repetitively to gain enough confidence to use them in points. If she succeeds in those first two steps, then will arrive the toughest part of the process: she must integrate these shots in to her game plan in competition, with the understanding that she may, for a while, not be successful with them and lose matches that she may have won with her "older" game plan. Most players engaged in this process will, after a few disappointing results, revert back to their comfort zone because they will not be able to handle the lack of success in the short-term.
Cagla, for her part, was determined to move forward: "The losses are burning me inside but there is no place or time for negativity" she emphasized in our next conversation a few days later after our previous one (see above). Her coach Can never wavered in his commitment to help Cagla get to the next level. He would relentlessly encourage Cagla, clearly let her know that he firmly believed that she was going to get over this tough period. He would reiterate his belief to me in my conversations with him and was adamant that, despite the surmounting losses, he could already notice the progress in her game. I then reminded Cagla that a world in which a competitor did not reap the benefits of her hard work did not exist, and joined Can in encouraging her to stick with their progress plan. The problem was that during this period Cagla was playing higher-level tournaments than she had previously done, and thus, was having to play better, more experienced players. While trying to settle into a new, riskier game plan, a process which tested her patience, she was also having to deal with the psychological damage of suffering frequent (or consecutive) losses. At the time, it seemed like an impossible situation. That was how the summer of 2015 went.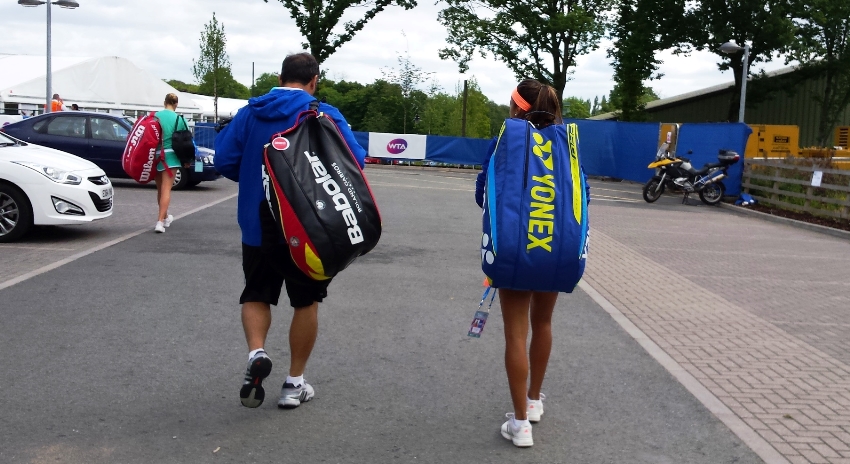 In the beginning of September, Can and Cagla were approaching another moment of crisis. Desired results had not materialized and their patience was wearing thin. I must point out that, to my amazement, Cagla had still not lost her belief and was continuing to search for solutions. Following yet another disappointing 1st-round exit in the qualifying of the U.S. Open, I feared a possible crack in her patience and optimism. She surprised me yet again. I could only listen to Cagla and admire her maturity and objectivity in assessing the reality of her situation. When I told her that she should not let the losses convince her that she had not improved, she calmly replied "I agree that I have improved my game. Yet, it does not mean a thing if my improvement does not translate into wins. That is what I want now. I hope, I must, begin to win more matches. I frankly despise the fact that my ranking has gone down at a time where I think I am playing the best tennis of my career. I don't deserve these back-to-back losses. I need to be mentally stronger, because I feel better about my tennis, and show that in the turning points of matches. With a bit more confidence it will happen. The losses have taken their toll on me. I want to be a tough player again! Once I start winning more, I will feel better, I truly believe that!" After she finished that last sentence, I will never forget, I thought to myself that it takes a special kind of player and a special kind of character to be able to see the larger, the more optimist picture this clearly, in the middle of such a terrible downswing. My fears that she may begin to think that she is in the wrong path and revert back to her older game, or try something totally anew, were dissipated after that conversation. I also knew that Can completely believed in her ability to keep pursuing the goals that they set together. I had no doubt that his enthusiasm and optimism were contagious enough to pass on to Cagla.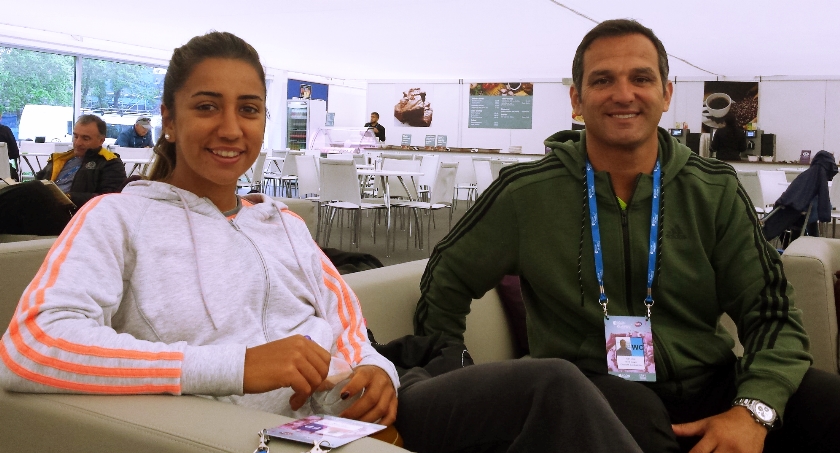 Therefore, it was not a total surprise when, one week after our conversation above, she began bearing the initial fruits of her labor in a $25,000-tournament in Batumi, Georgia. She won five matches in a row to claim the title, and went on to reach the semifinals in her next two tournaments (also $25K each). Cagla was, for the first time, beginning to consistently use the new shots that she had practiced for a year, and to apply her modified game plan to matches. This was proof that she had overcome the toughest part of the process.
She was not, however, overlooking the fact that these tournaments were below the level of those during which she had suffered multiple losses, earlier in the year. It was difficult to tell if, in Cagla's head, the so-called "difficult period" was over or not. The doubt creeped back in when her results remained below expectations in October. Despite her deep disappointment, I detected an upbeat tone in her voice and in the content of what she said when we talked on October 23rd, after her loss to Robin Anderson in Florence, South Carolina: "My disappointment is different this time. I played the kind of tennis that I aimed for. The new me was out there, so to speak. That is why I am so disappointed that I lost. For example, when I played Leykina [a month earlier], I lost because I did not dare to use my new game, I did not use the shots that I added to my game. But in this match, I did, and they worked, and I still lost! What more can I do?" Yes, there was a hint of despair in that last question, but there was also the understanding that her improvements were legitimate. More importantly, they had become part of her game enough for Cagla to now contemplate on how she can build on them. I tried to remind her that she was not alone on the court, and that there was an opponent on the other side of the net who also exercised her influence on the final score. Anderson was an athletic and an intelligent player. This defeat did not need to deter Cagla away from pursuing her long-term goals. As long as she kept improving her game, better results were inevitable at this point. When I talked to Can later, he agreed and simply stated: "We decided long ago that there would be no U-turns on this road. We will continue to move forward!"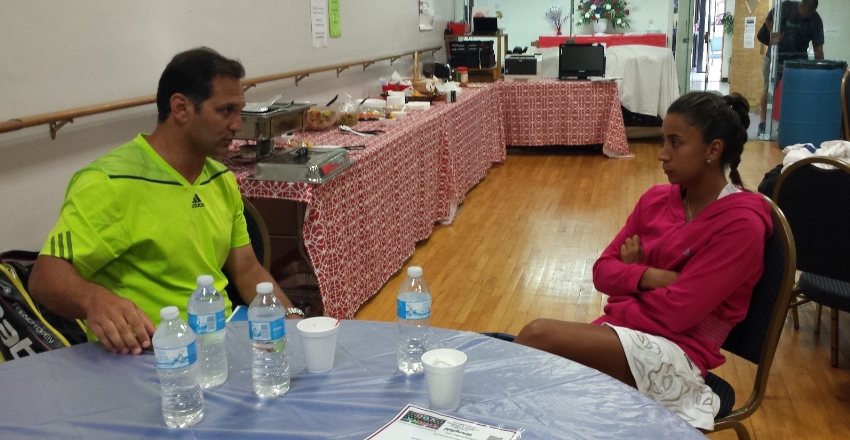 Pre-match talk.
Then came the $75,000 Dubai tournament in November, the Al Habtoor Tennis Challenge, where everything seemed to fall into place. But this was not some magic wand arranging everything with a simple touch. That week was the product of a long period of hard work, the end of a tough several-month stretch marked by trials and tribulations. Cagla did utilize all the new shots in her arsenal, did remain committed to her revamped game plan in the important points, did keep her discipline regardless of the score. More importantly, with each point, set, and match won, what little doubt she still had slowly evaporated away. She concluded the best week of her career, winning the title. Now, she had concrete proof that her game had climbed a level or two above where she had started 2015. The year could not have had a better ending.
Let's now fast forward to April 23rd, 2016…
Cagla was standing with the winner's trophy at the center of the Koza World of Sports Arena, the center court of the WTA Istanbul Cup event. During her winner's speech to the crowd, she did not refer to Can as her coach, but rather as the one "who stood by her during my worst times." As someone who has witnessed their interactions and many of their coach-player dialogs, I can attest to the accuracy of that statement.
Yet, let's give credit where credit is due…
Cagla has never been one to simply follow her coach's instructions. She also evaluates his input, analyzes her own progress, accomplishes the difficult task of transferring the skills learned in practice to matches, and continuously makes the necessary tactical adjustments on her own during matches. This was her victory, her trophy. Anyone who knows Cagla closely can tell you that her work ethic, her sheer determination, and her on-court IQ have all contributed to her success more than her technique. Along with those, the added factor of confidence in 2016 propelled her to career-high ranking and that WTA title in her home country. It was a fairy-tale ending to a long, difficult journey.
There is a scene in the movie Apollo 13 in which Gene Kranz, the flight director at the mission control in Houston, played by Ed Harris, finds himself in the middle of a crisis. The mission has gone wrong and he is focused on getting Apollo 13 safely back to earth. The director of NASA, played by Joe Spano, is standing behind him with another man at his side. He turns to him and says "This could be the worst disaster NASA's ever experienced." Kranz hears this, turns around, and replies with conviction: "With all due respect, sir, I believe this is going to be our finest hour."
Kranz's quote represents the closest metaphor that I can think of when I look back at Cagla's 2015 campaign, because I am certain that the word "disaster" has passed through everyone's head in Cagla's camp at some point during the 2015 season. One day in the future, after her tennis career has ended, she will likely look back at that disastrous period of eight months in the 2015 season and come to the realization that it was indeed her finest hour.
I always believed that the most fruitful periods in a player's career are not the ones where everything is going well, his or her game is clicking on all cylinders, and positive results are coming one after another. The superior players (and coaches) are those who can turn a crisis situation to their advantage. Cagla and Can have passed that test with flying colors, in a way that should be a lesson to all other players and coaches. Of course, there will always be other challenges to overcome. However, what Cagla has proven, without a doubt, is that when a player concentrates on improving his/her game and not use results as the essential determinant of his/her success, the desired numbers also begin to eventually show up on the scoreboard.
In my talk with Cagla, two days after her Istanbul Cup victory, she was still in the euphoria of victory. It was not just that either: with that victory she also achieved her long-time goals of earning a top-100 WTA ranking, entering the main draw of a Major (due to her new ranking, she was guaranteed a spot in the upcoming Wimbledon main draw), and carved her name in stone into the record books as she became the first Turkish woman in history to win a WTA singles title. "It's like I am in a dream Mert, how did this happen?" she said. "This morning when I woke up, I began crying in joy again as I lived the week all over again in my mind. How long I waited for this! What a wonderful feeling. I never experienced anything like this in my life, this must be what people truly refer to when they say 'moment of bliss.'" In my mind, knowingly or unknowingly, she was trying describing her individual sense of accomplishment. It didn't matter anyway what she was describing. It was the happiness that she was radiating that made it all worthwhile to listen to her. She became a champion and earned the right to be happy, at least for those few days.
Update on Cagla since this article appeared in Tenis Dunyasi: she had to play qualifying at the French Open and it turned out, after all, that she did not have to wait until Wimbledon to play in the main draw of a Major. She won three qualifying rounds and a round in the main draw in Paris, before losing to the 24th-seeded Anastasia Pavlyuchenkova 6-3 4-6 6-1 in the second round. She also became the first Turkish tennis player to participate in the Olympic Games, losing to Ekaterina Makarova 3-6 6-0 7-6(6) in a terrific first-round match.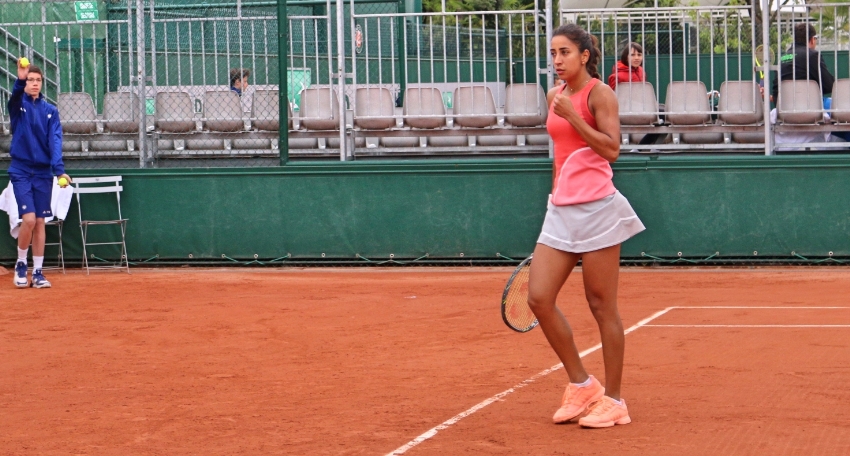 She is currently ranked 77 (one below her career-high 76 last week) and has a chance at being selected to play in the upcoming Olympic Games in Rio. She is right now in London, preparing for her first-round match at Wimbledon against the 30th-seeded Caroline Garcia.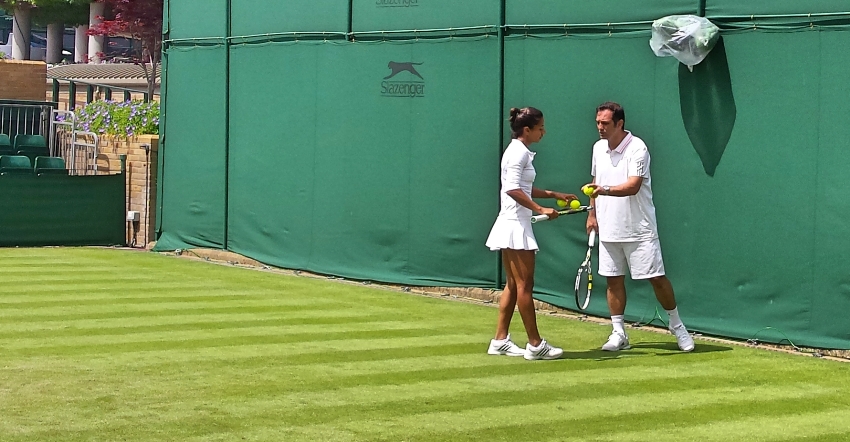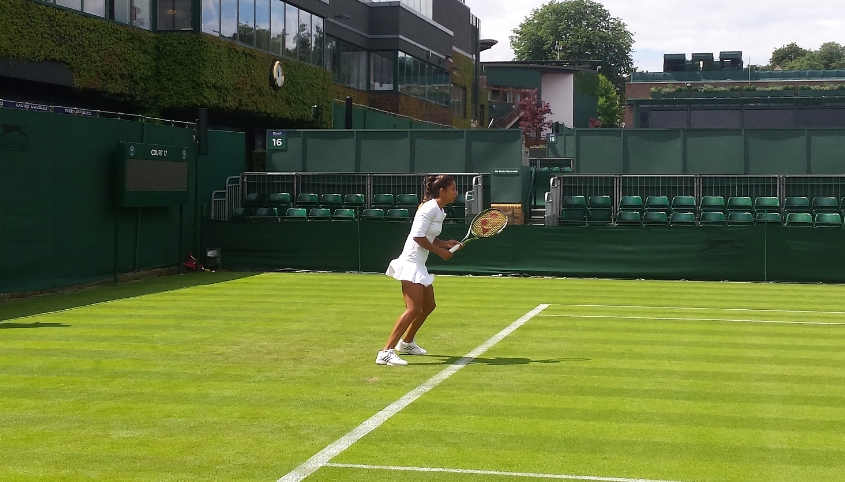 Also —-> Click here to follow MT-Desk on Twitter for frequent, live updates from Wimbledon.