Wimbledon's official site, in its immediate official website update following Roger Federer's spectacular comeback win vs. Marin Cilic, 6-7 4-6 6-3 7-6 6-3, used the headline "Extraordinary. Exhausting. Exhilarating." It was an appropriate exclamation, considering that what took place on Centre Court on Wednesday was less about the quality of Federer's game than about the nature and circumstances of the comeback. The way a tennis legend fabricated a win that seemed so unlikely at several moments of the match was indeed breathtaking.
Prior to the match, I shared my opinion on social media on what to expect. Quite frankly, the match could go either way, in any number of sets, because both players have not yet faced any redoubtable opposition, and thus, there were still many questions unanswered. Federer got to the quarterfinals without much trouble, taking full advantage of a draw that put him against considerably weaker adversaries. His performances in Stuttgart and Halle, two of the leading grass-court tournaments before Wimbledon, were less than impressive, and from his previous matches at SW19, it was hard to tell where his game stood. Adding to the doubt, Federer was still on the comeback trail from his injury. Last but not the least, the last time Roger had to go to distance, playing five sets in a Major, dated back to the 2014 US Open (vs Gaël Monfils). Cilic, for his part, had to overcome a challenging stretch of 10 minutes in the second set of his match vs Sergiy Stakhovsky, but he had yet to face a formidable opponent. At the same time, it is well-known fact, as Roger will be the first one to say so, that on a given day Marin could dominate anyone on the ATP Tour if his game is clicking on all cylinders. For all the reasons above, I felt that the first set would be a central component of the match. If Federer came out swinging freely, he would put doubts to rest and move on to the next round without much headache. If Cilic won the first set, it would be a long duel with the pendulum slightly tilting in the Croat's favor. Although, I turned out right for the most part – and this is rare – I still did not foresee some of what took place for 3 hours and 17 minutes on the court.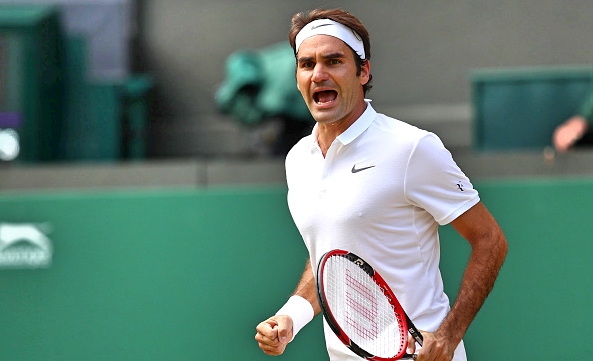 Both players held serve throughout the first set that went to a tiebreaker. While Federer was serving well, he was alarmingly losing most of the baseline rallies. Cilic was solid overall, but not hitting Roger out of the court like he did at the US Open two years ago. Although Cilic did face two break points at 2-2, he only lost one point on his first serve during the rest of set. He won the tiebreaker 7-4 and took the lead. Now there was no doubt. As he usually does when he plays from behind, Federer was going to have to pull all the weapons from the arsenal and find a way to turn the match around.
However, things went from bad to worse in the second set. Even Federer's only reliable shot so far, his serve, took a hit. He served barely over 50% in the second set and in the game that he was broken at 1-1, Federer's footwork looked dismal as he committed one uncharacteristic error after another to lose his serve. Cilic, on the other hand, seemed to remain solid, but not without glitches. He fell behind in a later game 0-30 after two double faults, but Federer was unable to take advantage as he committed a mix of forced and unforced errors during rallies. Cilic led two sets to zero and Federer still looked unsettled in the beginning of the third. Many thought his quest for an 18th Major was soon coming to an end. The quality of his tennis was just not at the point where he could contend for a Major title, or so it seemed. Even Cilic, one of the nice guys on the ATP Tour, would later say that he thought Federer was committing unlikely errors from the baseline, including the fourth-set tiebreaker.
Accordingly, it looked like Cilic was headed for the locker room with a three-set victory when the scoreboard showed 3-3 in the third set and he held three break points at 0-40 on his opponent's serve. One pattern that kept troubling Federer was the second shot after the serve. Following Cilic's returns, he often looked out of balance and committed mistakes (although Cilic's returns would make them "forced errors") on that particular shot. At 0-40, Cilic once again nailed a return right at Federer's feet. The Swiss barely had time to take a step back and answered with an off-balance forehand that barely scraped over the net. It landed short. Cilic hit into the net what should be a routine backhand approach shot. It turned out to be one of the key points of the match. Cilic himself would later admit that this point, along with two of the three match points he had, were the points that he "regretted" the most once the match ended. Then at 30-40, Federer hit a well-placed, high-bouncing second serve that forced the Croat into an error. Federer finally held, and all of a sudden, the momentum shifted tiny bit in his favor for the first time in the match. He broke Cilic's serve in the ensuing game and pocketed the third set 6-3.
Federer would admit later to remembering, during that set, his comeback vs. Tommy Haas in the 2009 French Open. In that match, Haas also led Federer two sets to zero, had a break point to go up, and serve for the match. Federer hit the line with his forehand for a winner and the match turned around quickly, eventually leading to Roger's win in five sets and his only French Open crown two matches later. The only difference: he won the fourth and the fifth sets handily, whereas that would not be the case here against Cilic. Fourth set would be another battle back and forth, similar to the first set, except that Marin would have the opportunities to put the match away, while Roger would still play catch-up tennis. Cilic had his first chance to reestablish his dominance when he led 2-1, and 15-40 on Federer's service game. Two effective second serves by the Swiss, second being much riskier than the first, got him out of trouble and he held for 2-2. At 4-5 would come a bigger opportunity for Cilic to put this encounter in the record books when he had a match point at 30-40. Federer missed his first serve on yet another crucial point. However – and yes, you may be noticing a pattern by now, more on it later – served an exceptional second serve to get out of trouble once again. A second match point would arrive at 5-6, but this time, Federer would hit an ace to save that one and bring the set to a tiebreaker.
In a thrilling 4th-set tiebreaker, Federer saved another match point and squandered four set points himself before finally winning it 11-9 on his fifth one. He especially found himself in big trouble after missing a forehand sitter on his first set point at 6-4 and losing the next two points to go down 6-7 and a third match point. His second serve once again took the leading role. He placed it wonderfully, forcing Cilic into another return error. Did I mention he also served an unreturnable second serve earlier in the tiebreaker? Well, I just did.
The fifth set was finally where Federer, for the first time in the match, did swing freely, serving better and better, and beginning to dominate Cilic on all facets of the game. One break was enough and he would find it in the eighth game of the set. In the next game, he served out the match and lifted his hands high up in the air after the ace that officially finished the match. Federer would characterize this comeback as a "big one" but not necessarily his biggest.
This was a special win, not because of the tennis that Federer played, but more because of his often-underrated competitor persona that surfaced. Tim Henman would confirm on his post-match commentary on BBC, accurately so, that Roger's "will to win" was what got him over the hurdle. Federer said later that he was "lucky to some extent," but he also affirmed that he would "rather be here than booking a jet." Isn't it the sign of a champion anyway to find some solution and fabricate a win when he/she cannot perform at the desired level? The elite athletes in our sport prove repeatedly that it is the case.
One of the most underrated shots in tennis is the second serve, yet somehow one that elite players usually lead in all categories to which it relates. As you read above, it was Federer's second serve that got him out of trouble on the majority of critical moments during the match. Two match points and three crucial break points that almost felt like match points were all saved thanks to second serves that had faster-than-usual pace or risky placement, or both. Roger said that his serve was the one shot he felt he could always fall back on, specifically mentioning his second serve.
How much does he rely on it? Here are a few numbers to ponder. In yesterday's five-set match, Federer committed zero double faults. Keep in mind that he was not, by any means, "playing it safe" on his second serves. In fact, he took high risks on many of them simply because he had trouble handling Cilic's returns. On the break and match points noted above, they were placed extremely close to the lines. At Wimbledon so far, the Swiss has committed a total of 2 ("two" in writing) double faults in five matches! He won 59% of his second-serve points against Cilic, and that stat is at 63% for the overall tournament. Are these details? Maybe… But for some reason, these details are always present and relevant when the topic revolves around the top players of our game.
Federer plays Milos Raonic in the semis. The Canadian is also winning 63% of his second-serve points. Federer will need to extend to the whole match the level of tennis he put on display in the fifth set against Cilic. He will (possibly) need to do that again, in order to lift the trophy on Sunday. In short, he has to play his two best matches of 2016 in succession, in order to win his favorite Major. I neither see him defeating Raonic nor winning the tournament if he plays another match at a level no higher than the previous ones in which he was challenged throughout the grass-court season. The good news: he has improved with each match and during yesterday's match. He reiterated the importance of the seven matches that he got to play in Stuttgart and Halle in terms of getting prepared for Wimbledon. At the end of the tournament, I am guessing that this particular one against Cilic may yet turn out to be the biggest.