1) JO-WILFRIED TSONGA (9) vs. JACK SOCK (26)
Louis Armstrong Stadium, Day Session
I am not sure why I am picking this match for a preview, because it involves one of the more unpredictable players of modern times, the athletic, powerful, talented, yet erratic Frenchman Jo-Wilfried Tsonga, and Jack Sock, an American who certainly has his best chance at a deep run in a Major, but has, every now and then, produced lackluster performances when he found himself in such moments. I should even warn everyone (including myself) that I may be doing this for nothing, since both players have retired from matches in the past due to illness, fatigue, or injury. Unpredictability surrounds this encounter.
Nevertheless, I can comfortably say that Tsonga's form should play a larger role in the match's outcome than that of his opponent. On a good serving day, Jo has the ability to ace games away. Even on his second serve, he can bounce it high enough to set the winner on the next shot. Nonetheless, this is one of the unknowns. In the US Open so far, he has served a fair share of aces and won plenty of free points on his serves, but his first-serve percentage remained below 60%. Sock is not a great returner, so Jo may not necessarily need to excel in this category, but it would dramatically help his cause if he could serve at 60% or higher. He has been successful at the net, especially against Kevin Anderson in the third round, and I expect him to continue to approach the net whenever he gets a chance.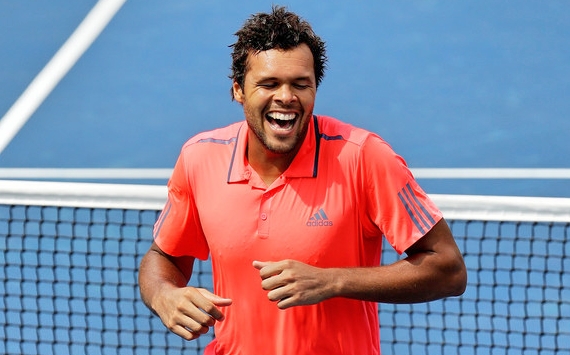 Unlike against Anderson, however, he will have the Louis Armstrong stadium crowd rooting for his opponent. The last thing Tsonga needs are rallies in which Sock uses his powerful forehand to push Tsonga around behind the baseline, and breaks the Frenchman's fragile backhand down. Sock's ground stroke velocity is considerably higher than Anderson's and I do not believe it is in Jo's best interest to turn the match into a "who-can-whack-harder-from-behind-the-baseline" battle. That pattern spells a straight-set victory for the American in my opinion, but it is up to Tsonga to avoid falling into that trap. With a variety of first serves, followed by forehand strikes or astutely placed backhand approach shots, Jo should put the pressure on Sock on the American's service games. It will also diminish the importance of Jo's backhand, and it's a good thing for him, in the outcome of the match. In the worst case scenario, meaning extended rallies, Tsonga must keep the large majority of the balls away from Sock's forehand, unless it is for the purpose of opening up the backhand corner. The American is more likely to produce a short ball from his backhand than from his unorthodox-yet-efficient forehand.
Sock is the lower-seeded player in this match, but I would not exactly call him an underdog in this setting. Most Frenchmen, Tsonga included, and often by their own admission, have never felt comfortable in the American continent, not to mention at the US Open. Furthermore, the pattern of success that American players have traditionally achieved when they are playing a tournament on their home turf is undeniable. Tsonga is not what you would call a "fierce competitor" either, and at times, he tends to lose his spirit on the court. I would therefore say that Sock's chances of victory will greatly increase (more than it usually would against someone else) if he can pocket the first set. It would also behoove Jack to get the crowd involved quickly in the match and exchange positive vibes (and I say this, because Sock can sometimes do exactly the opposite) with the tennis fans present on the seats.
As I noted above, serves and forehands, or some variation of the "1-2 punch" as it's sometimes called, will play a central role for Tsonga's success. Yet, the same can also be said for Sock, because those are his biggest weapons too. The contrast is in the other areas of their game. Jack's baseline game is superior to Tsonga's, so he may not necessarily want to take risks and go for winners early (as opposed to Jo). The Frenchman's volleying skills and athleticism make him a better net player than Sock. The difference is that Jo will need those skills to win, Jack may win without needing them.
Again, a lot of unknowns come into play in this match, but Tsonga is the player that will determine whether those unknowns will have an impact on the outcome or not. If he can execute the details listed above, I have no doubt that he will turn the tide in his favor and come out triumphant regardless of what Sock does, unless factors outside the court take over.
RAFAEL NADAL (4)vs. LUCAS POUILLE (24)
Arthur Ashe Stadium, last match Day Session
First, let me say this, in case my friends and my readers do not already know: I like Pouille. I have followed him since my years of living in France when he was a developing junior. His fundamentally sound technique had impressed me and I somehow knew he would steadily improve and reach the biggest stage. I first watched him live in 2009 when he was 15 years old, at a tournament in a small town just outside of Paris. He was the top player in France in his age group if I am not mistaken, and he lost to Tristan Lamasine, the current no. 222 in the ATP rankings, in three sets (the exact score and the name of the club escape me). Along with several other junior players, he remained on my radar. Once he grew older and began to climb up in the ATP rankings, I was not surprised. My only worry was that he would not physically develop as quickly as some other juniors. That did not turn out to be the case, as he has bulked up and improved his conditioning. In short, where his career stands right now was something that I frankly expected. In fact, I would be surprised if he does not continue his rise. He has a sound all-around game, the necessary on-court disposition, and the endurance needed to succeed in the Majors and other big tournament.
Considering that this is a preview of his match against Rafael Nadal on Sunday, at this point, you are probably expecting a "but" or a "having said that," before I go on.
You won't get it. That is because I do believe Pouille has a chance to defeat Nadal, although I am sure that he will enter the Arthur Ashe stadium as a heavy underdog. He will, however, walk in the largest tennis arena in the world with a lot of confidence thanks to a quarterfinal appearance in a Major (Wimbledon) and a terrific win on Friday against a solid Roberto Bautista-Agut, as well as a sense of belonging. He also possesses the mental poise to avoid intimidation, cyclical ups-and-downs triggered by frustration or extreme enthusiasm.
His main problem will be the same one that all players encounter when they face Rafa. The Spaniard will hit the ball a bit harder and with a bit more spin than any other solid baseline player on the tour. Lucas, for his part, will have to deal with a lot of pressure on his weaker backhand side. To make matters worse, the cross-court forehand is Rafa's most natural shot, and calling Roger Federer for advice will not help Pouille on this particular detail. There is nevertheless a path to victory for Pouille in this match.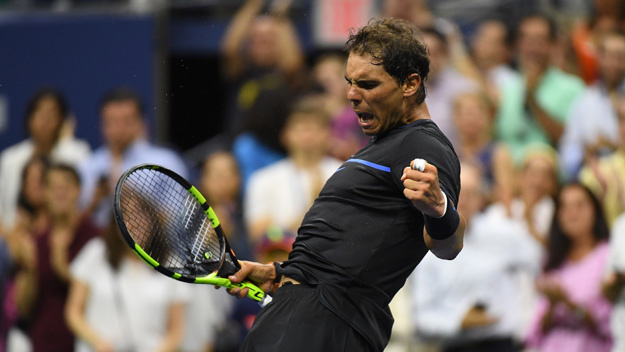 For starters, he will need to overcome the same challenge that his compatriot Tsonga faces, as noted above, but with more urgency. Oui! He will need a much higher first-serve percentage than what he has shown in his previous three matches – %43 vs Kukushkin, %57 vs Chiudinelli, %56 vs Bautista-Agut. Pouille's game plan will need to build on his attacking game, especially on his ability to accelerate the ball with his forehand, and for that to happen, he will need a large bucket of first serves to set the pattern up. A percentage closer to 70 would be just what the doctor ordered for Pouille, but it may be too much to ask from someone who has not gone above 60% in the tournament. He will, in addition, need to adopt the same plan that he executed so well against Bautista-Agut: he must stay aggressive from the baseline but not go for straight winners too early, and unleash his forehand when he does get a ball on which he can step inside the baseline. If not a winner, he still has the volleying skills to get it done at the net, assuming he comes in on well-constructed opportunities. Beyond that, a little help from Nadal would help the young Frenchman. It is not impossible (like it used to be in the past) because Rafa has had off-days as late as this year. Remember, Rafa is not the pre-2014 version where his standard rarely dipped below of greatness whenever he stepped on the court. Yes, I agree that it sounds like I am listing a string of "ifs" for Pouille to succeed, but none of it remains beyond of the realm of possibility. Although, he has played 14 sets in his first three matches, I don't believe fatigue will be an issue for Pouille (probably my most daring assumption).
In any case, it would be the greatest victory in Pouille's career to date if he were to take out one of the greatest players of all times who is also one of the very few favorites to win the US Open. All the rising youngsters aiming to join the ATP's elite level need a milestone victory to get on the path to establish themselves as potential candidates. Players such as Kei Nishikori and Milos Raonic have penetrated that realm with a win or two and are paving the way. If he were to rise to the occasion, tomorrow's match would be that type of win for Pouille.