I will attempt to post a preview or two of matches each day, time permitting, for the rest of Roland Garros 2017 on MT-Desk. Here are two previews of fourth-round matches, one from the women's draw and one from the men's, both scheduled to be played on Sunday.
Svetlana Kuznetsova (8) vs Caroline Wozniacki (11)
This will be a shorter preview than the men's match below, simply because there are less unknowns here. Wozniacki's game is one of the most predictable ones in the women's game. She will attempt to out-rally and out-endure her opponents until the Sahara Desert freezes over. Her plan A (is there a plan B?) will not change much whether she is playing a touch player, a hard-hitter, a big server, or anyone's grand-parent.
Kuznetsova's game is also fairly well-known to every tennis fan. She more one-dimensional than not only Wozniacki but many other WTA players. I do not believe anyone will argue that Sveta has more experience in the Majors, a more complete all-around game, more weapons, and more creativity than Wozniacki. She is also prone to rare concentration lapses, sometimes occurring at important segments in the match. She has been known to blow leads, or play excellent until she has three set points, only to lose them with unexpected errors. This is one area where you can trust Caro more than Sveta. Wozniacki's level is unlikely to fluctuate throughout the match. Barring that from happening, I believe Sveta should come out on top of this encounter.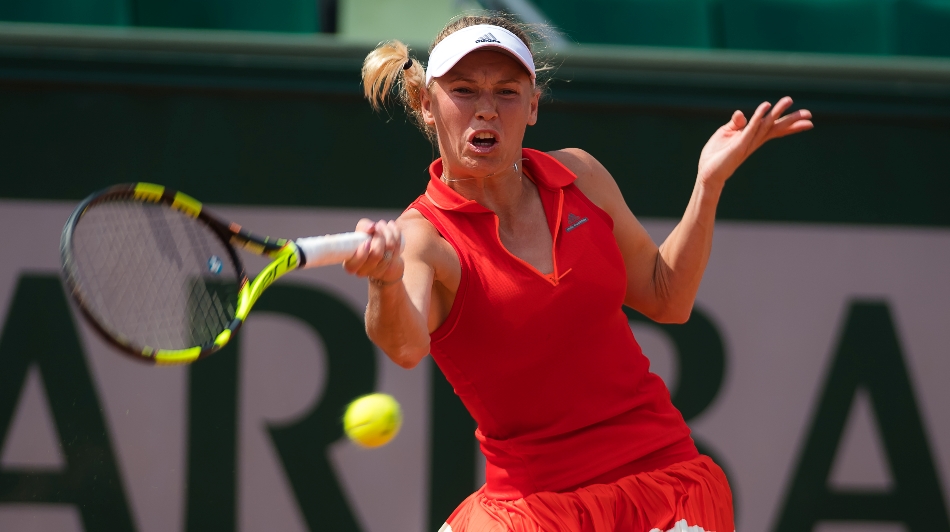 Photo: Jimmie48Photography
The first three or four games will play a key role in this match. If Kuznetsova establishes her game from the beginning, pushes Caro around from the baseline, later adds her touch with drop shots and angles, and complements all that with the type of patterns that she likes to set up (consisting of moving into the court with forehands only to finish the point either with a direct winner or a high volley) she could turn the match into a routine two-set win because Wozniacki's game does not contain anything that can answer the all-around assault of which Kuznetsova is capable. If the reverse were to take place, in other words, if Sveta's game is not clicking on all cylinders, she becomes error-prone, and Wozniacki gets ahead on sheer consistency, the Russian should still be able to use other options to turn the match around.
Look for aggressive returns from Sveta, along with varying pace and unpredictable patterns in long rallies. I would guess that Sveta will not hit more than two balls to the same side of Caro, unless it is with the intention of surprising her opponent and putting her on the back foot. Also look for the Russian to use plenty of semi-aggressive forehands from the baseline or behind, to set up the winning forehand (or swing-volley) from inside the baseline. Wozniacki will need to rely on her footwork and keeping the cross-court angles wide enough so Sveta cannot get set in the middle of the court and take control.
First-serve percentage plays a more paramount role for Wozniacki than her opponent. Kuznetsova still has the arsenal for shot production once she engages in the rally. But if Wozniacki does not wish to allow Sveta to use that arsenal at will from the first shot of the rally, she will need to get in a lot of first serves. I see Kuznetsova winning this match in two sets, one comfortable, one tightly contested.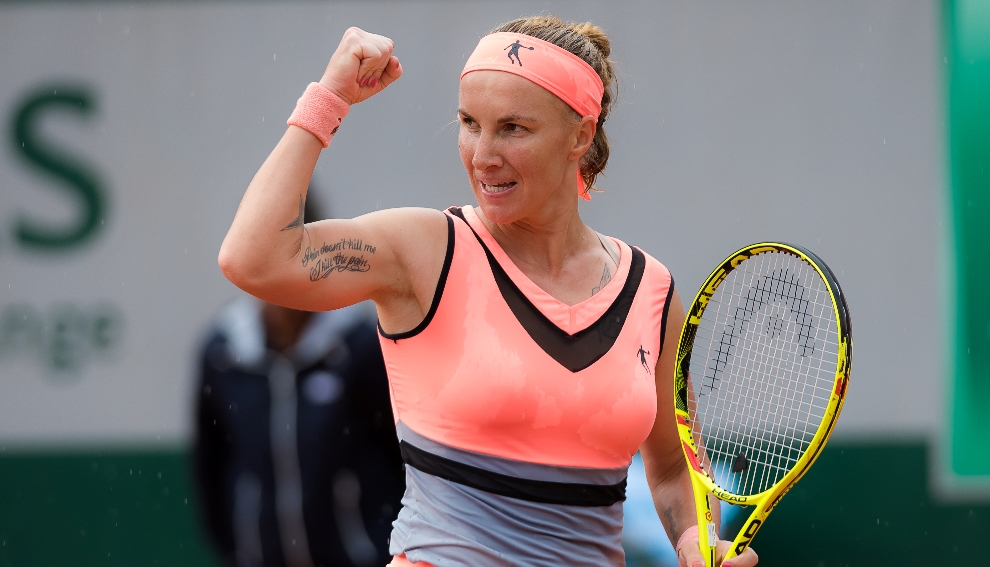 Photo: Jimmie48Photography
Milos Raonic (5) vs Pablo Carreno-Busta (20)
This is a tough pick due to two specific reasons: it is 2017 and the match will be played on red clay. Let me elaborate further, first starting with the surface. On hard courts, and especially on grass, I would pick Raonic without much hesitation, especially if he is physically fit. But on clay, which also happens to be Carreno Busta's favorite surface, I think twice. Raonic, for his part, has not left any doubt in anyone's mind that clay is his least favorite surface. Most tennis fans would have guessed that anyway, but no need to even make an educated guess, Milos will personally confirm that to anyone's face if he is asked directly the question. During Istanbul Open, he gave one-word answer, specifically "no," anytime he was asked if he liked playing on clay, if he felt comfortable on it, or if he would have expected to make the finals on a clay-court ATP tournament (which he did in Istanbul).
One cannot ignore either the kind of year that Carreno Busta is enjoying. Having the best year of his career, at least so far, the Spaniard lifted the trophy on the clay courts of Estoril and, as of three weeks ago, climbed to his career-high ranking of 18 (currently at no. 21).
Thus my mention of the surface and the year as two reasons that make the outcome hard to predict. Yet, tactically, the players' plans should be fairly straight forward. Raonic will look to attack, Carreno Busta will look to resist and count on consistency. More on that later.
When one scratches below the surface, however, there are minor details that tilt this match, in my opinion, in Raonic's favor. Let's dig deeper by beginning this with the surface from the Canadian's perspective and finishing with Carreno Busta's 2017 campaign.
Raonic is a top-10 player who has reached multiple second weeks in Majors (going far in a few, remember Wimbledon last year?) and the round of 16s in last year's French Open. Furthermore, he reached quarterfinals or better in every clay-court tournament leading up to the French Open, including the final in Istanbul, except in Madrid where he lost to a superb David Goffin in the round of 16. While the red dirt may not be his favorite surface, his only losses on it have come against Marin Cilic, David Goffin, Alexander Zverev and Thomas Berdych, all finalists or winners in those tournaments.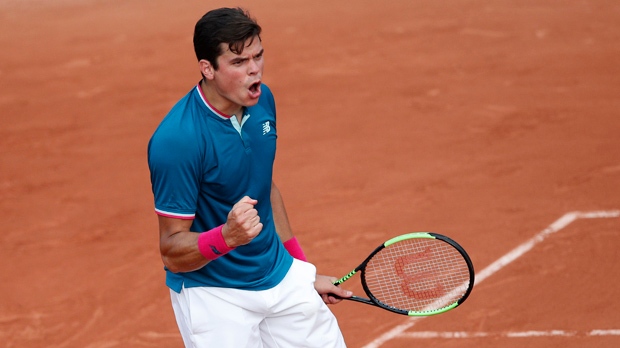 AP Photo – Christophe Ena
Carreno Busta, while having racked up a lot of wins this year on clay, has not beaten a player of the caliber of Raonic in any tournament. Nevertheless, he has some very respectable wins by any player's standards. Defeating Pablo Cuevas (also lost to him once), Fabio Fognini, Gilles Simon and David Ferrer (even their 2017 versions), all on clay, should all be considered solid victories. Yet, Raonic also has a legitimate chance to defeat those players on a given day, even on clay.
One other factor that should be always mentioned when talking about the Canadian: he is physically fine, and as many know by now, that is nothing less than wonderful news for any Milos fan.
Then, and finally, there is the tactical side. Raonic will probably face from Carreno Busta the type of baseline-rally patterns and the amount of topspin that he has seen on numerous occasions against other previous clay-court players. Plus, as Milos himself pointed out yesterday, Carreno Busta is not as much a "clay-court specialist" as some of the other Spanish or South Americans, although he accepts that it is Pablo's best surface. From Carreno Busta's perspective, in contrast, chances are he has played very few opponents that can get him ready for Raonic. He will have to confront one of the biggest and most efficient servers on the ATP Tour, with a terrific one-two punch, and the type of game that will not allow Pablo to operate on his well-established patterns to set the points up in his favor. He will probably feel a bit hurried at times and take more risks on his second serves, aware of Raonic's urge to take charge early in the rally and cut the point short. On the positive side, he will also get a few more "gift" points from Milos than he may receive from a baseline-oriented player.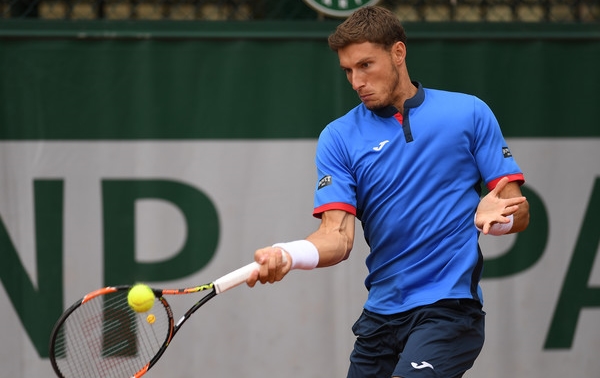 Getty Images / Dennis Grombkowski
It will be up to the Spaniard to counteract his opponent. I do not believe Carreno Busta can do that for three sets. I am going with Milos in this match, in a tight four-set affair or a five-set marathon, assuming (and it is an important assumption) that he does not get physically get hurt or diminished through the course of the match.
Note: Click here to follow MT-Desk on Twitter – This week: live from Roland Garros