Note: This is the expanded (and in English) version of my post-2016-Wimbledon article published in Tenis Dunyasi magazine, one year ago.
It is common knowledge that Wimbledon values traditions and hangs on to them. After all, players are still required to wear white outfits and it was not until 1986 that they changed from white tennis balls to yellow ones, many years after the rest of the tennis arena did.
Then, there is the Queue. A singular experience at Wimbledon, a tradition that has existed for over a century. The name is self-explanatory; you get in the queue and you buy tickets. It is nevertheless unique in that Wimbledon is the only Major that still continues the practice of making tickets available for the public to purchase, on the day of competition. The more you dig down to the details of how the Queue's mechanisms work, the more fascinating it becomes. It is not just any queue. It is a camp site. It is a social club. It is an over-night (or over-more-than-one-night) stay. It is a thrill. It is a place of joy, if you get the ticket of your choice, or of pain, if you do not. Yes, you read it right; getting in the Queue and waiting for days do not always guarantee you entry.
Here is how it works: there are 500 tickets put aside for Centre Court and Court 1. If you don't get one of these, you have to settle for a Grounds Pass. Thus, camping out in the Queue for a day or two, before the day of your choice, pays off if you adamantly want a Centre Court or a Court 1 ticket. The Queue begins at a park adjacent to the Wimbledon grounds. You first get a "Queue Card" with a designated number. The card holders set up their tent and equipment to settle in the designated area. Depending on the number on their first card, they receive a second card (in exchange for the first one) 24 hours before the day for which they requested the ticket.
The number of the second card matters, a lot! If you want to guarantee having a Centre Court ticket, that number needs to be 500 or below. You may still get into the Centre Court if it is numbered below 500, but that depends on how many people before you request a Court no.1 ticket instead of a Centre Court one. For example if your card's number is 650 and you want a Centre Court ticket, you need at least 150 people before you to choose Court no.1 (or other courts) over Centre Court, thus the importance of which (favorite) player is scheduled on what court. If your card is among the first 1000, you are guaranteed to enter either Centre COurt or Court no.1. You get it? If you do not, you can delve into the 26-page brochure that is distributed to the Queue's denizens at their arrival.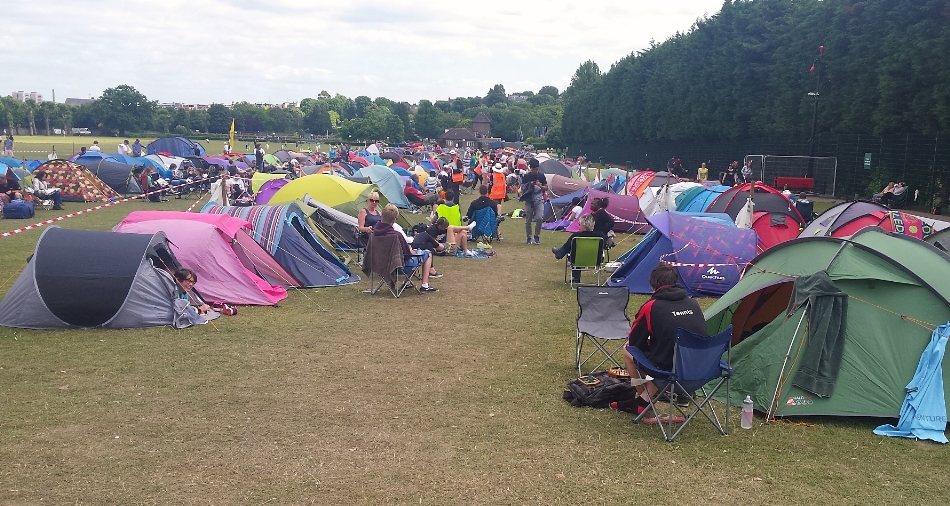 After spending the night in your tent, you pick them up in the morning, leave them at the designed deposit area, and stewards (more on "stewards" little later) show you the way to the actual waiting line of the Queue. When your turn comes up, you get the entry wrist band and you enter Wimbledon grounds with your ticket. This is the moment of victory, of exhilaration, one where you reap the benefits of long hours of wait.
For all the reasons I mentioned above, and more, you can hear the most gripping tales from the people coming from all corners of the world in order to experience of the Queue culture. In fact, the four remarkable individuals with whom I talked come from different continents. Before I go into their stories, let me point out one thing; the Queue is dominated by Roger Federer fans! Before I ventured there, I was expecting plenty of Andy Murray fans, and some fans of other male and female players. Yet, outside of a few exceptions, an overwhelming majority donned Nike clothing with something about Roger on them, or a "RF" hat, or had some sort of Swiss paraphernalia.
Jen and Gloria
Jen from Brisbane, Australia, and Gloria, originally from Hong Kong (now calls Sydney her home), have also traveled to London with the intention of cheering for Federer. It is, in a way, thanks to Federer that they met two years earlier at the Brisbane ATP tournament, during a dinner organized by Tennis Australia with the Swiss in attendance, as well as Patrick Rafter and Rod Laver. During the auction part of the dinner, Gloria won the right to flip the coin on the court before Roger's first match. Jen, for her part, got a photo op with him and the chance to watch one of his private practice sessions.
Jen and Gloria have been friends ever since that week: "You know, the thing is that Roger attracts different people from different backgrounds. We would have never met if it weren't for our admiration of Roger" says Gloria.
Jen smiles and remembers more details: "Gloria and I were both at the dinner and seated at the same table. During the dinner, there was an auction. One of the auction items was a chance for four people to attend one of his practice sessions for an hour and a half at Brisbane International, and also for someone to do the coin toss for his first match. Gloria and another girl beat us for that auction [both laughing hard]."
"It was expensive!!" adds Gloria.
Jen agrees [more laughter]: "Yeah it went ridiculously expensive. There was another auction for a photo with him on that night. I was inspired by Gloria's winning of the previous bid, so I bid on that one and won [laughs]. So, we became friends there with Gloria. We all attended the practice together."
The planning for Wimbledon and the Queue began before they even departed: "I had to work all the way to Friday and I boarded the 9 PM flight on that evening. The draw came out when I was at the airport. We were texting, trying to organize when we would start the Queue. We were arguing [both laugh hard]. I was saying 'you have got to give me some sleep, surely! 24 hours on a plane, you know?' So finally, I arrived here around lunch time on Saturday."
Gloria came to London before Jen: "I arrived one day earlier, on Friday, to get used to the environment. It's my first time to come to Wimbledon and unlike Jen, I never lived in London. So I walked around to get familiar with everything. I went to see where the Queue started. On Saturday, I saw the first ones to get in the Queue around noon. It was amazing. I quickly texted Jen and said [using a scared tone] 'Someone is already in the Queue!'"
Once both in London, their schedule – time of arrival to the park, when to enter the Queue, the type of ticket requested – revolved around the Swiss legend's matches.
Jen continues: "When I arrived, we went out to Southfields for an early dinner, but we did not neglect to check the Queue before going. There were about 50 tents pitched, and we thought we would be okay. So, we decided to come back to our BnB. We organized with our friends that we would get up early and come back to the Queue about 4 AM early on Sunday morning. Then, we thought 'Let's cheat and get up earlier!' [laughter]. So we had breakfast in the dark around 2 AM, and we arrived to the Queue at 3:30. We waited. At 8 AM, they opened up the gates and usher you in. There are two parks with a golf course in between. The actual Queue is where you come through the gate and through the field, where they put you in rows where you see all the other tents. So, we put down our tents."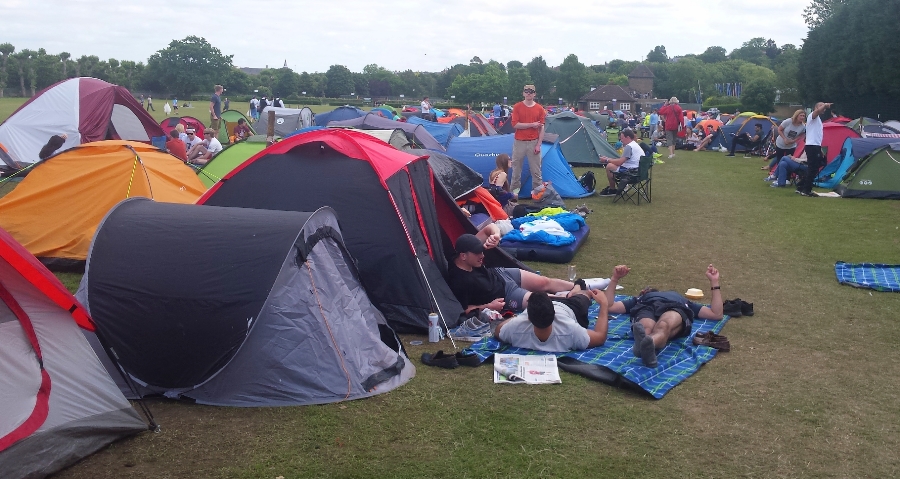 To be clear, Jen and Gloria are doing this early Sunday morning, for the right to gain entry to the grounds on Monday. I should also point out that Gloria bought her tent in London, but Jen brought hers from Australia and had to confirm it, with a giggle I might add, once she saw the shocked expression on my face: "Yes, they are the pop-up kind, really flimsy. A sleeping bag too, you name it."
Around 3 PM in the afternoon, they receive their Queue cards and see that they are numbered within the first 500. First part mission is accomplished! The true moment of triumph will come they actually enter Wimbledon with their centre-court wristbands the next morning. Having received their Queue cards, they must for now await patiently in their tent from Sunday afternoon to Monday morning.
"Yes! In the tent, all day and all night" confirms Jen. "They wake you up about 5 AM so you can start disassembling the tents. Then, they have a left-luggage area that opens around 5:30. You leave all your camping gear there. They keep your tents, all packed up, until you come back. Once you do that, you get back in the same line where you had your tents."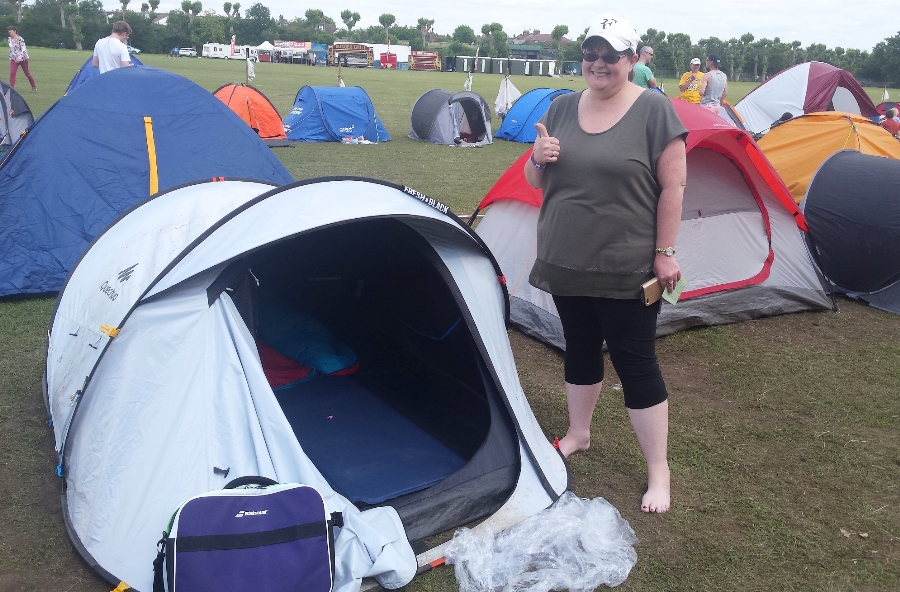 Gloria: "We wait on the pitch until about 7 AM. We form a line. Then, they start walking us out.
Jen: "They take us through the Golf Course, we pass through a garden pass. There are some sponsors as you walk along, some entertainment. At the end of that path, you go through security. Then they hand out the wrist bands for the court that you want. They open the gates at about 9:45 and we enter the food village area."
When I ask if that is a similar feeling to a victory for them, they smile big and answer in unison "Yes!"
Yet, there is still more to this tale after they watch Roger win his first-round match: "We went straight back to the Queue for Wednesday tickets because that is when he would play his next round" says Jen.
"Yes, we want to make sure, we are in the first 500 for Wednesday!" adds Gloria.
Jen: "Roger finished late, around 9 PM on Monday. It was getting dark, we were starving, and it was raining! We were in the third row of tents. We received our Tuesday card on that evening. My number was 772 [which included people wanting to go in on Tuesday]. We put up the tents again. Essentially, when they wake everybody up on Tuesday morning, they tell you to drag your tent over to the side without dismantling it, if you choose not to move in the Queue with the Tuesday crowd."
When the Tuesday crowd moved out and the cards for Wednesday's entry were passed around to replace the Tuesday cards, Jen's new card number was 80.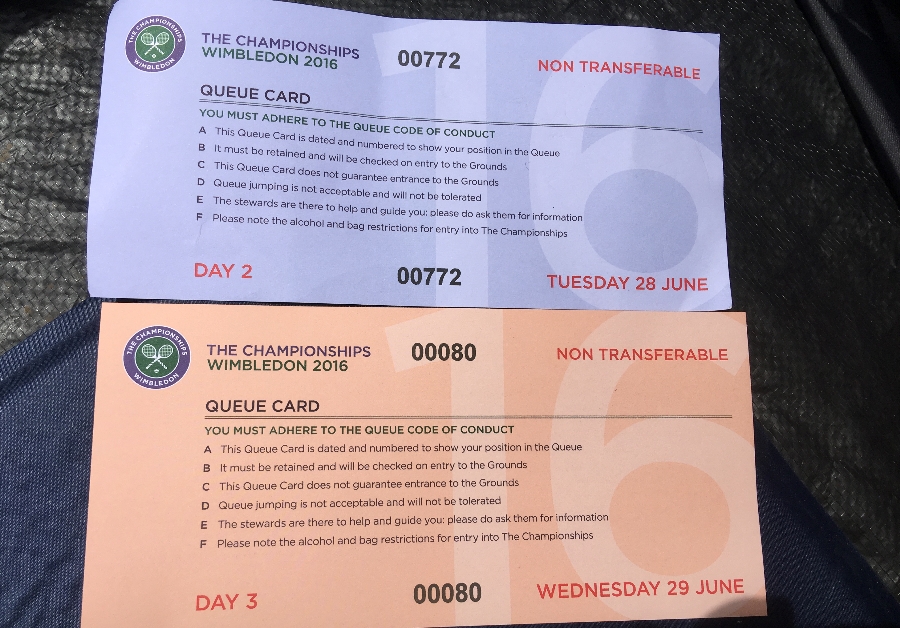 Gloria was in a similar situation. Mission accomplished, again! Thus continued the tale of Gloria and Jen, not without hardships, mind you? The weather was miserable for a few days and their tents leaked, so they had to buy new ones! The last time I talked to these two wonderful women, it had been 11 days since they began the daily Queue routine.
Edgard
Jen's "neighbor" in the tent area was a young Brazilian named Edgard. Aspiring to be a lawyer, Edgard had traveled around the world and participated in charitable and humane causes. He had recently gone to Syria to better understand the Syrian refugee crisis. He also had an on-going dream; to see Federer play live. In order to truly understand what an emotional roller-coaster he went through, until Wimbledon and during his time in the Queue, to realize his dream, it is best to show you my question-and-answer session with him, unedited (and if you could have only been there and see him say it with his better-than-average English authenticated with a strong Brazilian/Portuguese accent, priceless!).
Edgard: "I was in Syria helping with the refuge crisis for weeks. After that, before I go back to Brazil, I wanted to give myself a gift. That gift was to realize my dream of watching Roger Federer play. I went directly to Madrid, he pulled out. I said 'Come on Roger, I came here just to watch you, I don't have anything to do in Madrid!' Then I came to Roland Garros, just to watch Roger because I am not sure if he is coming to Olympics. I arrive to Paris, he pulls out! Again! And I was like… man… what about my gift? I was doing talks about the refuge crisis in universities. I was postponing my departure to Brazil to see if I could see Federer.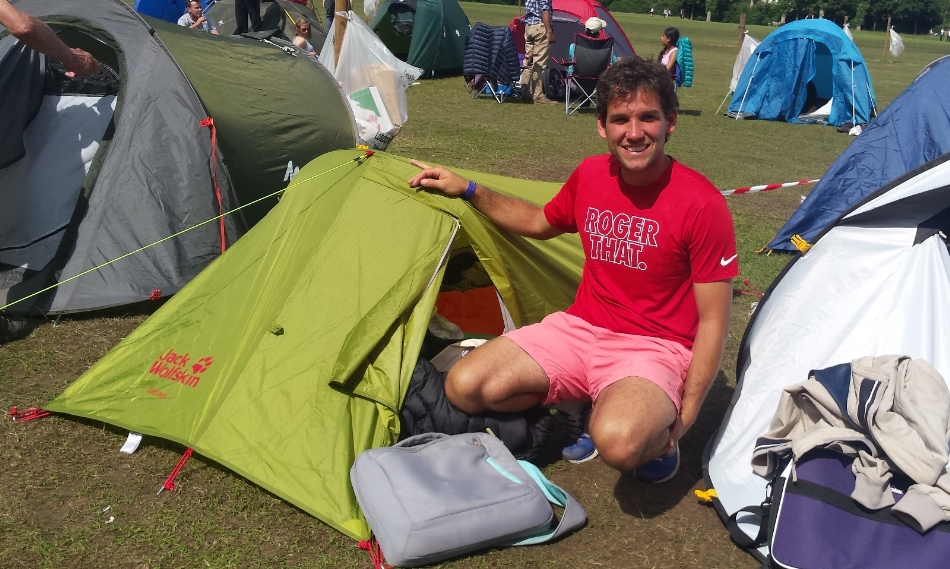 My last job ended on July 1st at a university in Portugal. So I thought 'okay I am just two hours from here to London' but I heard that it was impossible to watch a match at Wimbledon, especially Roger on Centre Court. This was my hugest dream ever, to watch Federer on Centre Court. Everybody in Brazil knows that I am a Federer fan, because I have a huge flag in Brazil, half Brazilian, half Swiss flag. So when I landed here, I came directly from Gatwick Airport to here. Because somebody told me 'Go Edgard, go there, you can make it!' I don't have a place to stay, I didn't book anything. I arrived here on Saturday morning and I started camping. They began to distribute the Queue card. My number was 503!! When they gave me that card, it killed all my expectations; I thought I couldn't make it. I started to cry when I saw the number.
But people kept encouraging me saying 'No Edgar, you can make it, just wait.' I was sweating, waiting to see if I could make it. During those two days, there was a tournament on a mini court, and I played. People thought I had the same style as Federer, I am a huge fan of him, so they began calling me "Fedgard" and cheering me up, because I was number 503 and they could see that I was desperate. It was the worst two days of my life waiting to see if I could get in. They scheduled Federer and Murray on Centre Court for Monday and I told people that I am more nervous in this Queue than crossing the check points in Syria, seriously!
So, when the stewards began coming with the wrist bands, I asked her 'am I in?' She told me 'I really don't know.' And I felt like a heart attack. I lost my mind. Why did I have 503?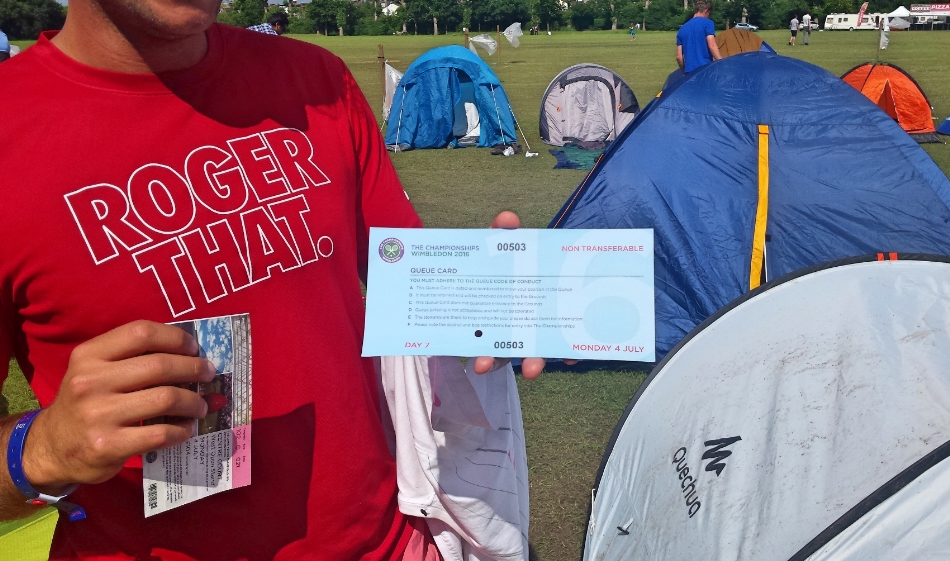 Finally, it turned out that I made it by 10 people, I was the 490th person! 13 people chose something other than Centre Court. When the steward came again to me and gave me the good news, I just put one knee down and looked up, seriously. They even took a picture and put it on their Facebook. It's a dream come true! It's the biggest dream ever!!! They put me on Centre Court, and I was.. wow! When they showed me the seating to ask where I wanted to sit, they showed me two sections that were closest to the court and asked me to choose (sections 102 or 103). I looked and said 'Wait, you are joking?' She said 'No, no, it's correct, choose one.' I said 'Come on, it's a mistake, wait!' The lady said 'No, no, but hurry, look the line is waiting.' I was shocked! I got on my knees again. Yes! Again! It was unbelievable.. Unbelievable! I am going to watch Federer at Wimbledon? Seriously, really? I mean, Federer was 5 meters from me! Impossible! Everybody was cheering me up. It was amazing, amazing! After I received the wrist band, I really broke down, because I was exhausted, it was a huge dream. So I got to see him yesterday. I never thought I would get to watch Roger in Wimbledon, on Centre Court!"
Me: So you are going to see him again tomorrow, right? I see that you are in the Queue one more time.
"Yes, I am giving myself a second gift [laughs]. But let me tell you why I had the number 503 in the beginning. I was told to ask for the stewards' help when I arrived to Wimbledon. You know, I have an accent when I speak English and I don't speak very good, so when I arrived, I told someone who looked like he was working at Wimbledon for the steward. They understood it as the name "Stewart" and began asking each other who "Stewart" was. One of them used his walkie-talkie to radio others, asking who this "Stewart" was. Nobody could locate this "Stewart" of course. I didn't realize what was happening because I don't know the word "steward." Finally, one of them said 'do you mean steward? Like one of us' and she said the last part of "steward" making a big "O" with her lips and not saying the "T." She then showed her vest with the word "Steward" on it. So I understood where the communication went wrong. But I lost a good 10 minutes during that misunderstanding, waiting for them to find "Stewart." That is why I got the number 503! Imagine if I didn't get in because of that!"
Susie
So has the Queue experience always been like this? Or how was the process to enter the grounds before the Queue ever came around? For information on that, I turned to Susie, a self-described "London born and bred" woman who has "played and loved tennis" all her life. She is extremely friendly and does not mind sharing her memories at Wimbledon, and more importantly, she has some fascinating ones to share. She has been attending Wimbledon since 1972. Stan Smith's 5-set victory over Ilie Nastase in the men's final was the first match she had ever seen live.
"I was very, very young" she adds, laughing.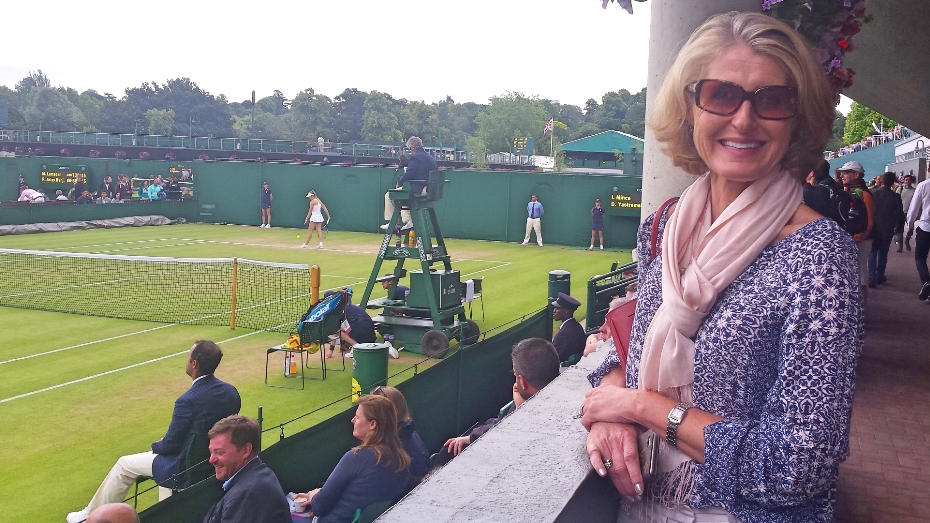 "Since then, I followed Connors for years, then Edberg, then Federer! In the 70s and 80s, we used to sleep on the street outside Gate 13. We had no tents. We had make-shift shelters, rain or shine. Remember, they used to have a standing-room only stands on the Centre Court in the front. So when they would open the gates, we would literally charge in [hands waving forward], because we wanted to get to that standing room in the front. I mean, people would lose their flip-flops and shoes. Then, they would pack you in, a bit like in some football stadiums. If you were at the front, you were kind of pressed against the barrier, but you know, I saw up close some of the great finals during those days. I saw Connors, McEnroe, Borg, doubles teams like Gottfried and Ramirez and all the great matches involving all those champions.
In the later years, obviously from a health and safety point of view, they got rid of the free standing and they structured the Queue, but the charm of those days was absolutely fantastic. Sometimes, after we got in, we would go to the old court 1. There was an alley where the court covers sat. In those days, security was not as hot and I used to sneak in with other schoolgirls. We could smile nicely to people and they would let us sit at the top of the stairs or spare seats. Now, of course, that charm is gone, and it's more disciplined."
I do not have much to add to what Jen, Gloria, Edgard, and Susie say, but I can comfortably say that one must see the Queue first-hand and talk to the people there to even begin to fathom what they experience. Even then, it would be impossible to truly understand the experience. I could literally sense the enthusiasm of the Queue denizens, and their excitement, when I talk to them. I used to believe that they were going through great pains just to get into Wimbledon. Now, I see it differently. It is a unique place where you meet people and make new memories about which you can talk to your family and friends when you get back home and to your children in the future. So my advice to people who are curious about the Queue and don't mind a bit of adventure: do not hesitate to join the Queue culture, get your equipment, and begin planning your trip to your next Wimbledon.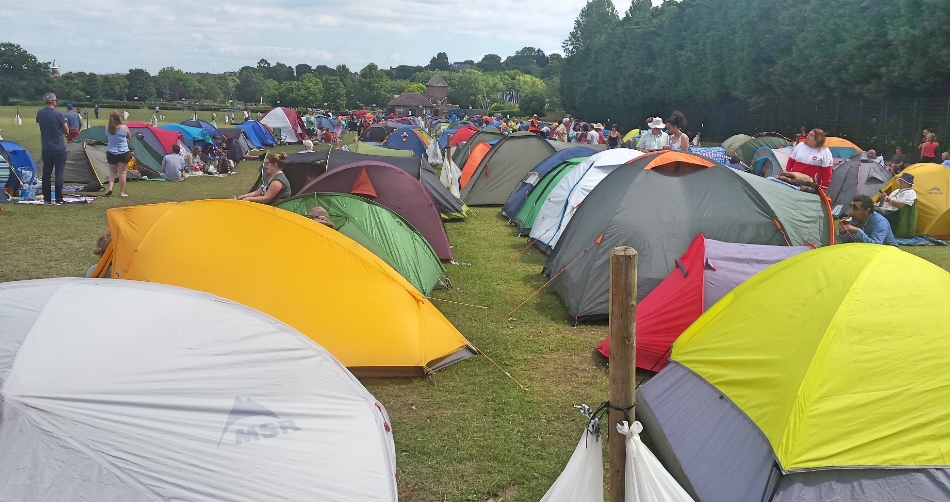 Note: Click here to follow MT-Desk on Twitter – Next 2 weeks: live from Wimbledon