Let me first begin, for better or worse, by giving my one-word answer: Nobody! I believe that Roger Federer and Rafael Nadal will march on to the finals, not only because they have been the two best players in 2017 by a large margin, but also because they have not shown any signs of considerable drop in their form. It is particularly remarkable that one can take two months off from competition right when he was on top of his form – a risky move even for Roger's standards – and reach that level again so quickly, while the other adjusts from the clay-courts of Roland Garros, without having played a single match on grass, to the courts at Wimbledon, and still produce his top-quality tennis (not that he has not done the Paris-London victory combination before, twice as a matter of fact).
Can any player challenge them? Sure, but can they actually beat one or the other? Highly unlikely…
First, on Rafa's path to the final…
It seems that Rafa has picked up where he had left off at Roland Garros. He has yet to lose a set in the 10 matches that he played in Paris and London combined, and there is a legitimate possibility that it may well be the final day of Wimbledon before we see that happening.
Nadal steamrolled through his first three rounds, with the only glitch coming in the third set vs. Karen Khachanov, in the late stages of which the Spanish champion, uncharacteristically, sprayed a few errors on forehands. Many believed the young Russian would push Nadal, even push him beyond three sets. I did not.
While Khachanov has the pedigree of a player that can quickly rise in the rankings in the years to come – powerful serve, decent technique, the ability to unleash during rallies – he still lacks the on-court decision-making that top players possess. A good example of this, among others, took place in his match vs. Victor Troicki in the Istanbul Open where he kept running around his backhand to accelerate with his forehand (although his ability to flatten out the backhand is currently superior to the backhand one, especially on low balls) and leaving the deuce side vulnerable once he was unable to put the ball away. Troicki fed on that throughout the match, and Khachanov never adjusted. In a five-set encounter against a high-IQ champion like Rafa, you can bet that you will need to change and adjust your tactics at some point during the match whether you are leading or trailing. This is not a skill that Khachanov, or any other promising young talent, cannot develop. However, it takes time and the 34th-ranked Russian still has room for improvement in this area, before posing a threat to top players in Majors.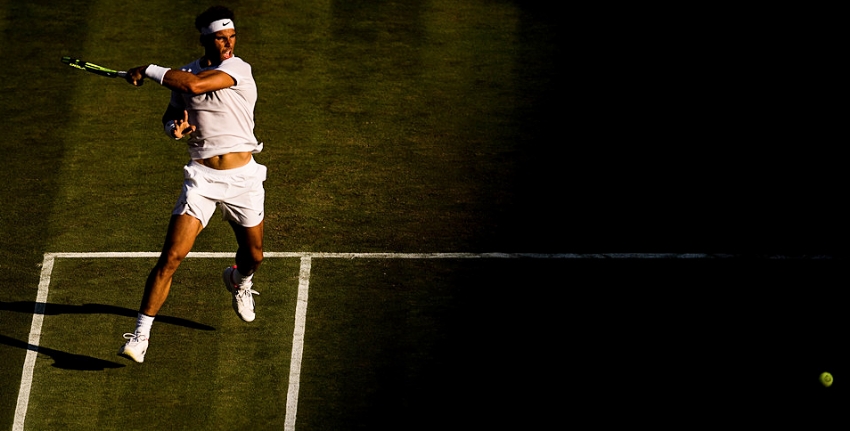 Photo: David Ramos – Getty Images Europe
Rafa faces Gilles Muller next. The 34-year-old veteran from Luxembourg has enough experience, thus he will not be intimidated by any legend on the other side of the net. Furthermore, he has a win over Rafa, at Wimbledon, on his résumé. Yet, that was a dozen years ago and Nadal of today is far better than the one from 2005. I am sure the matchup worries some Nadal fans, for decent reasons. Muller can win a large number of points on his lefty serve, as well as hit a variety of them; flat, sliding slice, kick, curve into the body, you name it, Muller can serve it. Rafa has had trouble with these types of players in the past. Having said that, I do not see how Muller can break Rafa's serve, especially considering that the Spaniard has increased its velocity to it since coming to London (see the last few break points that he saved against Khachanov). I would guess that Muller will need to get to a tiebreaker or two in order to have any chances to cause an upset.
Like Muller, there are a few other solid players on Nadal's half. I am simply not convinced if they can defeat him. There are a couple of baseliners, Roberto Bautista-Agut and Marin Cilic, one of whom will face Nadal in the quarterfinals. It has been said that Cilic could have a chance to defeat Rafa, assuming he gets there. Cilic has indeed had a good year and his big game can overwhelm any player when his first serve and forehand are clicking on all cylinders, à-la-2014 US Open. He will nevertheless need to pull one of the best winner-to-error ratios in his career to outlast Rafa from the baseline, as well as a bit of help from him, the kind that Khachanov received (but could not capitalize on) in their third set.
One issue that Rafa has not completely fine-tuned yet is the depth on his groundstrokes. Even in Paris and in his first three rounds here, his shots landed inside the service line at times. I would call this the only apparent difference between the 2008-12 version of Rafa and the one today. On the clay courts of Paris, or against his opponents here so far, this did not present a major problem. Even when they moved in and unleashed on their shots, Rafa's ability to scramble and get one or two balls back forced them to make errors on their second or third tries. Against the elite players, or the ones that do not think twice when it comes to relentlessly approaching the net on grass, this could present a problem for Rafa. They will either have enough skills to put the ball away when they get their one chance, or immediately approach and challenge Nadal to come up with passing shots from difficult positions. Federer's two victories over him in Indian Wells and Miami are prime examples of strategies that included this component.
However, this is not the bread-and-butter plan of Andy Murray, Rafa's potential semifinal opponent. Andy is likely to construct points, look for his opportunity to accelerate down-the-line, and hope to win some free points on his first serve. Coming to the net will not be an essential part of his plan A. Yes, the crowd will be behind him, but alas, depending on "build-up points" from the baseline is a painful way to try to beat Nadal.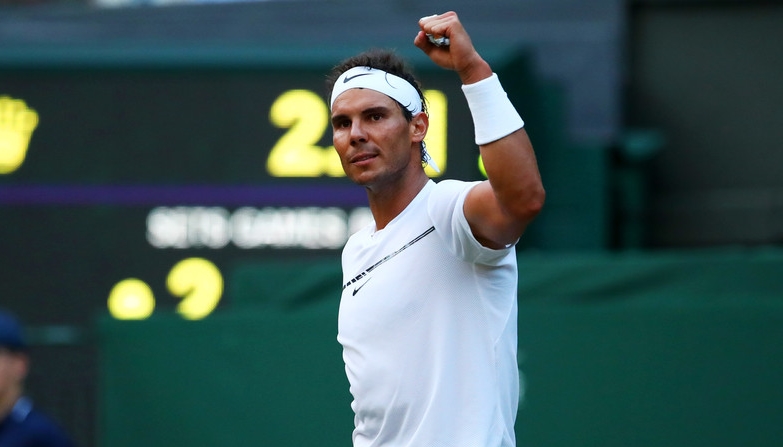 Photo: Clive Brunskill – Getty Images Europe
Few more things to keep in mind for Rafa:
– One of his main weapons, the run-around forehand, will be a bit more limited on grass than on other surfaces due to the low bounce. This will not permit Rafa to hit as many forehands from the chest-to-shoulder height, the spot at which he prefers to hit his aggressive forehands.
– Rafa likes to take risks, pound first serves and groundstrokes harder, when he faces break points or trails in a tiebreaker. His first-serve percentage (with the increased velocity), especially on break points against him, will play a major role in holding serve.
– The weather is working in Rafa's favor. There are only two days on that show rain, less than 50% on each day, for the rest of the tournament. Dryer courts keep the balls bouncing higher, although still nothing like on clay, as Dustin Brown who said grass at Wimbledon is slower than clay in Paris would have you believe, a claim since then refuted (to avoid saying mocked) by a number of other players. They have pretty much unanimously pointed to the dryness of the courts with regard to the speed and admitted that this causes the courts to be slower than usual (again, only by Wimbledon and grass-court standards).
Second, on Roger's path to the final…
Roger has a more rocky road to the final than Rafa and I would have contemplated for a while about his chances of reaching the final in London, had it not been for what I saw in his victory run in Halle followed by the first two rounds** at Wimbledon. I had believed taking two months off competition while he was at the top of his form had been an extremely risky decision. However, his game improved throughout the five matches he played in Halle, and by now, he seems to have fine-tuned his game just in time to enter the nitty-gritty of the second week.
**I say first two rounds because this had been my thought even before he played Mischa Zverev earlier today and I wrote so, yesterday, in an article published in Tenis Dunyasi magazine website.
He will face Grigor Dimitrov on Monday. I am a fan of Dimitrov's game and I like his chances to eventually join the elites of men's tennis at the top of the rankings, but this is just a bad matchup for Dimitrov, very bad. When two players essentially play the same style, possess similar strengths and weaknesses, develop points using similar strategies, and one of them happens to be a tiny bit better than the other, the scoreboard will usually reflect that difference with fairly large margins. Dimitrov will have to wait at least one more Major for his potential breakthrough.
Quarterfinal round is where the plot thickens for Roger. Both Alexander Zverev and Milos Raonic have the game to defeat Federer on a given day and they have both done it before. They are two of the very few candidates with a legitimate shot at dismantling the stranglehold the Big 4, plus Stan Wawrinka, have on the Majors. Milos is a step ahead of Sascha in that he has not only gone further than the German in Majors, but Wimbledon also happens to be the Major in which he reached the final round, having defeated none other than Roger in the semis after a five-set thriller.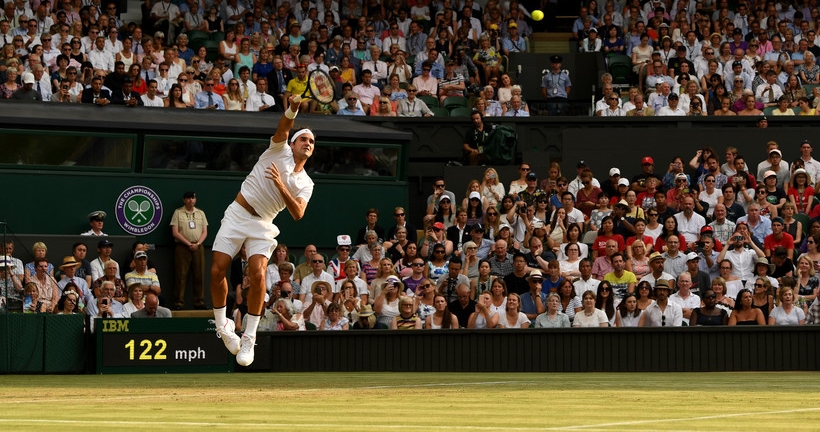 Photo: Shaun Botterill – Getty Images Europe
The wounds of that semifinal must undoubtedly be fresh in Federer's mind. This is the reason for which it is imperative that Raonic somehow "steals" the first set from Roger and makes the Swiss doubt himself again. But this is a different Federer than last year's version. In 2016, Federer arrived to Wimbledon nursing an injury and questioning his chances of even getting to the finals. He had also been stopped by Novak Djokovic four times in two years, with the most brutal loss coming in the 2016 Australian Open (remember the first two sets?).
This year, Federer made a comeback to the top like no other man probably will for a foreseeable future, at the age of 35. He is full of confidence, injury-free, refreshed, and playing well. I expect him to get to the net a lot against Raonic (not as much if he faces Zverev) and challenge the Canadian's passing shot skills, as well as backhand returns.
Djokovic will most likely be his opponent in the semis. Among the Big 4, Novak has had the least rocky path until now, and the case remains the same in the next round. If he were to lose to Adrian Mannarino, who has played 25 sets in two weeks, almost half of them in the 105-degrees-Fahrenheit-plus courts of Antalya, it would probably go down as a bigger upset than the loss he suffered against Sam Querrey last year. Then, in the quarters, he will face either Dominic Thiem or Tomas Berdych. That should be the first true test of his game at Wimbledon. Let's move on and assume Novak makes it past that stage, since our topic is Roger's path to the final.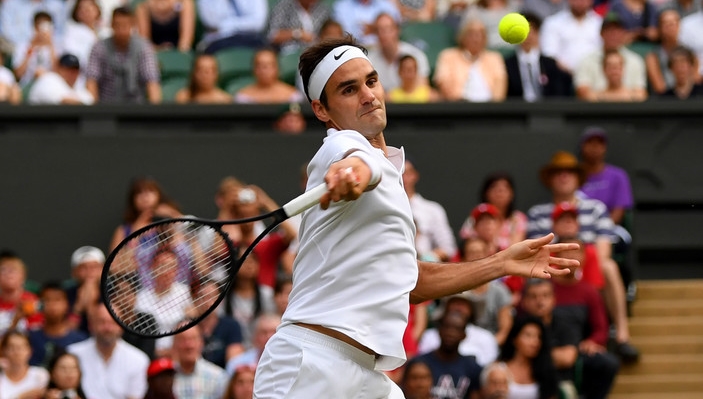 Photo: Sahun Botterill – Getty Images Europe
I do not believe Djokovic poses as big a threat to Roger as he did during the 2014-16 period, not only because he is still a few steps away from that level of play, but also because Roger has improved in a couple of areas since then, such as returns and backhand-to-backhand cross-court rallies. The fact that Roger has not beaten him in a Major since in five years will work as a psychological factor in Novak's favor, but that needs to be coupled with the type of confidence that the Serb can build only if his level of play skyrockets in the next two rounds. I am not talking about the type that you build by beating the likes of Adam Pavlasek, Ernests Gulbis and Mannarino either. Having a convenient draw can work in your favor, but can also work against you. Novak's case is the latter here.
Few more things to keep in mind for Roger:
– He is slowly but surely fine-tuning his returns. They were worrisome in the first two rounds, but better against Mischa (see his first break early in the match). Nevertheless, there is more room for improvement. He will need his drive and spin returns against Rafa, and his slice and bunt returns against everyone else, to be at their best.
– The larger issue against Mischa was Roger's success with passing shots. This is where stats can be deceiving. Passing shots missed, or returns missed against serve-and-volley players, count as forced errors, regardless of how easily makeable they may actually be. Thus, you see the number 9 (for the whole match) next to the unforced errors and 36 next to forced error categories in Roger's stat box. He missed some passing shots yesterday that he should be able to make nine out of ten times in his sleep. There was a particular one in the first set where he literally had time to get set and unleash on either side, with Zverev standing at the net like a traffic officer with no other job but to direct cars to pass on either side of him. This will not be a big issue in the upcoming rounds, unless Roger faces Raonic in the quarters. Milos has one of the highest rates of success at the net and has integrated net play a while ago into his preferred game plan. His serve-and-volley success rate is also among the highest in the tournament, along with Federer and Muller. If Roger does not pass well, Milos may just find a way to get to the tiebreaker and steal a set or two from Roger (see above).
– Speaking of serve-and-volley success… Roger's high-percentage rate in that category, 83%, must be an encouraging sign to his coaching team. This is central to Roger's game plan because, during his service games, it keeps the element of surprise weighing heavily on the shoulders of his opponents. Furthermore, Roger's body language gains a whole new level of positivity when he is cruising on his serve-and-volley points.
– Winning long points has remained a question mark at Wimbledon. In his first two rounds, he only played nine points that lasted above nine shots, and Roger won only three of those. These are not high-enough numbers to draw a sound conclusion, but once Roger possibly faces the likes of Sascha, Novak, and Rafa in the finals, it will be one of the most determining factors in the outcome. Don't take my word for it. Revisit the Australian Open final.
– See my last note above, in the Rafa portion, with regard to the weather. This should also work in Novak's favor were the two to meet in the semifinal round.
If I turn out right, we will watch yet another Roger vs. Rafa final on July 16th. If you are an avid fan of either of these two champions, take a few "chill pills," relax and enjoy. If you are neither, and love tennis, grab your favorite cold or hot beverage, and enjoy the highest quality of men's tennis possible our lovely sport has to offer.
Note: Click here to follow MT-Desk on Twitter – This week: live from Wimbledon