Among the four semifinalists in the Wimbledon women's draw, there is one unseeded player and the other three are all seeded outside the top five. With Serena Williams out, Angelique Kerber still trying to find her top form, Victoria Azarenka and Petra Kvitova making their comebacks, it was no secret that the women's draw in Wimbledon presented an opportunity for some players to advance into the second week, and possibly have a breakthrough. However, only a handful of people would have picked Magdalena Rybarikova, who has never reached the second week of a Major in her 12-year-long career, to be that player in the semifinals.
The 87th-ranked Slovakian did not have a very convenient draw either. Among her victims were the third-seeded Karolyna Pliskova in the second round, the athletic Croatian Petra Martic in the fourth, and the hard-hitting, 24th-seeded American Coco Vandeweghe in the quarters. It was anything but a cakewalk for a player who had spent the larger part of last year recovering from two surgeries, one on her knee and the other on her wrist. She started her comeback in February, having dropped to no. 453 in the WTA rankings. It is nothing less than impressive that she even amassed enough points in such a short time and made the main draw of Wimbledon, let alone advance to the semifinal round.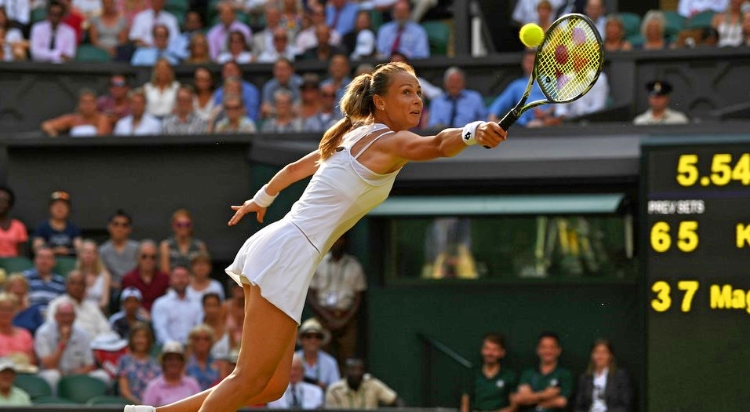 Photo: Shaun Botterill – Getty Images Europe
Rybarikova was able to do it, thanks to a crafty style of play, with plenty of variety that can at times leave her opponents bewildered. It is the type of game that can throw heavy-hitters like Pliskova and Vandeweghe out of their rhythm and frustrated. She can vary her ground strokes through a multitude of spins (such as high and loopy at times, flat drives at others, with the occasional low-bouncing slice mixed in) and give a different look to the returner through changes in placement and speed on her serves. For example, she has the ability to slice the serve and make it curve further once the ball hits the ground as well as any other players that utilizes that type of serve, such as Lucie Safarova.
Her opponent Garbine Muguruza is another heavy-hitting star. This is partially the reason for which a match that shows her as the clear favorite to win, at least on paper, could quickly turn into a nightmare for the 14th-seeded Spaniard if she does not take the necessary precautions. After all, Muguruza will hit the ball aggressively from the baseline but not more than Pliskova does, and will serve big, but not bigger than Vandeweghe does, and we saw how that all worked out for Karolyna and Coco when they faced Magda. Muguruza will also need to strike a lot of balls from the knee level or below, not exactly her preferred height for ball contact.
The good news for Garbine fans is that their favorite player is more athletic than any of Rybarikova's previous opponents (except Martic) and she seems to have caught fire as the rounds progressed. She played a terrific match against Svetlana Kuznetsova, never allowing her to get set and gain any control of the rallies. She was even able to hit spectacular counter-punch shots from defensive positions in the court, even when she found herself chasing balls down. She can move side to side, and explode forward, a lot better than most of her colleagues. It means that against Rybarikova's low-paced shots, she will likely have her chance to frequently get in position, in order to unleash her powerful baseline strokes.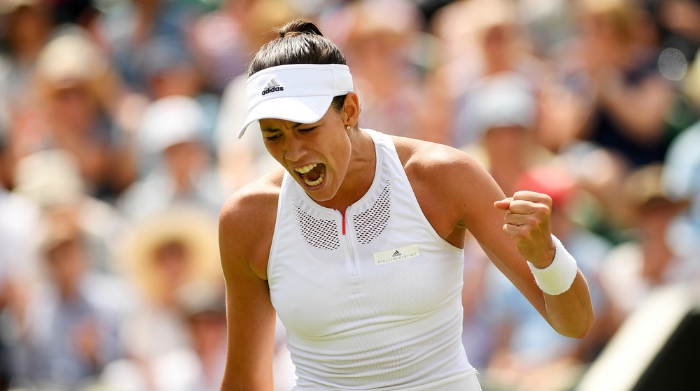 Photo: Shaun Botterill – Getty Images Europe
The outcome of this match will for the most part depend on two things. First, in terms of on-court tactics, the way both players handle the first shots in the rallies – meaning the returns, first-serves and their percentages, accuracy of the second shot the 1-2 punch pattern – will largely determine the outcome of the points. Garbine's success rate in these will prove central to her game plan. The last thing she wants is to allow Rybarikova to park herself in the middle area of the court, switch her "slice-dice-direct" mode in active mode, and make Muguruza guess the next shot instead of the other way round. Second, in terms of inner game, the way Rybarikova handles being in the semis of a Major for the first time in her career, against a player appreciated by the Wimbledon crowd, will make the difference in the first 20 minutes of the match. Luckily, it is not her first outing on Centre Court where she already defeated Pliskova and finished her match against Vandeweghe.
I do not consider Muguruza a heavy favorite in this match, as most people do. In fact, I believe Rybarikova, with a solid start in the first couple of games, has a legitimate chance to derail Garbine. I am intrigued!
Note: Click here to follow MT-Desk on Twitter – This week: live from Wimbledon