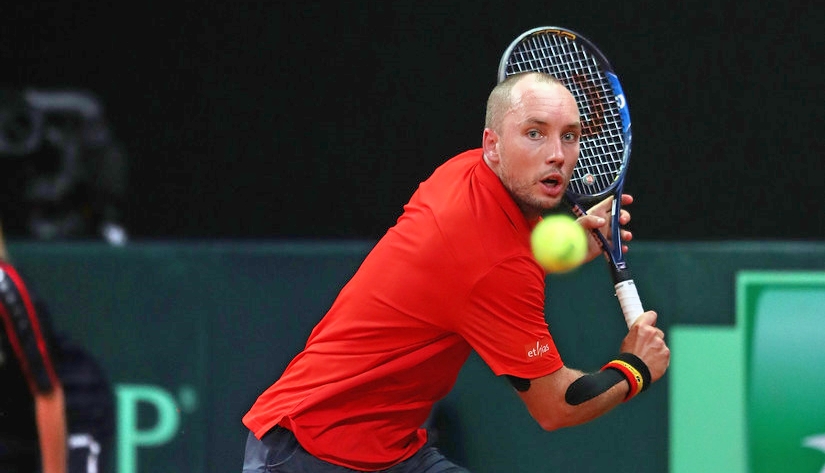 (Photo: Getty Images – Julian Finney)
On the heels of another crucial fifth-rubber victory by Steve Darcis in Davis Cup competition, I decided to post, as part of my "Sitting across Mertov's Tennis Desk" series, a large portion of my one-on-one chat that I had with Steve during the Istanbul Open (May 1-7) of this year. A more extended version of this one-on-one was first published in the June issue of Tenis Dünyasi magazine (translated to Turkish).
I consider this conversation with Steve to be one of the most informative and enjoyable chats that I have ever had with any player, coach, or well-known tennis figure. Among other things, "the Shark" gave his insight on his game, his career, his never-ending battle with injuries, the meaning of Davis Cup to him, and his preparation schedule for the season.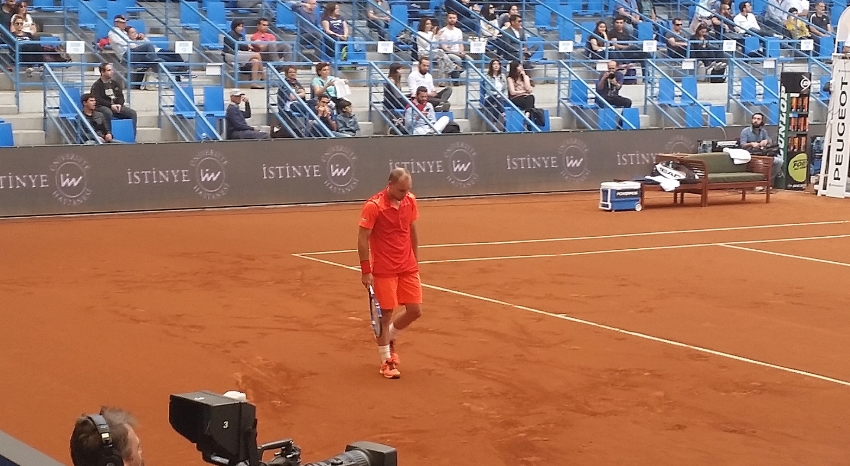 Darcis in the Istanbul Open.
Below is the English translation of the pertinent parts of the chat. The original chat was conducted in French, on May 4th, 2017.
————————————-
Steve, let's begin with what is probably your least favorite topic: the never-ending injuries that you have suffered throughout your career. In 2008, at the time you achieved your best ranking*** [no.44], you said in an interview that you had not had a year without injuries and that you were hoping that 2008 would be the last one. We know now that your wish did not come true. Yet, here you are nine years later, about to reach your highest-ever** ranking [no.43] when ATP posts next week's rankings. It seems that your perseverance and hard-work are finally bearing fruit.
(***Darcis reached his highest-ever ATP ranking of 38 on May 22, three weeks after this interview. He is currently no.77)
Yes [chuckling], injuries have become a part of my life, despite having done everything to avoid them, and I still do. After 2008, I still had serious injuries. During my win over Nadal in Wimbledon 2013, I fell on my shoulder and tore a tendon. The pain subsisted and I had to have surgery at the end of that year. I was sidelined for a year following the surgery. Only in the beginning of 2015 was I able to come back to 100%. After that, I had two wrist surgeries (at the end of 2015 and the beginning of 2016) and I could only play doubles in the finals of 2015 Davis Cup. Those were serious injuries. I must admit that it took me a long time to recover from my wrist problems. It has now been only about a year that I have been playing without being hindered by an injury. I continued to work hard through those and I always believed I could come back. Now, I am at the best point of my career in terms of ranking. Nevertheless, injuries have hampered my career, I can't deny that. At the same time, I cannot change reality either. I have learned to live with injuries.
Also in 2008, you talked about how special it was for you to be selected to represent your country in Davis Cup for the first time and that you hoped that you would get to do that for many years to come. Nine years later, that dream has come true for you. Has that ride been as magical as you expected?
[Nods head] Playing Davis Cup carries a very different emotion. To represent your country, to be part of a team, to play for your teammates, for the public, these are honorable causes for me. I believe it is a feeling that every player should get to experience, if possible. In my opinion, representing your country in Davis Cup is as big a thrill as doing so in the Olympic Games. It is true that Davis Cup takes at least a few weeks out of the year and requires great effort and energy from players. Therefore, not every player is able to do it. But you never get to feel the type of emotions that you do in Davis Cup, in any other competition. They become your career's most unforgettable moments. It is hard to describe those emotions, the exhilaration of togetherness and comradery. They are fabulous moments. Plus, we have a super, super nice team, we complement one another well.
In 2015, I agree that we took advantage of a favorable draw to reach the finals. But this year (2017), that has not been the case. I believe we are a very successful team.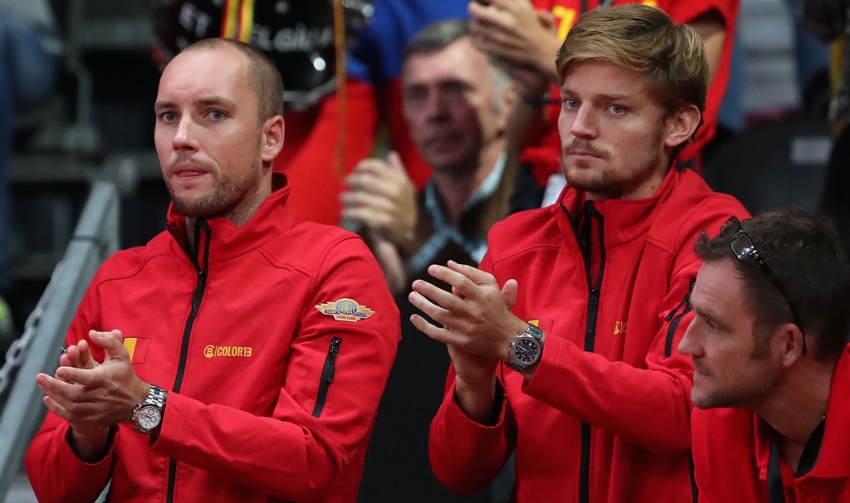 (Photo: Getty Images – Julian Finney)
Is it even possible to compare the successes in Davis Cup vs your individual ones in tournaments? For example, your first-ever tournament won in Amersfoort (Netherlands) or your win over Nadal in Wimbledon, is it possible to compare them to your Davis Cup accomplishments? If so, which one do you value the most? Along the same lines, is it possible for you to pick a moment that you would call "the best moment of my career"?
To be honest, it is difficult to pick one single moment. But if I were forced to pick one, perhaps my Davis Cup victory in the fifth rubber of our semifinal tie against Argentina stands out. My opponent was Federico Delbonis. The atmosphere [in Brussels] was crazy. On top of everything else, I had already played a four-hour-long singles match on Friday and a doubles match on Saturday that lasted four hours and fifteen minutes. When I woke up on that Sunday, my leg was hurting. I was feeling tired and I did not feel ready to play a match. But everyone around me really wanted me to play because I had been in a similar situation three times before and won for my country. So I had some experience, and tied again at 2-2, experience counts a lot. It was an incredible moment. You don't experience those types of feelings often. It was exceptional and we will try to have another one like that this year, [smiling] we are already in the semis.
This is why they call you "Monsieur Coupe Davis" in Belgium. Then, there is "The Shark."
[Laughs] Yes, in 2002, I had a shark tattooed to my shoulder. That was the year I turned professional. My friends immediately began to use that as my nickname. My tattoo is still there.
Let's go more in detail to your tennis. Many of your opponents, as well as some coaches, feel that your best asset is your backhand, particularly the slice one. You seem to set points up with that shot. What is your take on that? Do you also feel that some of your other talents are remaining underrated because of all the attention your backhand gets?
I believe that I am very lucky to have a solid technique overall, on all my strokes. Thanks to that, I am able to produce a variety of strokes if I need to, at different moments. My backhand is not an outstanding shot to be honest, but I agree that my slice can perturb my opponent's game plan because I am able to change a rally's pace and pattern with it. In today's tennis, any player can explode on both sides with strokes that are powerful and flat. So, my ability to play a more "classic" style of tennis, change the rally's rhythm during points, occasionally use my drop shots, and mix in higher or lower bounces, give me a certain overall advantage. This is, I believe, is the biggest strength of my game, my ability to make use of these variations. Today's players go "bam-boom" and serve at 220 kilometers. Thus, my game sometimes can present an unusual challenge to them. In reality, I win more points with my forehand but it is true that my backhand helps me set the point up. It is the side that takes my opponent out of his game.
Let's get back to your ranking for a moment. You are now ranked 49, and next week you will go higher, and as we said before, you will reach your highest ranking. In our era of modern tennis, there are many players who have success past their 30s. You are 33 years old and playing perhaps your best tennis. As a living example of players peaking past their 30s, can you give me your take on this trend?
[Raises eyebrows] Yes, there are many players for real who are above their 30s and in the best period of their careers. I don't think anyone can deny that this comes, at least a bit, as a surprise. They seem to pay attention to the physical aspect of the game. Frankly, I made some changes to my routine too, even though I was forced to do some of it due to injuries. I spend less time on the court and I pay more attention to my physical conditioning. I take more precautions to avoid injuries and I design my workouts around that idea. In short, I take better care of my body. Physical preparation and taking care of my diet have become important factors lately in my career. I even get surprised myself at how much I have modified my routine over the years.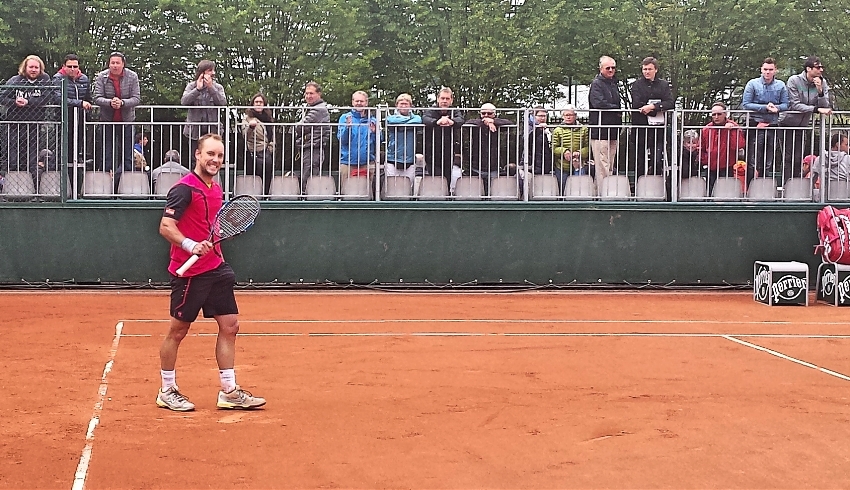 Darcis winning his first-round match in Roland Garros 2016.
Can you talk a bit about your preparation during the off-season period? I mean the months of November and December for example, when you are not competing.
This period lasts around five weeks in my case. During the first three weeks, I play little tennis, at the most one hour per day, and that, only to "remain in contact" with the tennis ball. Instead, I concentrate on physical conditioning. My first goal is to strengthen my muscles to avoid injuries, especially in those areas where I have had previous injuries, in order to increase my endurance. I spend more time on the court during the next two weeks, concentrating more on my tennis. I can't do two practice sessions per day anymore [points to his body]. So, I do one session that lasts a bit longer than usual, above two hours, maybe three or longer. After all, you can't practice the things that you do on the court anywhere else.
This year, for the first time in my career, I spent this two-week portion of my off-season preparation period outside of my country, in Abu Dhabi. I can now confirm that it was the right decision. I was preparing in the heat and under the sun, which helped me get ready for the tough stretch in January, for cities such as Chennai and Doha, followed by Melbourne. I played under the same conditions there, and I felt ready for the challenge.
I also tend to take breaks during the season, especially after having played few tournaments in succession. I don't even pick up the racket for a week during that time, but I remain active physically for the eventual return to courts, if not I know I would feel heavy.
Thanks for your time Steve, and good luck this week in the Istanbul Open.
————————————–
Update: In the Istanbul Open, Darcis lost to the eventual winner Marin Cilic in the quarterfinal round. Today (Sept 17), he added another remarkable fifth-rubber win to his already impressive Davis Cup accomplishments by beating Jordan Thompson of Australia in straight sets. Belgium will face France for the Davis Cup title on Nov 24-26.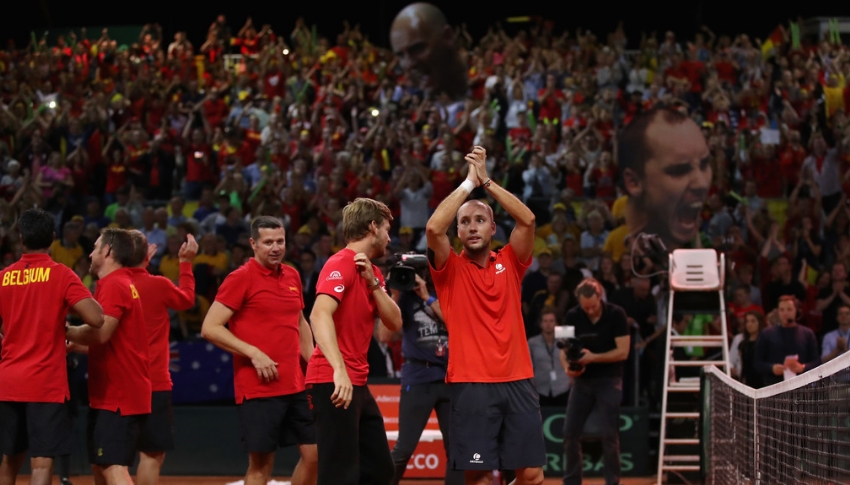 Darcis and teammates celebrating Belgium's victory with the crowd at the end of today's match. (Photo: Getty Images – Julina Finney)