Zverev defeats Cilic 6-3 4-6 6-3 in a match filled with ebbs and flows
(For the Federer vs Sock recap from earlier, scroll down)
It is hard to gauge the speed at which Alexander "Sascha" Zverev Jr. will develop into a top player. While there is no doubt that he has immense potential, he also seems to suffer from lapses of concentration and/or frustration, and from wide fluctuations of form within matches. Or shall I say he "benefits" from the latter? Because in today's match, he ultimately benefited from one such fluctuation, the last one, the one that mattered the most. Or something…
That is what Zverev offers at this point in his career. An exciting up-and-comer, with question marks lingering as to "when" he will join the group of elites at the top of the men's game.
Sascha began the encounter with a pristine first game, probably one of his best games of the match, to break Cilic's serve and get a head start à-la-Federer (see my recap of the first match for clarification). He did not commit one single unforced error, he outlasted (and "out-skilled") the big Croat in every extended rally, putting the exclamation point at the end with a five-star drop-volley winner. At 2-0, he saved the only break point he faced with an ace, and operated on cruise-control for the rest of the first set. Last game included one excellent low-volley winner and three big first serves that did not come back over the net. Solid start, solid finish, a 6-4 set against a veteran player who did not particularly play bad, yet did not have enough consistency and depth to answer the initiatives that the young German kept taking in rallies.
In the second game of the next set, came the first bad sequence of the match for Sascha. At 15-15 on his serve, he committed two unforced errors in the net, one on each side. Although Sascha saved the two break points, his next two wild forehand misses, both deep, gave Cilic his first break of the match.
Well, you see, with Zverev, the bad patches can last, for a while. This is part of the uncertainty I noted above. While top players will quickly put that one-game bad sequence behind them and get back to the labor at hand, Zverev tends to drop his shoulders, look at his corner, wave arms in the air in a dejected manner. And subsequently, the errors keep coming.
To be fair, his body language did not turn, at that stage of the match, as negative as it does at other times, but his intensity did drop. In the very next game, he missed a routine backhand error to start, and at 30-30, missed another wild forehand deep. A point later, Cilic was walking confidently to the chair, up 3-0. That confidence carried Marin for the rest of the second set, losing only two points on his service games in the next three service holds. The set ended on yet another forehand error by Sascha.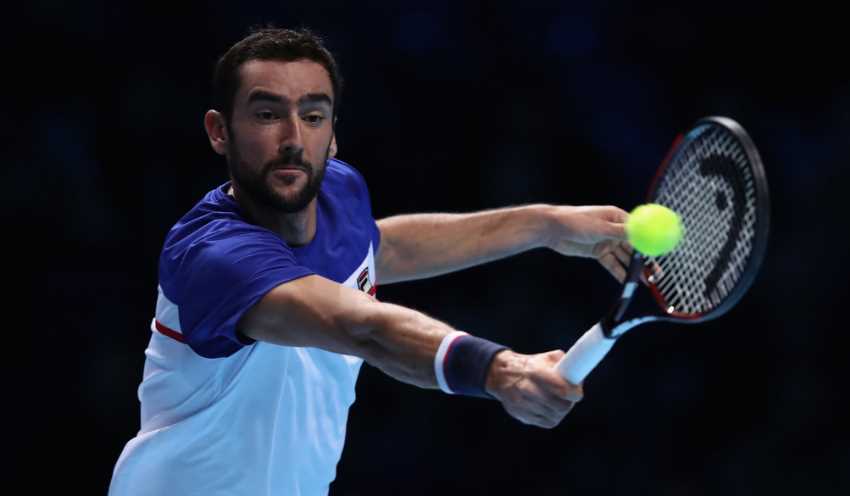 Photo: Getty Images – Julian Finney
Fast forward to the 1-1 game of the final set. At this point, Cilic has kept a steady level of play since he regained his confidence early in the second set. He has been serving well but still losing most of the long rallies to his opponent. Sascha has seemingly recovered from his extended "bad sequence" because he has also been holding serve for a while. At 30-30 serving, Sascha makes two disastrous backhand errors in a row. After the first error, he slams his racket's strings in frustration with his right hand. Following the second one, he almost slams his racket to the ground, only to hold back at the last second. He then turns to his corner to start a monologue during which the expression on his face resembles one that you would have if the 5000-piece puzzle on which you spent five days putting together just got thrashed by the bullying kid next door.
Coaches may want their junior players to observe Cilic's glance at Zverev as he walks to his chair. I assure you that it is nothing less than a generous amount of adrenaline, boost, or whatever you want to call it, that Marin is feeling as he sees Sascha's negative body language. You don't believe me? Watch the four excellent points that Cilic wins in the next game to hold and go up 3-1 (Zverev also won two).
Then, the unexpected took place in the next 20 minutes. At 1-3 serving, Zverev committed two bad errors to go down 0-30 and I am sure most viewers concluded that he was on his last leg at that point. Somehow, he pulled off his best point of the match to get to 15-30, and with a bit of help (but not too much) from Cilic, he managed to hold to get back to 2-3. As Zverev's fans were thinking "ok, that hold lifted him up, now one break and he is back in this," they saw their man go down 40-15 and slam his racket to the ground – he actually did it this time – and look dejected. As I have noted above, this is not a good version of Sascha. When he gets this way, it does not end well for him. I will steal a quote from another tennis writer (I doubt he will mind) that I respect a lot, Matt Zemek: "Zverev is an evolving, young player, but to this point in his career, he has usually not played well when angry."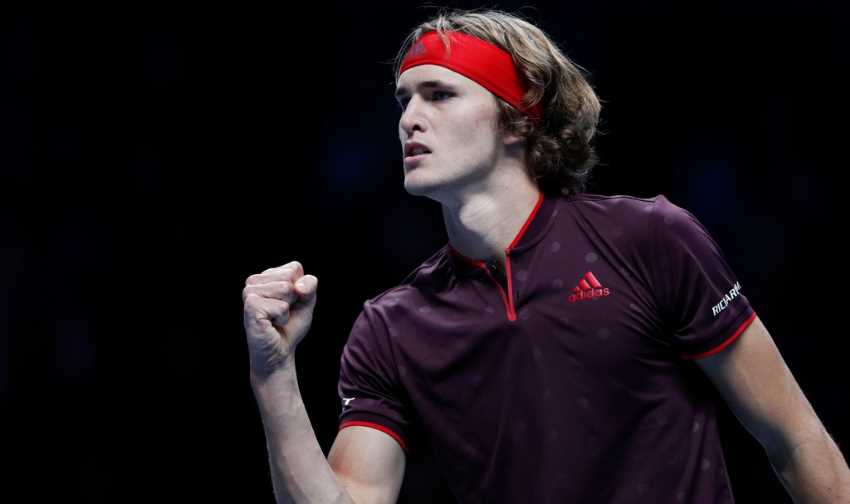 Photo: AFP – Adrian Dennis
Perhaps there is a first for everything, because this "bad sequence" did not last! Sascha won the next four points in a row, three of which included a superb backhand down-the-line winner, a volley put-away, and an outstanding defensive lob. Virtually out of nowhere, Sascha was back on serve. Then, he did something baffling as he went to the chair to change his racket: argue with the chair umpire on a challenged call from two points ago that actually ended in his favor. What was the point of that? I do not know, nor care to. What matters is that Sascha needs to learn to let trivialities go. It is literally trivial on his part to argue with the referee on whether he should have corrected a call (or not) two points ago, after having realized the most amazing turnaround of the match and won the game.
Sascha held serve to go up 4-3 and never looked back. He was back to his first-set form, looking pumped, and ready to cross the finish line. Up 5-4 on Cilic's serve, he did just tha with four efficient rallies in a row, three of which ended in impressive winners after several hits. It was a blank game, the best one he played in the match. Did Cilic play badly during the two hours and four minutes that elapsed? No. Did he choke? No. Could he have won maybe one or two more points within the large group of "turning points" throughout the match (there were many)? Maybe. The point is, Zverev should take credit rather than Cilic carry the blame for the outcome of this match. I do not believe that anyone, myself included, at about 25 minutes before the players shook hands at the net, expected Sascha to chalk up the win.
——————-
Roger Federer sets the pace early to a tight but straight-forward 6-4 7-6 win
By "setting the pace early" in Federer's case, I mean getting the lead off the gate, and never relinquishing it. Federer is one of the best front-runners in tennis. That should come as no surprise considering his serving and one-two-punch skills, although his first serves were below their peak level in the first set at 58%. Ultimately, he did not need them to perform at their peak level, thanks largely to a phenomenal first game of the match.
It began with a backhand down-the-line winner with pinpoint accuracy on the first point and continued with a defensive topspin forehand hit with just enough dip to force Sock into an error at the net on the second. Although Sock equalized at 30-30 with an ace and a forehand winner, Roger hit an exquisite backhand return deep enough to set the forehand winner on the next shot to earn the break point. It would be his only one in the first set, one that put a definite stamp on the first set. Roger won it with his second backhand winner, a high-velocity one going down-the-line, leaving Sock helpless in his effort to reach it. That first game was Federer at his best, every single shot hit with a purpose, designed to stifle his opponent. It was like a runner getting a head start by a few steps on his nemesis and looking back occasionally to watch him try desperately to catch up to him, but to no avail.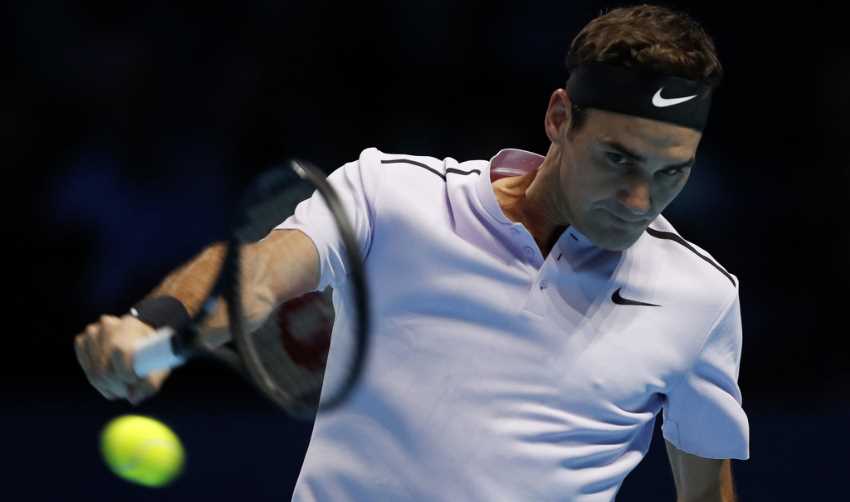 Photo: AFP – Adrian Dennis
The rest of the first set was a straight-forward affair, with Federer keeping his advantage by using a variety of first and second serves, allowing him for the most part to gain the advantage early in rallies. On his return games, he never played a perfect game like the first one again, sporadically spraying uncharacteristic errors (for an example, see the 3-1, 15-0 point, in which Federer hits almost identically the same backhand as he did on the break point, this time missing it deep). Sock, for his part, recovered remarkably well mentally from the break and stuck to his guns, insisting on trying to push Federer into hitting shots off his backfoot. He succeeded several times, such as the game point he won to get back to 2-3, but not frequently enough to make a dent on Roger's service games. Certainly not enough to earn a break point, despite the subpar first-serve performance by the Swiss in the first set. Who mourns a 58% on first-serves, four percentage points lower than Roger's career number, when he still wins 89% of the ones he hits in, and finishes the set with an ace, an almost-registered trade mark in his name?
The first set, and I mean the part after the break in the first game, did establish the tone of the second set. It would be tight affair, going down to the wire, unless Federer reached perfection once again on a return game to cut the party short. He did not, and the set went to a tiebreaker, but not before the Swiss causing his fans to feel some familiar chills to their necks by not capitalizing on five break-point opportunities in three different games.
In the 3-3 game, at 15-40 on the American's serve, Roger missed two backhand returns in a row, the second one being on a second serve that bounced in the middle of the box. Later in the 4-4 game, the Swiss sent a makeable backhand passing shot into the doubles alley on his third break point of the set. By the time the fourth one came around two points later, you could almost see the apprehensiveness in Federer. Instead of returning aggressively, like he has done so far on routine second serves by Sock, he hesitantly hit the return back in play, short to the middle of the court for that matter, and on the next shot, hit another makeable backhand into the net, below the tape. The fifth and last failed-break-point attempt on his behalf would come in the 5-5 game, but Sock would fully deserve the credit on this one, pinning and stretching his opponent to the corner.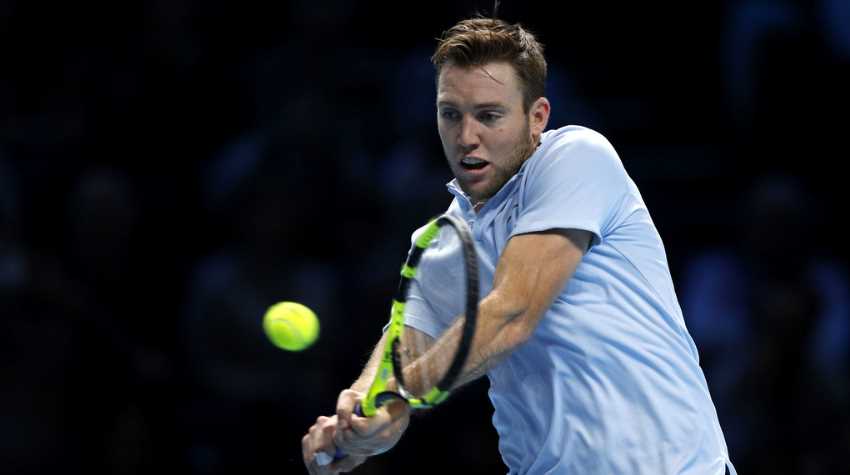 Photo: AFP – Adrian Dennis
Eventually came the tiebreaker, in which first serves were a precious commodity, until that is, Sock double-faulted at the most inopportune time to go down 5-4, with two points to follow on Federer's serve. That was all Roger needed to pull another one of his almost-trademark qualities: relying on his first serve when circumstances demand it. A wicked first-serve that curved into Sock's body to set up the forehand winner on the next shot (i.e. textbook one-two-punch) earned Roger a match point, and an ace hit wide allowed the match to get registered into record book.
Overall, it was a solid, but not ground-breaking, effort by both players. There were even a couple of lamentable misses by both players. Federer smacked a ball into the net at game point for Sock on the seventh game of the second set, after Sock gave up on the point and turned his back to offer his butt as a target (yes, you read it correctly). Federer would later joke, saying that perhaps he missed the shot because he didn't go for that "rather unusual target." Sock for his part, sent a routine high-backhand volley into the net – on game point at 5-6 mind you? – instead of the wide-open court, but recovered to still hold his serve.
Again, Federer's fans will probably feel unsatisfied, largely focusing on the break-points missed in the second set – Side note: Don't all fans do this? Remember only the negatives? I once heard Jimmy Connors say in an interview that when asked what his "most memorable" matches were, he admitted that the close one the he lost, such as his five-set losses to Borg at Wimbledon, always crept in his mind first. Hopefully they will not overlook that Federer served extremely well in the second set, faced no break points, stuck to his A plan to push his opponent around to create openings, exploit those openings to cut the points short, and found the best in his arsenal when he needed it, first to get the crucial break in the beginning, and second, to finish the match at the end. Sock, for his part, also played well and should tackle his next match with confidence.