Grigor Dimitrov def. Dominic Thiem 6-3 5-7 7-5
Two weeks ago, in a podcast hosted by Tennis Accent, when the discussion centered on Dominic Thiem, I spent a few minutes drawing a comparison between him and Grigor Dimitrov. I maintained that Dimitrov has better on-court instincts than Thiem does, and consequently, makes better decisions during points than the Austrian does. When Thiem makes errors, they can often be due to bad decisions whereas when Dimitrov makes them, it's usually because he simply missed the execution although he chose the right shot.
Little did I know that they would face each other thirteen days later in the ATP World Tour Finals. Having now seen them play for the third time this year, and with all three matches going to the final set, I stand even more firmly behind what I said.
As far as today's match is concerned, I realize that most people remember the last couple of games better than any other part of the match. Thus, they remember Dimitrov getting tight and struggling to close out the match at the end. That is certainly (but only partly) true. To make that, however, the principal theme of one's after-match thoughts on the winning player would be incomplete. Let's look instead at the complete picture.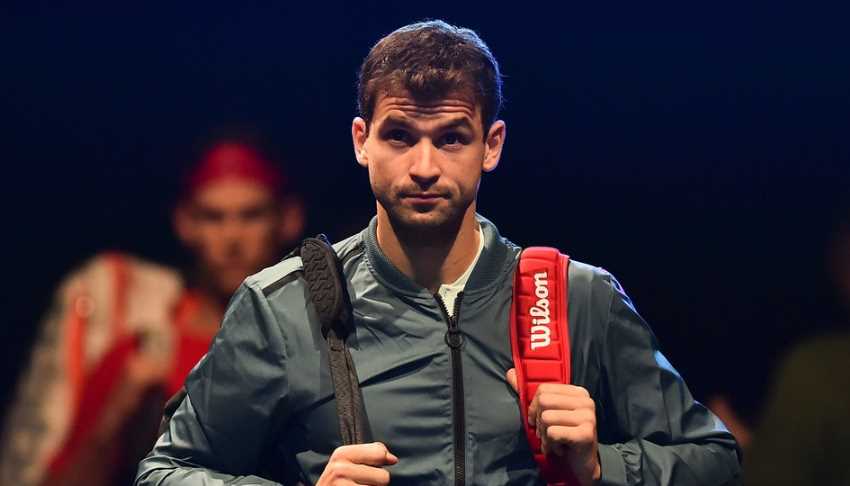 Photo: AFP – Glyn Kirk
Neither player performed particularly well or dominated the match at any moment, even though there were plenty of shot-making on both sides.
There was however only one player who had a firm game plan in which he believed. That same player insisted relentlessly on taking the initiative during points in order to execute that plan that he and his team designed specifically for this match. That same player believed in that plan with such clarity that he was willing to accept the minor setbacks caused by occasional errors but not let them deter him from achieving his goal. He and his team probably believed that in the long run the cumulative effects of their plan would tilt the outcome in his favor. That proactive player's name was Dimitrov.
Then, there was the other player. His plan was like the one he had used in most of his past matches regardless of the surface. He had stuck to his strengths that were enough against most players that he faced. He was not going to be proactive like his opponent, instead he would adjust if his opponent happened to get the lead. That reactive player's name was Thiem.
Let me illustrate the difference I described above with some examples.
The match began on Dimitrov's serve. On the first point, Dimitrov got a solid first serve in, Thiem responded with a rather short ball to the middle of the court. Dimitrov went for the inside-out forehand winner and missed by a couple of inches.
Two points later, at 15-15, another solid first serve, another short return by Dominic to the middle (albeit a bit shorter this time), another inside-out forehand winner attempt by Grigor, this time successful. Missing that same shot on the first point made no difference. No hesitation on the footwork, no holding back on the speed of the swing. That first point would not be the only time he missed the second part of the 1-2 punch (see the 1-1, 15-0 point), but he obviously believed in that tactic enough to stick with it from the beginning to the end.
Later in that first game at 40-30, we saw the first rally of the match. Dimitrov kept rallying deep until he got a ball that gave him just enough time to wind up for a big backhand. He flattened it out for a powerful down-the-line for winner to take a 1-0 lead.
First game made his plan was clear to everyone. He was going to look to push Thiem around, put him on his backfoot and use the court's speed in order to press Thiem who needed some time to prepare his big backswings to launch his groundies.
The 1-2 punch behind the first serve and the flat backhand down-the-line accelerations were two of the many components of that plan. Another major one was to step in on Thiem's second serves and unleash on returns. He was also determined to approach the net anytime he stretched his opponent on the run or got a short ball to move forward.
Not every component had to work perfectly. Errors were allowed and expected. Not every component needed to end with a point won either because there was another player on the other side of the net, a skilled one at that. The goal was to make the components work as an ensemble often enough to collect most of the points. Hopefully, after some time, Thiem would feel the urgency to make adjustments beyond his comfort zone, and as a result, commit more errors.
Thiem relied on big swings to generate pace and on direct points from first serves.
That was enough to hold a couple of times, but serving at 2-3, it began to fall apart. Leading 15-0, Thiem ran down a cross-court backhand by Dimitrov and floated it back in the court. Dimitrov quickly ran to the net, caught it in the air, and finished the volley. Chalk one up for Dimitrov's plan.
At 15-15, Dimitrov hit a low, slice backhand return, deep to the middle of the court. Thiem had no plan, no idea what to do with the ball, except aimlessly swing a heavy spin forehand to Grigor's deuce side. From the ankle level, slightly behind the baseline, on a sliding, low ball, a hard spin ball to the opponent's strength should have been Thiem's last choice. Yet, he hit that shot, missed it, and went down 15-30.
Chalk one up for Thiem's bad decision-making.
At 15-30, Thiem double-faulted. You can simply blame Thiem, or do like Paul Annacone did on the Tennis Channel and give credit to Dimitrov for consistently stepping inside the baseline and unleashing on returns, thus pressing Thiem into a risky second serve. I chalk one up for a combination of both because while I agree with Annacone, I cannot pretend that a player should get zero blame for double faulting. Not for double faults.
Regardless, Dimitrov now had two break points.
On the second break point, Dimitrov again got a slice return in, this time a bit shorter than at 15-15, and what did Thiem do? He attempted exactly the same shot as the one at 15-15, and missed it long, again!
Even if that shot landed in, it would not have been a winner. In fact, Dimitrov would have gotten it back without much problem because it was to his stronger forehand side and he was already there. Once again, there was no reason to hit that low-percentage, high-velocity shot on a heavy slice ball that bounced no higher than the knee level, unless he aimed it to the open court for a winner.
Bad decisions by Thiem, clarity and purpose from Dimitrov.
Dominic sailing aimlessly, Grigor following his plan.
There is the difference that I noted above between these two players.
On the scoreboard, it meant a break for Dimitrov, 4-2. He would go on to win the first set 6-3.
Thiem eventually turned it around in the second, largely thanks to keeping his balls deeper, and more to Dimitrov's backhand. When short-ball opportunities became rare, Dimitrov began rushing, taking unnecessary risks, and eventually losing the second set 7-5 on three straight errors on his service game.
Photo: AFP – Glyn Kirk
When Dimitrov was serving at 0-1, 0-15, in the final set, his prospects looked grim. He had just played his two worst games of the match and needed to stop the slide. He had gotten away from one particular component of his plan, which was to approach the net when the opportunity presented itself. He had passed on some of those chances in the last several games. Solid serves came to his rescue and he held for 1-1. Balance was restored, as well as his confidence.
Dimitrov, looking more and more positive as the final set progressed, finally broke Thiem in the seventh game and served for the match at 5-4.
That is when one of the most disastrous sequences any player can face took place.
With Dimitrov two points away from the match at 30-15, Thiem's return landed clearly deep. Grigor even stopped his feet momentarily, after hitting the ball back. Yet, there was no call (replays showed that it was clearly out). Dimitrov realized that and continued the point.
It turned into a long rally in which Thiem approached the net on a cross-court shot, right to Grigor's forehand – yes, another terrible decision by Dominic. Dimitrov simply needed to hit a mid-pace forehand down-the-line to passing shot to the open court. He didn't hit it accurately enough, and not with enough speed. Thiem got to the ball and won the point.
Dimitrov should have won that point at two different times and hold two match points on his racket at 40-15. Instead, it was 30-30. First the umpire betrayed him, then his own apprehensiveness, within the same point.
At 30-30, Dimitrov hit a forehand inside-out that bounced off the net and landed conveniently for Thiem in the mid-court. He put it away with his backhand. It was now 30-40, break point for Thiem. Dimitrov ended this dreadful turn of events with a framed backhand that sailed wide.
In a matter of two minutes Dimitrov went from staring at the finish line at 5-4 30-15 to a neck-to-neck race at 5-5. It all happened in less than two minutes, because of some combination of a horrendous non-call, bad luck, and his own gagging.
This is where I come back to what I said in the beginning of my recap.
Most people will only remember the two successive double faults by Thiem to lose that next 5-5 game. Thus, they will claim that it was thanks to Dominic that Dimitrov got over the disappointment of losing his serve at 5-4, got the break again, and eventually won the final set 7-5. Because, well, "Dimitrov can't finish." Why in quotation marks? Because that is what the complicated sequence of three points described above will be reduced to: "Dimitrov can't finish."
They will also ignore how Dimitrov got to 0-30 in that 5-5 game before Thiem double faulted. They will not remember the great defense by Grigor on the first point, and the forehand lunging return he hit on a terrific first serve by Thiem on the second point (even though Thiem should not have missed the next shot).
More importantly, they will forget that Grigor played those two points, virtually less than a minute after the disastrous three-point sequence I described above. Many players would have lost their cool and never keep their resolve the way Dimitrov did, immediately following such a disappointing 2-minute-long sequence.
So, yes, Thiem did help Dimitrov with those two double faults and even an error at deuce on the 6-5 game. Yes, Dimitrov did have "some" trouble closing out the match. Just like he deserves "some" credit for the win.
In fact, he thoroughly deserved to win the match, because not only was he the more determined player with clear plan as I noted above, but also because he knew how to persevere and quickly put behind a forgettable plot twist at a crucial moment late in the final set.
In his post-match interview on the court, Dimitrov showed self-awareness, admitting that he was "pretty nervous in [his] first match out here." When asked about those 5-4 and 5-5 games, Dimitrov had a few sentences to say, something that sounded like "You fail and you get back up again" and something else about how to "manage to switch it that fast around."
Sorry I can't remember the exact quote.
But, you get the idea…
Grigor certainly does…