Grigor Dimitrov on fire, defeats a flat David Goffin 6-0 6-2
After a match like the one Dimitrov and Goffin played this morning in London, it is next to impossible to evaluate with accuracy the value of such win for the victorious side, as well as the negative effect it may have on the losing side.
Grigor should feel great for having won so convincingly. But wait, should he really after this match? David should feel bad for having gotten blown away so quickly. But wait, should he really? The circumstances surrounding this match cause the existence of those two "but wait" clauses.
Dimitrov could have played the best match of his career, yet he would not get the full credit because his opponent was (or at least appeared to be) diminished. Well, what the 6th seed from Bulgaria did was still pretty close to perfect. His footwork was stellar and that led to the display of his spectacular shot-making skills.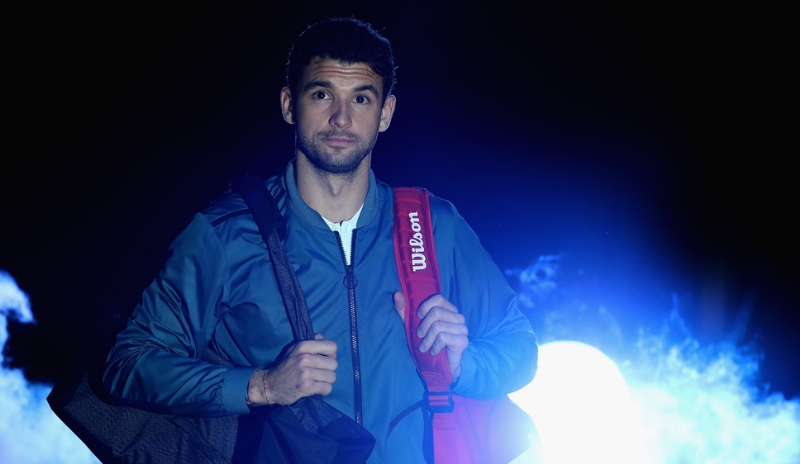 Photo: Getty – Julian Finney
Grigor Bulgaria generated power on his serve and returns, varied the pace and the spin on his backhand at will, and nailed winners with his forehand every time he had a chance to step in the court. As the icing on the cake, he won several points at the net, looking impressive not only because of his sound volleying technique, but also because of how quickly he was closing into the net whenever he sensed that Dominic was in trouble and about to float the ball back in the court.
You need examples of Dimitrov's all-around skills working to perfection? Look no further than the two game points he won in the second and third games of the match.
At 1-0, 15-40 up on David's serve, Dimitrov hit an aggressive return, a low backhand slice, two backhand heavy topspins, a dazzling forehand counter-punch shot on the full run that put David on defense, a slice approach shot, and a high-degree-of-difficulty drop-volley that force David into an error.
Footwork, defense, offense, transition, wrist control, you name it, Grigor had it. He enjoyed it too, yelling a loud "Come oooon!" that you could hear over the cheers and claps of the spectators.
Next, game 2-0, 40-15 on his serve, he went on full offense, imprisoning Goffin to the add corner with a trio of stifling forehands, each time pushing him further wide and back, and running lightning fast to the net after the third one to catch the ball in the air and put the forehand volley away to the open court.
These two points were part of a doozy set of three first games by Dimitrov during which he showed all the signs of a determined player with a purpose. Notice that at 3-0, Goffin did not have the body language of a defeated player, or even a diminished one. He was simply outplayed for three games.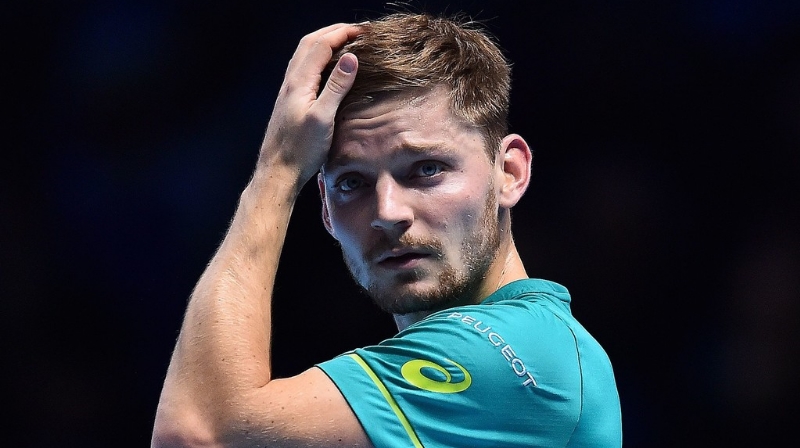 Photo: AFP – Glyn Kirk
I would argue that Goffin began feeling the after effects of his fatigue from his previous match – or is he injured? We will not know for sure anytime soon – only after the reality of having to fight another long battle to overcome a player on top of his game has set in. Those three games were a large part of that reality setting in.
The last straw came when he had a chance to hold serve on an advantage point in the next game.
In that point, and I would call it the best point of the match, it seemed like Dimitrov made Goffin run the five-mile marathon at high speeds following a 22-shot rally that ended with an exquisite drop shot half-volley at the net, leaving Goffin visibly breathing hard. Goffin was so exhausted that he double faulted the next point. He eventually lost that 16-point-long service game that lasted 8 minutes and 15 seconds.
The curtains closed on David at 4-0, he never recovered. That was the moment after which he began feeling the fatigue, his shoulders slumped, and appeared to have very little fight left in him.
So, what is next for both of these players?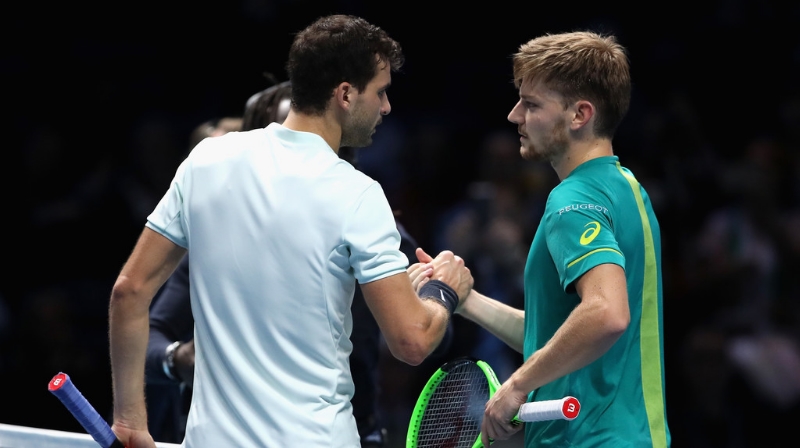 Photo: Getty – Julian Finney
Grigor has now qualified for the semifinals and will face either Jack Sock or Alexander Zverev. Should he feel confident? Yes. Does he look as sharp physically as (or sharper than) anyone else in the tournament? Yes. Is he good enough to win the tournament? Possibly, certain within the realm of possibilities, and it's not like there are many possibilities here. What would this title mean to his career if he were to win? A whole lot! Hard to express in words, and if he really were to win it, I believe he would also find it hard to express after the match.
Goffin says he did not lose the match because of a physical ailment and gave all the credit to Dimitrov. Did we expect anything less from one of the nicest guys on the ATP Tour? I don't believe so, even though most of us saw it differently on the court. He was either tired, or injured, or both. I would take the first over the next two, but also give credit to Grigor's tennis in the early going for aggravating David's problems.
David still has a decent chance to make it to the semis if he defeats Dominic Thiem on Friday. I am not so sure how many Belgians around the world will cheer for him in that match. Davis Cup finals against France and the prospect of playing a best-of-five-set match for his country loom large for Goffin, precisely one week from Friday.