From Sascha to Grigor, the road gets bumpier for Jack
For the preview of the other semifinal between Roger Federer and David Goffin, click here
Well, this semifinal between Grigor Dimitrov and Jack Sock should be a first-rate encounter. You cannot find two players, this late in the season, who seem to be peaking in form to the degree that these two are, and they both deserve to be in the semifinals.
Sock will have to deal with a different (and a more complicated) set of problems when he encounters Dimitrov on Saturday than he did in his three-set win over Alexander Zverev on Thursday.
For starters, Sock will not be handed numerous free points on double faults at crucial turning points of the match. This is not to say Dimitrov is not prone to committing double faults, but he will certainly be less generous than Zverev, and unlike Sascha, he will have enough sense to hit a safer first serve and get it in play on a crucial point after having double faulted in the few preceding ones.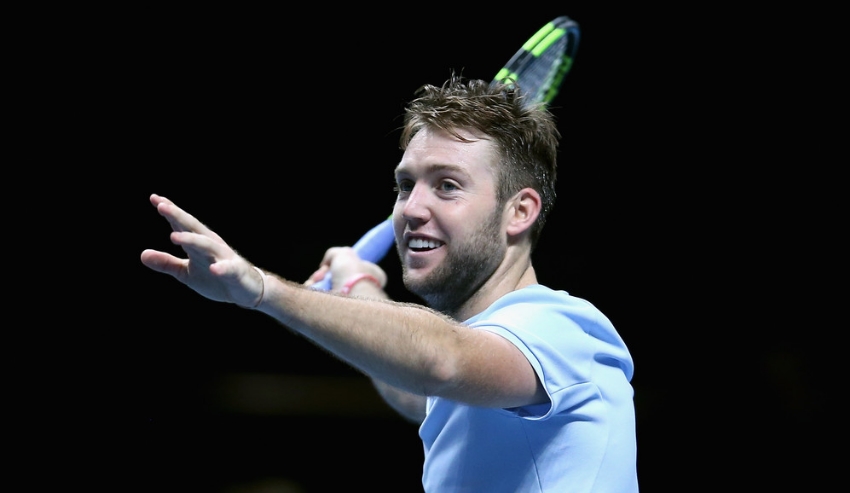 Photo: Getty – Alex Pantling
Secondly, the young German played with predictable patterns throughout the match on Thursday, hardly changing the spin and the pace of the ball. That allowed Sock to anticipate his shots, get to the ball in time, and even run around the backhand to nail his forehand. See the 4-2 30-30 point in the final set, for one example out of many. Jack lost that point on an unforced error, but if you observe Jack's movement during the rally, you will see how he knew ahead of time, on every shot, where Zverev was going to direct the ball. You will see him moving to the anticipated spot before even Sascha struck the ball.
That is because Sascha's game, after two sets and a half, had become so predictable that when he actually hit a rare backhand down-the-line that was neither powerful (by his standard) nor to the corner, it turned into a winner because Jack was moving to his ad corner expecting the cross-court backhand from Zverev. That was a rare – a very rare – deviation from the norm for Zverev.
That level of predictability will be absent with Dimitrov on the other side of the net. The Bulgarian is a high-IQ player and knows better than to give the same look more than once or twice to a player whose streaky game depends on repetition and rhythm. When the Sock machine clicks on all cylinders, the American is hard to stop. His forehand, his serve, and his volleys can be deadly (see the fine touch volleys he hit on Thursday). Grigor will do everything possible to keep Sock out of his comfort zone, and that starts with staying away from predictable patterns that allows the American to get his feet set.
In addition, Grigor mixes up the ball a lot more than Sascha, and unlike the German, he does not have a visible weakness in his game such as second serves or low forehands on the opponent's slice shots.
Sock may need to adjust his tactical formula more than once on Saturday, not because his initial one may not work, but because Dimitrov possesses enough ingredients in his game to modify his and counter Sock's tactics, enough to push the American to adjust.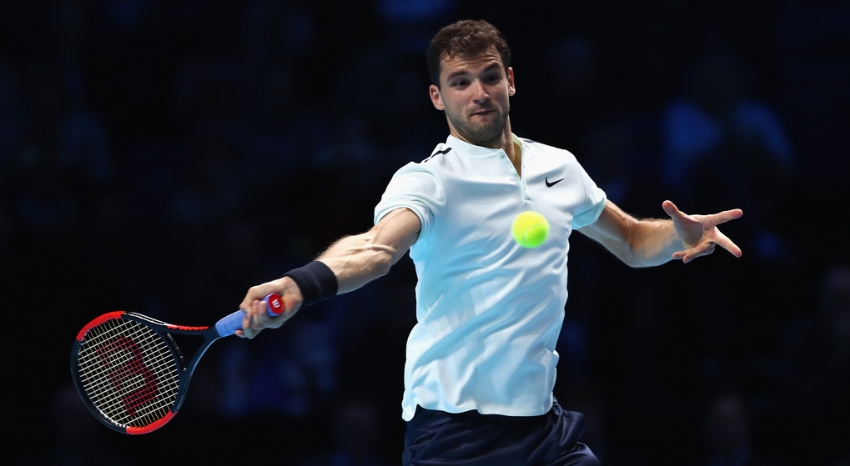 Photo: Getty – Clive Brunskill
You may have guessed it by now. Yes, I favor Dimitrov in this match, even though some naysayers will throw the "but Sock beat him the last three times he played" or "he is 3-1 against him" lines at me.
And they may be right.
For one thing, Grigor has had matches in the past where he came out unexpectedly flat and disappointed everyone including himself – although I can't remember off the top of my head an abrupt loss by Dimitrov in recent times due to dismal play, while he was having a good run. Does the loss to Rublev at the US Open count? For another, I am terrible with score predictions. I do, however, feel confident in predicting that the outcome will be determined by how Sock handles the above challenges posed to him by Dimitrov.
Make no mistake: Sock can generate power and he is on a roll. His forehand is arguably this week's biggest weapon in the tournament. I have no doubt that he feels pumped up after the last two weeks, and that he genuinely believes in his chances against anyone.
He has indeed been riding smoothly and at high speed on a wide-open highway.
Yet, I believe that ride will get very bumpy on Saturday. The terrain is about to change. He will deal with some narrow back roads with holes and low visibility, and after having ridden for so long, his tank may go empty with no gas stations around.