After two grueling days at scorching temperatures – above 100 degrees Fahrenheit – the weather is finally supposed to calm down on Saturday, and the players could not be more thankful. It will be interesting to see how much of the heat effect from Thursday will carry over to Saturday for those who had to play taxing matches during the day session. Yes, Novak Djokovic, Maria Sharapova, Caroline Garcia, Dominic Thiem, and Ana Bogdan, I am talking about y'all.
Let's look at three of Saturday's third-round matches, two of which involve the names mentioned above.
Madison Keys (17) vs Ana Bogdan
The draw is shaping up nicely for Keys, the 2017 US Open finalist. She has had two expeditious wins, allowing her to remain fresh for the next round(s) to come. She would love to play on Rod Laver Arena, the fastest of the show courts at the Australian Open. Regardless of the court, she will be the heavy favorite in this match, and should deliver. Her opponent, the Romanian Bogdan ranked 104 in the WTA, faces a steep hill to climb. To make matters worse, Bogdan played a physically and emotionally (she cried, exhilarated, for a full minute after the handshake) taxing match against the pesky Yulia Putintseva, winning 6-3 in the third after 2 hours and 6 minutes under brutally hot conditions.
Photo: Mark Kolbe – Getty
Unfortunately for Ana, her game does not match up well with Madison's either. The unseeded Romanian likes to accelerate the ball, but in order to do that, she will need to get her feet set and control the rally from the middle of the court. Keys is the last person to allow her opponents to direct rallies. The American's plan A also involves aggressive groundstrokes, except that she can do it with more power and accuracy than her opponent. Furthermore, she can produce bazookas even when she is on the full run, something that sorely lacks in Bogdan's game. Once forced into a game of scrambling and retrieving, Bogdan's level drops drastically, and I must add strangely, because she is actually a very good athlete.
All signs point to another comfortable win for the American. These two have never played each other, and I am guessing that Keys will still remain undefeated in this head-to-head count after tomorrow.
Angelique Kerber (21) vs Maria Sharapova
Well, what a blockbuster we have here in the first week of a Major! Kerber is so far undefeated in 2018, having won the Sydney WTA event. She seems to have found the form that carried her to two Major titles in 2016, both on hard courts. Sharapova has equally looked sharp in defeating the 14th-seed Anastasija Sevastova, avenging her loss from the 2017 US Open. This could be a final and hardly anyone would be surprised.
What is compelling about an encounter such as this one is the clash of contrasting styles of the two players. On the one hand, the Russian is a relentless attacker, a power hitter, a shot-maker. The German, on the other hand, is an incredible scrambler, retriever, a counterpuncher. If you watched Friday's thriller between Petra Martic and Luksika Kumkhum, you know what I am talking about. Expect no less from Kerber and Sharapova tomorrow. This is the kind of match-up that produces memorable matches. Their last three matches were entertaining to say the least, all going three sets. They will not matter match in determining the outcome of Saturday's match however, the last one having taken place in 2015. It is three years later, and both players have evolved in more ways than I can fit in an extended research paper.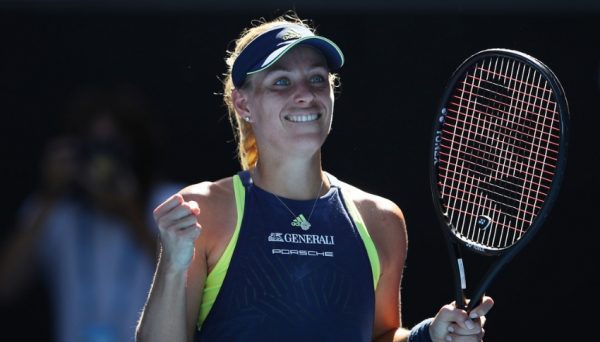 Photo: Mark Kolbe – Getty
The match is likely to be scheduled on Rod Laver Arena. Chalk that factor up for Sharapova who will look to flatten out her shots and hit the corners on the fastest show court. She will indeed need every advantage she can get, because Kerber has faced the same test on Rod Laver Arena before, and passed it with flying colors on her way to the title two years ago. I am giving a slender edge to Angelique to win this match in a tight, extended three-setter. I am however looking for Maria to reestablish herself as an elite force in the WTA in 2018, vying for the top titles throughout the rest of the year.
Roger Federer (2) vs Richard Gasquet (29)
Glancing at the social media, I am surprised to observe that many people expect Gasquet to offer some degree of challenge to Federer. Forget about the 16-2 head-to-head record in favor of Roger (Gasquet's two wins coming on clay), and tell me when is the last time Gasquet won a set against the Swiss on hard courts? I will give you a few hints. George W. Bush was the President of the United States, there was no such thing as an iPhone, and Zinedine Zidane was sent off in a match that saw Italy win the World Cup two months earlier.
This is simply a bad match-up for Gasquet, not only because Roger is in good form, but also because, I believe, Gasquet will walk out on the court with close-to-zero belief that he can beat Roger. We are talking about a player, albeit very talented, who has a 3-44 record against Roger, Rafa, and Novak combined. It is hard to build any confidence after so many failures against the game's elite players. 2011 was the last time the Frenchman recorded a win against either of those three champions (Federer in 2011, on clay, 7-6 in the third).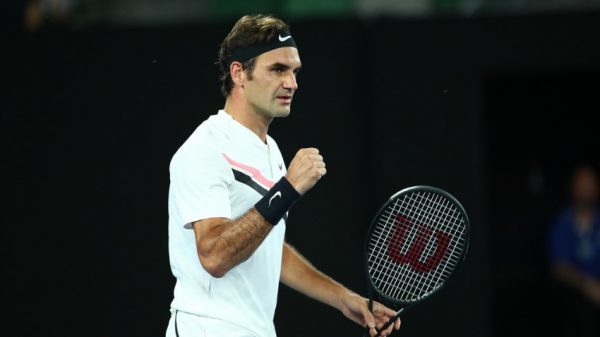 Photo: Clive Brunskill – Getty
Look for Gasquet to either play a close first set, most likely due to a slow start by Federer, and wilt away in the next two, or go down by two sets, only to challenge the Swiss in the third, only because he freely goes for his shots, feeling like he has nothing left to lose. A let-down by Roger is the only way Richard can steal a set and create some tension in this match. Otherwise, Federer will overpower Gasquet from the baseline, stretch him to the backhand side and put the floaters away by sneaking to the net. He will also add a few aces here and there for good measure. I am a fan of Gasquet's style, but here, the only thing I can say to him is "bonne chance mon pote."