Milos Raonic launched his 2018 campaign in Brisbane in January following a three-month injury-related break that he probably wanted to leave behind as fast as possible. What he has done in the first three months of this year, however, has only been the continuation of the nightmare, except that instead of recovering from injury, he found himself trying to recover from disappointing losses. The Canadian began the year with two first-round losses in Brisbane and at the Australian Open. It takes time to recover from injury, especially for a big guy like Milos, but surely, he was hoping for a better record than 1-3 and an ATP ranking of 38 (last week it was 40, his lowest since 2011) coming into the BNP Parisbas Open in Indian Wells.
Well, his record is leveled at 3-3 after two wins vs Félix Auger-Aliassime and Joao Sousa. His match on Tuesday against the 85th-ranked Sousa was, at least on paper, a straight-forward matchup between an attacker with a big serve and a retriever-counterpuncher with a reliable footwork. Most of the encounter lived up to that billing, with the outcome resting on a game or two here and there. Raonic, being the aggressor and donning a clear weapon, his serve, was the player more likely to decide the fate of the match.
Milos did get couple of assists from Sousa, but it was his shot-making (or shall I say "serve-making with the support of some other shots"?) or his errors that oscillated the match one way or the other.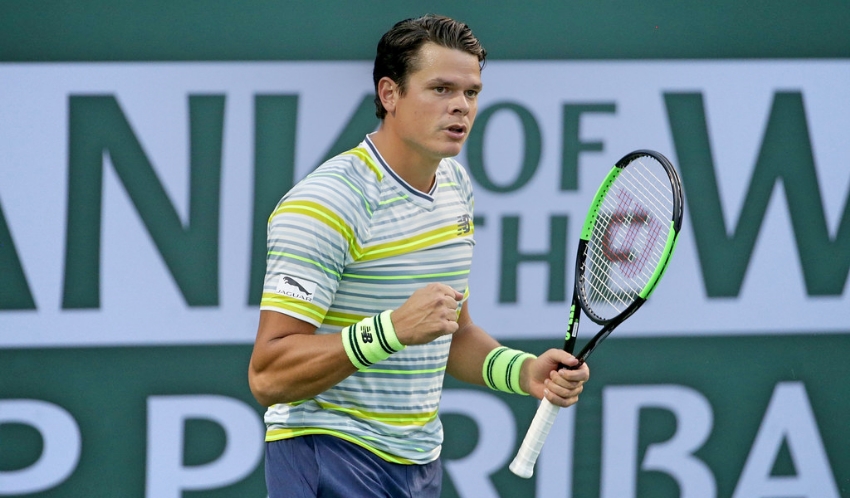 One aspect of his game plan that had an immediate impact, on Sousa particularly, was his decision to nail as many forehands as possible for winners on his opponent's second-serve returns. He blatantly ran around his backhand and went for forehand winners each time he saw a second serve coming from Sousa. The Canadian also served big both on first and second serves, even by his standards, from the very first game forward. He seemed determined to finish the point with one shot, period. It was an astute strategy**. Sousa is a pesky player who can run down many balls and create angles from the baseline. The last thing Raonic wanted to do was to resort to extended rallies against an opponent who relies on building his rhythm with longer points.
**Side note 1: I reject the notion that what I described here is "always Raonic's strategy" thus implying that it has nothing to do with astuteness. Milos is a hihgly intelligent player and to say that he solely does one thing and never varies it only shows that the person making the claim has hardly ever watched Raonic and seen that he often adjusts his return position, his serve's placement, and the amount of slice he adds to his backhand depending on his opponent.
The example of the first game should suffice to illustrate Raonic's desire to cut the point short. Most servers start pulling their biggest serves when they are well into the match and there comes a moment when they feel physically and mentally geared to make a run. Their focus peaks and they "free-flow" into hitting one service bomb after another. This does not usually happen in the very beginning of the match. Unless, evidently, your name is Milos Raonic.
His very first serve of the match was a 143 mph bazooka that Sousa could not return in the court. Milos missed the next first serve at 144 mph. In the third point, he nailed a 125 mph second serve that forced an error out of Sousa. In the fourth point, his second serve had such an overwhelming kick that Sousa, bewildered by the bounce, swung the air with his racket. It was a clean ace. The first game was over in one minute and 55 seconds, and it lasted that long only because the second point turned out to be an eleven-shot rally.
Therefore, when one looks at Raonic's first-serve percentage for the first set, it can be misleading. It stood at 43% when the set ended. Low number by any means, but not as dismal as you might think if you observed how much he went for on them from the opening point. In fact, he only lost two points when he did put them in. He also won the majority of points on his second serves because he was taking risks on them too. Although he would like to at least serve over 50% first serves, his priority here was to cut the point short even if it came at the cost of committing few more errors.
He finished the match at 57% first-serve percentage largely thanks to the third set during which he made 15 out 20 first serves. He won 41 out of the 46 points that started with his first serves, losing only one in the second set, ironically the only one he lost.
As noted above, where the strategy really paid off for Raonic was on returns. He sent an early message to Sousa that the Portuguese better get his first serve in, or else**. In his first two service games, Raonic moved around his backhand side to unload his forehand on Sousa's second serves, and won a large majority of those points. In fact, Sousa would go on to win only around 20% of his second-serve points for the first two sets and finish the match at 29%.
**Side note 2: By the way, Raonic did not limit his risk-taking on returns to Sousa's second serves. Whenever he could get his feet set, he also unleashed his forehand on Sousa's first ones. If you wonder the effect his returns had overall on Sousa, look at the expression on Joao's face immediately after Raonic hits a warp-speed return at deuce in the 2-1 game, on a solid, wide first serve by the Portuguese no less. Sousa barely gets his racket on it, loses the point to face the third break point in that game, and smiles sarcastically toward his box, probably wondering how Milos was pulling those returns.
You could sense, very early in the match, Sousa's malaise on second serves when that reality set in. Raonic's aggressive returns led to two double faults by Sousa in his second-serving game of the match at 1-2. Both double faults came after Raonic punished Sousa's second serves in the preceding points (at 15-15, and 30-30). Sousa then had to battle for 9 minutes 55 seconds and save five break points in order to survive that game.
Strangely, it was Sousa that got to break Raonic first at 4-4. It was the only game in which Raonic did not get a first serve in and double-faulted twice. It also helped that Sousa's shot clipped the net and dropped over for a winner on break point. In the ensuing game, Sousa would give his first of two assists to Raonic. He started the 5-4 game with a double fault followed by a badly timed backhand slice that allowed Raonic to attack and win the next point to go up 0-30. Raonic broke serve to get to 5-5 and did it again at 6-5 to finish the first set. In that game, Raonic nailed another forehand return for a winner on a second serve by Sousa at 15-30. Sousa followed that up with a double fault, a pattern previously seen more than once in this set, and lost the first set 7-5. When you look at stats and see four double faults for Sousa in the first set, remember that they are in part products of Raonic's tremendous pressure on his second serves.
A similar pattern took place in the second set, with a different ending. Again, Raonic served two double faults in the 4-4 game, and again, Sousa broke his serve to go up 5-4. Sousa would not let his opportunity get away this time. He played a very solid game** to hold comfortably and force a third set.
**Side note 3: I should note that Sousa played many solid games in this match and won most points that turned into baseline battles. This is no surprise, but it also shows how accurate Raonic was in his successful attempt to turn this match into one whose outcome depended on serves and returns, rather than winners and unforced errors hit during rallies.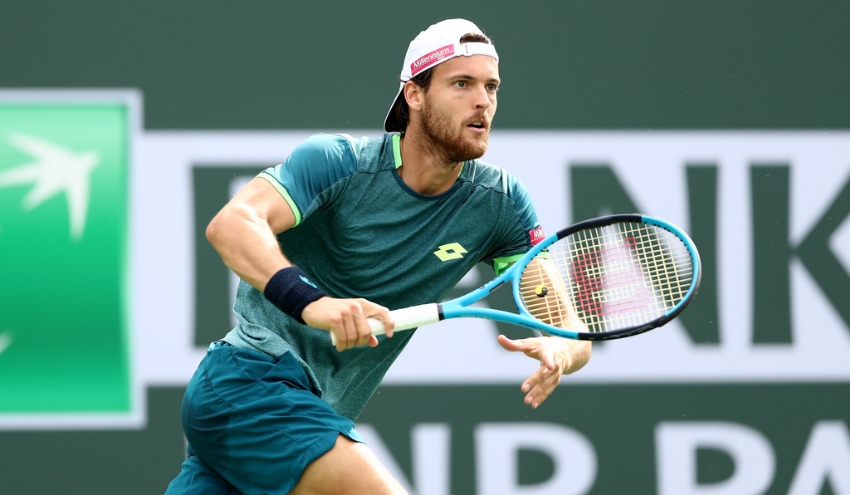 The turning point of the third set came when Sousa was serving at 2-3. Raonic deserves credit for extending the game to deuce, thanks to the fabulous forehand cross-court winner he hit on the run at 40-30. Then, Sousa gave Raonic his second – and definitive – assist. After an ace to earn another game point, Sousa netted a short, albeit low, forehand in the net on an approach shot. He would get a third chance at holding serve, but then would string together his worst sequence of three-points-in-a-row of the match at a most inopportune time.
He first attempted a serve-and-volley on an average first serve that Raonic was easily able to get down to his feet at the net. I have no idea why Joao would try to do the opposite of what has worked for him during the last hour, which is to engage Raonic in a rally, either to squeeze an error out of him or to approach the net when the short-ball opportunity presented itself. In fact, this formula worked more than once in the very game that he was playing. He missed the low backhand volley and the score went to deuce. He would then pass on a chance to come to the net in the next rally when he had a short ball on his forehand, probably because the volley miss from the last point was fresh in his mind. Few shots later in that rally, he netted a forehand to go down a break point, and followed it up with an angled forehand attempt from the middle of the court that went wide to lose his serve. It was poor decision-making for three successive points and his disappointment showed when he turned to his box to express it after losing the break point.
Raonic took control and raised his level considerably. He played his best tennis of the match in the last two games of the match, breaking Sousa's serve one more time to win the match 7-5 4-6 6-2. He advanced on to the next round to face the streaky Marcos Baghdatis for a spot in the quarterfinals. Raonic's game still has glitches and his movement is not at 100%, but playing more matches is precisely what the doctor ordered so the central task was accomplished.
At the end of the day, Sousa and Bahdatis are no more than other competitors who line up as his opponents on a given day. Milos is relentlessly harassed by a much more vicious and powerful nemesis than any single tennis player, one that methodically keeps hampering his progress: physical pain. In the bigger picture, it is nothing less than remarkable that he has been able to accumulate as many impressive results as he has in his career, considering that injuries have relentlessly pursued him since his early years on the tour, often with success, much to the dismay of his fans.
Having said that, you cannot build a game plan for your upcoming opponent around the notion of avoiding injury. Raonic must rather concentrate on repairing the existing glitches in his game. He must aim to win more efficiently than he did in Tuesday's match against Sousa so that he can move on to the next round with the least amount of wear and tear to his body. And drawing up an efficient winning plan for the next match involves forehands, backhands, serves, winners, aces, angles, et cetera, as well as all the other x's and o's that matter once the first point begins. Winning, after all, leads to more match play and the more victories Milos can amass, while remaining healthy, the more confidence he can gain and the quicker he can return inside the top ten.
Until the next one, enjoy the BNP Parisbas Open!