On Friday, men's quarterfinals in Cincinnati featured five top-10 players, the number 13, 23, and a qualifier by the name of Alexandr Dolgopolov. When the day ended, the world's top three players, Novak Djokovic, Andy Murray, and Roger Federer took their place in the semifinals, along with that guy Dolgopolov. He is from Ukraine and he is ranked number 66 in the ATP Tour. He may require an introduction because he redefined the term "going under the radar" this week.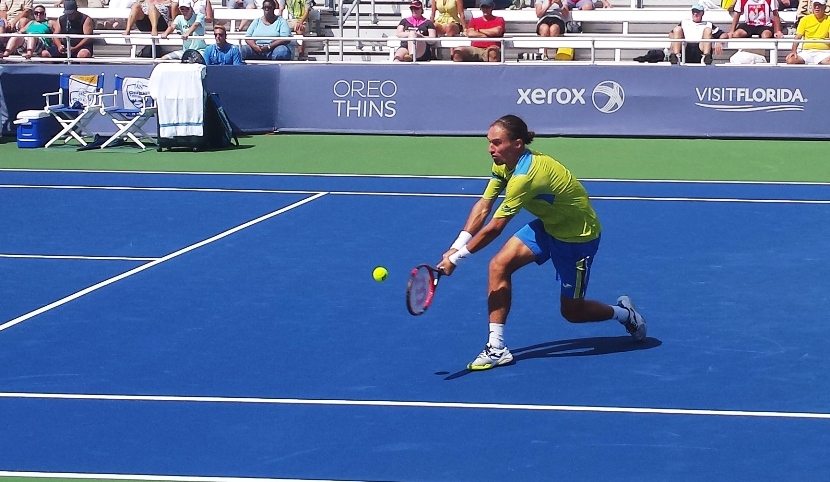 The Ukrainian has won five matches, and has yet to play on Center Court. While the other winners of yesterday and today have for the most part enjoyed (or suffered) the company of a dozen or more media members in their after-match press conferences, only one media member asked to talk to Dolgopolov yesterday following his win vs. Jerzy Janowicz, and today, as a semifinalist, that number increased to a whopping two. As one of those two (the other was the knowledgeable Pete Ziebron – Twitter: @tennisacumen), I asked him if the lack of attention bothered him or not. He shrugged his shoulders, then laughed and said "No, it's good that I save some time, I mean, I can concentrate on my tennis, that's my concern now." When asked if he was surprised by his run to the semifinals as a qualifier, his answer was two-fold: "I always think there is a possibility that I get a result. Obviously I couldn't come here and expect to be in the semifinals from qualifying, with a tough match against [Santiago] Giraldo in the qualies [won 6-3 3-6 6-4]. I was playing quite good actually since the grass-court season. I had a lot of tight matches and a few bad losses. I couldn't expect to make the semis here coming in, but I know I have the ability to do that. So both, I am surprised and not surprised."
Many tennis fans believe that lower-ranked players faces less pressure when they surprisingly advance to the later rounds, and face highly ranked players, because they have "nothing to lose." In Dolgopolov's case, there is no doubt that that this is an invalid assumption. On Thursday, when he faced Janowicz, it was obvious looking from the outside that he was under tremendous pressure. He led 5-2 in the final set and had two match point opportunities that slipped out of his hands. In the next game, on his serve, he got very tight, and visibly could not hit the ball freely. He ended the game with double fault, giving up the break advantage. He calmed down during the game change, and with a little bit of help from his opponent who committed two unforced errors and two double faults, Dolgopolov was able to close the match out. The relief was clearly showing on his face as he shook Janowicz' hand and left the court later.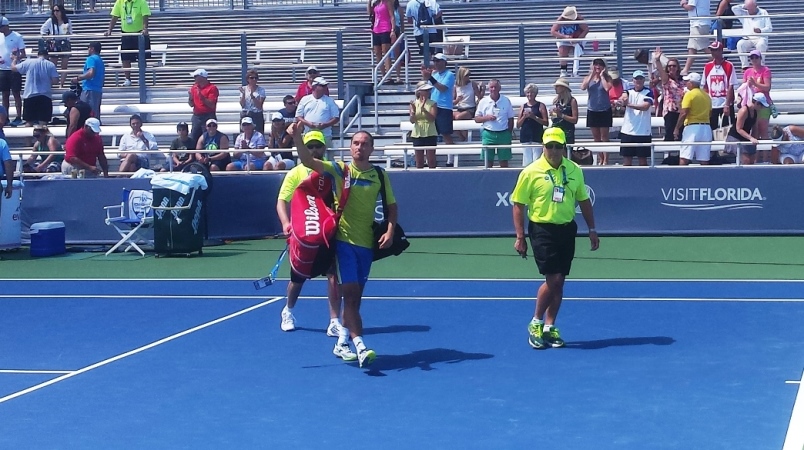 The Ukrainian confirmed that he felt the weight of that match on his shoulders, especially when he was leading: "I was thinking about [the win] too much when I was closer to winning. It was a big match for me point-wise you know, because I lost some ranking spots in the start of the year, I had a surgery last year. It was really important to find my game and some results because I have not had a great year so far this year. So that match I was very nervous. I just tried to survive, get the ball back in play. I don't think I played as well as I played today."
Against Berdych today, Dolgopolov seemed to give a clinic on how to pacify the big Czech's powerful game that is known to reduce opponents to just getting balls back in the court. Already in his first service game, Dolgopolov put to use the 1-2 punch, following up his serve with a winner attempt or an aggressive shot, enough to send an early message to Berdych: he was not going to play the match on his opponent's terms. As he confirmed later, playing aggressive was the one clear idea he had before going into the match. Once he held his serve, he remained unpredictable, mostly avoiding longer, hard-hitting, monotonous rallies which would have given Berdych rhythm. He worked the angle cross-courts, followed by hard flat down-the-line winner attempts. He utilized his sizzling slices, well-known drop shots, keeping Berdych off-balance, not allowing him to direct traffic during points. He even did something rare on a few occasions which is to all of a sudden move into the court during the rally, and almost half-volley the ball and follow it up to the net in order to rush Berdych (if you have access to match replay, watch the 6-4 4-2, 15-30 point on Berdych's serve for an example of this). These patterns left Berdych unsure of what was to come next and unable to plant his feet to unleash his ground strokes. Again, if you have access to replay, the point at 6-4 2-1 40-15 is a wonderful example of a long rally during which Dolgopolov uses a wide variety of shots and effects on the ball, always keeping Berdych on the stretch, eventually forcing him into an error.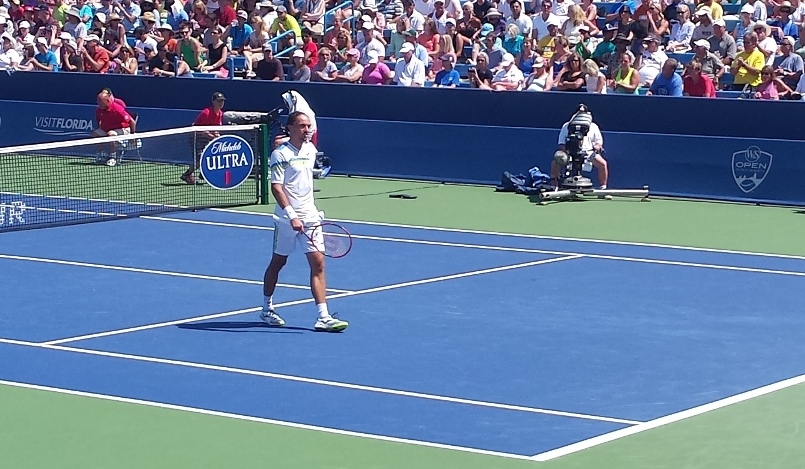 Surprisingly, Dolgopolov said he did not have any specific pre-planned patterns as he stepped on the court for the match, other than playing an overall aggressive game: "I mean, I was just finding ways to win the rallies. I did not have a really set-up plan on how to play him because he is solid from the baseline. It's tough to find ways with him. I was searching for what is best for me on this day. I think I was very good at hitting angles on my forehand and that was probably the key in the match. But I can't say that there was a specific tactic you know. I know he is an all-around player. He does not give you a lot of easy points and he does not have bad shots. It was more about what he will show today and what I will show. I played him a few times. You can see if he is playing good or not. If he feels uncomfortable than you try to make him play more. Obviously, I had more or less a tactic that I wanted to play aggressive, but then, I was just looking to see what happens on the court." In retrospect, it is so true that when a certain pattern worked in his favor, Dolgopolov looked to repeat it as much as he could. But those patterns were discovered as the match progressed and not planned in advance. The point is that Dolgopolov's case, at least in this match, shows that we should not universally assume that every player goes into a match with a detailed scheme already mapped out in their head.
During the match, a problem that has existed for years in the Western & Southern Open once again resurfaced. When Berdych and Dolgopolov started their match, Serena Williams and Ana Ivanovic were expected to begin their match shortly after on the adjacent Center Court. Until the women began their match, loud announcements and music could clearly be heard from the Grandstand. Other players have complained about this in the past, as well as earlier in the week. It was no exception with the two men who had to play until 4-3 in the first set with that noise, at which point the match started on Center Court and the music stopped. Until then, both Dolgopolov and Berdych complained several time to the chair umpire about it. Dolgopolov voiced his anger twice in the early games, and Berdych followed suit, especially after he went down a break at 2-4. "I thought it was disrespectful you know" Dolgopolov said, "I understand that it's the Center Court but it was too loud. Both of us said it a few times. There has been also other things in this tournament with which I am not happy [would not elaborate]. It's their choice. I mean, it's their choice if they want to make the players happy or make the money and do what they care about. Our job is to go out and play. Nothing changes if you are not happy with something."
On Saturday, Dolgopolov will face the ultimate challenge when he walks on the Center Court to take on the world number 1 Novak Djokovic in the first semifinal match scheduled for 1 PM. Djokovic is well aware of his opponent. He said that although his prepration remains the same on match days, he will do specific things during the morning warm-up in preparation for his opponent because he is a "different player" than the one he face today (Wawrinka). In any case, one thing is certain: Dolgopolov will no longer have the luxury to remain under the radar to his opponents, the media, or the fans.
Note: Watch for commentary posts here and stay tuned to MT-Desk on Twitter for frequent live updates.