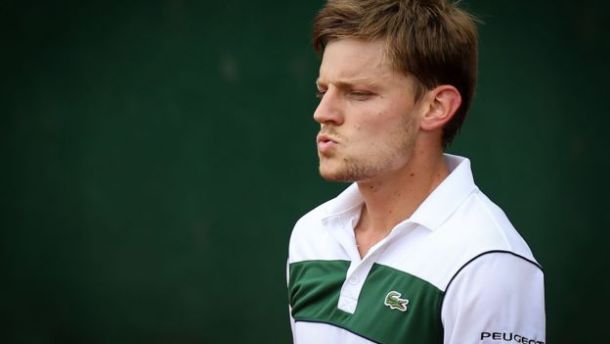 David Goffin first made a name for himself in 2012, as a 21-year old, when he reached the fourth round of the French Open as a qualifier, and eventually lost to his childhood hero Roger Federer. Then, last year, he went on a tear in the summer, winning 34 out of 36 matches, a stretch that included three challenger and two ATP Event titles, establishing himself as a top 30 player. Steady progress and consistent results have propelled the Belgian to the number 14 position entering the Western & Southern Open in Cincinnati this week.
So far, in the ATP 1000 event in Cincinnati, he is keeping his end of the bargain as the 13th seed. On Wednesday, he defeated the dangerous Spaniard Fernando Verdasco 6-4 7-6 to earn a spot in the third round where he will face the world number 1 player Novak Djokovic. He played his "A" game, staying solid from the baseline and forcing Verdasco to take risks which led to a few winners, but also to a cluster of errors by his opponent.
When I asked him about how he managed to handle a "loose-cannon" adversary like Verdasco, he said that he was well aware of what awaited him: "If he does not make mistakes, it's very difficult to control his ball. You have to really try to make him overplay and miss, while you remain aggressive. If you are not up to the task, he takes matters into his own hands and complicates everything for you. So I tried not to back up during the rallies, make him move, especially on his backhand side because everyone knows that it is the less-effective side. But we also know that his forehand is really great. I tried to play the right zones, keep the ball deep, and play aggressive so that he does not seize control of the point and misses a bit. There are rallies like the ones at the end of the first set that he wins, then you can only say "well played" – Verdasco uncharacteristically outlasted Goffin in two consecutive long rallies in the tenth game before finally losing it, and the set 6-4. Then again, if he was playing every point like those, he would not be where he currently is [Verdasco is ranked 43]."
Most players have an off-season period in the middle of the year to fine-tune their games and rest their bodies. Goffin did not have such luxury this year. He nevertheless seems happy with his game's progress: "For now, things are working out ok. I try to work on playing my game on my terms, play aggressive. Obviously if I have to run a lot and stay far behind the baseline, I am clearly not as good. So I try to play with my weapons, which are my return, my footwork, my speed, the quality of my shots while playing fast to find a rhythm in rallies that bothers other players. I try to improve my forward movement; I think the most important thing is that I stay aggressive."
That being said, Goffin also knows that with his higher ranking, he will also have to revamp his schedule next year: "There are always small blocks of time during which you can work on your physical preparation or work on your game, such as the period after Wimbledon. But, in my case, I had already engaged to play this tournament. I signed up for it 6 weeks ago. It is hard to change and not go, after that. And then, on grass, you never know how it will go. As for me, last year I went back to clay courts last year after grass. I played well in Challengers and won, and then I won Kitzbuhel. So, this year I had decided to go back again to clay courts after Wimbledon. When I made those plans, I did not know that I was going to reach the finals at s'Hertogenbosch [on grass] and the 4th round at Wimbledon, and that the grass season was going to turn out to be that draining. So, it's true that when I see my latest results on clay, after Rome, Roland Garros, and the grass-court season, it would have served me well to have a break now. I still had good post-Wimbledon clay-court season, I still reached the finals in Gstaad after Wimbledon. It's a scheduling choice, but I think one that we have to reconsider next year."
He still looks forward to the US Open and the Davis Cup. Belgium is in the semifinals of Davis Cup for the first time since 1999, and there is a lot expected out of the 24-year-old top Belgian player. According to Goffin, although being the most accomplished men's tennis player in the history of Belgian tennis does not necessarily pique the curiosity of the tennis fans at his home, largely due to the success of women such as Kim Clijsters and Justine Henin who have both attained the number 1 ranking in the world, he admits that going further in Davis Cup could add to his career: "It could be an exceptional moment if we could reach the finals or do better."
For now, the question revolves more around how to stay fresh physically than how to handle the added pressure of reaching an elevated status. When asked if he felt the weight of any extra pressure, he responded: "Not necessarily. I will try to do my best just like I do at any other tournament, so there is not really any particular extra pressure. I will be seeded at the US Open, so maybe more will be expected out of me. I suppose that in Davis Cup people will expect a lot from me, especially the two singles points for the team, that's clear. Well, I will try to manage this pressure well. In any case, I deal with pressure a lot better now than in the past. I am also excited. I played a lot of matches in the last few months. To stay fresh will be the most important. My confidence is there, but I will need to endure matches that require three sets to win."
The most daunting challenge for Goffin in the immediate future will be his next round opponent Novak Djokovic. They are scheduled to play the second match on Center Court and a win against the Serb would put Goffin under the spotlight more than ever. For his part, the larger goal remains the same: "I don't function in terms of results, but rather in quality of my game. I will try to produce my best tennis the rest of this summer."
Note: Watch for commentary posts here and stay tuned to MT-Desk on Twitter for frequent live updates from Cincinnati.