This match, viewed by some as "a look at the future of the WTA," featuring two of "the rising stars of women's tennis," for good reasons, did not quite live up to the hype in terms of scoreline, but was rich in nuance, thus highly informative with regard to both players' strengths and shortcomings.
Let me first repeat that which some casual fans may not know about these two players. As I said in my first-round analysis of Marketa Vondrousova's win over the American Madison Brengle, the eighteen-year-old Czech player is a talented left-handed player, ranked 54 in the world. The 63rd-ranked Aryna Sabalenka is nineteen years old and has improved by leaps and bounds over the last few months. Both players are making their first appearances at the BNP Parisbas Open in Indian Wells. So you can imagine how high the stakes were for them in this match as they stepped on the court at 11 AM, California time. Let's also not forget the $88,175 prize money for the fourth-round qualifier, a little under what Vondrousova has earned this year so far and a little over that of Sabalenka.
The match pitted two players with contrasting styles. You had the crafty Vondrousova who possesses a wide repertoire of shots in her arsenal, facing a powerful hitter in Sabalenka who, when clicking on all cylinders, is capable of blowing her opponent off the court so fast that the opponent may never get the chance to put her skills to use. Of course, the downside of Sabalenka, or any player with that style, is that her errors can pile up just as quickly as she can produce winners.
Unfortunately for Aryna, that is precisely what happened in the early games of this match.
Sabalenka began the match on her serve and won the first point with one of her favorite patterns, a hard first serve followed by a winner on the next shot, your basic 1-2 punch. The first minute must have pleased her fans, especially when she hit a second-serve ace to lead 40-15. Then, things turned sour. She lost the next four points and her service game.
She committed four unforced errors (three in the net, one deep) in that first game, three of them on winner attempts from inside the court. To add salt to the wound, Vondrousova's return clipped the net and dropped over for a winner at deuce. When the game ended, the commentator called it a "dream start for Vondrousova." The more accurate description would have been "a nightmarish start for Sabalenka." Unfortunately, she was just getting started with this nightmare.
Sabalenka made three more errors in the next game, all deep this time, two on eminently makeable returns and one on a winner attempt from inside the baseline. Vondrousova's break was confirmed with a blank hold. She led 2-0.
By the time Sabalenka began the third game with another winner attempt from inside the baseline that went in the net and followed it up with a double fault to go down 0-30, alarm bells were already ringing. Vondrousova added two fine forehand winners and Sabalenka found herself down two breaks, at 0-3, ten minutes into the match. The rapid slide needed to stop, she asked for her coach Magnus Tideman.
Tideman was positive, trying to lift her spirits: "long way to go"; "no problem." He told her to "play higher over the net" and repeated it again, "you need height." He felt that Vondrousova was "playing too good on the flat ones." It was true that out of the five errors Sabalenka made so far during rallies, four were in the net, below the tape level. Three of the four "out" errors came on returns and Vondrousova's wicked left-handed spin may have had something to do with that.
The errors in the net, however, were straight-forward glitches by Tideman's player. Perhaps he added the last part (about Vondrousova playing the flat balls well) in order to avoid saying "you are missing too much in the net and need to add some margin." Of course, I am speculating, but sometimes, as a coach, you want to tell your player to change something, not by reminding them how they have failed at it thus far, but rather by saying that it favors the other player, although it may only be partially true.
In any case, Tideman was one-hundred percent right about the margin of error over the net. The question is, can Sabalenka play that type of game, the kind where she has to mix in some loopy, spin shots that make the ball bounce high? Would that not be out of her game's character? For a player who consistently goes full-force on virtually every shot for high-risk flat winners, can she feel at ease doing anything else? I certainly have my doubts, and it certainly did not take place in this occasion.
At 0-15 in the following game, Sabalenka went for another flat, hard, cross-court backhand that smashed below the tape in the net. On game point at 40-15, she went for another backhand flat-liner, this time from deep behind the baseline and her body falling back. It landed, yet again, in the net. In fact, she played those five points as if she never heard what her coach told her at the game change. There had been no adjustments in her game, no added margin to clear the net, and the scoreboard showed 4-0 in her opponent's favor.
Sabalenka finally held serve (not because of high-bouncing balls) and got on board in the fifth game, but chances for a comeback in this set disappeared quickly when she missed four straight returns to go down 1-5.
How bad did it get for Sabalenka in this first set on returns? She only won three points on Vondrousova's serves, two of them coming at 5-2 40-0 down to save two set points before losing it on the third. And this is with Vondrousova serving at 37% first serves in the set!
Speaking of Vondrousova and her serve, make no mistake, despite the low percentage, she relentlessly kept on varying the speed and placement of her serves, as well as the amount of spin on them. That had as much to do with Sabalenka's disarray on returns as her slow start did. In fact, after a second watch, I can specifically confirm that Marketa never hit the same type of serve twice in a row throughout the set. It was about as great an example as you can have, to show that stats alone – 37% first serves for the first set – do not always reflect reality and that in-person observation is necessary for sound judgment.
On another note, Vondrousova committed only three unforced errors** and one double fault in the first set. She ran every ball down, kept hitting every shot deep, essentially sending a message to her Belarusian opponent that she was ready to make her come up with the goods to earn the victory.
**Side note 1 —-> The number of unforced errors is my own count. Essentially, these are shots, three for Vondrousova in this case, that the player should make without much trouble. I do not know what the official number is, not that I can find it anywhere, nor would I completely trust it if did (reasons to be discussed another time). And yes, I count unforced errors and double faults separately!
I have spent most of my analysis of the first set, talking about Sabalenka. It's time to give Vondrousova the credit that she duly deserves, especially for what she accomplished during a sequence of about ten minutes in the middle part of the second set. It started when she was serving at 1-2 and the score was deuce.
Because, you see, when the score was 1-2 in games, it was the first time in the match that Vondrousova trailed in the game count within a set. Furthermore, it came on the heels of two games in a row won by Sabalenka, the Belarusian's first positive streak of the match.
Vondrousova had broken Sabalenka's serve to start the second set, and right when it had appeared as if she was about to run away with the match, she had played her first dismal game of the match, on her serve, no less. When Sabalenka had followed that up with her best game and held serve to go up 2-1, everyone in the stadium and watching on TV could see that she was pumped up. Her body language had turned positive and she was getting more and more vocal after each point in her favor.
And the 2-1 game had indeed started brightly for her when Vondrousova served two double faults in the first five points and let Sabalenka back to deuce. But at deuce, where many other players would have had doubts creeping in, hesitated with their shots, and shown bursts of negative emotions, the eighteen-year-old Marketa became a mental giant. She first got one of her fastest first serves in to force an error out of her opponent. It was immediately followed by the most animated "come on" (or the equivalent in her language) that Vondrousova let out in the match. Then, she ended up scrambling all over the court to win what was probably the longest – certainly the best – point of the match, an 18-shot rally that Sabalenka would have won at least twice against most other players.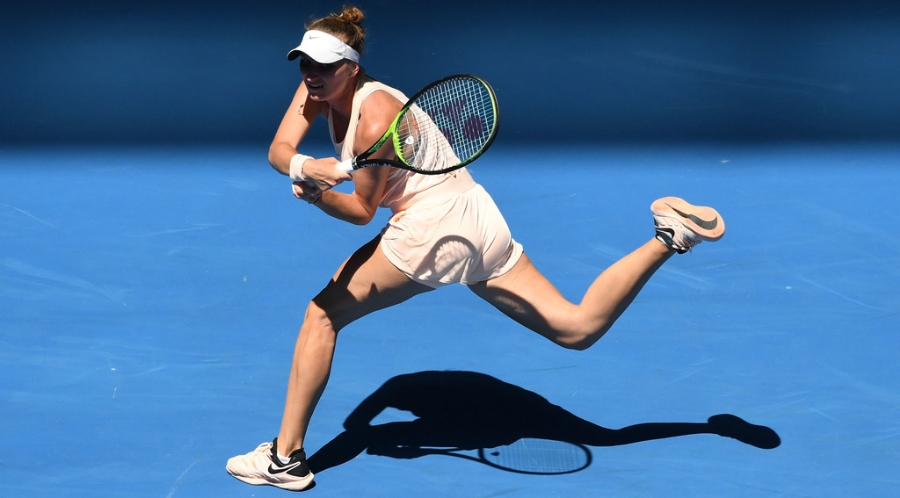 Vondrousova weathered the storm. It was 2-2, on serve. The next game showed that Sabalenka, for her part, was no longer feeling the same as she did when she had gone up 2-1. At 15-30, she double-faulted, then at 15-40, she slammed a forehand in the net to lose her serve. That should not take away anything from the fact that in that game, Vondrousova hit four terrific returns and a forehand winner from a difficult position. She now led by a break at 3-2. It was time for Sabalenka to consult once again with her coach.
Once again, Tideman tried to give positive messages: "Now you're returning much better, now it's a match!" ; "The first set was too quick" ; "Now it's much better." He also advised her on two separate occasions between the encouragements, to go back to the same corner twice to catch Vondrousova on her backfoot**.
**Side note 2 —-> I noted above that when Tideman visited Sabalenka in the first set, it seemed like Sabalenka never heard his advice. I can't tell how much she took heed in his advice this time. She did actually try to go behind Marketa twice in the second point of the ensuing game. Then, she tried it again once at 2-4, 30-30. That's two points out of 19 they played from his visit at 3-2 to the end of the match. You decide.
With Vondrousova leading 3-2 and 30-0, Sabalenka hit a return that landed on the back of the baseline but the line judge called it out. Sabalenka challenged it, and it was overturned. The referee awarded the point to her because Vondrousova had hit the next shot in the net. Vondrousova argued, for a little while, that the point should be replayed and that she missed it due to the call. But the umpire rightfully refused (Marketa did indeed hit her shot before the line judge made the call). She needed to forget about it and move on. She missed her first serve. When you thought she might be unnerved by the call, she pulled an exquisite second serve that landed close to the "T" but had so much side spin that that it sharply curved into Sabalenka's body who missed the return. One point later, another return miss by Aryna, and Marketa was now leading 4-2.
In that sequence, from 1-2 deuce to 4-2 up, Vondrousova showed no signs of nerves, made no unforced errors, and manifested a sharp awareness of the turning points of the match. Even when she went from seeing the finish line to staring at going down a break against a streaky opponent, she stood tall and avoided making rash decisions.
The match lasted one hour and one minute. Vondrousova won 6-2 6-2 and moved on to the fourth round where she will face the unseeded Petra Martic.
Until the next one, enjoy BNP Parisbas Open!