After hovering in the 80-to-150 ranking range for the last few years, Aliaksandra Sasnovich is having a career year in 2018, having cracked the top 50 for the first time (no.49 currently). Prior to today's match, the 23-year-old from Belarus had accumulated a number of quality wins this year and had a breakthrough tournament in Brisbane where, as a qualifier, she advanced to the finals before losing to Elina Svitolina. She had then reaffirmed her form by advancing to the third round of the Australian Open, her best result in a Major.
Caroline Wozniacki had a breakthrough of her own at the Australian Open, winning her first Major title in her 43rd participation in one. More importantly for her, the title ensured that she would never again have to answer that relentless question "a million times or a hundred thousand times."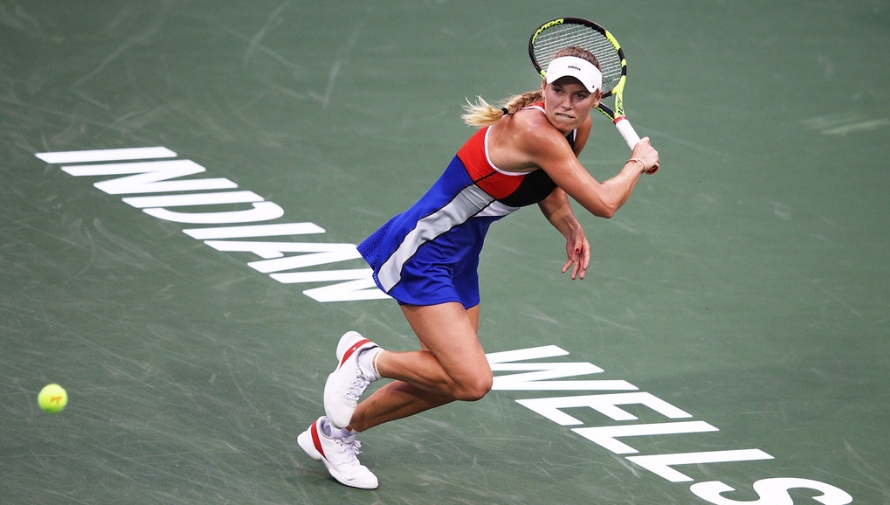 For a baseline player like Sasnovich who does not rely on consistently overpowering her opponent, Wozniacki represents a daunting challenge. It puts the Belarusian in this precarious domain where she faces a player who can do everything she does well but do them a little better than her (ok, maybe not drop shots, but that is a specialty shot, not one to build a game plan around). Such matchups often result in lop-sided scores because the better-skilled player beats the underdog at her own game and the latter feels the need to switch to another game plan with which she does not feel at ease.
Of course, there is always the possibility that the favorite may simply have an off day and commit an unexpectedly high amount of errors as a consequence of which the underdog may gain confidence and perform above her expected level. The underdog would also have to continue her form and not take the foot off the pedal. That would be the formula for an upset. The first part of the above equation did indeed materialize in the early games of this match on Stadium Court 1.
Wozniacki made three unforced errors in the first game of the match to lose her serve. After her fifth one at 15-15 in the next game, she switched rackets, but it was soon to become clear that the racket was not the cause of her erratic play**. By the time she lost her serve again to go down 0-3, she had committed six unforced errors and a double fault.
**Side note 1: She said after the match that she was "not a morning person" so maybe that was it (or something)? She also called her father for some coaching advice at 0-3, but the dialog came across more like a back-and-forth disagreement between the two than anything else.
The first part of the equation required for an upset to take place, as noted above, had come true. Wozniacki had a dismal start and Sasnovich had a commanding lead without even having played very well. For the second part of the equation to materialize, Sasnovich would need to lift her game even higher and sustain her lead before Wozniacki had a chance to steady the ship.
She did not.
In fact, this would become the pattern for the rest of the match. Wozniacki would never manage to rise above her average level of play and resort to depending on her mental toughness to pull through. She admitted that much herself after the match. After acknowledging that she struggled throughout the match to find her timing, she said "I mentally stayed tough out there, that's why I won."
She would soon find out that she could also depend on Sasnovich letting her back in the match each time that the Belarusian had an opportunity to pull away. That is what happened when Sasnovich served at 3-0. Out of nowhere, she committed three unforced errors, and not-so-out-of-nowhere, she added two double faults (7 total in the set), to lose her service game. But hey, no big deal. Today's Wozniacki was in a giving mood. She returned the favor in the next game with a double fault of her own to start the game, and a sitter backhand that sailed out to end it. Up by two breaks again, serving at 4-1, Sasnovich would surely run away with the first set now, right?
No, she would not.
She would double-fault twice more and miss a routine approach shot wide on her way to losing her serve with a blank game. Wozniacki then played her first decent game of the match and held serve for the first time to get back to 3-4. In the ensuing game, Sasnovich would add another double fault to go down 15-40. She then played two terrific points to get back to deuce, only to be hampered by another double fault followed by a forehand routine error.
The set was leveled at 4-4 when in fact, all signs indicated that Sasnovich should have pocketed it ten minutes ago. Wozniacki was certainly not raising the level of her game and the fact that she went down 0-40 on her serve at 4-4, due to two more unforced errors, was proof of that. Nevertheless, she would find a way to win five points in a row and pull ahead for the first time in the match. That is what being a Major title holder with renewed confidence does, it makes you believe that you can still cook a decent meal even when the required ingredients are missing on that particular day.
The last game summarized the set well. Sasnovich lost her service game one more time by committing her seventh double fault and three unforced errors (including one on her favorite shot, the backhand down-the-line). Wozniacki was up a set without having played well at all. It was a devastating way to lose the set for Sasnovich.
Up to this point in the match it was a typical case of the favorite having an off day. What was atypical was the fact that, not only did Wozniacki's errors not lead to the underdog gaining confidence and lifting her level higher, but Sasnovich's game actually regressed as her lead grew and the set progressed. You would think that the order would now be restored. The underdog would not recover from the disappointment of squandering her opportunity and the favorite would finally feel relief, and find her rhythm to a straight-set victory.
None of that would take place.
In that game, all points but one would end with errors, including two unforced backhands by Wozniacki. Sasnovich would once again start the set with a break. The next game was very contested and it actually had some quality points. Yet, the key point was a dreadful – sorry, no other adjective would do it justice – forehand miss into the net by Wozniacki on an easy sitter from well inside the court at deuce.
Well, you get the idea. I will not bore you with the detailed account of the next two sets, but will simply offer some last remarks to summarize.
– Wozniacki won 6-4 2-6 6-3 in two hours and sixteen minutes.
– After the first set that featured more breaks than holds, some mild sense of normalcy returned in the second set with six holds and two breaks. In the final set, it would go back to more breaks than holds. In total, there were fourteen breaks in the match, which was also the number of total double faults committed by Sasnovich (no deeper meaning here, just a coincidence).
– Sasnovich went on to win the second set 6-2. She probably played her best tennis, within the parameters of this match I must underline, in the three games that took her from 3-2 up to 6-2. Which makes it that much more stunning that, after the confidence-building stretch to end the set and breaking Wozniacki's serve to start the third one, she still found a way to let Caroline back in. In fact, that first game of the third set was by far her best game. At that point of the match, she had established her aggressive play (which she started doing to increase her lead in the second set) and she was really pushing Wozniacki around the baseline.
– So how did that turnaround happen? How did Wozniacki, who was still playing poorly, stop the slide precisely when Sasnovich seemed poised to break away? You may have guessed it; unforced errors and double faults by Sasnovich. She gifted two of each category in that 1-0 game. Later, Wozniacki broke Sasnovich's serve for the second time at 3-2 when the Belarusian made four unforced errors, two of them dreadful – yes, there is that adjective again, but for the other player's errors this time.
– Even when Wozniacki gained control of the match at 4-2 in the third and saw the light at the end of the tunnel, she still struggled with her timing. Watch the replay of the 4-2 game and you will understand.
– It was not a high-quality match by any stretch of the imagination and its fate lingered, for the most part, on what each player failed to do rather than what they accomplished well. On the other hand, it offered some valuable lessons on how matches change patterns for better or worse. It demonstrated that shifts in a match do not necessarily emerge as a result of tactical adjustments by a player, but sometimes originate in the degree of mental struggles that the players manifest. It showed that persistence, combined with patience, can offer a pay off, as it did to Wozniacki, even when the player's performance remains at a mediocre level.
– This is not a disheartening loss for Sasnovich in the sense that she was not supposed to lose. A defeat to Wozniacki should not be a source of depression for any player. However losing to today's Wozniacki, especially after having been in a position to win multiple times, is a letdown for an in-form player like Sasnovich. Wozniacki did not do anything differently to turn the match around. If anything at all, whenever she found herself in a position to establish her dominance as the favorite, she kept on allowing Sasnovich to climb back on top by committing errors of her own.
– For those who are interested in variations within the two-handed backhand technique, Sasnovich's backhand is a great example of how the left hand can be dominant force in your shot. Take a look at the photo below. You can see that the left hand is there for control, and the right hand (and the arm) is the one used to accelerate the ball. Keep in mind that Sasnovich hits her best backhands rather flat. That comes from the dominant left arm that allows her to follow through forward rather than around the body, thus her ability to hit stellar down-the-line backhands, her best shot by far.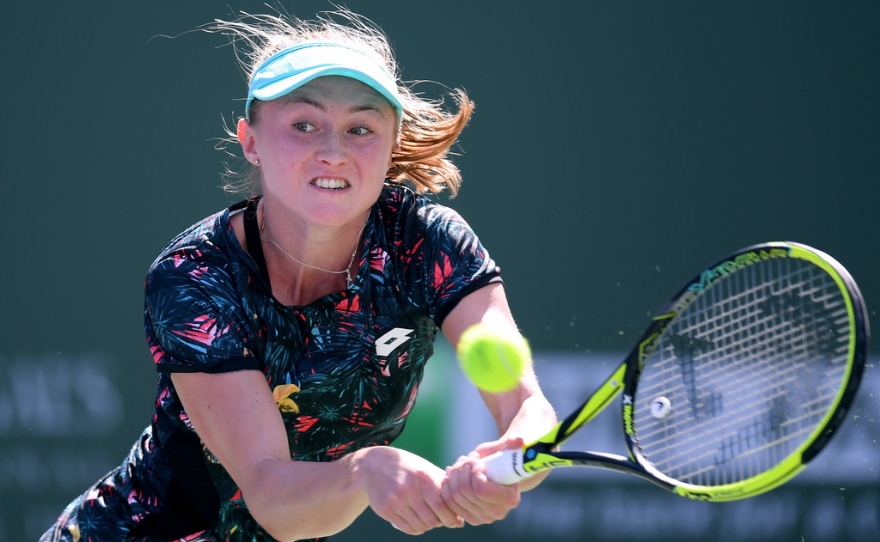 Until the next one, enjoy the BNP Parisbas Open!