The following interview appeared (translated to Turkish) on the last issue of Tenis Dunyasi, the most widely read tennis magazine in Turkey. Alberto Lopez Nuñez is the current coach of Marsel Ilhan, the highest-ranked Turkish player in the ATP, and a former coach of Garbiñe Muguruza. During Wimbledon, I sat down with him and discussed in detail his tennis background, developmental years at the Bruguera Tennis Academy, coaching philosophy, and issues important to coach-player relationships. It was one of the most informative interviews I have ever had. Alberto, whom I admire as a coach and a friend, was candid and forthcoming with his commentary. Here is the full interview, in its original English version.
(Interview held on July 1, 2015, at Wimbledon)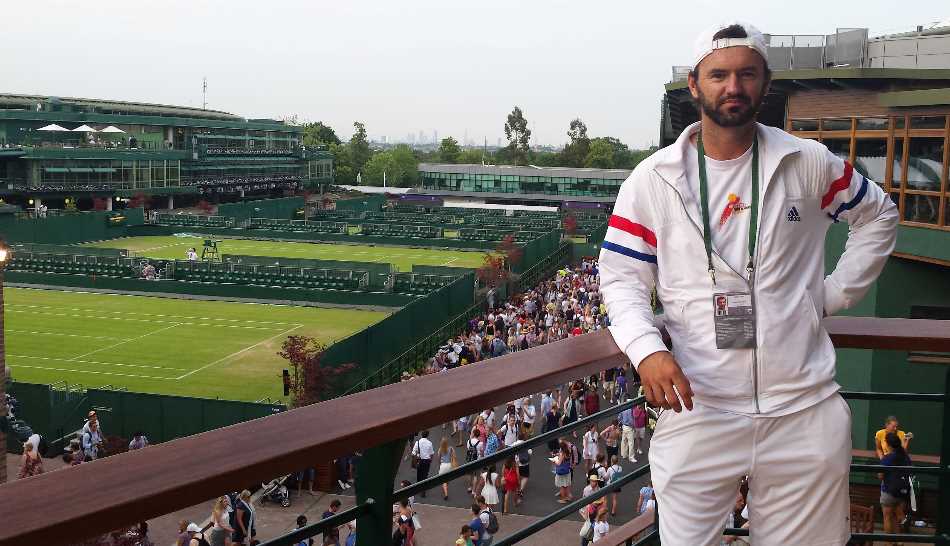 For followers of tennis who may not know more than the fact that you are Marsel's coach, let's give an introduction to the person Alberto Lopez Nuñez. We know that you became Marsel's coach at the end of 2013, and that tennis has been life-long passion for you. You were a player, now you are a coach. How was your transition from playing to teaching/coaching tennis? When did you decide that you had enough as a player, and was that when you decided to coach?
Alberto:
At the age of 23, I was young and playing challengers, I was winning some good matches, but I got unlucky. But ok, "unlucky" is perhaps not a precise way to call it, but the bottom line is I lost around 12 out of 14 first rounds in a row. I got tired of that feeling and I no longer wanted to keep going. I felt deep inside that it was my time to stop. Once I stopped playing competitive tennis, I did not go straight into coaching. I went into studies. My parents lived in Galicia so I went back home, and I began studying financial management at a university. When the Galician Tennis Federation found out few months later that I was in the area, they called and asked if I wanted to help. I said to myself "Why not?" because I prefer to stay busy. So I did not start coaching right away after I stopped playing but it was only a short break from tennis. I was going to be studying for three years, so I wanted to be productive during that time. I felt that at the end of my studies I could always come back to Barcelona. During the three years of studying, I went to the university in the mornings, had lunch around 15:00, and then, worked for the federation in the afternoons.
As soon as I finished my last exam at the end of my studies, I went straight back to Barcelona. Once in Barcelona, it was funny because during the first few months, I was planning things around the idea that I was going to work in bank. I had a CV prepared and applied to banks for positions. During that time, Lluis Bruguera Tennis Academy [more on the academy later] knew that I was in Barcelona. One day they called and asked me if working at the academy would interest me until I found a job. Once again, I said "ok, why not?" In the first few months there, I started working with older players from different levels. Five months later, I already found myself working with the top professional players at the academy. There were 2 top 300, 2 top 200, and 2 top 50 players. I was working with all of them, along with another coach. They were a group of six players working with the two of us. That is how it started, and since then, I have been coaching.
Do you contrast the two lives sometimes? You probably discovered that your experience as a player adds to your coaching. But have you also discovered that you understand players better now since you began coaching? Do you feel that you realize things now that you wish you knew when you were a player?
Alberto:
Yes, completely. Do you know what keeps my passion going now in this line of work? I am open, I do learn something new every day, and that brings me to your question. Of course now I am seeing and understanding things in a totally different way than when I was a player, of course I am more mature, and yes, I wish I would have known all this when I used to play. You feel so bad when you are at home watching on T.V. top 50 players that you have beaten before and you have to watch them from the couch of your home instead of being at the same tournament with them. So yes, there are so many things that I have learned during the last 14 years which is how long I have been coaching. I learn something new every day.
Let's move on to your coaching philosophy in detail. How important are off-season practices to you? Does the amount of training increase in terms of time and intensity during those practice periods? Is there an approximate ideal length to off-season work?
Alberto:
For me, there should be two preseasons during the year. It depends on the ranking and position of the player. Top players normally have around 4-week preseason time at the end of the year, approximately from late-November to late-December. Of course, during that period, intensity should be higher in all aspects. For me, it is one of the most important periods of the year, because you have to get ready for the season. And then, at the midway point of the year, I believe in a two-week preseason training again, to fully get ready for the second half of the season. That means you cut the year in two seasons. You get 4 weeks preseason practice at first, and you get two more in the middle.
If the player comes from a lower-level in the rankings, they don't play as many matches or long tournaments. Then, five to six weeks of preseason training is better. They are more likely to start late January and you can extend the preseason which is good because they need to work on wider areas or aspects of their game whereas the top players focus more on specific areas. This is why for them, four weeks at the end of the season and two weeks in mid-season is enough. To me the importance of these periods are as obvious as knowing how to play tennis. If players do not accordingly prepare during those times, they cannot be ready or for the season, so it is extremely important to have a proper off-season practice period.
During the year, especially during the tournaments, you can work on specific things but not too long! During the preseason, you can "clean" the player's game. You can work on technique, you can improve the physical aspects such as strength, in ways that you cannot do during the season because the player cannot really do weights and physical conditioning at 100%, play matches at 100%, and try to reach targets, all at the same time. Normally, during a year you set some targets. When you achieve one goal, you have to move on to the next one. For that next one for example, you have to still practice first during the preseason. You can call them technical targets, tactical ones, or understanding the next step in a game style, like for example in the case of a player with a solid consistent baseline game and you want to develop it toward a more aggressive style game that maybe includes coming to the net.
In your observation of coaches and players in both ATP and WTA, can you think of anything that strikes you as being unique or strange? Is there a moment where you observe other coach-player duos and say to yourself "I wish the coach would do this or the player would do that" or "I wish I did that with my player"?
Alberto:
Never! Because, I believe in the work done by the coach and the one done by that coach's player. Others are working on their career, not my player's or mine. So, everyone has a point of view. Obviously different people do some helpful things that can be put to good use by others, but first, you have to keep your eyes open towards your player and concentrate on the details on his or her development as a player. I am open to learn, but first, I believe in the job that I do and in the job that my player does. Of course, I can learn from everyone, but I will not do anything simply because someone else does it.
Ok, some coaches in general could be close to each other in style or philosophy, or even some players among each other. But, tennis is an individual game, it is impossible to be like this. If such thing existed, it would then be something fake, it would make no sense.
What is your opinion on the idea of on-court coaching on the tour? Some say tennis is an individual game it should remain without on-court coaching, others say there should be limited coaching, and others say it should be allowed like in Davis Cup or college tennis in the U.S.A. What do you believe?
Alberto:
I don't think there should be on-court coaching, I don't like it and I will tell you why. In my opinion, the job must be done before going on the court. Everything must be clear for the player before stepping on the court. If the player needs to understand something when things are not going right, there are millions way to tell. I believe this whole on-court coaching thing has to do with marketing. For the women for example, maybe in order to increase the viewership on TV, they added this new rule. It makes it more interesting for the viewer because there is a microphone and you hear the dialog between the coach and the player. For the viewer, there is no doubt it is interesting, but for me as a coach, I think you create too much dependence on the coach for the player. The players should be able to make decisions on the court based on the work done with the coach before the match. In a way, from a selfish point of view, it would be easy for me to say "Yes, let's have coaching so I also become more visible, everyone sees me" and it would give coaches more importance, but then, I would not be respecting my player or fully thinking about my player's well-being.
What are your future plans? Would you like to continue what you are doing now? Would you like to maybe one day coach a top player? Or in the future, would you like to perhaps get away from what you are doing now and create your own academy, produce tennis players in masses so to speak. Do you think about such long term goals or plans such as these?
Alberto:
Yes, of course, of course! [Pauses a moment]. All of those and in the order that you have said them. I believe that while I am young, I can do what I am doing now which requires to travel all the time and be dedicated 100% to the player. Of course, the target would be to coach a top player. A coach who cares about his job should have ambitions, and the ambition of a coach is to make his player reach the top or get to the point where you can coach a top player. If you make your player go to the top, that is of course the best.
But if you coach a top player how would you manage or run an academy?
Alberto:
This is why I want to do the coaching part first. I feel that I have already accomplished a bit in coaching. I have coached lower-ranked players, I have coached highly ranked women, and I have helped my current player get to a higher level, so I have done it with girls and boys. I would still like to coach a top player. And then, the academy or group projects, or the idea of being a director of a club, that would all come later when I will have a family. That would be the next step, in years' time, if it is possible and I had some luck, everything went fine etc. In any case, it would all happen in that order hopefully. Now is the time to do what I am doing, but maybe in fifteen years, when I have a family and kids at home, I would change and do things differently. Until then I would like to continue what I am currently doing.
Did you follow Marsel closely before you became his coach? How much did you know him or his game?
Alberto:
I heard from him earlier in 2013. I finished coaching Garbiñe Muguruza in 2012. After four years with her full time and other players prior to her, I felt that I needed a break. I put a lot of emphasis on the individual players during those years, and I wanted to spend some time at the academy. I began working for a while with some girls that were playing in $10,000 ITF futures. During that time, I saw Marsel and talked to him a couple of times because Lluis Bruguera was the tennis program director for the Turkish Tennis Federation. We didn't even talk about tennis during those conversations. So, I knew about him. I knew about his late results, but nothing else.
Marsel called me one day and asked me if I wanted to work with him. I spoke to Lluis, Lluis spoke to Marsel. Before starting to work with him, I made sure that I had all the information on him, in order to be able to build my own perspective. Obviously, when I started working with him I developed that perspective about how he is and how he behaves, but of course, I got a lot of information on him so I knew who I was going to work with. I did not just say "let's work and see what happens", I got informed.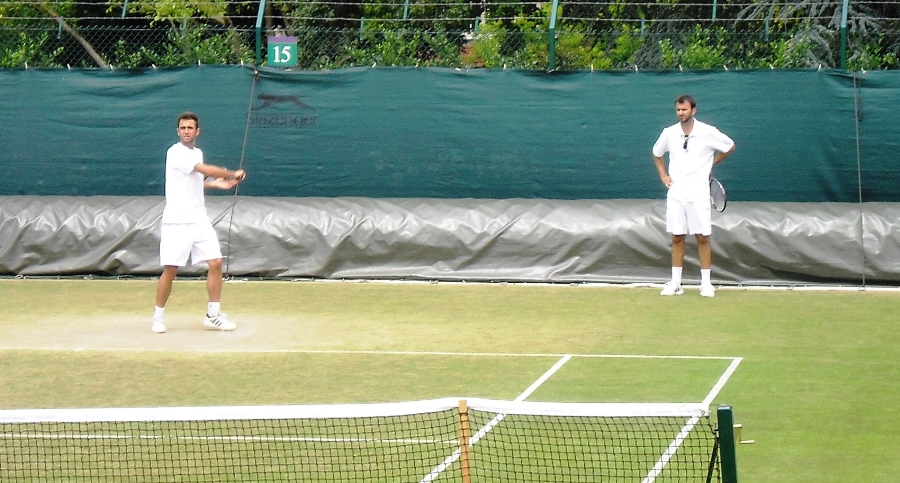 Alberto and Ilhan, Wimbledon 2014
Once you started working with him at first, you probably had immediate goals at the time. Now, in June 2015, you also have goals. Are they completely different from back then? Have you achieved your first goals and moved on to others?
Alberto:
Yes, and they are definitely different now. I remember before I started working with him, I arrived to TED Club in Istanbul and we sat down. Before my arrival, having considered all my information on Marsel and what I knew of his game, I had prepared a written plan with all the different targets and goals. With a full understanding of our situation, I first told Marsel that before him and I started working together, I needed to tell him that from the beginning, we will change several things. Then I told him what those things were in detail. It was a list of around six or seven things. Of course, now, those have changed. There is one that is still the same unfortunately [smiles], but the others have all changed.
Are there any other details that you would like to add? Or perhaps, is there perhaps anyone in particular you would like to address?
Alberto:
Yes, for sure. I want to take this opportunity to say something about Turkish Tennis Federation. I believe they are creating a big, huge opportunity for Marsel with their help. They made it possible for him and I to work together, and I believe that their help is something for which all people involved should be thankful, because nobody forces anyone to do anything. Yes, Marsel is the top player in Turkey, but ok, sometimes help comes in one way, sometimes in another way, and things don't always work out in the right way, etc. But the Turkish Tennis Federation deserves a big thanks for the type of assistance that they provide.
I would also like to speak about Lluis Bruguera and the Bruguera Tennis Academy where I work, because I am who I am now, thanks to Lluis. I have learned a lot during the years that I competed as a player when I was practicing there, and the years that I have coached while working there, and Lluis helped me become the coach that I am now. Other coaches that are at the Academy are there because of him. I speak a lot to his son Sergi too. Of course it helps the Academy that he is also involved. Both Lluis and Sergi have explained so many things to me and helped me understand a lot. I have a very good relationship with both of them. We are constantly in touch. Lluis closely follows Marsel and me. When we practice in Barcelona, he always spends time with us, constantly helps us, which is also something to be thankful for as well. This is why I am glad I can take advantage of this opportunity that you give me to publicly speak about everything that the academy has done and at the same time thank Lluis. Also, let's not forget, Lluis is after all allowing me to do this when he could actually require me to stay at his academy and help.
Can you say a bit more on the facilities at the academy?
Alberto:
There are 15 courts in total. Eight hard courts and seven clay courts. We have a swimming pool, large residence for the students where they can sleep and eat. Their school is also right there. Everything is in one site, the players don't need to go anywhere. It's a complete academy.
I believe in the system of work that we have there, which is the same system that has produced for us eighteen top-100 players, six top-50 players, and we had two top-10 players, and there is a reason for that success. Our system of work, during the last 25 years, has worked and brought success to many players, men and women.
Alberto thank you very much for taking the time.
—–
A month later, at the Citi Open in Washington D.C., Alberto's friend and the former two-time French Open champion (1993 and 1994) Sergi Bruguera, who currently coaches Richard Gasquet, had this to say about Alberto:
"I always believed that Alberto constantly remains eager to improve himself and grow as a coach now, just like he did in the past when he used to be a player. More importantly, he knows how to deliver his message to his players which is the most basic yet important thing for a coach. He has succeeded in doing this with all the players he has worked with, for example with Muguruza for a few years in the past, and now with Ilhan for two years, and helped them improve, as well as their rankings during his time with them."