I drive into the grounds around 10:30 AM. The first match is not scheduled to start until 1:50 PM. Noentheless, I come early, because I have a few things to do on my computer, and more importantly, I love watching the players practice. There is hardly anyone around, and they are busy tweaking bits and pieces of their game, or working on a strategy for their upcoming match later in the day. Parking is problematic to say the least at the Citi Open. First, there are not enough spaces. Second, if you arrive later in the day or in the evening, from first-person experiences of a few people that I have talked to, it can take up to 45 minutes to an hour to park and get in the grounds. They are directed to another site to park from where they have to take the shuttle, etc. To make matters worse, not all parking attendants are apparently on the same page, and they get conflicting information on how to do what.
For my part, I run into a lady who made the person before me park very close to the car next to hers. I see that and I have no intention of doing the same, so I park about a foot further than she indicates. She gets mad and tells me that I need to "follow instructions." I tell her I want to be able to get out, and she keeps ranting. I get out of my car anyway and see the lady who parked before me giving me thumbs up and shaking her head to the attendant. She is barely able to squeeze out of her car. I make a note to myself that if I run into the same problem, that parking attendant will hear a few words back from me such as "I follow instructions if they appeal to my common sense, sorry that you have none!" By the way, did I mention that parking costs $15 per day? If you are there every day, that is over a $100 dollars that you plan to spend. For some weekly ticket holders, it's included in the cost.
I walk around the courts. Andy Murray is hitting with Richard Gasquet who gets a ton of instructions from his coach (and former two-time French Open champion) Sergi Bruguera during the breaks. It is already hot and Gasquet is wearing a black t-shirt (unlike Murray who has a white one) that says "Paris" on it.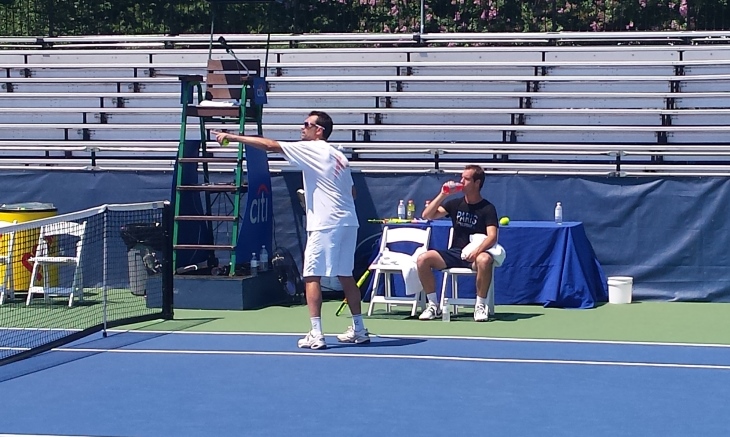 They are both concentrated on the task in hand; this is not what one would call a "fun" practice.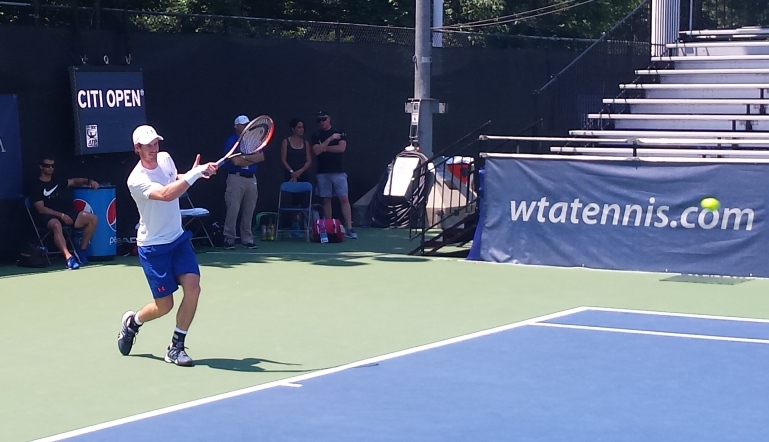 A shirtless John Isner is on the next court. The tall guy is fairly slim and in good shape, not too muscular. He is hitting with a youngster and Justin Gimelstob is on the side of the youngster, yelling across the net to Isner for instructions.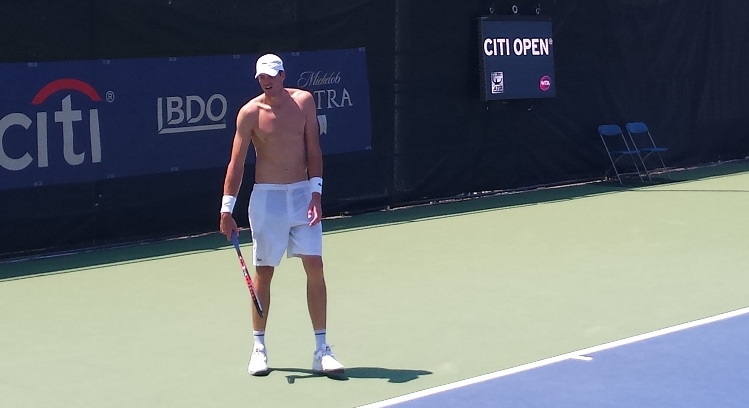 The first match begins promptly at 1:50 PM on Center Court between two Americans, Coco Vandeweghe and Christina McHale. I am more interested in the one that starts in 20 minutes on Grandstand between Kristina Mladenovic and Samantha Stosur. Therefore, I only stay for a few points on Center Court, but I am rather astonished by the fact that the stands are virtually empty. As I walk away I see Wayne Bryan (Mike and Bob's father) running a tennis clinic for adults, and I wonder if the head count is higher in that clinic than in the Center Court!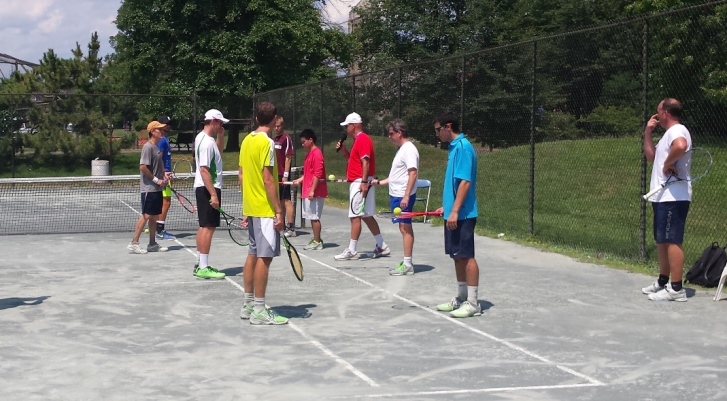 The Mldenovic vs Stosur match disappoints largely because nothing seems to work for Kiki. She makes routine errors, and as the match progresses, her body language gets more and more negative. Her mother Dzenita, former professional volleyball player and an ex-member of the national team of the former Yugoslavia, walks out to the court as Kiki's coach once in each set to turn the tide (pictured below is the first one). Alas, the slide never ends and Stosur walks out with a comfortable 6-2 6-2 score to record her 500th career win.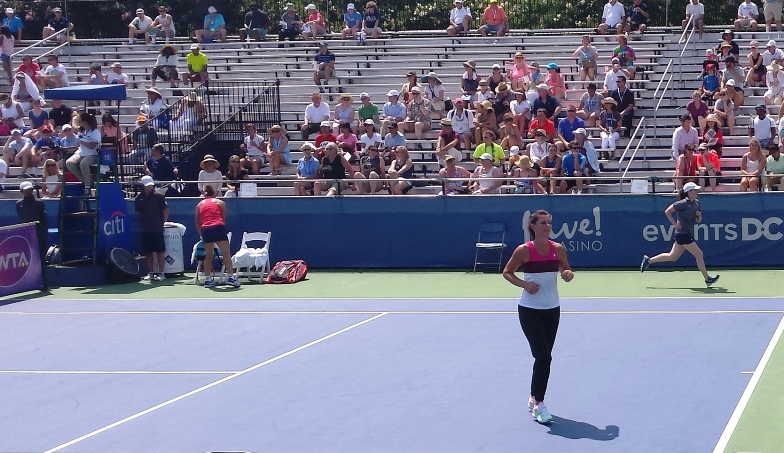 Little did Dzenita know that her "real" coaching/mothering would come after the match. Kiki sits by the wall outside the players' area, cries, sobs, and rants to herself for at least 30 minutes. Dzenita stands by her side through all of it, attempting to lift her daughter's spirits up. I feel bad for Mladenovic because any of us who played high-level competitive tennis (and if it sounds patronizing, sorry, but only people who experienced individual competition under great pressure would understand the gravity of these moments) have gone through these types of agonizing emotions following certain losses, and I can only imagine how painful it must be for her at that moment. Although it is the first round of a WTA Event and it is obviously not her first career loss, there could be many reasons behind it, or a culmination of things. In any case, tennis players know and understand that this happens (or will happen) to every one of them, probably more than once. Each may have a different way of manifesting it. I remember going to my dad's car and staring at the side mirror for 15 minutes, wondering why I am playing tennis if I can't win a match like this, following an excruciating loss in the semifinals of a national tournament that played a role in the selection of the country's national team back then. There are highs and lows, this happens to be one of the "lowly lows." I am hoping she will get through it.
Next, I see Sam Groth who is getting last-minute instructions from his coach. He is totally relaxed, cracking jokes, and laughing. Not all players have the need to get that tunnel-vision "boxing" face prior to a match. He plays a tricky opponent in Thomaz Bellucci. Groth wins the first set in a tiebreaker, and breaks in the second to go up 4-2. Then, a rare occurrence: Groth loses his serve twice in a row, allowing Bellucci to carry the match to a third set. Sam imposes his game again in the third, and this time, does not squander the lead. While his serve never ceases to amaze, I am more struck by how quick he gets from the baseline to the service line after the serve.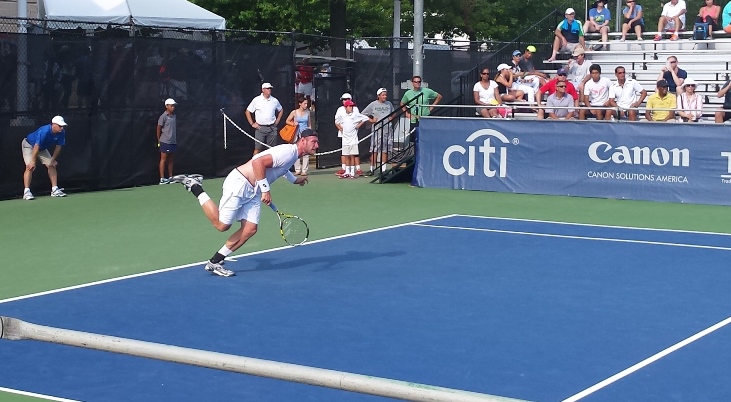 His second step is almost midway between the two lines. You may say that in today's tennis, in order to be a successful serve-and-volley player, you must do nothing less than that, but we are talking about a pretty big, muscular guy here (6'4 and 216), and his forward explosion after the serve is remarkable.
I quickly go to the next court to watch the third set tiebreaker between Jarmila Gajdosova and the qualifier Naomi Broady. Gajdosova can't capitalize on a match-point opportunity at 6-5 in the tiebreaker. She is fuming. Broady wins the next two points and closes it 8-6. Someone in the stands (British accent) cheers Broady on along with other spectators clapping. On her way to the net to shake hands, Gajodosova yells and scolds that fan. Broady is not happy and says a few words to Gajdosova who looks shocked for a few seconds and stares at her after the handshake. Then, another exchange between the two players ensues before Jarmila packs up her bags and leaves the court.
As that same fan walks out, he passes by Heather Watson who was there to support Broady. He gives her a few words of encouragement. Watson, always friendly, says "no it was terrible yesterday" and laughs (she lost 6-3 6-0 to Louisa Chirico).
I begin to watch the match between Ivan Dodig, a "Lucky Loser" who only found out that he is in the tournament earlier in the day due to Marcos Baghdatis' retirement, and the qualifier Guido Pella. I am determined to stick through this match, because I admire the tenacity and the desire that these types of players, ones to whom a first-round win in an ATP 500 level event means as much as that first balloon that your parents get you when you are a kid. Pella ranked 100, Dodig at 104, both players were in the qualifying draw and a second round appearance in the main draw would tremendously boost their confidence. They don't disappoint. They fight for every point, run down every ball within their reach.
Pella wins the first set 6-3, and can't close the match out in the tiebreaker of the second set, despite earning a match point. Dodig takes a quick bathroom break before the third set, and I see Pella sitting in his chair, shirtless and dejected. I am wondering if he is replaying the match point wasted in his head.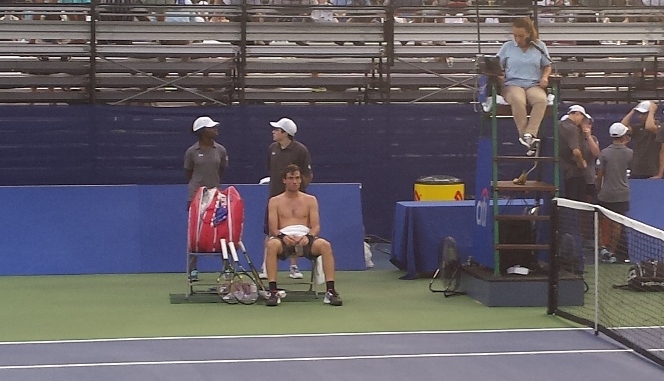 When he loses his serve routinely in the first game of the third set, I begin to think that Dodig may run away with this match. However, out of nowhere, Dodig tries two ill-advised drop shots that he misses in the net, gags an easy put away, and lets Pella back in the match. At 2-1, the rain arrives, which results in a fairly lengthy delay. When the match resumes around 9:30 PM, both players begin to comfortable hold serves until 6-5 where Dodig once again plays a bad game in which he makes two unforced forehand errors to quickly go down 0-40. Pella capitalizes on his second match point and you can see the "relief" (as he called it after the match when I talked to him) on his face. His celebration is subdued, but his face tells it all.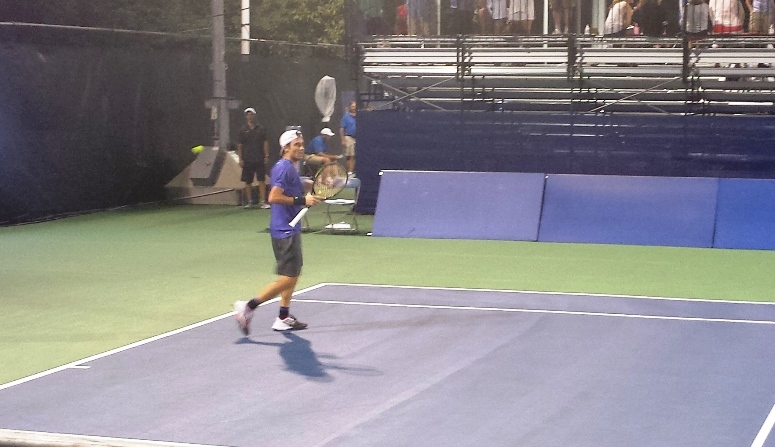 When the clock strikes midnight, there are still 4 matches on the courts, one that is about to begin, and another still waiting for the prior match to end. I watch the Anastasia Pavlyuchenkova vs Magdalena Rybarikova match on Grandstand 2.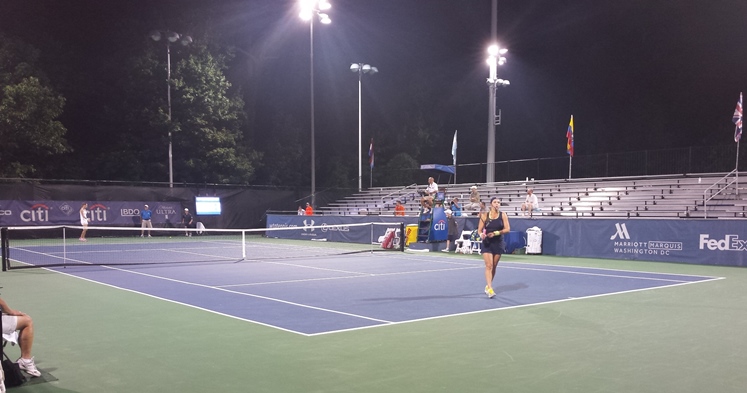 It cannot be an easy task to play a match that starts after midnight, and both players spray balls all over the place. Pavlyuchenkova proves to be the one to make fewer mistakes and hit more winners in tiebreakers, so she wins 7-6 7-6. At one point during the second set, 4th seed Svetlana Kuznetsova casually enters the court around 1:30 AM and joins the other 20 spectators left in the stands.
Before I leave little before 2 AM, I watch a couple of games and the first set tiebreaker between Marin Cilic and Hyeon Chung. There are between 50 and 100 people in the stands to watch the defending US Open champion.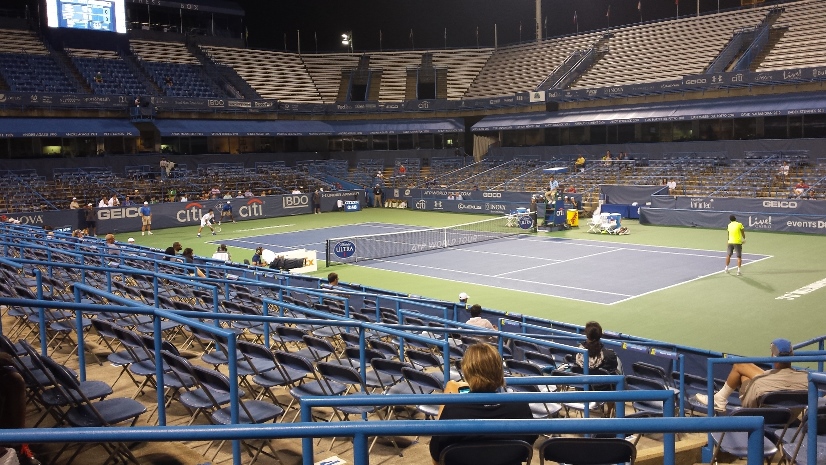 I am not that surprised. It has been a long day and the rain delay in the evening did not help. I leave after the first set and see that the car that parked after me is extremely close to my car and I remember the attendant parking in the morning…
It seems so long ago…
Note: Stay tuned to Mertov's Tennis Desk on Twitter for live updates, and on-site photos…