Fascinating quartet of matches await tennis fans on Wednesday. All of them, maybe except one, have the potential to either finish in three straight sets, or go to the distance. Below are my thoughts on what to expect tomorrow during these encounters, with the first two matches taking place on Centre Court and the next two on Court 1, in the order below.
Andy Murray (1) vs. Sam Querrey (24)
Querrey is a dangerous player, very dangerous. Murray is an excellent scrambler. This match has the ingredients to contain three entertaining sets, maybe four. For anything else to happen, Querrey must have a big serving day against one of the best anticipators in the sport. It is not outside the realm of possibility but Murray can sometimes make his opponents feel like he is standing right at the spot to which they plan to serve, before they even toss the ball. Same can be said for his anticipation on the opponents' approach shots.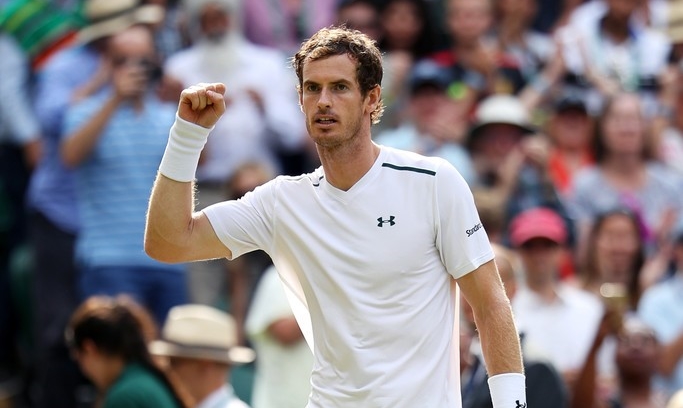 Photo: Julian Finney – Getty Images Europe
This is simply a good match-up for Andy who has at the same time performed at the highest level for most of the tournament, although he has enjoyed a convenient draw compared to other favorites. It would, quite frankly, be a monumental upset, a disaster for the home crowd, and a nightmare for the organizers who would obviously prefer Andy to play on the final day, if Sam were to somehow win and advance to the semis. Querrey will play the spoiler role, but I don't believe he will ultimately satisfy the role's requirements.
Roger Federer (3) vs. Milos Raonic (6)
As you may recall, if you read my last entry in Mertov's Tennis Desk, I expected Federer and Nadal to reach the finals on July 16th. Nadal is out, but I am still expecting Federer to do so. I also do not believe Milos has at this point reached his form of last year before he faced Roger. More importantly, today's Federer is not last year's version, when he was full of doubts and nursing an injury.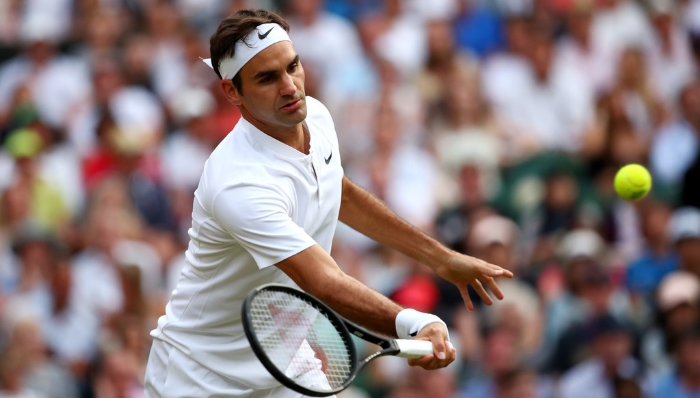 Photo: Clive Brunskill – Getty Images Europe
Raonic returned better in their last year's match (see the fourth set's last two return games and the tiebreaker) than I have ever seen him until and since then. He also had the luxury of winning the first set last year, which is also a must for his chances tomorrow.
The strategies these two players will employ against one another do not require a rocket science degree. Federer will exploit Raonic's backhand and keep him chasing balls rather than attacking. Raonic will look to serve a lot of aces, and hit his forehands big to earn direct winners or set up the winning volley. First-serve percentage will be a major determinant of the scoreboard. We are likely to see at least one tiebreaker, if not more, if these two men happen to have a good serving day by their standards. It was a very close match last year, yet, I expect not only a different outcome this year, but also a more one-sided affair.
Having said that, I am a fan of Milos and I have always believed he would be the first to break through the success that the Big 4 enjoy at the top of the ATP. Stan Wawrinka has done it before him and injuries have repeatedly hindered his progress. He has been healthy for a while now and that alone keeps the possibility of another long thriller like the one from 2016 alive.
Marin Cilic (7) vs Gilles Müller (16)
This is the one exception that I have mentioned in the introduction. I can see Müller or Cilic winning in three or four sets, but I do not believe this match will see a final set, especially if Cilic is the first to get to two sets. A fifth-set affair could spell disaster for Müller who has already played two "hyper-extended" matches against Lukas Rosol (9-7 in the fifth) and Rafael Nadal (15-13 in the fifth). He is in good shape, but not that good.
Müller faces another problem against Cilic that he did not against Nadal. Marin will not park by the line judges behind the courts to wait for his lefty serves. He is an aggressive returner by nature and likes to hit them when the ball is on the rise. At the cost of getting aced a few times, he will stand close to the baseline and force Müller to volley first from around the service line in case the lefty from Luxembourg were to utilize his serve-and-volley pattern. This is why a high first-serve percentage is essential for Müller. He must be able to collect some free points. He served in the low sixty-percent range against Rosol and Nadal, and won over 80% of those points. However, when he had to resort to a second serve, his winning-point percentage drastically fell, below 50% in both matches.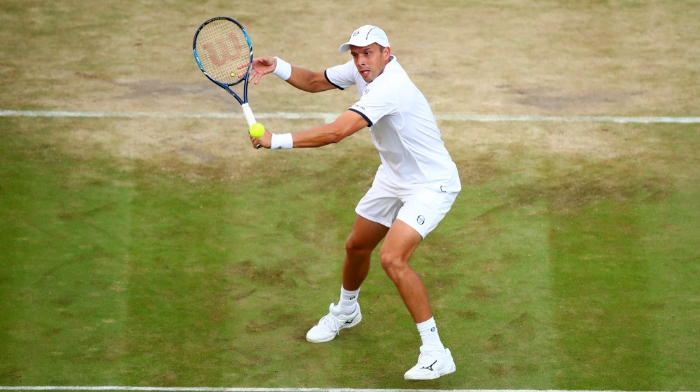 Photo: Clive Brunskill – Getty Images Europe
The Croate is also unlikely to rally from far behind the baseline, à la Nadal. This means that if Müller has to play the retriever role while Cilic directs the rally's traffic from the top of the baseline, the lefty can kiss that point goodbye.
I do not want to underestimate Müller though, simply because, at the age of 34, he is having a career year. He garnered his first two ATP titles this year, the most recent one on the grass courts of s'Hertogenbosch. Interestingly, his only loss on grass this season has come against Cilic who, for his part, is also having a solid season. The first two sets should determine the outcome of this match. I am intrigued by this match and plan to watch it.
Novak Djokovic (2) vs. Tomas Berdych (11)
Djokovic finally joined the others today, after his match was postponed from yesterday due to a "series of unfortunate events." Although he recorded his eighth win in a row on grass, I have yet to see the form he needs to win Wimbledon. The good news, for now, is that he may not need to be at his best to defeat Tomas Berdych who is notorious for beating players he is supposed to beat, appearing to catch fire in the first weeks of Majors, and then fading away when facing an elite player, right when everyone is beginning to wonder if his breakthrough moment has arrived. On the other hand, Wimbledon is the only Major where he had some resemblance of a breakthrough, in 2010, by upsetting Federer and reaching the final. How much of what happened seven years ago is relevant today? I will leave the answer to the readers.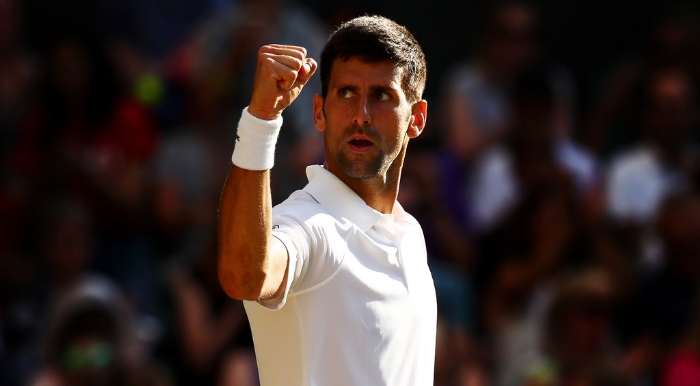 Photo: Clive Brunskill – Getty Images Europe
Berdych is a heavy hitter. He hits the ball so heavy sometimes that the sound of his racket smacking the ball will produce a "boom" sound in your living room if you are watching it on TV, or in the stadium. The problem for Tomas is that he is playing against Novak who, at his best, eats high-velocity flat shots for breakfast. So the big question for this match remains, will Novak be at his best? If yes, this is a routine script with a few impressive baseline rallies and a bad ending for Tomas. If, however, Novak cannot produce a high level of play, we can see anything from a long thriller like the one he played against Denis Istomin in Melbourne or, if he goes further and begins to battle himself along with his opponent, to the debacle against Dominic Thiem in Paris.
If you have the possibility to watch both courts and have the ability to change back and forth between the courts, good for you. If you like focusing on one match from beginning to the end, like I do, you will have to make some tough choices tomorrow. In either case, you are in for treat. Enjoy!
Note: Click here to follow MT-Desk on Twitter – This week: live from Wimbledon