The Case of Caroline Garcia (#48) vs. Timea Babos (#102) – WTA Cincinnati 2014 Qualifying 1st Round – Babos wins 6-4 6-3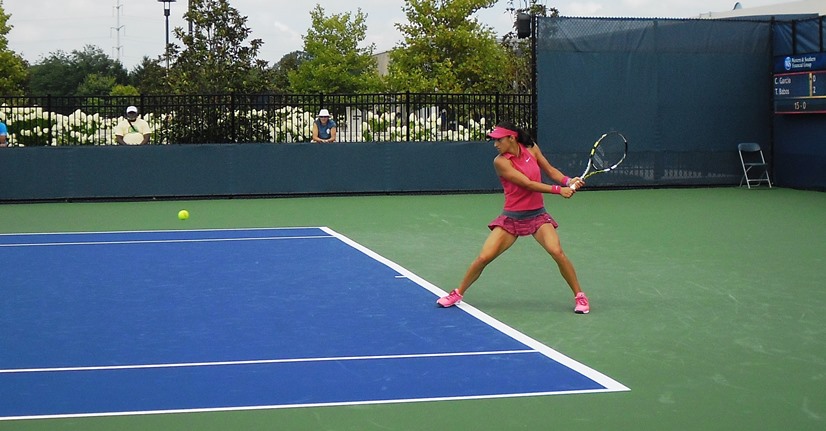 When Caroline Garcia (picture above) stepped on the court for her first round match in Cincinnati, she was on paper the clear favorite as the seventh seed against the Hungarian Timea Babos who was one of the lowest-ranked players in the qualifying draw. After getting broken in the first game and subsequently going down 2-0, Garcia won three games in a row and went up 3-2. At that point, everything seemed in order for the 20-year-old French player. In that stretch of three games won by Garcia, one of them was a return game in which Garcia hit a forehand return winner and one other return that forced an error from her opponent. Those were aggressive returns, taken very early, with Garcia being at least two or three steps inside the baseline. In other words, being extra-aggressive on returns worked for that one game. Ironically, it would also play a major role in Garcia's downfall over the duration of the match. Garcia insisted on going for too much on returns, often trying to step far inside the baseline, especially on second serves, to hit return winners that frequently resulted in direct errors such as the one you can see in the clip below:
It is possible that Garcia is currently working on improving her aggressive returns in the long run and that in order to attain that goal her coach told her to keep going for the returns regardless of how many errors she may make. If that is the case, I am usually for the idea of sacrifice in the short run if that points to the possibility of adding a new dimension to the game in the long run. However, this tournament was not the right time. Cincinnati is a WTA Premier Tier event. Garcia has been in the mix with the likes of Eugenie Bouchard, Simona Halep, Garbine Muguruza, and the rest of the "new generation" as an up-and-coming player in the last couple of years. She cannot afford the luxury to lose a match in a tournament of such importance, a match in which she would have greatly improved her chances had she simply made one minor adjustment: move back on the returns and put the return in play to construct the point later. Furthermore, Garcia's confidence cannot be that high since she has recorded mixed results this year so far, on the heels of a very promising 2013 campaign. This was a case where the importance of winning the current match trumped the promise of a long-term goal. Going for broke on every return simply did not translate into winning games.
In any case, Garcia kept on taking high risks on returns, either making direct mistakes (such as the one in the clip earlier) or putting herself in a defensive position from the first shot in the point because her return was turned out to be dismal. In the following clip, we see just that, Garcia trying to do too much with the return on a first serve by Babos, and resulting in a bad return that allows Babos to force an error out of Garcia on the next shot:
Ultimately, this wrong strategy gave confidence to Babos who actually started the match not serving particularly well – she made all three double faults in the first two serving games –, but as the match progressed, felt more and more comfortable on her serves because she understood that if she hit a solid enough serve she could collect the error from Garcia or get a ball back that she could attack immediately.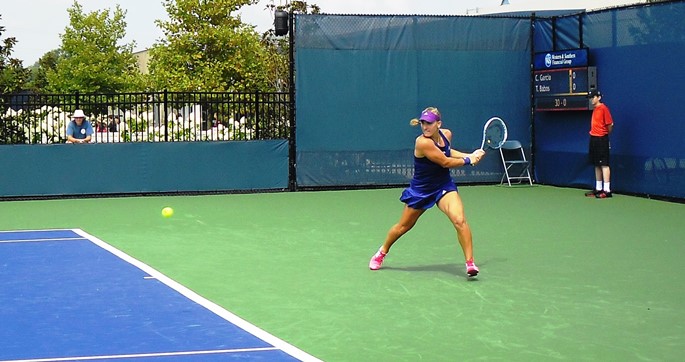 Timea Babos
This particular tactic of going for the big return may not have been the only cause for Garcia's straight-set loss, but there is no doubt that it had a snow ball effect as Babos felt less and less pressure on her serve. In the first set, Babos faced four break points, whereas in the second set, there was only one that was wasted away once again by Garcia's missed return. Considering what little it takes to turn matches around in tennis, this was a good case of a match where Garcia could have moved back a bit and modified her returns to put the ball back in play. Perhaps, it could have been enough to win the match and build some momentum going into the U.S. Open in two weeks from now. I have been a fan of Garcia for a couple of years in that I believe she has the athleticism and the fundamentals to transform into a big-time player in the women's circuit. However, this match was a step in the wrong direction, one that should indicate to her camp that setbacks of this type can be avoided with a little flexibility in the tactical preparation.