Interview done on May 27, 2015, at Roland Garros, following Diego's loss to Gaël Monfils in the second round of the French Open. Score: 4-6 6-4 4-6 6-2 6-3
This was a one-on-one interview I did with Diego Schwartzman at the French Open, initially for Tenis Dunyasi magazine, the largest monthly tennis publication in Turkey. This is the English version of the interview (which was also its original version). One month earlier, Diego reached the semifinals in the Istanbul Open, his highest achievement at the professional level for the 22-year-old Argentine. He earned a ranking of 57 on the Monday (May 4, 2015) following the Istanbul event, and to this day, it remains his highest ranking. Currently, he stands at number 65.
Diego gracefully accepted to do a one-on-one interview despite having lost a heartbreaker and I cannot stress enough how delightful and modest he is as a person. I have already had the chance to observe him live at the Istanbul Open earlier in the summer. He handled his progress to the semifinal round, and his loss to the eventual winner Roger Federer, with class and sincerity. As if his character needed a confirmation, as I was waiting for him to come, few South American journalists, especially one from Argentina, could not praise him enough to me, telling me what a "nice guy" Schwartzman was and that I would enjoy my interview with him. They were completely right. When I told Diego about this right before we began chatting and mentioned his high reputation among the South American media, he extended a genuine smile and nodded his head with modesty.
About today's match… In the 4th set Gaël started getting more aggressive compared to the first three sets and it worked for him. Then, in the beginning of the fifth set, you also started well and leveled back the match. He began to pump the crowd up, and you joined in as well, began showing your fist and celebrating the points won with animated passion. However, do you think it would it would have been better to stay calm against someone like Monfils at that point of the match and not join the "pump-fist" parade, because it only motivated the crowd to get even more behind Gaël, further energizing him?
Diego:
I understand what you say. But I was also playing the first three sets aggressive, focused, solid, motivated. I remember in the fourth set, it was 2-2, I had two break points to go up 3-2, and he hit two aces in the break points. Then he felt well, and he broke me immediately after. He started to play with the groove. It's good for him, not so good for me. In the fifth set, I played well again and had chances in the first games, but again he played well, broke my serve, and served amazing after that. I am not so sure if the motivation from the body language was really the big factor. He served very well in the fifth set.
Few weeks ago, you did very well in the Istanbul Open, reaching the semi-final round of an ATP event, for the first time in your career. You had one year with great success in the past, then last year you had an excellent year in the Challenger circuit. Now, you reach higher in ATP events and to Monfils in 5 sets in the 2nd round of a Major. Now that you are reaching for the next level in the pro circuit, do you sense that Istanbul Open was a big step, a turning point for you, and your confidence?
Diego:
Yes! Istanbul was amazing for everything. I played very well against good players like Jurgen Melzer, Santiago Giraldo.. I played very well in all the matches there [Schwartzman lost to the eventual winner Roger Federer 6-4 in the third set, in the semifinals]. Then I go to Rome and also brought that good feeling there. Then, I came here and played well again the first round. And now I just played a 5-set match against Monfils. I feel really well. I need to be focused on my tennis, training, work with my team the same way. I need to be a "regular" during the whole year and improve my tennis continuously. I need to go step by step.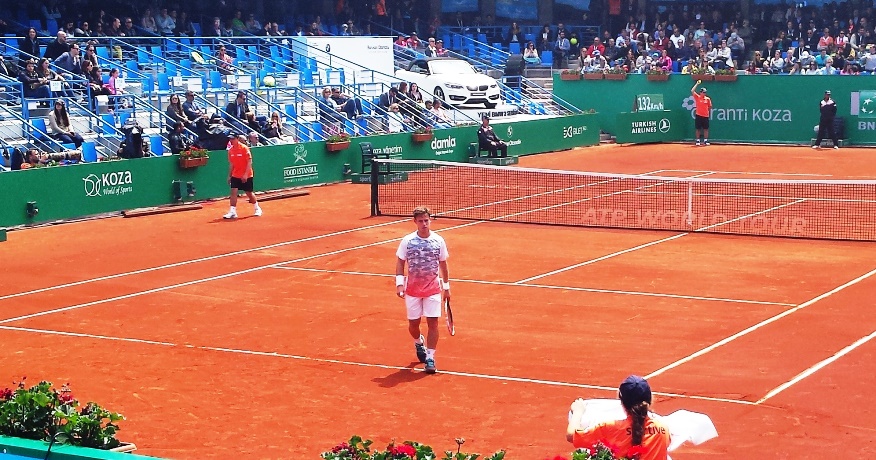 Schwartzman in his second round win over Giraldo at the Istanbul Open
You just had an injury.
Diego: Yes in Rome.
But it was not a major injury.
Diego: No, it was an extension, 2 mm here (points to the inside of his upper leg), I can't play in Nice so I pulled out. I came directly here, I felt well all the time. It's ok.
Have you ever had big injuries in the past?
Diego: No, never, that was actually my first injury.
Question about your tennis game… What is your next goal now? I am asking this in the context of your game. You hit every shot in the book, you hit spin and slice, you hit drop shots and angles, you come to the net, you hit kick or slice serves, as well as a hard first one. So what next would you like to technically improve in your game?
Diego: I need to improve my second serve. My first serve is good I think. Then I need to improve all in my tennis, physically and mentally. My I need to improve my forehand, backhand, and all the other things, because now the players are so good. I don't have many chances in the match so I need to improve for the few chances that come, I need to be fully focused at that moment and really want to seize that chance.
When you practice in the off-season, do you focus on one particular thing to improve or do you focus on everything?
Diego: No, no, many things many things. The serve, the forehand, you can improve a lot in many things.
You have a big family, two brothers and one sister. Does your family show interest in tennis, or do they love tennis through you? Do they really know the game?
Diego: Yes they show interest. They know about me, and therefore now, they know even more about tennis.
So you are the only one in your family to play competitive tennis?
Diego: Yes, my father and mother play tennis but only amateur tennis in the club on weekends, not professional like me. They are very good models for parents. They support me in every way.