In Cincinnati, in his semifinal match against Andy Murray and in the final against Novak Djokovic, Roger Federer put forth two magical performances in as many days, dazzling the spectators at the Western & Southern Open. Apart from his tremendous agility at the age of 34, he also showcased his latest contribution to the game of tennis, a "half-volley-return-approach-shot" (later named SABR), using it in every one of his matches in Cincinnati against some of the best servers and players in the world…
With success…!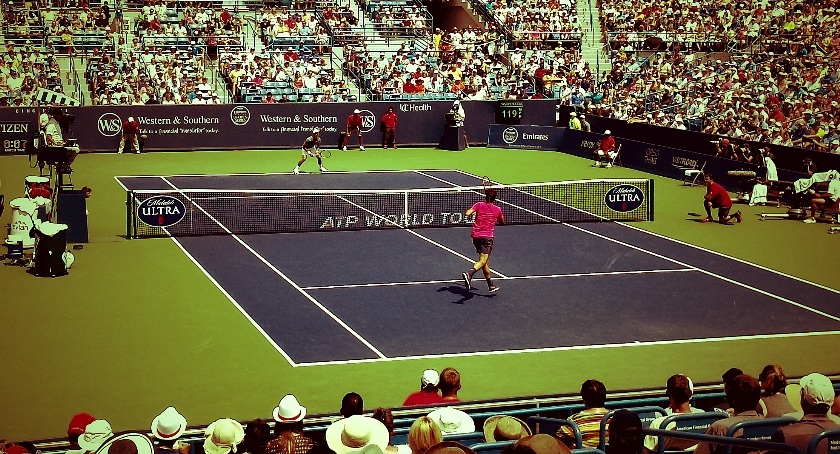 Following his 7th Cincinnati title, and his 87th title overall praised the great champion, the tennis world praised Federer – deservedly – who provided much-needed relief to his fans around the world, still recovering from the Wimbledon loss to Djokovic in the final, and wondering if their man would still be in top form after weeks of no competition.
Now the two men will face each other for the U.S. Open title in the biggest tennis stadium in the world, in less than 48 hours – weather permitting, yes, that needs to be mentioned.
Ex-player-and-coach Darren Cahill, usually the cooler-headed member of the ESPN Tennis crew on TV, and the one who often brings order to the plethora of somewhat chaotic and emotional plethora of analysis by the other experts on that team, astutely said that he cannot really pick a winner in this match. Federer has looked formidable this summer, and in New York so far. Some pick him to hold his 18th Major trophy once it is all said and done. Others believe that Djokovic will find that extra gear on Sunday and once again topple the Swiss in the final match of a Major.
I happen to be in that small group of people, like Cahill, who find it difficult to tilt the scale in one player's favor. Seeing how well Federer is playing, and how Djokovic did not consistently perform at a high level in his previous rounds, I tended to lean toward Roger until the semifinals. However, after seeing Djokovic's ground strokes on fire against Marin Cilic, I had to remind myself that the Serb can peak at the right time, and has done it numerous times before. As Novak graciously pointed it out in the on-court interview after the match, there is no denying that Cilic was hampered by injury. Nevertheless, that should not negate how well the world number one was stroking the ball. Djokovic continuously absorbed Cilic's serves, placed the returns deep in the court and pushed the Croat around from the very first shot of the rally, and then, repeatedly found dimes to hit on the court at will.
I prefer to stay away from overrated clichés such as reminding everyone that Federer looked invincible against Murray in the semifinals at Wimbledon but that Djokovic raised his level to still take him out in the finals, thus hinting that Djokovic should win again… OR, that Cincinnati shows that Federer had overcome the 4-set loss at Wimbledon, thus claiming that he is poised to beat Djokovic again on Sunday. These types of conclusions do have some merit, and yes, a win in Cincinnati without losing serve once (and only once in the US Open, against Philipp Kohlschreiber, if I am not mistaken) must have added a level or two to Roger's already sky-high confidence. We can also say that defeating a solid Federer in the Wimbledon final, and doing it convincingly in the last two sets of the match, can only increase Djokovic's belief in his late dominance over the Swiss in the Majors (6-2 since 2010). Or maybe, the fact that Djokovic ran almost 3 more miles than Federer did so far in the tournament, meaning that Roger will feel fresher than Novak (ok… not really… Djokovic will not lose the final because he is "tired," considering how short his semifinal match lasted, let's be honest). In any case, these stats remain great "clubhouse chat" topics, but do not influence the outcome of the next match as much as tennis fans are led to believe.
So, in an attempt to explain why it is such a complicated task to pick a favorite in this particular US Open final, I will dare to go a bit further and nitpick some details that are pertinent to how this 42nd meeting (Federer leads 21-20) between the world's two best players may play out.
First, Federer's SABR will no longer be an element of surprise for Djokovic. For example, in Cincinnati, neither Novak nor anyone else expected Federer to do it at 3-1 in the tiebreaker. That will not be the case in New York. Djokovic will now expect it and get ready for it. He may even turn it in his favor if he passes Federer in the first couple of attempts, making Roger think twice before he decides to approach the net again. Quite frankly, Federer does not base his game or his "Plan A" on the SABR, although I can understand the media and the fans talking it up because it is indeed a spectacular shot. He is not winning because the SABR works. It is in fact nothing more than a minor component of his overall attacking plan which includes (1) aggressive returns, often coming over the ball rather than slicing the backhand like he used to do à-la-pre-2014, (2) parking on or inside the baseline during rallies and suffocating his opponent by rushing him, (3) frequently serving and volleying, even on some second serves, (4) throwing everything but the kitchen sink at the opponent in terms of variety and effect on the ball, including drop shots, inside-out slices, and loopy topspin balls followed by hard and flat strokes, in the name of forcing the opponent to lose rhythm and hit that one short ball so that he can charge the net (in the past he used to do the same, but often, with only the goal of forcing an error from the opponent). Whether the SABR results in two or three points won or not is a lot less important than whether the above general areas work or not. One or more minor components of this master plan, such as the SABR or the drop shot, may not function well on a particular day, but if the rest clicks like a Swiss clock, Federer still has a great chance to lift the trophy on Arthur Ashe.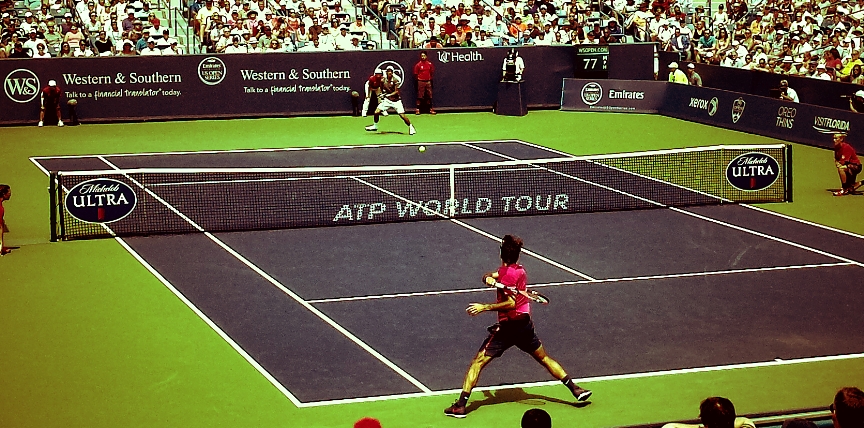 Second, many people seem to forget that, as much as Federer's serve may have dominated opponents this summer, the last two times that these two champions faced each other, Djokovic has broken Federer's serve a total of 4 times (more than everyone else combined since the French Open), while Federer has broken Djokovic's only twice. And we are talking about two matches in which Federer played brilliant tennis for the most part. Consider also that the only break that Federer could muster in the 7-6 6-3 win in Cincinnati came when Djokovic committed three double faults in one game.
Third, the idea that Djokovic can defeat Federer simply by keeping the ball deep, staying solid from the baseline, and out-rallying him, while valid from 2013 until this summer, may now appear outdated. Federer has shown since the beginning of the 2015 season that he has no intention of settling for baseline rallies, although that plan alone worked well enough for him to win a good portion of his career wins and titles. That being said, let's also admit that against Djokovic, as Federer himself probably knows, he can no longer win like that. This type of challenge is precisely why Federer and his team undertook certain adjustments to his game at the start of the season, beginning with his off-season practice sessions in Dubai in December of 2014 (the move to the bigger racket should also get a mention here, even if it took place much earlier than that). Just as modifications to one's game takes time to integrate to the existing arsenal of shots, and reach the level desired, it took some time for Federer's adjustments to become one with how he and his team envisioned his game to develop in 2015. But I believe most of us can now comfortably say that he is now at ease with the attacking style of tennis that we are seeing from him today.
But only now…!
Meaning that, on Sunday, we will most likely witness a Federer who feels more confident about every facet of his game than ever before. To put it bluntly, I expect Federer to attempt to impose his attacking style on Djokovic more efficiently than he may have done in their previous five encounters this year, including the latest one in Cincinnati. He will find a way (unlike in Rome, or in significant portions of Wimbledon) to keep the rallies short and rush to the net earlier than expected. That brings me back to my original point in the beginning of the paragraph: yes, the idea that solid baseline rallies largely favor Djokovic is valid on paper, and would work on the court just as it did in many of their previous matches. But it will be much harder, perhaps impossible, for Djokovic to put that idea into practice this particular weekend in September. Djokovic will need to come up with an extra answer this time.
Fourth, the New York crowd is unlike any other crowd in the world. They will once again be pro-Federer, in the same way that the Wimbledon crowd was, except that they will be louder, tipsier and more obnoxious than the spectators that fill the Centre Court on SW19. Djokovic expects that when facing Federer and Nadal. However, expecting it does not mean that it does not bother him. It will be essential for Djokovic to keep his cool, and not share an unnecessary number of "silent-stare-down" moments with his corner every time something does not go his way on the court.
Finally, there is one intangible when these two play that complicates the outlook: which will have the longer "down period" during the match? I define "down" period as the number of games where a player's intensity level drops physically or mentally – and unintentionally of course – causing him to lose focus, and letting the other player grab the upper hand as a result. For example, Federer had a visible down period in the third set of this year's Indian Wells final, effectively ending the match. Djokovic also had one that lasted for most of the third set that he lost 6-1 to Rafael Nadal (speaking of a player who rarely goes through a down period) in their memorable five-set semifinal match in 2013 at the French Open. Even a brief down period can turn a match around, such as the one by Federer against Djokovic in the Wimbledon final when he led 0-30 on Djokovic's serve at the 1-1 game in the third set. Two points from breaking Novak and taking charge of the third set, with all the momentum on his side (remember how he won the second set tiebreaker?), Federer went on to commit several unforced errors unexpectedly, causing him to lose the next two games and going down a break. It is very hard to predict which player will have the longer down period, or how many, but I feel certain that we will see at least one or more.
So, have you picked a favorite yet? If you must, good luck! If you are like me and simply desire to see a high-quality tennis match, I reckon we will not be disappointed. The way both players have performed in 2015, and in this tournament, I expect nothing short a stellar match.
Click here to follow MT-Desk on Twitter
Reminder: Click here and send in your 2019 numbers 1 and 2 predictions. Be prepared for it to come back up four years later (in the name of having fun of course).