Roger Federer (3) vs. Tomas Berdych (11)
In the third set of his match vs Federer on Wednesday, Milos Raonic played one of the better sets of his career and still could not steal the set. On how Roger kept coming up with one amazing shot after another, Milos said it best: "I was sort of moving on. Okay, let's see if he can do it again. Let's see if he can do it again. He kept doing it." In case you missed it and require some illustration of what Milos is talking about, you only need to watch four points with which Roger climbed from 1-3 down to 5-3 up in the tiebreaker.
Raonic is hundred percent right. Federer keeps doing it over and over again, and does it even better with each match since Wimbledon began 11 days ago. The question is who can stop Federer, and my answer to that, as some readers may remember from my article on Sunday, was a simple "nobody," at least until the finals. Well, Tomas Berdych is the last one standing between Federer and Sunday.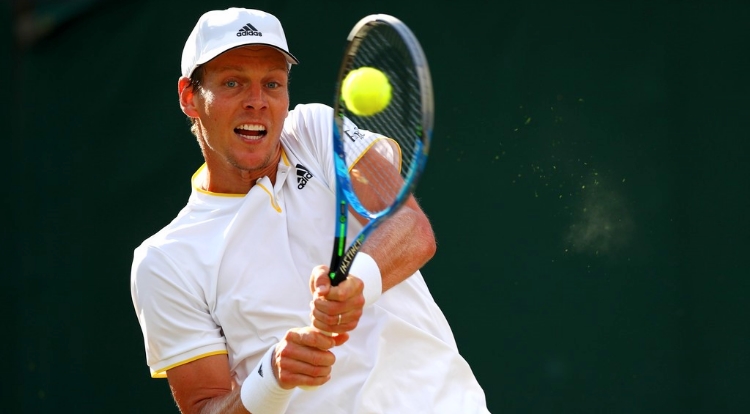 Photo: Clive Brunskill – Getty Images Europe
The only way to beat Federer is to crush the rallies with heavy shots going at warp speed 9 (see: Star Trek terminology). You can probably tell from the adjectives I used how much I believe in the possibility of such chain of events taking place tomorrow. There are nevertheless only a select few players who can do that to Roger and Berdych happens to be one of them. He did it twice in Majors, in 2010 at Wimbledon, in 2012 at the US Open. He had a great chance to do it even earlier, in 2009, at the Australian Open, but could not close it out, letting Roger come back from two sets down to beat him in five.
However… and you knew there was one coming… Federer has not lost to Berdych since 2013. He also defeated him soundly in this year's Australian Open. That is more likely to be the scenario tomorrow. Federer is serving betterer-than-everer and Berdych not only lacks the explosion necessary on his first step to return the serves away from him, but also will have a miserable time catching any sort of a rhythm if Federer varies their speed and spin, as well as he has done so until now. Life will get even more complicated for Tomas if, on top of everything else, if he goes down a break down early in the match and allows Roger to play with a lead. Thus, Berdych must hold serve early and aim to create a dent in Roger's baseline armor with his power. It is the only formula, regardless of how obvious it seems, that gives the 15th-ranked Czech player any chance to disturb Roger.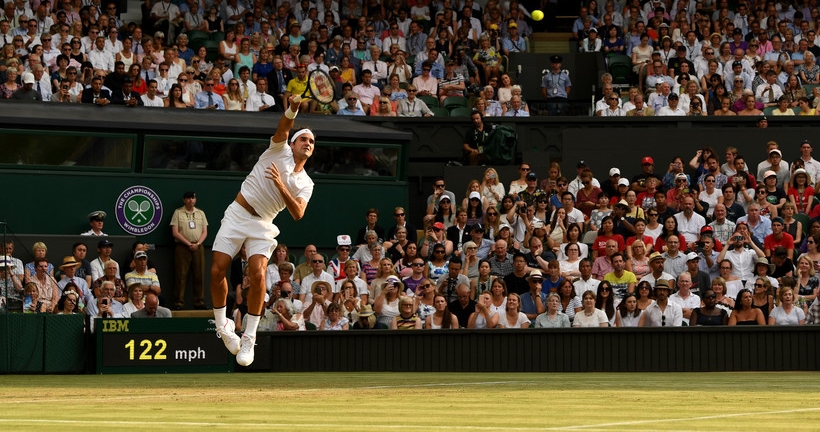 Photo: Shaun Botterill – Getty Images Europe
Federer, for his part, will counter that with his large arsenal of shots from the baseline and mix in a few rocket forehands of his own, aiming for the corners on Berdych's side of the court. If the Swiss systematically wins rallies that go over seven or eight shots, I believe we will watch a one-sided, routine affair for three sets. If not, it may still be one-sided, with a more balanced scoreboard, whatever that may mean to you. If I am Berdych, I would first and foremost hope for Roger to have an off day on his serves, then focus on holding my service games, and look to get ahead in the first set. Unless he can derail Federer's confidence early, there is no "W" for Tomas at the end of Friday.
Marin Cilic (7) vs. Sam Querrey (24)
The fact that Cilic is the favorite in this match certainly has something to do with his much superior record in Majors compared to that of his semifinal opponent. Not only does he have a Major title in his name but also a multitude of quarterfinal and semifinal appearances compared to only one semifinal one for Sam. Marin has also collected eight more ATP titles than Sam has over his career.
Cilic also carries a lot of explosive ammunition with him in the form of forehands and serves that he can unload on the court and make life very uncomfortable for the guy across the net. Don't take my word for it; ask Kei Nishikori and Roger Federer, his last two victims on the way to his US Open title in 2014.
Yet, same can be said for Sam with regard to his artillery comprised of forehands and serves. If we were to look at the numbers, Sam's numbers in those departments are as solid as those of Marin. Querrey is collecting points from his serves at about the same rate (84%) as Cilic does (83%). Querrey gets 63% of his first serves in while Marin is serving at 62%. Cilic has hit ten more winners on the forehand side than Sam (78 to 68) over the course of the tournament. Sam has 126 aces throughout the tournament compared to Marin's 105.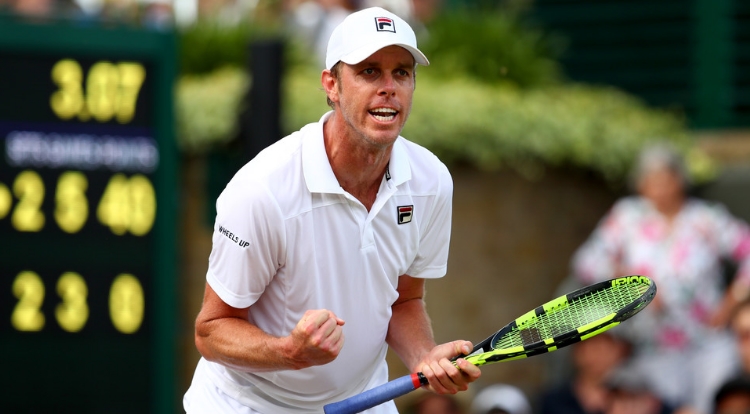 Photo: Clive Brunskill – Getty Images Europe
So, if we are going to praise the power of Cilic's serves and forehands, we must do the same for Querrey. The story is not much different in the unforced error categories. They are practically the same: 52 forehand unforced errors and 46 backhand ones for Sam, 54 and 46 for Marin.
Points-won-on-returns categories seem to carry the only significant difference between the two players. Cilic has won 32% of his total first-serve-returned points versus 28% for Sam, and on second serves that number is 58% for the Croat, 48% for the American. This distinction in return-points won may nevertheless be the result of Sam having faced more big servers (Kevin Anderson, Jo-Wilfried Tsonga) in the previous rounds than Marin has (Gilles Muller).
This is the reason for which putting too much importance in numbers can be misleading. Cilic may have had trouble reading Muller's serve but could jump all over Sam's. He may outlast Sam in rallies every time they can get into a cross-court backhand rally, eventually causing Sam's unforced error count on the backhand to climb higher than usual. I can multiply such examples when one faces the other. That is why the way a player matches up with another supersedes sheer statistics in terms of importance.
The bottom line is, Cilic is a better baseliner than Querrey. He does the "1-2 punch" better than Sam does, because he can use his backhand just as effectively as his forehand on the second shot of that "1-2 punch" combination, whereas Sam must run around his backhand to be as effective. Both players can generate a lot of speed from deep behind the baseline, but I would argue that Sam can probably hit more "wow" shots with his forehand from that position than Cilic can. These are the details that will make the difference rather than comparison of numbers and percentages.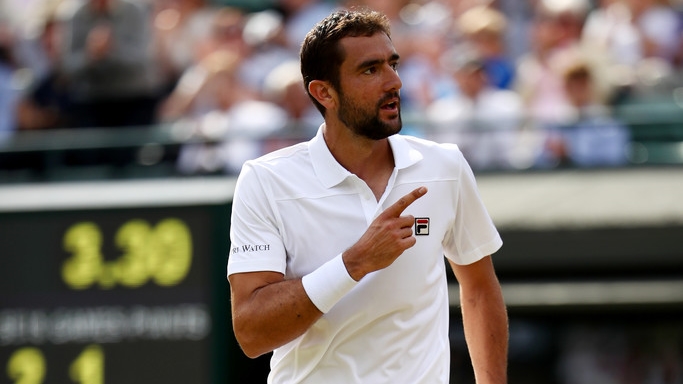 Photo: Julian Finney – Getty Images Europe
My only question mark for Cilic would be where he will position himself on the returns. In my quarterfinal previews, I mentioned that Marin would wait Muller's serves closer to the baseline after seeing how much Rafael Nadal struggled on returns against Muller, because he was parking by the line judges to wait for them. To my surprise, he chose to stay few yards behind the baseline, not as far back as Rafa, but certainly not as close to the baseline as I expected. As a result, he also struggled with Muller's wide serves, albeit not as much as Rafa did. So, I am reluctant to comment on his position on returns when returning Sam's first and second serves. I will merely "guess" that, for his sake, Cilic will step inside the baseline to return Sam's second serves.
Speaking of on-court stance, where players choose to hit their shots from will be an important part of the formula for victory. You know the image of the court that the experts put up on your screen, the one on which you see straight lines running parallel to the baseline, one in front of it and one in the back, each separated area colored differently so that they can tell you what percentage of their shots the players hit from each colored zone? That is what I am talking about. If Marin can more hit shots from the colored area inside the baseline than his opponent, he will be the one likely to reach the final on Sunday, and vice versa. I can at least guarantee one thing: we will see plenty of baseline shots, but we will not see many rallies. These two players will hit every ball with a purpose and that purpose will rarely include notions such as "getting the ball over the net" or "making the opponent hit one more shot."
Have a great Friday afternoon!
Note: Click here to follow MT-Desk on Twitter – This week: live from Wimbledon