You can find all the information you want on the internet about Federer's accomplishments, if you do not know them already, with one or two clicks. Nevertheless, I have always found interesting what his colleagues have to say about him during tournaments. So I will skip any lengthy introduction to this preview and begin with some quotes by the last two victims of Federer, Milos Raonic and Tomas Berdych, from their post-match talk with the press.
Raonic:
"I was sort of moving on, okay, let's see if he can do it again. Let's see if he can do it again. He kept doing it."
"You can see there's not much doubt in his mind. He's feeling it."
Berdych:
"I don't see anything that would indicate really Roger is getting older."
"I think he's playing by far the best tennis right now."
"He's playing barely with any mistakes."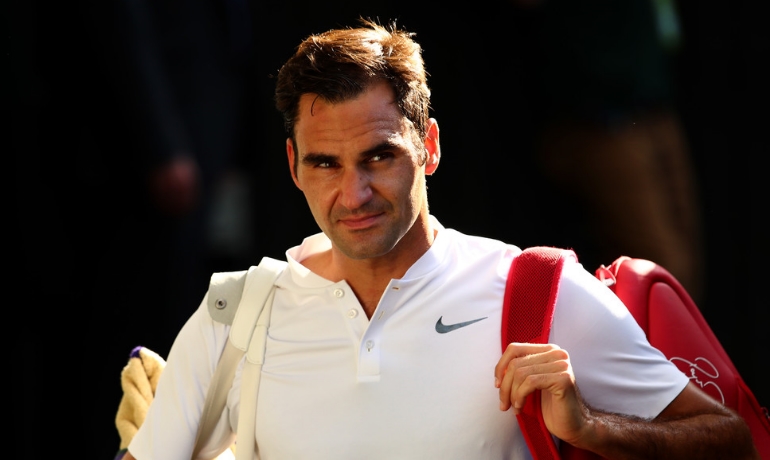 Photo: Clive Brunskill – Getty Images Europe
Having watched Roger improve through each round at Wimbledon – not that he was playing anything below "pretty well" tennis before the tournament even began – the above observations by Milos and Tomas do not seem exaggerated. In fact, Federer's past-round performances confirm them. Roger is three straight sets away from pulling a "1976-Borg," in other words, capturing the title without losing a set. He would also become the only man to ever win eight Wimbledon titles. Both are very much within the realm of possibility, unless his opponent Marin Cilic concocts some brilliant game plan to first snatch a set, and then two more. (Side note to (some) people: Yes folks! There will be another tennis player on the other side of the net. He is the number 6 player in the world, and he plays "pretty well" too!)
Cilic was in position to do just that last year in the quarterfinals, when he led Federer two sets to zero and had 0-40 lead on Roger's serve at 3-3 and could not capitalize on those break points, then squandered three match-point opportunities in the fourth set, and eventually lost the match 6-3 in the fifth. It was a thrilling match with several unexpected turns – you can read my detailed analysis of that match from a year ago by clicking here. It was only a year ago, yet a lot has changed since that day.
First of all, Cilic is at a high point in his career, although 2017 cannot yet be called his best year. There is no doubt that the year 2014, in which he amassed the US Open title, as well as three other ATP ones, is his golden one. However, if we drop the calendar-year angle aside, and center on his last twelve months, Cilic is on the verge of moving up an echelon by his own standards.
After losing to Federer in the quarterfinals of last year's Wimbledon, Cilic managed to win his first ATP 1000 event in Cincinnati. Then, he captured the titles at the Swiss Indoors in Basel, and at the Istanbul Open in May, the last one being his first career title on clay. He is currently ranked the sixth-ranked player in the ATP, the highest ranking he has achieved in his career. Finally, he is now on the verge of winning his second Major title, first Wimbledon.
Do you get the picture?
He is one win away from confirming his status as an elite player in men's tennis, ensuring his induction into the International Tennis Hall of Fame, and, as one of my favorite tennis writers Matt Zemek says in his article, "traveling from one tennis universe to another."
He did not get here by coincidence. I will not go into the "who"s and "why"s of how he has risen up the rankings and won titles, nor blemish his accomplishment of reaching the final here by trivial mentions of whom he did not face. It is sufficient to say that for most of us who follow tennis closely, when the draw was made, Marin was right behind Rafael Nadal and Andy Murray when considering the possible names who could make the final from the top of the draw.
What makes him different now than in the past years, including in 2014?
For starters, the 2014 US Open run was one of a kind. His performances in the semifinal and final rounds were nothing less than dazzling, and highly unlikely to happen again. Cilic literally blitzed through two formidable opponents, playing some type of what I call "spatial tennis." It is neither realistic nor fair to Cilic, though not impossible in the word's true sense, to expect that type of performance repeated again. He has not since then and he is not currently doing it in this Wimbledon. Instead, he has gotten the job done the old-fashioned way, by the use of sound tactics, a steady level of tennis, and by maximizing his strengths (84% points won on first-serve points).
This brings me to the heart of the answer to the question above. Today's version of Cilic has one thing going for him that he did not have, at least not as much as he does today, in his version of the past. It is his improvement of how he handles nerves.
Cilic has been known in the past to get tight in matches. His loss to Federer last year was the most glaring and recent example of that. I am sure the end of his first set against Sam Querrey, when he framed two backhands in a row and hit the outside of the doubles' alley to lose the tiebreaker, reminded Marin of those times. Yet, he persevered, and put that moment behind him to win most, if not all, of the clutch points in the next three sets. He eventually held two match points, at 6-5 in the fourth set. In the first one, Cilic blew another backhand sitter in the net. Was he going to now hesitate unleashing a shot if he got a similar chance in the next point? He was not. The remarkable forehand winner that left Querrey staring in the second match point secured the victory. The win against Querrey only proved once again that Cilic has learned how to handle pressure and will no longer succumb to it like he has in the past.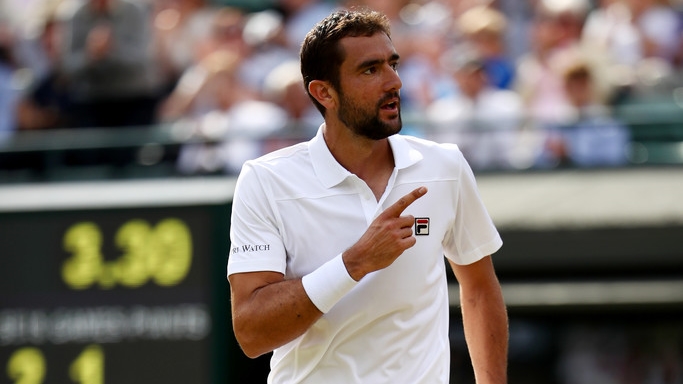 Photo: Julian Finney – Getty Images Europe
It is a long process to overcome such barriers. You could tell how much the mental improvement meant to him back in May, after he defeated Diego Schwartzman 6-1 7-6 in the semifinal of the Istanbul Open. Cilic dominated that match until midway through the second set when he began making errors and allowed Shwartzman to crawl his way back into the match. In his post-match comments, he touched on those moments in the second set when doubts crept into his mind: "I am extremely satisfied with how I was hitting, and also in the second set, when things got tight, when things were not working so well, I still kept the same focus and same mentality, that is something that I believe is going to bring me much more in the next couple of months."
Here we are, a couple of months later, and Cilic could not have been more accurate.
So yes, his serves and his forehands, how deep he can keep the ball during rallies to stop Federer from directing rallies, or how often he can return Roger's serve back in the court, will all play a role in the outcome of Sunday's final. Yet, very few of those factors would matter now, had Cilic not learned how to master the mental challenge with which he was faced.
Federer, for his part, does not seem to have any questions marks in his mind. None at all! He has won all the key points that he had faced in his previous matches, including five tiebreakers in which he raised his level even higher than in the rest of those matches. If you have not seen them and you would rather see it for yourself, I would suggest that you watch the tiebreaker against Lajovic, or the one against Raonic, or the second-set one against Berdych.
The problem facing Cilic is that Federer has already encountered in this tournament a first serve as big as his, much better second serves than his, and forehands as big as or better than his, and dealt with all of them just fine. I would comfortably say that Marin is not likely to win prolonged baseline battles. He returns well, but Federer throws a lot of different types of serves at his opponents at his adversaries until he finds the right formula. This is nevertheless one small window of opportunity that could open for the big Croat. He could get an early break before Roger finds the right formula on the serve, and protect that lead as long as possible.
In terms of on-court patterns and tactics, I believe Federer is clearly superior to Cilic in that, he can vary his shots more, transition from defense to offense in the blink of an eye, and fabricate a different pattern in rallies than the previous ones that may not have worked, and do those adjustments in a very short period of time. Thus, the main puzzle to solve for Roger will be how to neutralize Cilic's power and not allow him to start the match like the one in New York in 2014.
Last note: I have said before Federer's quarter and semifinal matches that, in order to have shot at defeating him, his opponents must absolutely find a way to win the first set, and that carrying it to a tiebreaker would be one possible way to do that. Having watched the three tiebreakers in those two matches, I feel fairly at ease saying that tiebreakers would not be in Cilic's favor.
Where does all this leave the two finalists? You make your own call. It is nevertheless undeniable that Federer is the heavy favorite and that Borg, in the category noted earlier, could have some company in the record books by tomorrow evening.
Note: Click here to follow MT-Desk on Twitter – This week: live from Wimbledon