Greetings again from Roland Garros! This second entry offers a hodgepodge of diverse tidbits to make up for the tedious, tactical match analysis of the first one back on Thursday. I know many readers enjoy the X's and O's of our wonderful game, but I bet that even the most meticulously rigid readers of this blog cannot honestly say that they wouldn't enjoy some light-hearted material to browse through. Thus, here is hoping that your definition of "light-hearted" matches with mine.
How about the best picture from each day of this week, so far? It will be chosen from a variety of shots taken by me and carefully selected by the photo committee consisting of one member, me. I only arrived on Monday, May 25th, so there is nothing for the first day of the tournament which took place on Sunday the 24th.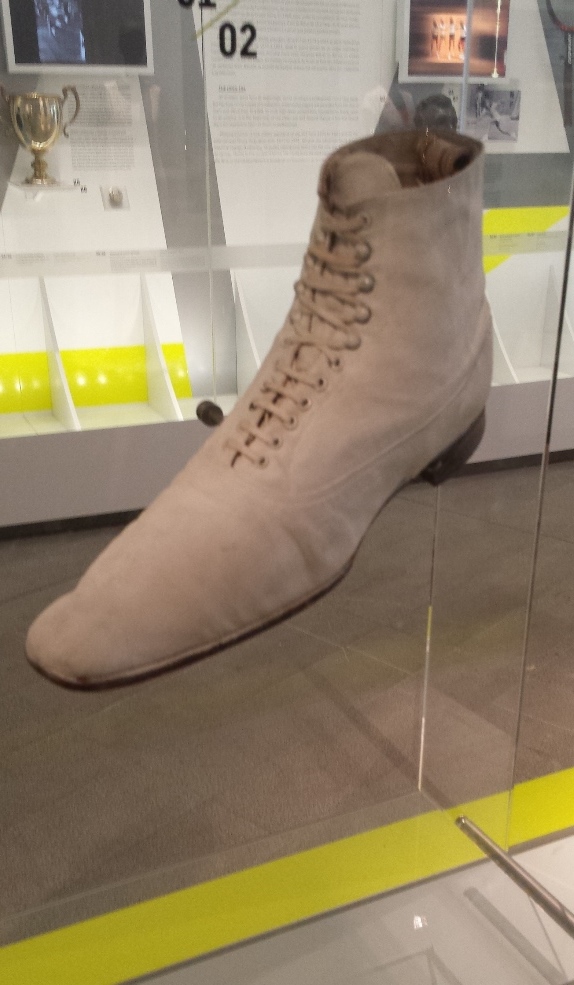 Monday – From the Musée Roland Garros
Men's tennis shoe, or rather "boot," from the 1900s – on display at the Musée Roland Garros
——————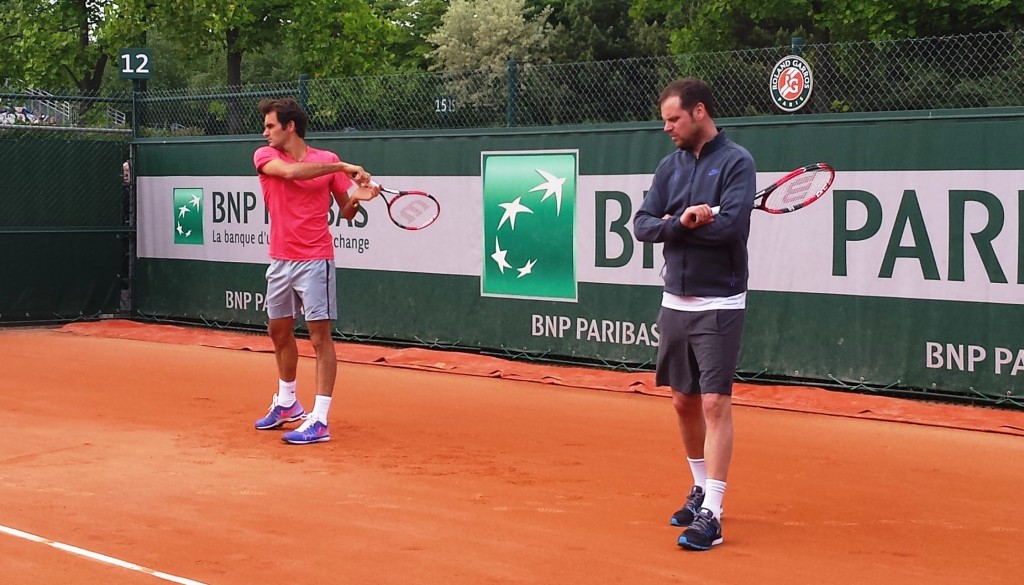 Tuesday – let's have fun with captions.
Federer: "I wish Sevi wouldn't look at me this close."
Luthi: "I can't even look at that forehand, it's so terrible!"
——————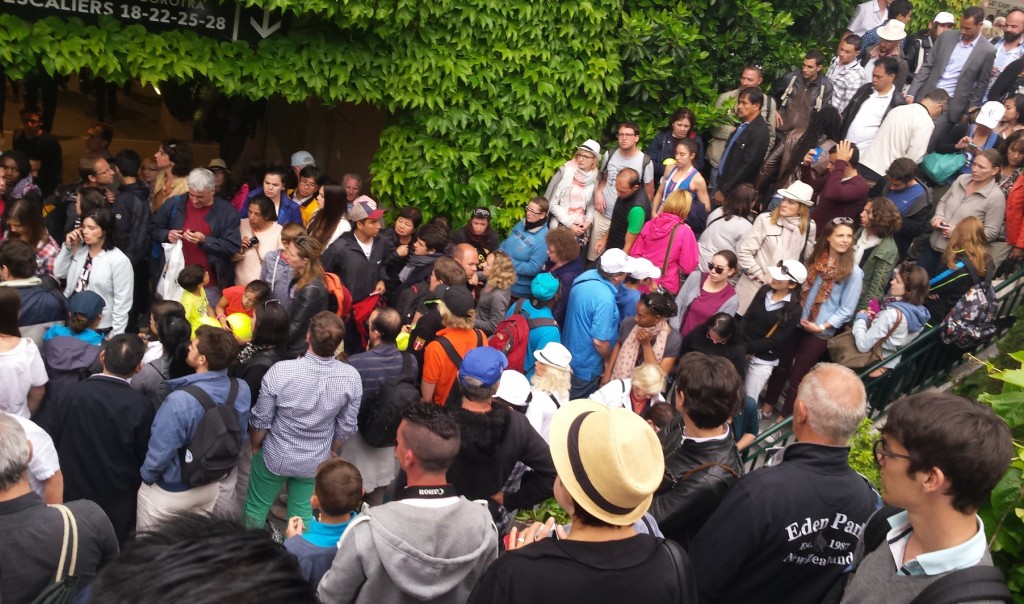 Wednesday – The crowd gathered around the entrance to the protocol and the player's lounge at Court Philippe Chatrier, all in the name of catching a glimpse of their heros.
——————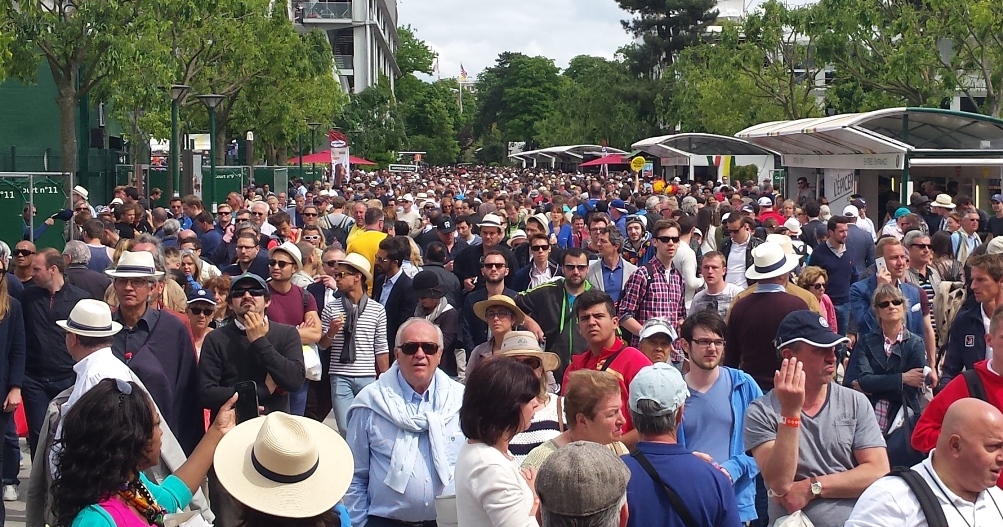 Thursday – The most-traveled walkway in Roland Garros, the alley from Suzanne Lenglen to Philippe Chatrier. Yes, to walk the distance of around 100 meters between the two courts can (and will most likely) turn into a nightmare trip.
——————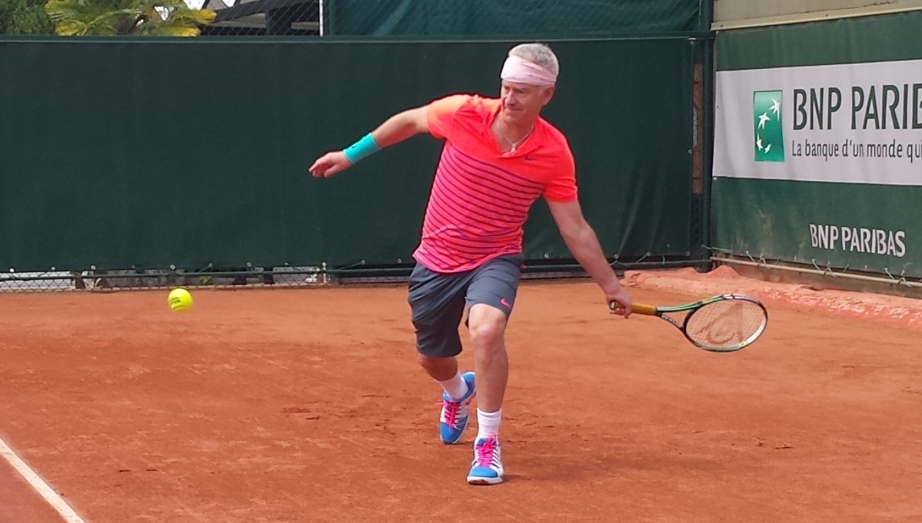 Friday – You cannot be serious! What is he doing here? One certainty, he definitely seems to be in pain trying to bend down for that low ball. Actually, he is here for the Legends' Trophy (June 2-7).
——————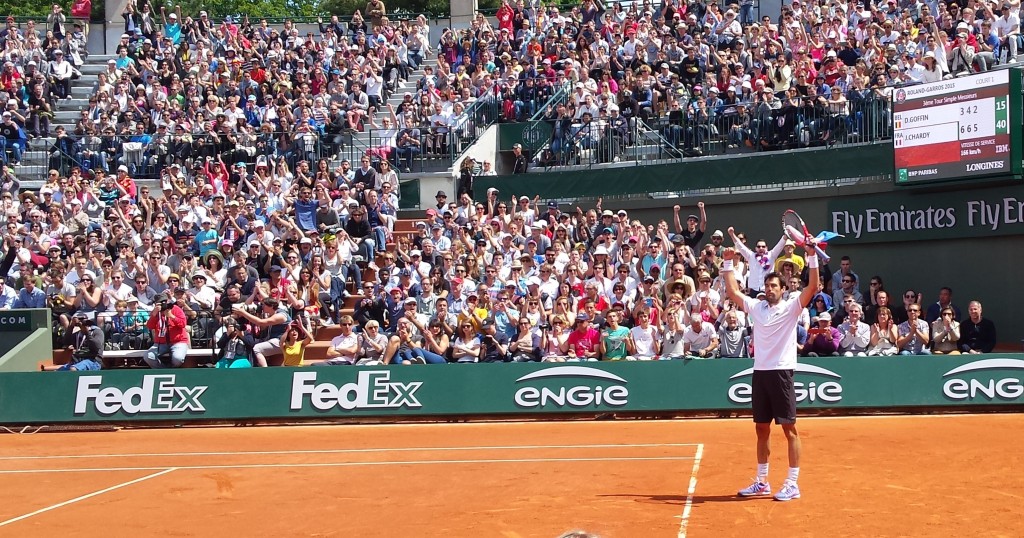 Saturday – Jeremy Chardy defeating his second to-20 opponents in a row (John Isner, David Goffin) on the "Bull Ring" court, Court no. 1. When asked, Chardy said he feels as if that court is his home.
——————
Say what? – Part 1
If you have followed tennis remotely, you may not know this. If you are an avid fan of tennis, you will know it. If you are a casual fan of tennis but an ardent fan of Roger Federer, you will know this without a doubt. If you are working as a media member at one of the four Majors, you should know this. What am I talking about? It's Federer's yearly stop by the grass-court tournament in Halle, Germany, prior to Wimbledon. In fact, a good portion of the people who fit in one of the categories above will know that the Swiss has a lifetime agreement with that tournament that takes place during the same week as the Queens tournament in London, another well-known grass-court event. Yet, a media member asked Roger – after listing the names of the important grass-court tournaments leading up to Wimbledon mind you? – if he was going to play a tournament on grass and which one it would be. Roger answered in one word before the guy even finished his question completely: "Halle"
Say what? – Part 2
Earlier today Timea Bacsinszky entered the post-match press conference, probably expecting an awkward question or two coming her way, in the same way that every other player does, after having acquired some experience in dealing with media members who have never played competitive tennis in their lives outside of club/veteran tennis (and that is, if…), or others who are looking for a sensational slogan. But I am not sure she expected this. A journalist, impressed with Timea's concentration level during the match, said one "could put Brad Pitt or Leonardo DiCaprio naked in front of her, and she would still remain focused on the match!" What do you say to something like that? How about Bacsinszky's response? –-> "Could you find another example of what could destabilize me? That would make me neither hot nor cold."
More pictures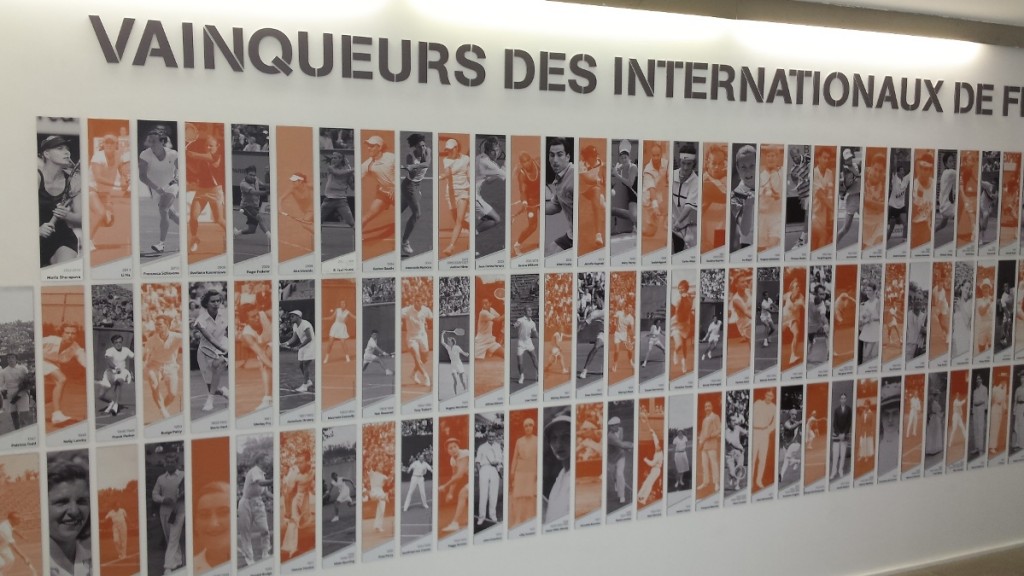 I love the staircase that takes you down to the Museum at Roland Garros, because you have to walk by this giant wall donning all the previous winners.
——————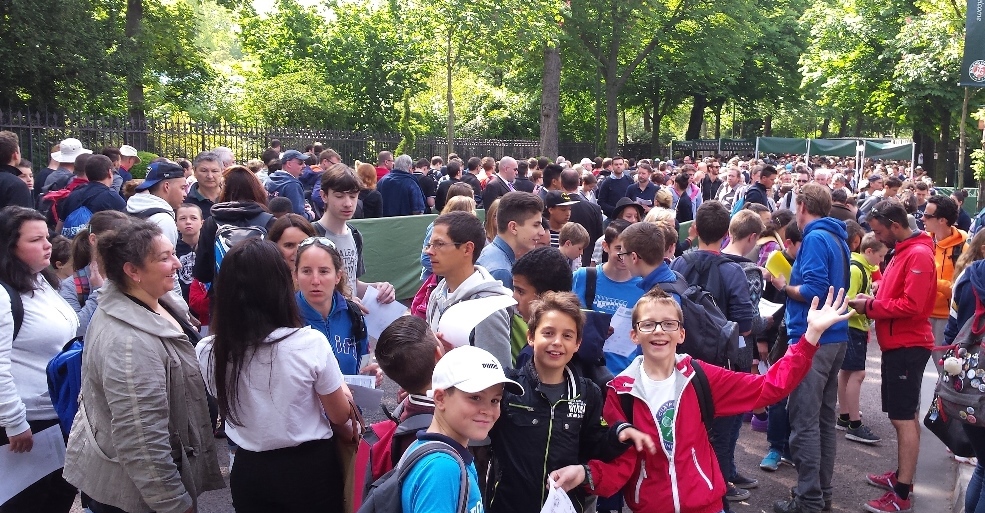 11 AM at the main A and B gates.. Endless crowd waiting to get in. At least, the kids in front kept their good humor.
——————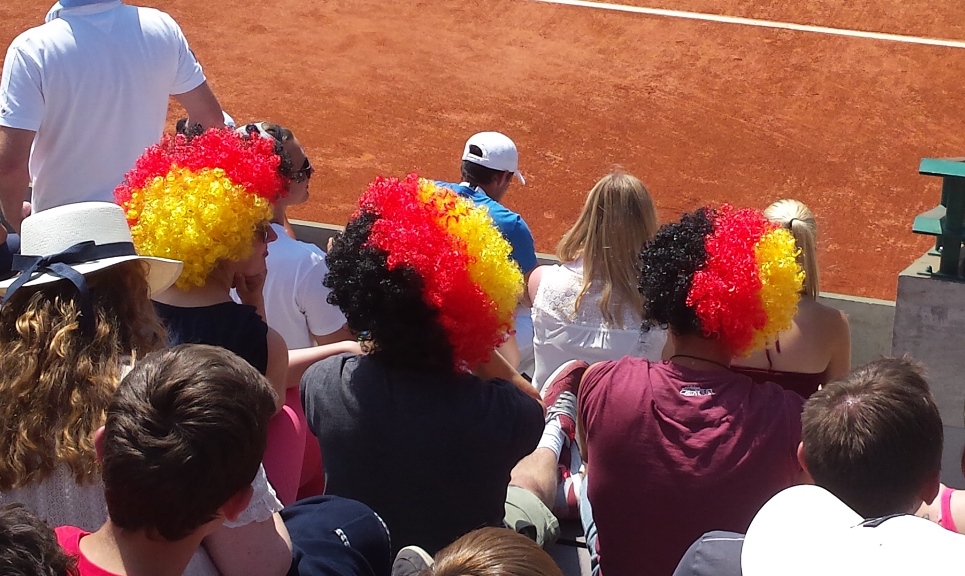 German Fans – No commentary needed!
——————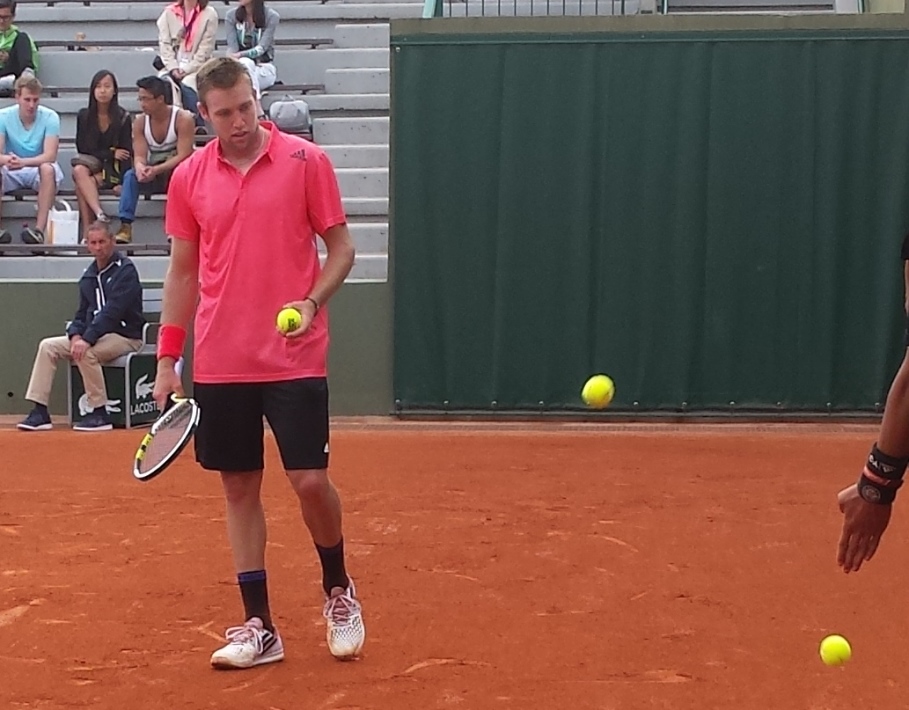 The Americans' hopes rest on the shoulders of Jack Sock! Next up for him on Sunday: none other than Rafael Nadal.
Note: Follow Mertov's Tennis Desk on Twitter for frequent live updates from Roland Garros