Although all the top players participated in the so-called warm-up tournaments to the first Major of the year, tennis fans came to the realization that they will have to wait for this Monday to satisfy their craving of some high-quality, exciting encounters. However, the draw that came out Friday did not do any favors to anyone looking for a thrilling narrative to carry the two weeks, starting Monday. By "thrilling narrative," I mean an eye-opening one that will end up being one of the main stories of 2016. Sorry Novak Djokovic fans, but your man lifting the winner's trophy would not qualify as one. Nor would seeing the Big Four members (and/or Stan Wawrinka) play each other for the umpteenth time again in the semis. Yet, one look at the draw and that seems to be the most probable outcome.
Sure, there is some potential for first-week match-ups that feature two players who would probably be more than happy to make it the second week. I will even entertain the idea that Rafael Nadal or Roger Federer, or both, may get knocked out before the semis (only to have their conquerors melt away in the next round). But I neither see an emerging name reach the finals à-la-Kei in New York, nor envision an unlikely winner lifting the trophy like Wawrinka did two years ago, or Marin Cilic did in New York later that same year.
That being said, ticket holders should get their money's worth. The possibility that this Australian Open may not go down as a trend-setting tournament does not mean that matches will be boring or of low quality. Without further ado, here is how I see the draw fill out section by section. In order to increase the suspense, I will not reveal the player favored to win the tournament. Read and see if you can figure it out (hint: pay attention to titles).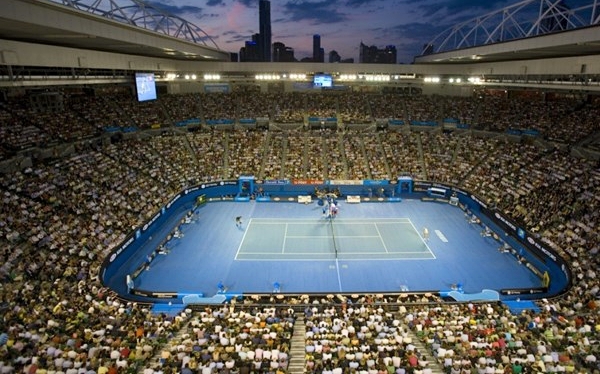 TOP HALF OF THE DRAW
Djokovic's "early" victims
Prior to eventually running into Djokovic in the third round, Andreas Seppi and Teymuraz Gabashvili will square off with the winner likely to battle Denis Kudla next. Although Gabashvili is down 1-3 in the head-to-head count against Seppi, he has a great chance to advance. He is enjoying his highest ranking of his 14-year career and Seppi, who is going through a dangerous slump, could see his ranking plummer in the first half of the season if he does not recover soon. Gabashvili is the only one from that top section who could challenge Novak in the third round, provided he can live up to his nickname "Tsunami" for three sets (which is almost like saying "provided that Ivo Karlovic finishes a match with less than 5 aces"). Otherwise, look for Djokovic to get to the 4th round being more challenged in practice sets than in the actual matches.
Djokovic's "midway" victims
Speaking of "Dr. Ivo," he finds himself as a possible opponent of Djokovic if he makes it to the fourth round. Stands in his way one of the biggest overachievers in today's tennis by the name of Gilles Simon who, unfortunately for the French, matches up terribly with the big-serving Croate. Simon will still make Karlovic earn the victory if they both make it that far. Anyone knows by now that even when Simon is losing to you, he will make you suffer before doing so. I don't see any other name from that section (sorry Vasek Pospisil, not in Australia) reaching the fourth round to be victimized by Djokovic.
In the quarters, Djokovic could face a number of players. The two highest seeds in that section are Kei Nishikori (7) and Jo-Wilfried Tsonga (9). I do not like the fact that I am writing this while the three qualifying spots in this section still display the word "Qualifier" instead of names. I am one of those who believe that careers are made in the Majors, and they are made when a player comes through qualifying and unexpectedly creates a sensation (or with an "s") in the first week of a Major, and then, backs it up in the following months, before finally establishing himself as persona grata in the upper echelons of the ATP Tour.
Regardless of who the qualifiers are, Tsonga has a rocky road to the quarters. Even before a possible match against Nishikori or XYZ player in the 4th round, he will have to knock out Marcos Baghdatis, the in-form Ilya Marchenko, and his countryman Benoit Paire. In any case, unless Nishikori or Tsonga somehow catch fire, Djokovic could have an easier win in the quarters than in his previous round. I consider Kei's chances of catching fire low, but still higher than that of Jo-W.
Djokovic's "later" victims
Novak's most serious opponent in 2015, the one that he faced 7 times in the finals, could line up on the other side of the net to challenge him, this time before the finals. His name is Federer, and as incredible as it sounds with the kind of season that Djokovic had, he managed to beat the world number one three times, all on hard courts. The reality: Federer has not beaten Djokovic in a Major since the 2012 Wimbledon. The irony: Federer has not lost to Djokovic (4-0) in their matches before the finals since 2013.
Federer's quarter also happens to be loaded with loose cannons. While I don't see his first-round opponent Nikoloz Basilashvili, who had his best year by a long mile in 2015, shock a top player any time soon, Federer's potential opponents in the next rounds could cause him some headaches. Alexandr Dolgopolov, his likely opponent in the second round, and Grigor Dimitrov in the third round, are both respectable players who have proven their ability to beat top players on a given day. In the fourth round, Federer's "on-paper" opponent is David Goffin, but the bigger dangers for Federer are Goffin's first-round opponent Sergiy Stakhovsky and the Belgian Dominic Thiem. I have argued for two years now that Thiem is destined for greatness and I am not wavering from my position on him. He is one of the faces of the next generation, and I expect him to break through to the top 10 in 2016. That path could begin in Melbourne. Having said that, the reality remains that for anyone to reach the quarterfinals from that section, they would need some help from Roger who, dare I say, played well only sporadically in Brisbane.
Federer could eventually face an experienced top-10 player like Tomas Berdych, or another young talent like Nick Kyrgios. I am not as sold on Kyrgios as everyone else is, and it is not because I don't believe in his talent. It's a cliché, but for some reason, it's one that takes time to dawn on people: champions are made in practice. Kyrgios' level of intensity and focus in practice is nowhere near that of the elite champions in our sport. Kyrgios may not make it that far anyway. Cilic, Tomas Berdych, and Roberto Bautista-Agut are nearby in the draw, as well as Borna Coric, another name that represents the future face of men's tennis. The young Croat would need to beat Cilic, Bautista-Agut, Kyrgios or Berdych, in a row, just to get to the quarters. Can he do it? Yes! This section will be my favorite one to watch during the first week.
BOTTOM HALF OF THE DRAW
(i.e. Djokovic's "final" victim)
Some are intrigued by the first-round clash between Fernando Verdasco and Nadal. We are quickly reminded of the five-set semifinal in the 2009 Australian Open, in which Verdasco pushed Rafa very hard. He also defeated Rafa as recent as nine months ago, in Miami. Despite that win, Verdasco is nowhere near his 2009 level, and Rafa is playing a lot better than in March 2015. I don't see an upset happening, and with all due respect to Benjamin Becker and Dudi Sela, I expect them to challenge the world number 5 even less in the second round. Rafa's road will get rockier starting with the third round. He should face the Frenchman Jérémy Chardy who is known to put out his best tennis in the Majors. Chardy can hang with Nadal from the baseline, and even overpower him, like Fabio Fognini did at the US Open. However, whether Chardy himself believes that he can do that or not, is a rather large question mark.
Nadal would then have to get past either Kevin Anderson or Gaël Monfils. I must again point out that, Anderson and Monfils have three qualifiers yet to be named in their little eight-man section. Despite his 0-3 record against Nadal, Anderson is the only name with a legitimate chance to beat the Spaniard, simply because he has improved in 2015 and added to his experience of facing the elite players in the Majors. He also has a big serve which has been a trade mark of most of the players who have upset Nadal in the Majors. It does not help either that Rafa has been unable to erased the question marks surrounding his game. But this is different. Two weeks ago in Doha, he played some of his best tennis in a long time and the fact that he got floored by Djokovic in the finals should not change that. If anyone can overcome a steep challenge, Rafa is that man. This Australian Open represents a golden chance for the 14-Major winner to reestablish himself as the top player, along with Djokovic, Murray, Federer, and Wawrinka.
In the quarters, Nadal will no doubt face a tough opponent. There are again four qualifiers in this section. Unless one of them pulls a stunner or two, and/or Viktor Troicki's form soars even higher than it did this week in Sydney, I don't see who can stop Raonic and Wawrinka (sorry Jack Sock fans, not yet) from battling each other to earn the right to face Rafa.
I have long maintained (since 2010 exactly) that Raonic would be one of our sport's top players and I believe he is on the right track. Despite injuries hampering his progress over the last three years, he has steadily improved. He arrives to Melbourne healthy and confident. He has a legitimate chance to go far, even if it means going through Wawrinka and Nadal just to reach the semifinals. The success of Nadal, Wawrinka, or Raonic, when one of them reaches the "final four" stage, will largely depend on how much they have labored in the previous rounds. I dare anyone to predict this early how they will do in the semis where they would likely face Murray.
So what of Murray's quarter of the draw? Big-serving Sam Groth could frustrate him – it does not take much to do that – in the second round, but can he do it for three sets? Fognini and Tomic, the two major head-cases of our sport, could play against each other in the third round, which may possibly make that encounter the highest-rated third-round match in the history of Majors. But can either one challenge Andy? The section with John Isner and David Ferrer is wide open and should provide someone with a golden opportunity to reach the quarterfinal. But, can that quarterfinalist, whomever it may be, surprise Murray? I believe the answer to all the questions in this paragraph is a "No." Meanwhile, squeezed in-there-somewhere in this section is Brian Baker who has managed more comebacks than Aaron Krickstein has come back from two sets down in his days.
I see some sections of the draw that fascinate me for the first few days. I see others that should be exciting when we get to the third and fourth rounds. Then, from the quarterfinals on, I expect great tennis. What I do NOT expect, is to find names in the semifinals that are different than the ones we have seen in the last several Majors.
The show begins in 48 hours!