The second week of another Major has arrived. While the women's draw at the Australian Open has provided plenty of "unexpected" thrills, the men's side went pretty much according to plans (see my preview in the last post), with the exception of Nadal's exit in the first round at the hands of Fernando Verdasco and his "spatial tennis" in the final set of their match.
Now, I take a look at the upper halves of each draw. If I have time, I will do the same tomorrow for the lower halves. I will even stick my neck out there and give my say on what I believe will take place. It is not something that I usually do, because I am known for being a terrible prognosticator, therefore I would not desire anyone to place a bet based on my opinions (yes gamblers, I am staring at you). Nevertheless, in the name of having fun, let me know in the comments section if you have different ideas. Let's get to it.
WOMEN
Serena Williams vs. Maria Sharapova
To ask the outcome of the match is like asking "what will your mother say if you spill the juice on the carpet or on her dress?" or "will Wall Street behave responsibly this year?" or "are Donald Trump and Bernie Sanders good friends?" You know the answer to those. You can play the dialog in your head numerous times and the outcome will not change one bit. The same applies to this match. It has literally been a dozen years and 17 matches since Maria last defeated Serena. It was when Barack Obama just became a senator, and this member of the media was revealing to New Yorkers that the internet "has finally come of age." Is there any reason to believe that a different scenario may take place? No! Sharapova simply does not possess the weaponry in her game to out-hit or out-rally Williams. The only category in which Sharapova has consistently led Williams is the earned income category. Within the confines of a tennis court, Serena rules, it's that simple. Any other scenario may perhaps take place in the parallel universe of this summer's upcoming Star Trek movie.
Keys for Williams: Change nothing from the previous encounters because (1) she moves better than Sharapova during rallies, (2) she serves better than Sharapova, (3) she gets more pumped up for the opportunity to give a shellacking to Sharapova than to other opponents.
Keys for Sharapova: (1) Hope that Serena somehow loses her head, (2) as a result, the crowd rallies behind Maria because of it and because she is an overwhelming underdog, (3) and as a further result, Serena also loses her cool, suffers the tennis collapse of the decade.
I say —> One set surprisingly close as in 6-3 or 6-4, the other an easy stroll for Serena.
Agnieszka Radwanska vs. Carla Suarez-Navarro
This would be an intriguing match, except that Suarez-Navarro (I will refer to as CSN from here forward) is not one-hundred percent physically and has not played her best tennis in the previous rounds. She has benefited from a convenient draw so far, having faced only one top-100 opponent. In contrast, Radwanska has been tested by higher-quality opponents for one thing, and has come to the tournament with confidence for another, having won the year-ending WTA Finals three months ago. Having advanced to the quarterfinals in five of the last six years in Melbourne also makes her a persona grata at this stage of the tournament.
If CSN is healthy and ready to go, she has the game that can cause trouble to Radwanska who usually likes to park a meter or two behind the baseline and drive opponents crazy with her retrieving skills. She is similar to Simon on the men's side in that sense, except that she possesses more variety, and thus, can "junk" her opponent out when needed. So, CSN will need to often accelerate her forehand to push Radwanska back, and use her backhand slice to bring her forward. In other words, she needs to get Radwanska to move back-and-forth on the court, rather than side-to-side. She can do that with her three preferred shots from the baseline; the aggressive forehand drive when she is in control of the point, the set-up low slice on the backhand, and the high and heavy topspin backhand. All three of those shots put a different spin and pace on the ball and she will need to frequently rotate between them. Assuming that this pattern eventually generates a short ball from her opponent, she must not pass up the chance to take the ball on the rise and approach the net. She needs to send a message to Aga that she will not ease up on future short balls, even if she ends up losing that particular point.
Keys for Radwanska: (1) Observe, test, and evaluate CSN's physical condition early in the match by making her move in all directions through the use of her craftiness with drops shots and drive accelerations behind CSN (2) If CSN is not at 100%, keep the ball deep, allowing her to self-destruct, (3) If she is at 100%, engage her in repetitive patterns, such as cross-court backhands, and force her to take risks to get out of them, (4) Get the first serve in! Take the pace off it if needed, but do not rely on second serves to start the points.
Keys for CSN: (1) Create, attack, and harass Aga with aggressive returns on her second serves, (2) Vary often your three strong shots – see above, (3) Switch between kick serves and hard, flat serves on the advantage side, and on the deuce side, between slice serves to the outside and hard serves into the body. Execute the 1-2 punch if Aga's returns, as a result, land short.
I say —> as noted above, there are some unknowns. But either way, Aga is craftier and better prepared mentally for a quarterfinal-round challenge. She should win in two fairly contested sets, but not really face much danger. If CSN comes out healthy and executes all of the above, it may not guarantee her the win, but it would guarantee an immensely entertaining match to the spectators.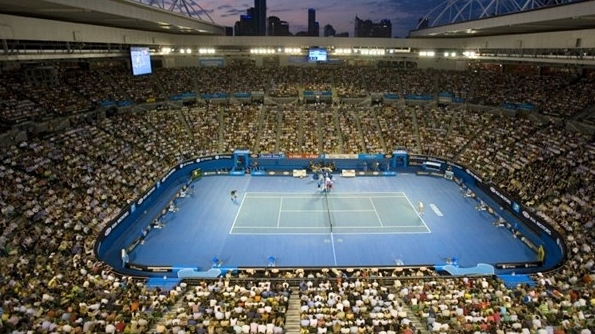 MEN
Novak Djokovic vs. Kei Nishikori
Dear Novak fans, do not fret because your man made 100 unforced errors against Gilles Simon and looked less-than-stellar in his ground-stroke production. Simon, one of the biggest overachievers on the ATP Tour, puts many opponents off balance and Djokovic was no exception in that regard. It will be a different Novak against Nishikori, simply because the Japanese player will feed him a steady stream of high pace balls with which your man can display his superior counter-punching skills.
Yes, there is that loss to Nishikori back in the 2014 U.S. Open, but that seems ages ago. Djokovic is today a level above the player he was back then. Let me try to put in one sentence the summary of what we may see in this match. I see many rallies during which Kei produces one great forehand after another, runs Novak left and right, forces him to defend, only to see the roles reversed with one spectacular counter-punch shot by Novak, followed by the point ending a shot or two later with either Novak hitting a winner, or Kei going for the overkill on the run and committing an error.
That is not to say, Nishikori cannot adjust. He can drop shot, stick in a sharp cross-court or two behind Novak to throw him off balance. If he can force the Serb into a few mistakes early in the match, he may be able to build up enough steam to get ahead. I expect him to come out aggressive and go for big first serves. Nishikori has something to prove since that run to the final in New York. He has not yet backed it up. This time last year, many predicted that he would perhaps win a Major, but those same people have now lowered their expectations. Kei could not find a better opportunity than this to show again that he belongs to the top. I think he will be tuned in, and will want to believe (yes, X-Files is on my mind!).
Keys for Djokovic: (1) Counter-punch, repeat and recycle, (2) continue to win key points with first and second serves, (3) take risks on Nishikori's second serves to take charge early in the point, (4) if the drop shot is off, take it off the menu, period!
Keys for Nishikori: (1) Be aggressive on the forehand from the beginning, (2) do not overkill from far behind the baseline, wait for the next shot, (3) play with a high first-serve percentage, (4) when pushed to the side, use sharp angles.
I say —> Djokovic wins in three sets, or loses the first and wins the next three.
Roger Federer vs. Tomas Berdych
Federer looked tremendous in his last match against David Goffin, but occasionally average in his previous matches. I always believed that Roger, unlike his main rivals, does better in Majors when he starts putting out his best in the earlier rounds. So the positive trend is a good sign, although it would have been preferable if he clicked on all cylinders from the beginning, like he did in the last two Majors. So, there is a bit of doubt in my mind, if he will again perform at the highest level against Berdych. One area in which Roger's fans can take comfort is his "unlike-a-human-being-in-his-mid-thirties" footwork. He is moving like a cheetah on the court, and it clearly shows when he has to retrieve balls on defense. That will probably be the key to his success against the Czech who enjoys pounding his ground strokes and overpowering his opponent.
Berdych has had some success against Federer in the past, and even beaten him even in Majors (2010 Wimbledon, 2012 U.S Open). In every match that he won against the Swiss (total of 6 times) he seemed to stay inside the baseline and unleash one heavy ground stroke after another, while Federer committed mistakes when the rallies went beyond the ten-shot limit. When Berdych catches fire, he is a sight to behold and can make his opponent look primitive. That being said, his rhythm depends a lot on what Federer feeds him. So, let's get to the keys of the match.
Keys for Federer: (1) Well-placed serves followed by either a volley, or a second and third shot that keep Berdych running and scrambling on the stretch, (2) tempt Berdych into coming to the net with low slices, forcing him to use topspin from below the net as an approach shot – not Berdych's forte, (3) adjust the return position, use the SABR if needed, in short, do whatever it takes not to give Berdych a convenient ball to the middle of the court on the return.
Keys for Berdych: (1) A ton of powerful first serves, placement not that important, simply force Roger to block the return in order to take charge in the rally, (2) do not be afraid to come to the net, send a message to Federer that it's not enough just to get the ball back with floating slices, (3) lull Roger into trading high-octane shots back and forth, like he did at Wimbledon 2010, or like Del Potro did in the 2009 US Open final, (4) hope that Roger's footwork happens to be off for few hours on that day.
I say —> as previously noted, Federer's footwork along with his ability to defend makes the difference, but not by much. This will be a tough one for the Swiss. Berdych is also more likely to get tight at critical junctures in the match. Federer wins in five sets, running away in the fifth after four contested sets.