When I woke up Friday morning at the apartment that I rented with my daughter on the 16th arrondissement of Paris, it was drizzling outside and the sky looked gray. Yet, I was full of optimism for what had the potential to be a historic day for tennis in my native country of Turkey. With a population of almost 80 million, Turkey had yet to produce a female player that played in the main draw of a Major in the Open era, and Marsel Ilhan was the only one to do so among the men. Equally, never before had Turkey been represented by three players in the last round of singles' qualifying in the same Major. Thus, Cagla Buyukakcay (WTA 85), Ipek Soylu (WTA 175), and Ilhan (ATP 198) did already make history by winning their matches on Thursday. Yet, that would be peanuts compared to the buzz that they would generate were they to win their matches and advance to the main draw.
That is what was on the line on that Friday, May 20, 2016: the rewriting of Turkish tennis history. All three players were scheduled to play on the same court, Court 8, a sensible decision by the organizers. In fact, those were the only matches scheduled on that court, meaning it could become one of the famous courts in a nation's tennis history.
I arrived to the grounds around 9 AM, an hour before the first match, talked a bit to Cagla and her coach Can Uner, wished them good luck, then headed to Court 8 to wait for her match. She was scheduled first, followed by Ipek, and Marsel. Being the top player in Turkey for a couple of years some 25 or so years ago, I feel that I am qualified to say the following: if you told me back then that one day, I would stand on the grounds of Roland Garros on the last day of qualifying, waiting for a Turkish player's match to begin, while watching another Turkish player (Ipek) warm-up on Court 6 for her match later, and seeing a third Turkish player (Marsel) walk by me with his coach, on his way to practice on another court, I would have told you that you had simply lost your mind.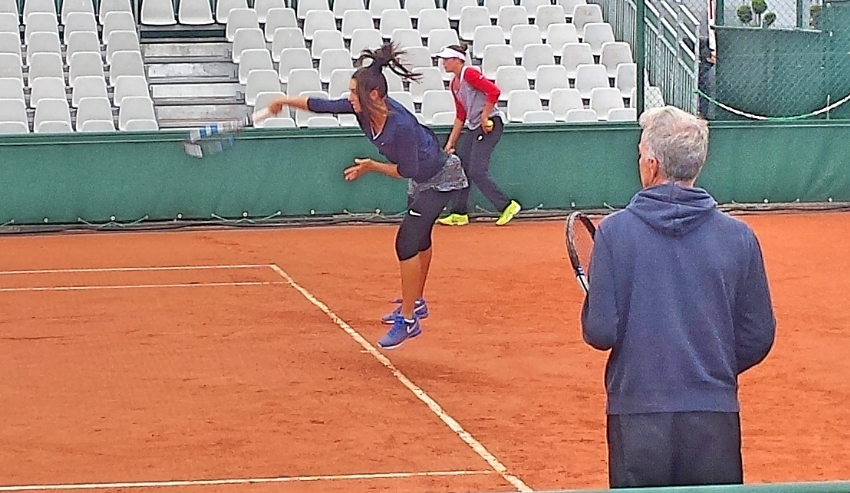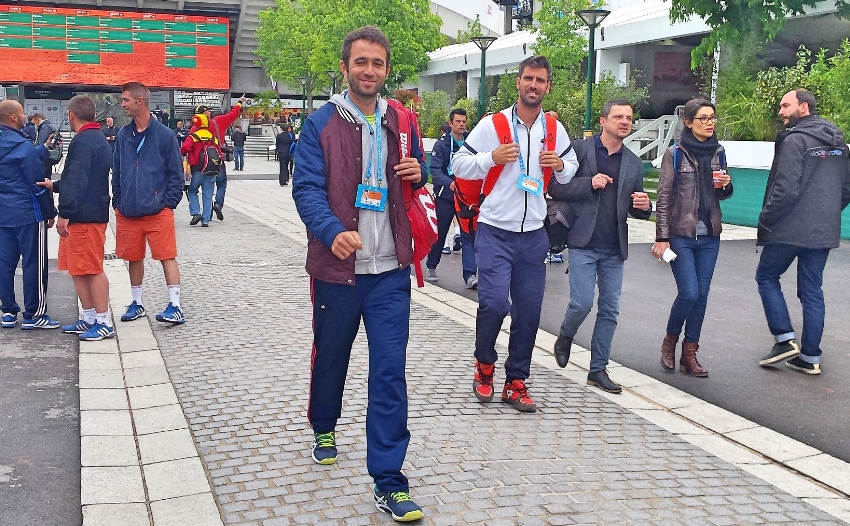 Yet, that is precisely what happened. I realized that while still remaining far behind where it should be, the interest in tennis has indeed increased dramatically over the last decade in Turkey, thanks to some giant steps recently taken by the few top Turkish players.
Buyukakcay is definitely one of those. She won a WTA event last month (Istanbul Cup). Thanks to her successful results of late, she is ranked in the WTA's top 100 for the first time in her career, and has become the only Turkish female player to ever do so in singles. As she entered Court 8 to face Klara Koukalova of Czech Republic, she knew very well the stakes at hand. She had a chance to overcome another hurdle, reaching the main draw of a Major, that has nagged her for years, and to become the first Turkish female player to do so. I made my way next to her coach and sat next to him. Cagla looked determined from the moment she entered the court. She got off the gates playing some top-quality tennis, and never looked back until 6-1 5-1 in the second set.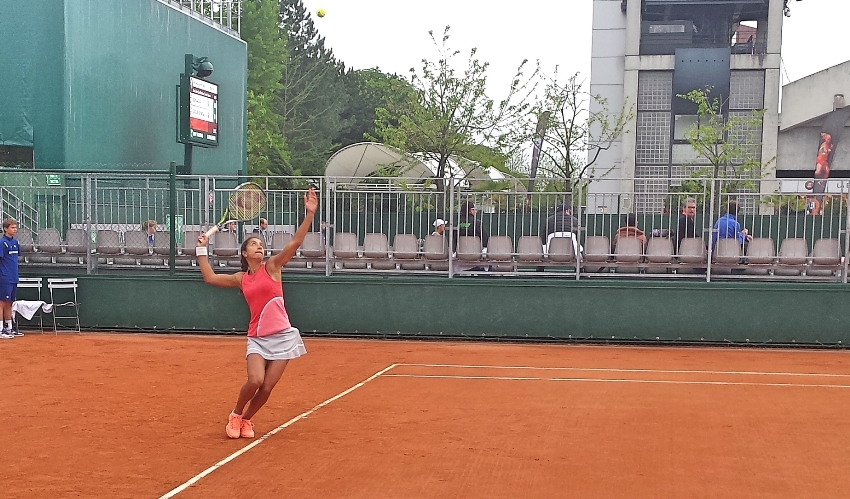 As most tennis players know, finishing a match is not an easy thing to do, especially when so much is riding on one match (I should add that Cagla is also chasing the possibility of representing her country in the Olympic games in Rio). Not having anything to lose at that point in the match, Koukalova played freely and showed her high shot making skills. Buyukakcay got a bit tight and found her lead erode to 5-3 with Koukalova serving. But that was as far as the Czech player got. Cagla broke her serve on a double fault and immediately pumped her fist toward us in joy. Tears came flowing down her eyes before she even reached the net to shake her opponent's hand.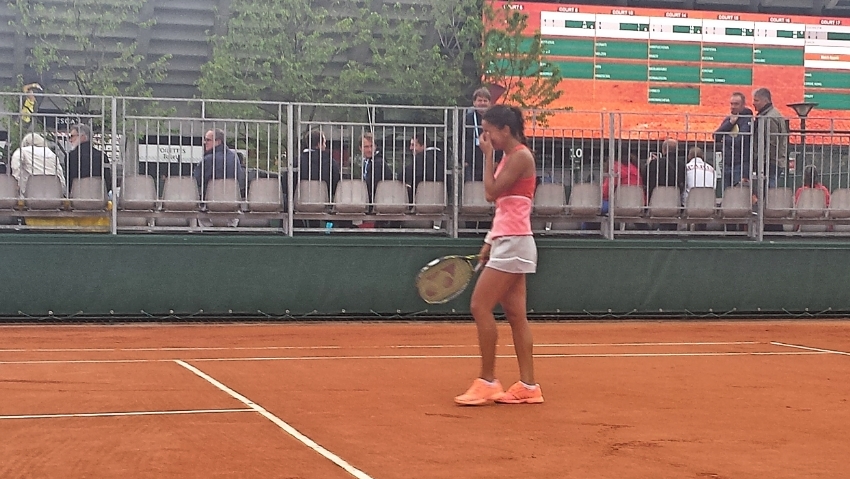 She approached us at once and gave heartfelt hugs to everyone and spent time with the Turkish fans (including a few people from the Turkish Consulate) who supported her. The celebration went on for so long that by the time Ipek Soylu came on the court with her opponent Kateryna Kozlova, Cagla still had not left the court. It was nonetheless 1-for-1 for Turkish tennis.
Soylu is twenty-year-old up-and-coming, talented player who has seen her ranking rapidly rise in the last couple of years. Just like Cagla did before her, Ipek began her match at a very high level and continued to do so until she had a 6-3 5-2 lead. She executed her plan A – which features aggressive returns and ground strokes – to perfection, complementing it with effective serving.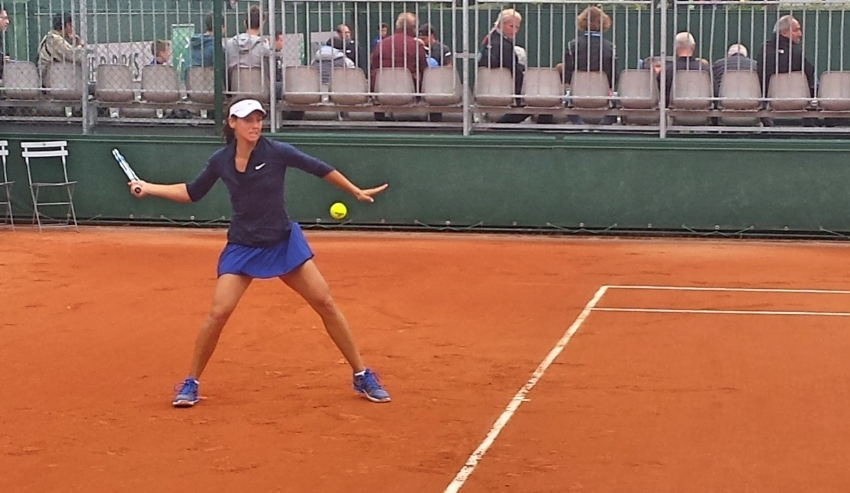 She also needed one more game to finish the match, which, once again, is one of the harder things to do in matches at the Majors, mostly because there is more on the line in Majors than in any other individual tennis event. Kozlova played one solid game, letting her opponent know that she was not folding. Then, Soylu played three games filled with unforced errors before finding herself down 6-5 30-0, two points away from a third set. She showed her competitive spirit as she forced Kozlova into a backhand error, then played three terrific points in a row to carry the set into a tiebreaker. That helped her regain confidence and find her earlier form. She played an excellent tiebreaker and closed out the match winning the last 5 points in a row, 6-3 7-6(2). She brought her hand to her mouth in disbelief, looked at her corner where her coach and mother sat, and let her tears flow.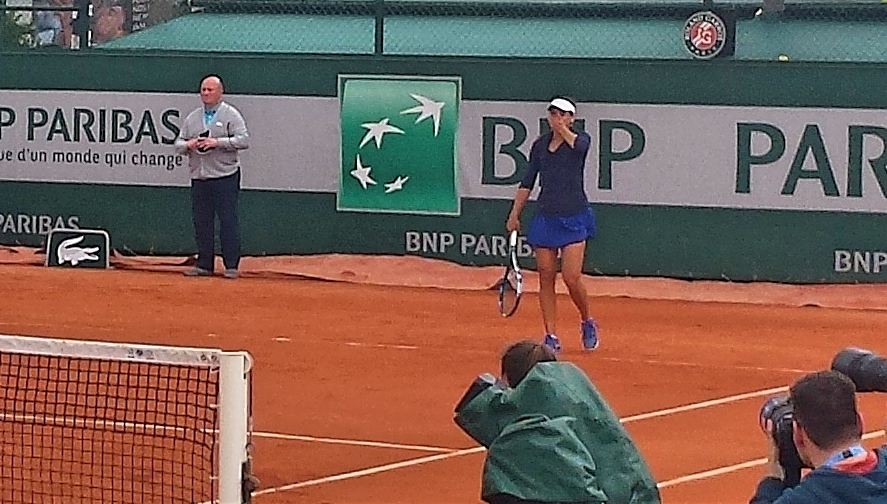 Less than a minute later, a second celebration was underway on the same corner of Court 8 as the earlier one with Buyukakcay. A nation that has not seen one single female player reach the main draw in the Open era, now had two of them accomplish that goal in one day, on the same court. Could Marsel Ilhan also win and triple the joy of Turkish tennis fans? Barely had Ipek left the court that he arrived for his match against Guido Andreozzi, a clay-court specialist from Argentina.
Ilhan did not begin his match as well as the Turkish women did, losing the first set 6-3. He modified his game plan a bit in the beginning of the second set, broke early, and turned the match around by winning the set 6-2. He went up 4-1 in the third, only to see his lead evaporate because Andreozzi proved to be too pesky an opponent to let Ilhan roll over him for two sets in a row. He got the break back, and the match went into "overtime" because there are no tiebreaks in the deciding set at the French Open.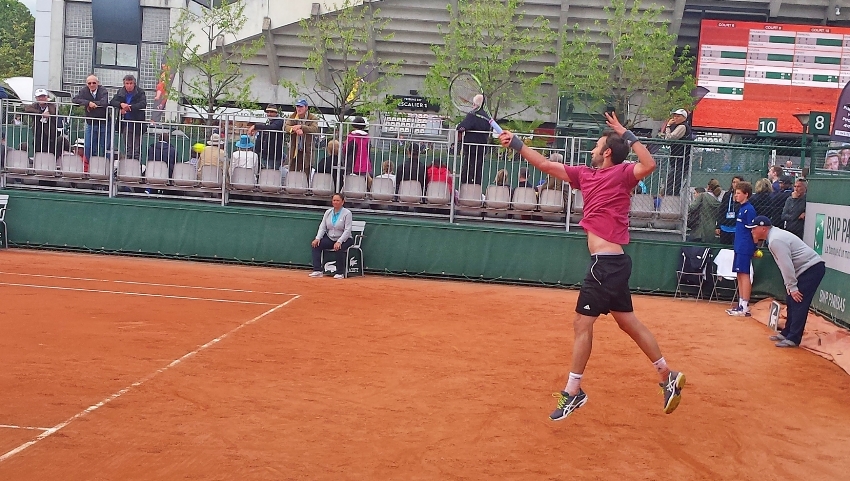 Ilhan was clutch in the last two games, winning the match point on a skillful approach shot followed by a winning backhand volley which left Andreozzi meters away from the ball. The scoreboard read 3-6 6-2 8-6 in his favor. He lifted both hands to the packed stands of Court 8, and saluted his corner.
There was also something else that took place during most of Ilhan's match that went unnoticed by most people present (not that it was they could have known). Buyukakcay arrived in the second set with his coach to support Ilhan (see pic below), and Soylu joined the support from the other side of the court around the mid-point of the third set.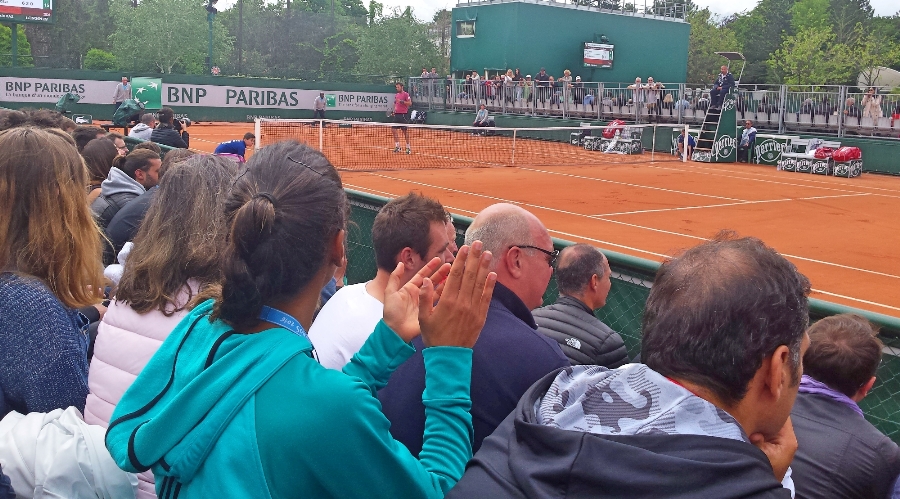 This was another amazing moment for someone like me who would have never guessed, not-so-long-ago, that such a scene could ever take place; a Turkish player battling to get into the main draw of a Major, being supported by two other Turkish players who have already guaranteed their spot in it. Are you kidding me?
Nope, this was no joke. The Turkish players went 3-for-3, which meant that the date and location of this accomplishment – May 20, 2016, Court 8, Roland Garros, Paris – were guaranteed to be etched in stone forever, in all future historiography about Turkish tennis.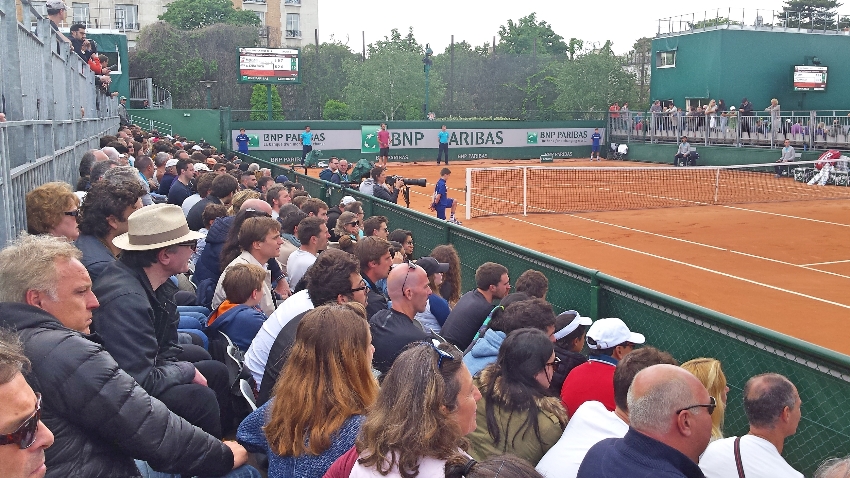 Spectators slowly left, but I stayed behind to take a few last pictures of this "soon-to-be-legendary" court to capture the last moments of the day. The maintenance crew came quickly and began watering the court to get it ready for more play the next day. Just like Buyukakcay, Soylu, and Ilhan needed some downtime to digest their success after the incredible day that Turkish tennis fans experienced thanks to them, the court on which they accomplished it also needed some recuperation.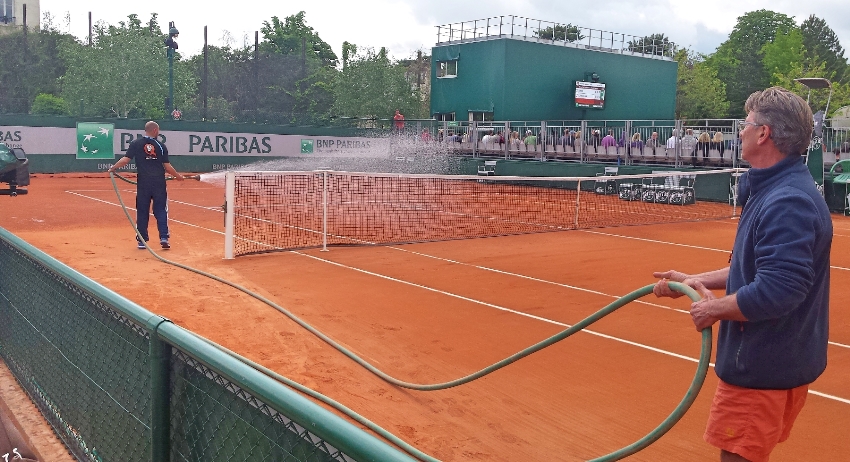 It was time to leave, but I was satisfied. What started out as a dreary day with gray skies turned into golden one in more ways than I could have imagined. I watched hours of terrific tennis, my favorite sport, and witnessed history being made in that very sport of my native nation. Thank you Cagla, thank you Ipek, thank you Marsel!