This was a tough match-up for the 27th-ranked Anastasia Pavlyuchenkova from the moment she walked on the court 3, Roland Garros, to face the 15th-ranked and 2009 French Open winner Svetlana Kuznetsova. The two Russians had previously played five times, all on hard courts. Pavlyuchenkova had only won once, and the four wins by her opponent were all comfortable, straight-set wins, except the match in Canada in 2010 (7-5 4-6 6-1). To make matters worse for Pavlyuchenkova, they were this time playing in Kuznetsova's favorite Major, on her favorite surface.
Pavlyuchenkova is, for the most part, a hard, flat hitter. She seldom uses a backhand slice, and occasionally hit effective drops shots. She usually tends to put pressure on her opponents by taking the ball on the rise, stepping inside the baseline, and using her powerful forehand to either hit winners, or force her opponent into errors. Unfortunately for her, it all plays into Kuznetsova's game plan. Sveta has a wide arsenal of shots at her disposal and thrives on scrambling in the back of the court, and getting as many balls back as possible. She can, when the opportunity arises, counterpunch and turn the rally in her favor. She can also hit flat or high topspin on both sides and change the pace efficiently with her backhand slice to take the pace off the ball. With a flick of her wrist she can hit angles at the most unexpected moments, or accelerate the ball and approach the net on whim. She has sound technique on her volleys and serve. I could comfortably say that her game is well-crafted to succeed on clay courts. Sveta usually performs well against (mostly) one-dimensional players, taking them out of their rhythm by giving them several different looks during rallies. Last but not the least, Kuznetsova is one of the smartest players on the WTA tour.
All of the above, as one would expect, worked in Kuznetsova's favor as she put on a display of high-quality tennis that left the spectators in awe, at least until her lead at 6-1 3-1. If anyone wanted to make a case about why it is important for promising juniors to develop all facets of their game early in their tennis career, this would be the emblematic match to show them.
Pavlyuchenkova did not particularly play badly during that stretch. She stuck to her guns, applying pressure whenever she could, and hitting returns early (photo below) to take charge from the beginning of the point in her return games, which is what she does best.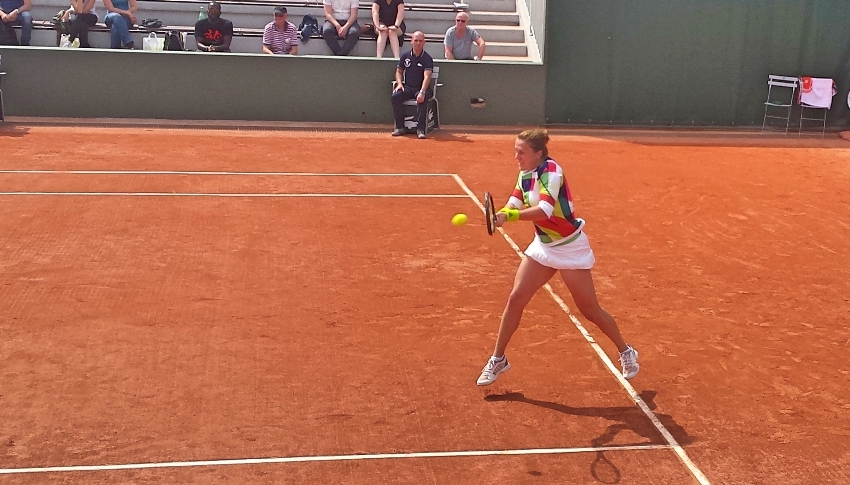 The problem was that Kuznetsova would not allow her to settle into that routine. Not only would she get those balls back, but she would dazzle the crowd, with how many weapons she possesses in her game. She finished the first game on an ace, the second game on a "sneak-in" swing volley winner when Pavlyuchenkova did not expect it, and the third game on a passing shot on the run, when Pavlyuchekova decided to attack because, up to that point, nothing else worked.
One particular point in the late stages of the first set summarized what was happening (see the sequence below). In that point, Kuznetsova remained on defense during the first part of the rally, starting with the return, then retrieving a couple of balls from deep behind the baseline. On one shot later in the rally, she found enough time to run around her backhand to hit a high, aggressive, inside-out forehand to pull Pavlyuchenkova wide on the ad side. Pavlyuchenkova, who found herself on defense for the first time in the rally (not part of her plan A), returned the ball a bit short on the court. It was the first short ball that Kuznetsova got in the rally, and unlike her opponent, it was all that she needed to put the ball away with a hard forehand to the open deuce corner.
Sveta would later say to me that she was playing "smart tennis" at that point. "I knew what I had to do and I completed it well."
Then she let her guard down. She squandered a 30-0 lead in the 3-1 game, and a 40-0 lead in the next one. Pavlycuhenkova, with renewed confidence, played a great seventh game and took the lead 4-3 for the first time in the set. Unexpectedly losing those two consecutive games with 30-0 and 40-0 leads did not help Sveta who registered a string of errors for the first time in the match. Kuznetsova admitted later that she "got tense and started to do weird things." She said the ease with which she got the 6-1 3-1 lead played a role in her let-down: "Really? I'm winning that good? And I just get a little bit nervous, I don't know, I just got a little bit confused and I started playing short points, and it's not really what I had to do against Anastasia, and then I started to get back to what I was doing [at 3-4 down]. But it was tricky you know, I had to make my plan to get back in the match, and it was a more difficult task to win then, instead of winning when I was 3-1 [up]." She added that she needed to "shut it down" in her memory when she was down 3-4 and say to herself "Look, you got to start over." She finished her point saying "I'm better on clay and I have to focus on that." She did just that, winning the next three games and the set 6-4.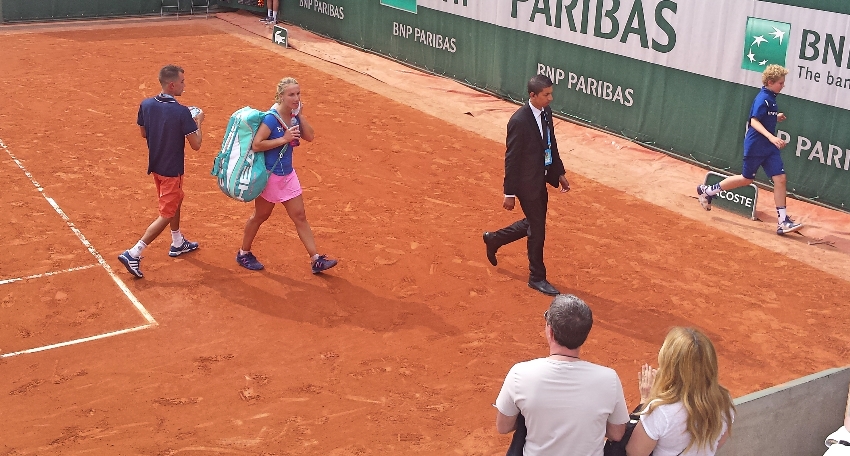 Pavlyuchenkova did have success when she attacked the net (8/10), but the problem is that she did not get to do that much as Kuznetsova kept her guessing and out of balance. One stat jumps out: as aggressive as Pavlyuchenkova plays, going often for winners, Sveta ended up hitting a dozen more winners than her (27 to 15). That is because when Sveta gets a chance to finish the point, she has already worked her opponent and set up the opening for a high-probability winner (remember the sequence above). It is an essential part of her game, to cleverly construct the point. However, not many players can do that unless they possess a variety of shot making skills. That is what sets Kuznetsova apart from most players. It is also the reason for which Sveta remains a daunting opponent on clay, especially at the French Open where she had the most of her success in Majors.
Her next opponent is the fourth seed Garbine Muguruza who also happens to base her game on powerful ground strokes. I cannot wait to see what Kuznetsova will have in store for that match.