The bottom half of the men's draw at the Australian Open has opened up after Denis Istomin's shocking upset of Novak Djokovic. On the women's side, the two favorites in the bottom half of the draw, Serena Williams and Karolina Pliskova, are still going but there are plenty of new names raising eyebrows. After three rounds, we have a clearer idea of the players' forms and physical conditions and that adds a new dimension to the discussion of how that will carry into the scoreboard. In fact, some of the matches have become question marks precisely because some in-form players, exceeding expectations. Isn't that what makes tennis fun anyway? The challenge to sort through the unknowns and to bring some sense into the complicated equation that entails what may happen when two players walk into the court, is the ultimate "fun" exercise for all tennis fans and experts alike. Having said that, let's take a look at three men's matches and one women's match from the bottom halves of the draw that will take place on Monday.
Dominic Thiem (8) – David Goffin (11)
In his last-round encounter against Benoit Paire, Thiem experienced some shoulder pain. Not knowing how that may carry over to the next match, I will leave that out of this analysis. I do know, however that Thiem's game is not at the high level that it was last year around this time. His only chance to gain some ground in this match rests on his ability to pull a Rafa-like (or Gael-like) performance, meaning scramble a lot from the baseline, put a large number of balls back in play from defensive positions, and force Goffin into taking more risks in order to earn some errors from the Belgian. Equally, he will have to play a high percentage of first serves in, because Goffin will jump on Dominic's second serve, as he did in last year's Australian Open when the two played each other in the third round (Goffin won in four sets).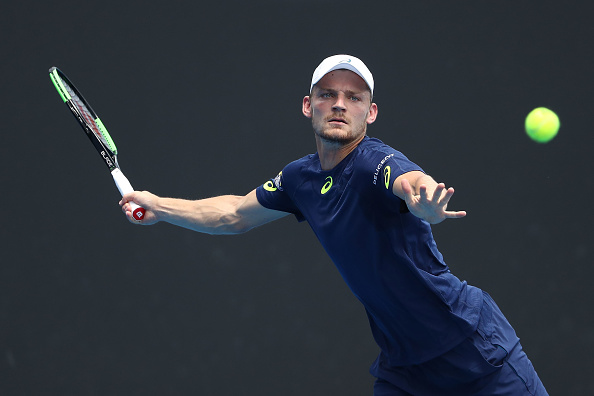 Thiem will also need to use his backhand slice in abundance. Goffin likes to take balls early in the bounce and use that speed to generate more velocity for his hard and flat, agressive shots. If Thiem keeps the balls low with his slice, that should negate some of Goffin's advantage in the rallies. On low balls, Goffin will either need to use his wrist more topspin or respond with a slice of his own which should relieve some of the pressure on Thiem. On his second serve, I expect Thiem to mix in the slice more frequently than he usually does in order to, again, keep the balls low and not allow Goffin to take charge from the first shot in the rally like he would if Thiem simply used the kick on his second serve. Neither player is, for the lack of a better term, a "head case," therefore I don't expect them to lose discipline. Thus, the score is likley to be determined by tactical adjustments that the two of them will make as the match progresses. Although he is the lower-ranked player, I see Goffin being one step ahead as they step on the court.
Gaël Monfils (6) – Rafael Nadal (9)
There is not much to say for this encounter. On any surface, in any city, and in any condition, Rafa would walk on the court as the clear favorite against the flashy Frenchman. Gaël's refusal to add an attacking – a forward – dimension to his game for over a decade, his insistence to camp out three or four meters behind the baseline and retrieve balls, and the fact that considering his existing game he will face an opponent that does everything little better than he does, infinitely limit his chances to record a win against Nadal.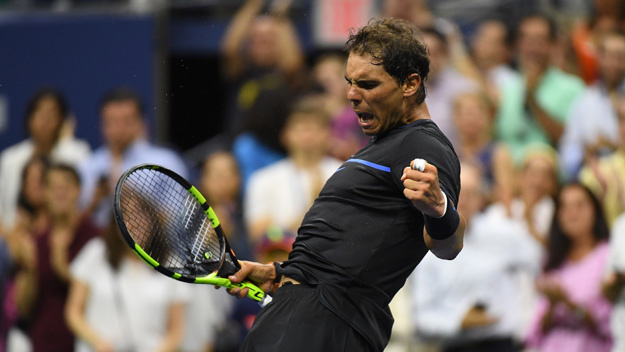 Let's push the envelope as far we can for a moment. Let's use the convenient "you never know in tennis" platitude and let's add the endurance factor remembering that Nadal played a grueling five-setter against the young Alexander Zverev two days earlier. Let's also assume for a second that Monfils overachieves from the baseline, serves a ton of aces, and steals the first set. Then, only then, he could possibly have a chance if Rafa shows signs of wear and tear. Yes, it's a reach, I know! In reality, here is what should normally happen: (1) Gaël running himself ragged from one corner to the other, hopelessly waiting for Rafa to make an error, (2) Rafa clicking on all cylinders and winning practically all the rallies that extend beyond 15 shots while his opponent dazzles the crowd with his athleticism on one or two meaningless points and (3) Gaël constantly bending down to pull his shoe tongues or to tie his laces, and breathing deeply to recover from the preceding point. Just for the sake of tennis fans, I hope Gaël can prove me wrong and at least win the first set to make it interesting.
Grigor Dimitrov (15) – Denis Istomin
Few months ago, this would have been a tough match to predict. If it were two years ago, it would have been an easy one to predict. Now, on the other hand, both players are coming into this match with confidence, playing their best tennis in a while. In his three matches, Denis stayed on the court 10 hours and 49 minutes and played 14 sets. In comparison, Grigor played only 10 sets and spent more than four hours less (6:39) on the court than Istomin. Dimitrov should have the fresher legs when they step on the court for the match.
Dimitrov's chances should greatly increase if he moves well from the start, because it will allow him to immediately start using the great variety of shots in his arsenal. If that's the case, Istomin will be covering a lot of court space early and likely struggle with endurance in the later stages of the match. Nevertheless, there are a few positives to Istomin's game in this match-up. His brand of tennis, featuring deep and flat shots that carry weight, and his remarkable ability to accelerate down-the-line shots on both sides should take Dimitrov out of his comfort zone. Unlike Gasquet, Dimitrov's previous-round victim who plays with variety and spin, Istomin will drive the balls flat and deep without giving Grigor any angles to work with.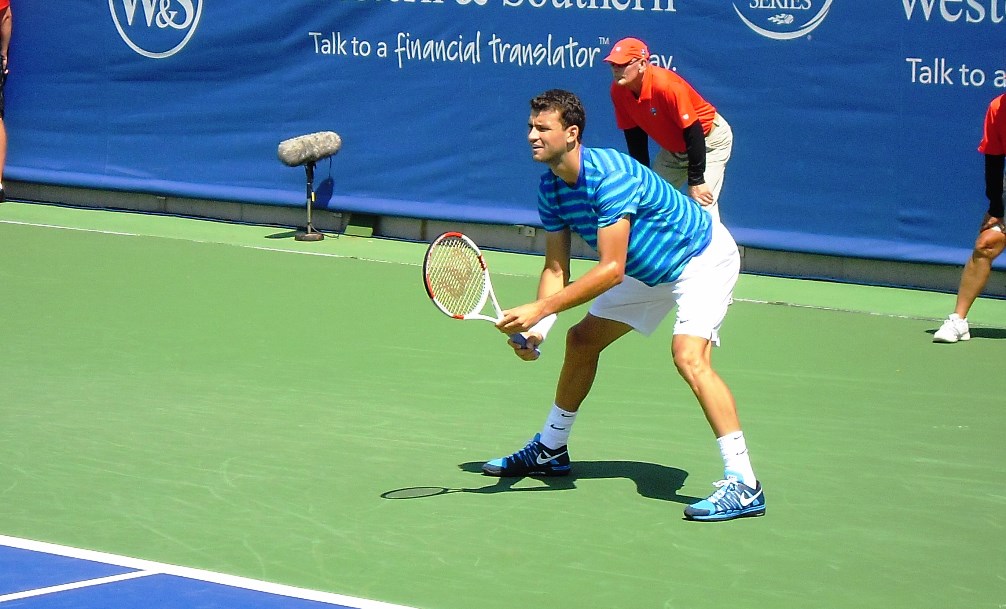 From 2014, Cincinnati
However, Dimitrov did not just beat Gasquet, he dominated him. If his level does not go down, he should still be the favorite to win this match and could go to the semifinals and further. I am also sure that, other players who are in that half of the draw, having seen Dimitrov's form of late and his drubbing of Gasquet, will wish deep down that Istomin can pull yet another upset. Istomin must absolutely win the first serve to have chance.
Johanna Konta (9) – Ekaterina Makarova (30)
I am sure many readers, especially if they had seen Konta's thrashing (there is no other word for what happened) of Caroline Wozniacki in the previous round, are giving the edge to Konta and maybe they are right. Yet, as much as some experts may now claim that Konta even has a chance to take the title, I believe that Makarova has the tools to halt the relentless Konta train. Wozniacki was stuck playing defense, scrambling to get Konta's shots back for most of the match. It should be a different pattern against Makarova. The Russian has the capacity to send Konta's high-octane balls back with the same pace and should not allow the Brit to get too many looks at shoulder-length, high-bouncing balls that she received from Caro on Thursday. Makarova's balls will stay low and deep, forcing Konta to hit balls at knee level or below, and keeping her behind the baseline more than she had to in her previous rounds. I should also mention that Makarova can make use of angles and carry her opponents off the court's outside lines. The Russian could end up controlling a number of rallies this way, putting Konta in the unfamiliar position of being pushed around. Then, there is also Makarova's lefty serve with which she is able to hit all corners, especially the wide one on the ad court that would force Konta to hit a backhand from outside the court, just to start the rally. In return, Konta can also win a bunch of free points with her powerful serve. So, first-serve percentage is likley to be a key factor in the match.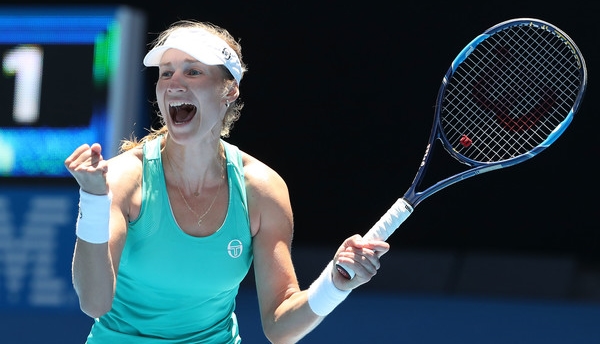 At the end of the day, I believe it will be Konta's level of play and decisions during points that will ultimately determine the outcome. Let's not forget to mention the endurance factor for both players. Makarova spent a lot of effort in taking Dominika Cibulkova out in 2 hours and 53 minutes, so it will be interesting to see how fresh her legs will feel. Konta, for her part, has played twelve matches in twenty days in three different cities, and one can't help but wonder if that will catch up to her at any given moment in Melbourne. Last but not the least, Makarova has consistently performed well at Majors. I lean toward the Russian to pull the upset in this match.
Until next time, take care everyone and enjoy the tennis.