The early-round matches at this year's Australian Open have provided more thrills than I can remember in that of any other Major in recent years. Surprises, comebacks, referee-player arguments, high-quality tennis, you name it, the first four days had it. While I try to catch my breath from all the excitement of the last four days, here comes Friday, looming large with a slew of intriguing third-round matches that promise to satisfy any tennis fan's craving for more compelling viewing. There are too many of them, so here is my look at a couple, one on the men's side, the other on the women's.
Grigor Dimitrov (3) vs Andrey Rublev (30)
Dimitrov faces high expectations, very high. Having faced two qualifiers in the first two rounds, second of which unexpectedly turned into a nail-biting five-setter, Dimitrov now must march through a string of threatening adversaries in his quest to reach the final weekend of the tournament. Rublev, the young Russian, is the first obstacle standing in his way. This could be a slugfest from the baseline, with neither player lacking firepower, especially on their forehand sides.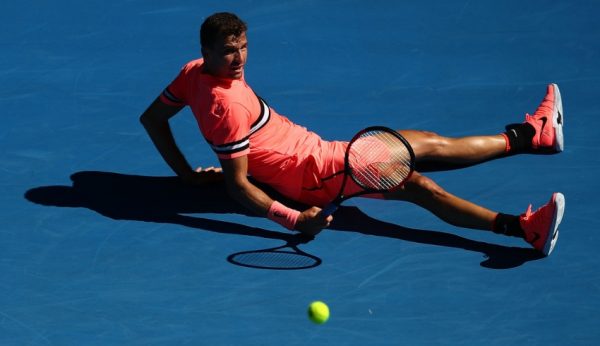 Photo: Getty – Clive Brunskill
At first glance, the signs are not good for the third-seeded Dimitrov. Rublev pulled the upset on him in their only previous encounter, in the second round of the 2017 US Open, in straight sets no less. Furthermore, Dimitrov's level of play against the qualifier MacKenzie McDonald was fragmented at best, with long sequences of error-filled games. I would not blame anyone picking Rublev for an upset, but I believe it will be a different story on Friday.
The problem for Rublev is that Dimitrov plays a similar style but with more variety in his repertoire. Yes, Rublev's forehand is a threat (although, I may be the only one in the world thinking he still has plenty of room for improvement on that wing, starting with the ability to convert some of his warp-speed swings into a flatter cuts on the ball), and yes, he can use the backhand down-the-line acceleration better than most players. Then again, he is also taking on one of the most athletic players on the ATP Tour who can use his speed to retrieve and counter-punch those attacks with interest.
Another problem for Rublev is his transition game. Does he possess the weapons to put the pressure on Dimitrov's backhand, and if he does, once he gets that short ball in the rally, will he trust his approach-and-volley skills to push the Bulgarian around? My answer: yes, to the first question, no to the second. The net is an area that still lags behind the rest of his game.
Were the above factors not valid when Rublev defeated Dimitrov at the US Open, merely 4,5 months ago? Of course, they were. It is, however, much harder to pull this kind of upset twice, against the same player, in two Majors in a row. Just ask Denis Shapovalov who lost to J0-Wifried Tsonga on Wednesday in a close five-setter after having beaten him in straight sets at the US Open. Tsonga was the first to admit that his loss in New York ultimately helped him be more prepared for yesterday's match. I believe Dimitrov will also have learned from his loss in New York. Hic chances also increase exponentially if his first serve clicks and earns him a free point or two in every serving game.
Should he prevail, he would then move on to the winner of the match between Kyrgios and Tsonga. Dear Grigor, the draw did not do you any favors, but if you want to establish yourself as an elite player on the ATP Tour, the next nine days is your golden chance!
Kaia Kanepi vs Carla Suárez Navarro
Are we surprised that in the section of the draw featuring Coco Vandeweghe and Dominika Cibulkova as the two highest seeds (there were also, Babos, Puig, and Stosur), we have two unseeded players vying for a spot in the fourth round? At first glance, maybe. Having witnessed the first four days of the tournament however, the answer is a firm "no." Furthermore, any WTA player will tell you that the often-underrated (this is a former top-20 player who has reached the quarterfinals of every Major except this one), hard-hitting Kanepi, and the crafty Suárez Navarro are two competitors that they would wish to avoid in the early rounds of any Major.
Kanepi's career, filled with substantial interruptions due to illnesses and injuries, took another positive turn as she came from the qualifying draw to reach the quarterfinals of the US Open in September. Since then, she has been accumulating a lot of wins. If she can get past Carla and reach the fourth round of the Australian Open for the first time ever, she would represent a threat to anyone in the second week. She did start particularly play well against Puig in the second round, going down an early break. She sprayed a lot of balls long, especially on returns. She eventually won five games in a row to pocket the first set, but Puig's untimely errors and double faults had as much to do with it as Kanepi raising her game. The encouraging part was her ability to raise her level in the last few games of each set. Experience helps, especially when you start poorly.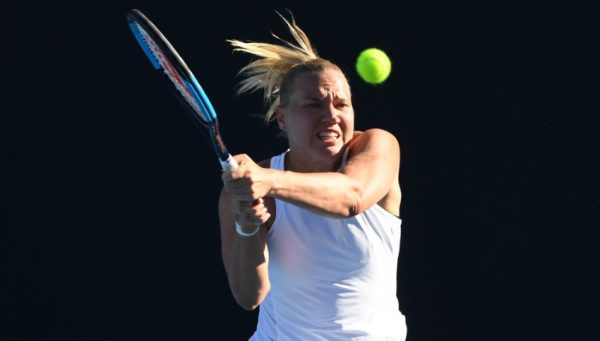 Photo: Getty – Quinn Rooney
Suárez Navarro has defeated Kanepi four times before. She has also failed four other times. But all eight matches took place in 2014 or before, thus I would call the 4-4 head-to-head record almost irrelevant to the outcome of Friday's match. The key to this match will be how efficiently the Spaniard will weather the storm of Kanepi's powerful ground strokes. On the one hand, Carla's game has the goods to derail an opponent that uses power (ex: her first two rounds at the US Open). On the other hand, she can also get derailed by power herself and quickly fade away (ex: 2015 Wimbledon loss vs a then-unknown Jelena Ostapenko).
My initial reaction is to pick Kanepi, mainly due to her recent form (and her opponent's lack of recent form). How much does that come into play now that both players have two wins under their belts? Not as much as if it were a first-round match. The big question mark remains how fast the Estonian will come out of the gates. She did just fine in that category against Cibulkova in the first round, but not so in the second round against Puig, as noted above. Carla must also keep Kaia on the move, as the Estonian can hit any spot on the court with alarming power if she gets her feet set. In any case, I am looking for Kanepi to complete her round-up of at least a quarterfinal appearance in each of the four Majors. A win on Friday here would take her within one match of accomplishing that.