Roger Federer (2) vs. Marin Cilic (6)
At this point in the Roger Federer – Marin Cilic rivalry, their 2014 US Open encounter, in which the Croat crushed the Swiss in straight sets, looks more and more like a colossal exception to the norm. It remains to this day Marin's only victory over his rival. In return, Roger has defeated him eight other times, with the only "close call" having taken place at the Wimbledon 2016 quarterfinals (Federer came back from two sets down and saved three match points in the third). Roger played average tennis for most of that particular match and, by his own admission much later, did not prepare adequately for the tournament due to an arthroscopic surgery that required substantial time-off earlier in the spring. This Sunday, I strongly doubt he will play average tennis on Centre Court.
There are several reasons for which Federer dominates Cilic. I will not list all of them here because most are obvious to every enthusiastic tennis fan. The one that makes the biggest difference, in my opinion, is the fact that Cilic's first step on returns and change of directions lacks the explosiveness needed to position his upper body for his shot, without which he cannot generate enough power on his groundstrokes.
Cilic's upper-body rotation on the forehand and his ability to lean into the ball on his two-handed backhand are two essential elements required to produce his best tennis which mainly consists of overpowering the opponent. It is a complete change of equation when Cilic has to stretch for his shots and reach with his upper body to make contact.
Photo: Scott Barnour – Getty
I believe most readers will agree with me when I say that Federer is one of the best in the history of our sport when it comes to exploiting the glaring weaknesses of his adversaries. It should be no different on Sunday. Federer will look to vary his serves – some into the body, many out wide, some flat ones to the "T" – with the goal of exploiting Marin's lack of speed on his first-step. He will use his serves to force the Croat to either get out of the way quickly on a serve that is curving into his body, or lunge wide to reach a sliding serve to the outside on the deuce side, or retrieve a flat serve bouncing on the "T."
The only way this advantage in favor of Federer gets negated is if he struggles with his first serve and begins to depend on second ones. I do not, obviously, mean to knock down Federer's second serve since it is one of the best in the Open Era, probably right behind Pete Sampras' second serve. I intend simply to emphasize the fact that a bad first-serve day by Roger will not allow him to take advantage of an edge that he would otherwise have against Marin.
That still does not solve Cilic's potential problems during baseline rallies. Federer is a master of creating angles and not relinquishing the upper-hand in the rally once it turns in his favor. He can keep his opponent on the run until he puts it away with a winner at the net or from the baseline, or until his opponent makes an error on a low-percentage winner attempt from a difficult position under pressure. He can also accelerate the ball to the same corner from which the opponent is recovering, putting him on his backfoot. Did that ring a bell? See two paragraphs above if it did not.
For his part, – and this will sound like a repeat of my semifinal preview – Cilic needs to focus on his strengths and not contemplate too much on aspects that he cannot control. He was able to do it against Kyle Edmund, another player with a big forehand and first serve, and raise the rest of his game as a consequence. Can he not do the same on Sunday? So what if his opponent serves well? So what if the opponent out-rallies him? Can he still not stay toe-to-toe with his oppponent if he serves at a high first-serve percentage and adds in a healthy number of aces? Can he not successfully put to use his solid 1-2 punch skills as a follow-up to those serves? Sure, he can. In that scenario, he would probably need to take the set to a tiebreaker and steal it, but yes, it is possible. But now change the word "opponent," used thrice earlier in this paragraph, to "Federer." All of a sudden, Cilic's task seems a lot more difficult than it did against Edmund.
Defeating an in-form Federer is an imposing mountain to climb for any player. It is a challenge that very few players have been able to overcome, and that, only a handful of times. Cilic is not one of those players. I do not expect that to change on Sunday. His first serve and 1-2 punch – assuming the first serve clicks – may earn him a set, and then he would need help from Roger (or something…).
Otherwise, look for an extremely jovial Federer to break a new record, his own, for the number of Majors won, as well as the record for the "duration-of-post-match-interviews" statistic, also his own, set earlier this week (I gather).
Enjoy the match!
Note: Click here to follow MT-Desk on Twitter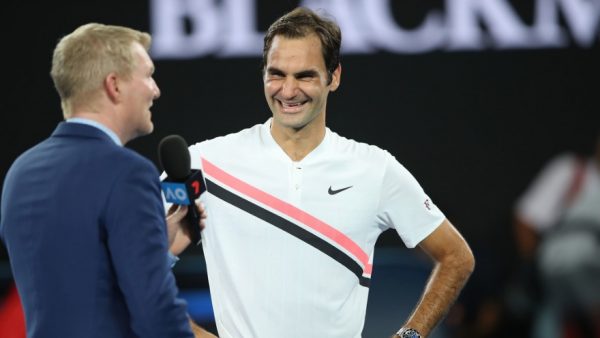 Photo: Mark Kolbe – Getty