It has been a fantastic ride so far in the first Major of the year, and the four match-ups in the semifinals of the two singles' draws should delight any tennis fan. You have again a healthy mix of favorites still marching on, newcomers on the rise, and established players chasing their first Major title. Could anyone have guessed correctly the eight names still in the draw? I doubt it, but if someone did, my hats off to them.
Speaking of guessing, I have been wrong several times this week. As those of you who regularly follow my posts already know, when I write these previews, I attempt to forecast what may happen in the match, strictly tennis-wise, based on past observations. Any player or coach will tell you that the strange and unexpected take place regularly in the arena of competitive tennis. For example, in my last preview, I gave the reasons why I felt that Marin Cilic's chances were very slim against Rafael Nadal. I also explained specifically my take on what Cilic would need to do in order to pull the improbable upset win. I maintained that it was highly unlikely that he could put all that together.
Guess what? He did.
Yes, Rafa's injury sealed the match in the fifth set, but Cilic deserves full credit for doing what was necessary to put himself in a position to win. Although I turned out right in the ins-and-outs of how he could do it, I was wrong in thinking that he ultimately could not. And turning out wrong on the final score is nothing new for me, ha! People who know me can tell you that I am terrible at predicting scores. They can also tell you that I have had zero interest in betting. I don't even know what those numbers mean when I see the occasional tweet or article about odds. So, if there are any obsessed gamblers reading my posts hoping to gain insight, you have been warned !!
Let's now get to two** semifinal matches scheduled for Thursday. Keep in mind that, I write all this under the assumption that players will not suffer from injuries or sickness during the match, or retire.
**Time constraints unfortunately do not allow me to preview all three singles' matches, so I had to pick two.
Simona Halep (1) vs Angelique Kerber (21)
Let me provide a quick check list:
– Two players, one officially ranked number one in the WTA, the other motivated to get there and certainly playing like one.
– Evenly matched encounter, with Kerber leading 5-4 the head-to-head tally. Both undefeated in 2018, each with a record of 10-0.
– Both playing five-star tennis in the quarterfinals, winning routinely against opponents to whom most in the WTA field lose routinely.
– Now scheduled to play each other in the semis of a Major with the number-one-ranking implications.
I ask you, what more could you want as a tennis fan? I have an idea. You would want to clear out your schedule, make sure you have an ample of supply of popcorn, your favorite beverage, and a quality screen on which to watch it unless you are in Melbourne holding a ticket to see it live.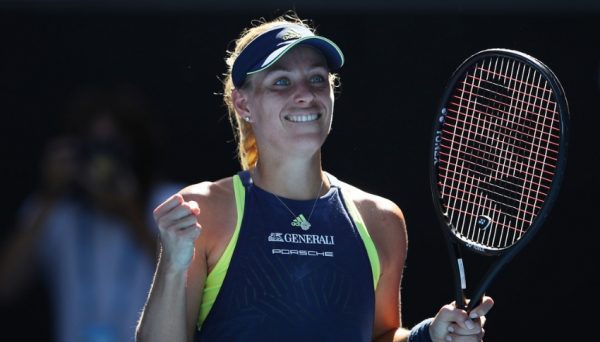 Photo: Mark Kolbe – Getty
This match promises a lot precisely because it is almost impossible to predict. Kerber and Halep are two of the best baseliners in our game for many reasons. They move exceptionally well and possess fine counterpunching skills from difficult positions. Plus, there is not a particular baseline pattern in which they show a visible weakness. You hit a sharp cross-court, they can run it down, respond with a wicked angle, and put you on your backfoot. You accelerate down-the-line, they can take advantage of the open cross-court or send it back in the same direction. You hit the ball hard and deep to the baseline in hopes of putting them off-balance, they can bend their knees, to the point of touching the ground, and use their wrist-control to strike back with a half-volley, thus take back the control of the rally.
So, can either of them break the other down from the baseline? I do not have the answer to this question. That is mainly the reason for which I find this match fascinating. The outcome will hinge more on factors such as mental toughness, problem-solving, on-court IQ, conditioning, experience, and the will to win. As I compare and contrast the two players with those factors, I find myself repeating sentences like "Simona excels in X, but so does Angie," or "Angie is the best at doing Y, except for Simona," or even "I remember the match where [one] mounted an incredible comeback, but wait, there is also that other match where [the other] fought through adversity."
Do you see where I am going with all this? Maybe the right answer is nowhere, and I am happy with that. Because, that is the type of puzzle that produces the highest quality in tennis, one in which the two players push each other to their level to new heights as the match progresses to a thrilling climax.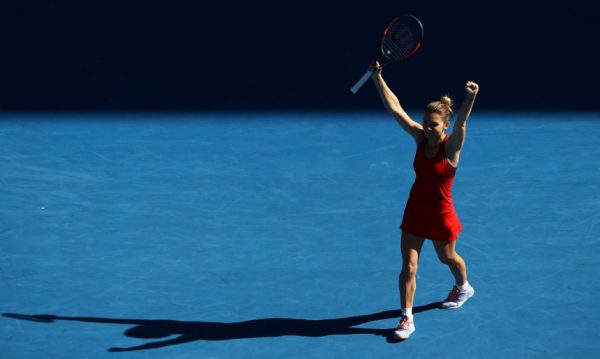 Photo: Cameron Spencer – Getty
I can almost hear some readers reminding me that Kerber has already won two Majors compared to zero for Halep, and thus she has shown the ability to cross that barrier, giving her the edge over her opponent. It is a fair argument, but then, could we argue that Simona's lack of Major titles adds to her desire to win, because she the stakes are higher for her than for Angie? But wait, hasn't that been the case for Simona since she reached the finals of Roland Garros in 2014 and lost to Maria Sharapova? So that could make Simona tight when the match is on the line… or something… !
…………………….. !!
Yes, it is all beginning to sound silly. I am stopping right here before I get a headache and setting my priorities straight. I must clear out my schedule, get my popcorn and beverage. Thank heavens, I already have a quality screen. Phew!
Marin Cilic (6) vs Kyle Edmund
My Tuesday preview involving Edmund's match against Grigor Dimitrov had a certain pattern that did not age well. Firstly, I talked about Edmund's qualities and emphasized his good form of late. Secondly, I admitted that I should have learned my lesson about picking against him (I favored Kevin Anderson to eliminate him in the first round, same with Andreas Seppi in the fourth), only to finish by saying that, although he had already proved me wrong twice, I still cannot favor him against Dimitrov. I even finished with the following ironic quote: "Edmund will simply have to teach me the same lesson again."
Well, he did teach me a lesson, again. And I promise, I learned my lesson this time.
I do not care that he will be an underdog against Cilic. He made a believer out of me by now, as he did with many others around the world. I will, however, add that the reason for which I believe Edmund can yet pull another upset does not solely originate from some silly fear that I may repeat the same mistake four times. It is also because Edmund possesses the bits and pieces necessary to beat Cilic.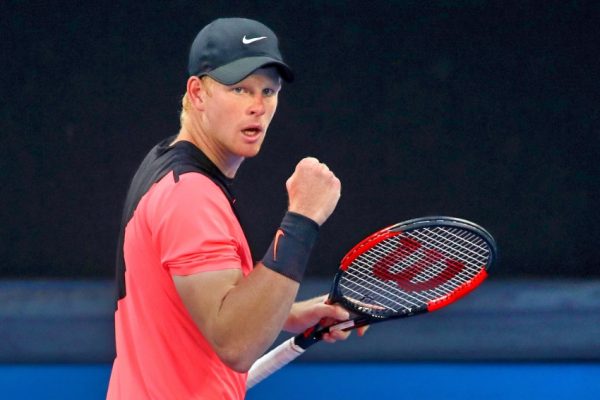 Photo: Clive Brunskill – Getty
I have written about Edmund's ability to produce an abundant number of winners in my preview of his quarterfinal match vs Grigor Dimitrov. As of today, he leads all players in the Australian Open this year in the forehand-winner category with 127 of them. Both against Seppi in the fourth round and Dimitrov on Tuesday, Edmund repeatedly nailed winners from that side that left his opponents bewildered. He also added a bunch of aces and unreturnable first serves for good measure.
I cannot underline enough the fact that he was able to maintain his level and produce those winners against two different type of players. On the one hand, Seppi hits the ball with pace and rather flat, giving little time to his opponents to prepare for the next stroke. Dimitrov, on the other hand, can hit a high-bouncing spin, as well as a sizzling slice that will stay very low. This shows Edmund's ability to impose his game to a variety of players. Does that group include Cilic? I believe so.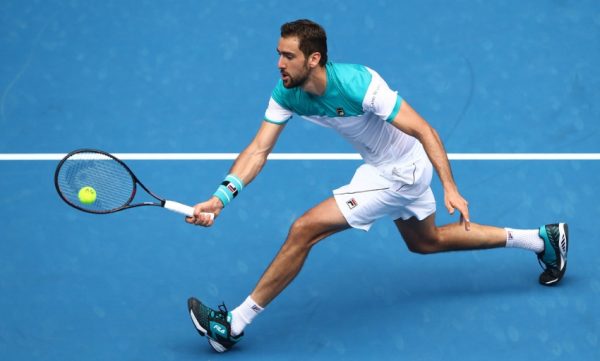 Photo: Cameron Spencer – Getty
The big Croate loves to make contact with the ball high, preferably around the chest and shoulder level. This is why he was able to take some of Rafael Nadal's balls on the rise and drive them back deep into the Spaniard's baseline territory. Cilic struggles a bit more on lower balls, and on those where he has to reach wide to hit. In other words, if you face Marin, do not let him get set and lean into the ball with his upper body, because that is when he can generate some heavy, warp-speed shots. Edmund, for his part, is equipped to deal with that, because he is not a heavy topspin hitter by nature anyway.
In fact, when Edmund performs at his best, he often takes the initiative with crisp forehand accelerations, and occasionally, with flat down-the-line backhands. In doing so, he makes the ball glide through the court without losing much velocity. Furthermore, the ball stays low on the bounce. Seppi and Dimitrov, his last two victims, could handle those balls when they could get to them (except that they often could not). Cilic, in contrast, should struggle with those even if he does get to them, because he will need to reach to strike an off-balance shot from below-the-hip level. That should not allow him to load his body into the shot like he prefers to do.
So, Edmund fans, I apologize ahead of time, but not because I think your man is going to lose. On the contrary, I think he will once again get it done. I am apologizing ahead of time, for picking him to win, because of my dreadful past track record 🙂
Stay well and enjoy the tennis !