One often hears the likes of Billie Jean King, and other proponents of equal pay, make the argument that the product that the WTA puts out is just as interesting as that of the ATP, or that fans are just as interested in seeing the women play as they are in seeing the men. The evidence however, as the below example will show, points yet again to the contrary. While the argument of equal pay has its merits and is beyond the scope of this article's main point, it is time for those making the argument to use accurate statements when presenting their case, instead of throwing faulty assumptions and relying on platitudes. Once again, during Friday evening in the Western & Southern Open in Cincinnati, there was visual proof that the ATP product clearly fills more seats than that of the WTA. The tournament had two elite matches scheduled at the same time. Roger Federer squared off against Andy Murray on Center Court at 7:00 PM at the same time as Maria Sharapova took on Simona Halep on the Grandstand Court.
The comparison is fair: Federer and Murray are the two faces of the "Big Four," two of the most recognizable faces in men's tennis. Sharapova and Halep are equally recognizable in women's tennis, especially since their fantastic and recent French Open final. Federer is ranked number 3 and Murray is ranked number 9 in the ATP; Halep is ranked 2 and Sharapova is ranked number 6 in the WTA. Federer and Sharapova are two of the most famous athletes in sports, certainly the most marketable ones in men's and women's tennis – and that is a fact; Forbes lists the two celebrities as the highest paid tennis players thanks to endorsements.
The following two pictures were taken about 10 minutes apart. In order to make it fair, they were both taken at the same score line. Here is the Center Court (max. capacity 11,425) at the beginning of the second set after Federer won the first set 6-3: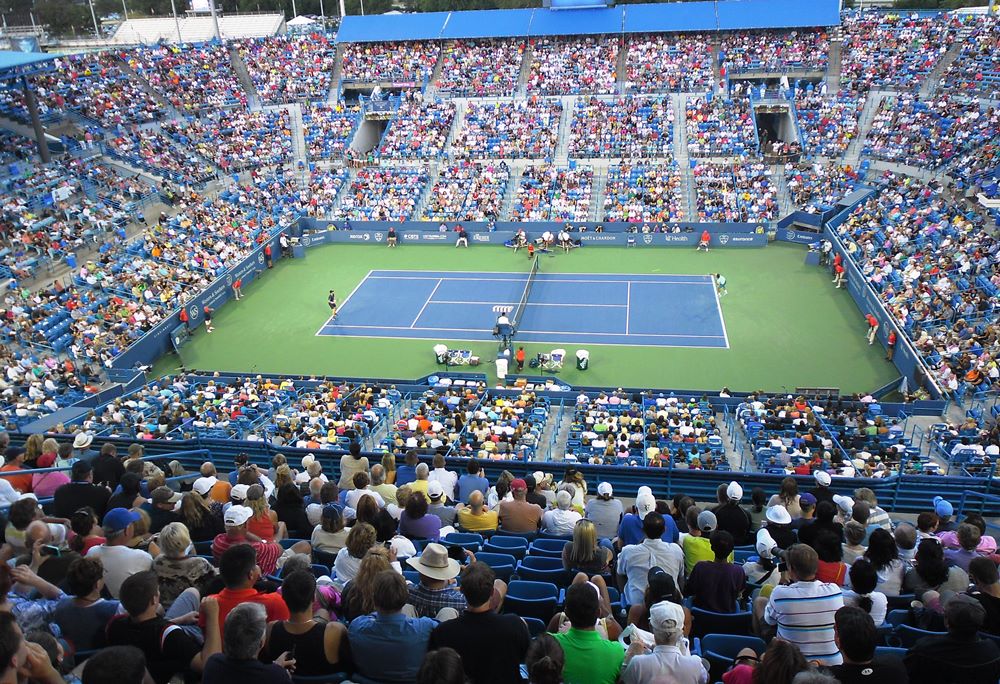 Now here is the Grandstand Court (max. capacity 5,000) at the beginning of the second set, after Halep won the first set 6-3: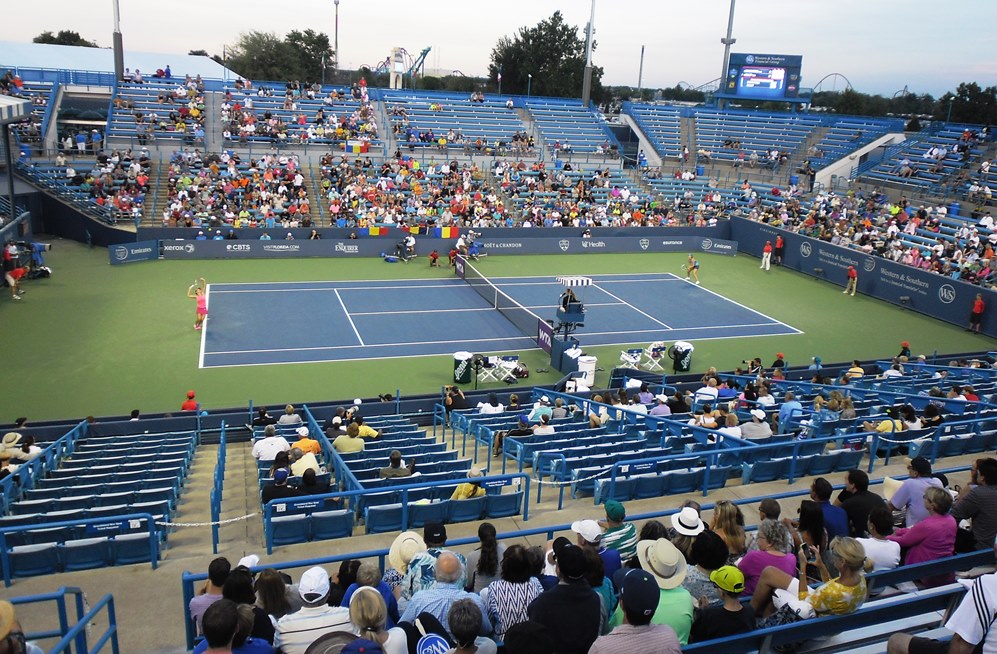 Keep in mind that the Center Court has more than twice the capacity of the Grandstand (11,425 to 5,000). There is no doubt that tennis fans preferred to watch the men rather than the women in this case. This is not to say that women's tennis does not generate interest. In fact, as soon as the Federer vs. Murray match was over, those fans on Center Court migrated quickly over to the Grandstand, packing the seats to watch Sharapova beat Halep in a thrilling three-set victory. Yet, when given similar choices, they prefer to watch men's tennis over women's tennis at the elite level.