Prior to Roland Garros, I had watched Sofya Zhuk play only one time in 2013 (in a junior tournament in Switzerland) but it was enough to impress me. Since then, I tried to follow her scores as much as I could and watched her results consistently improve as time went by. When I knew that the fifteen-year-old Russian was going to be a part of the junior tournament in Roland Garros, I made it one of my first goals to set up an interview with her, in order to introduce her to my readers and to other tennis fans outside of Russia, and Belgium where she practices at the Justine Henin Academy. The interview below took place on June 1st, at Roland Garros, following Zhuk's first-round win over Australia's Naikhta Bains 7-5 6-3.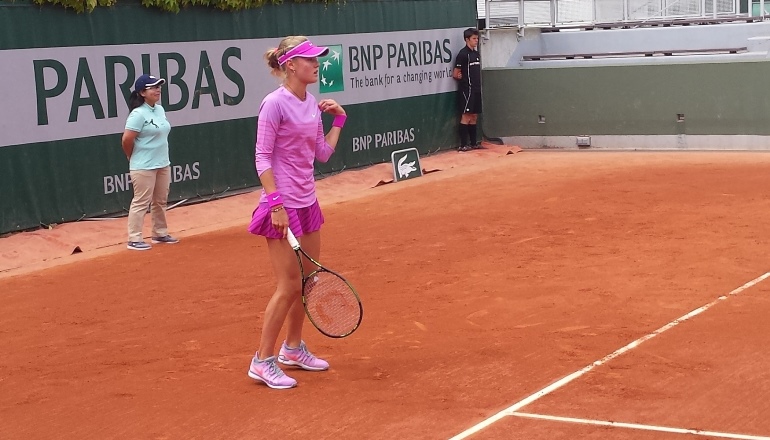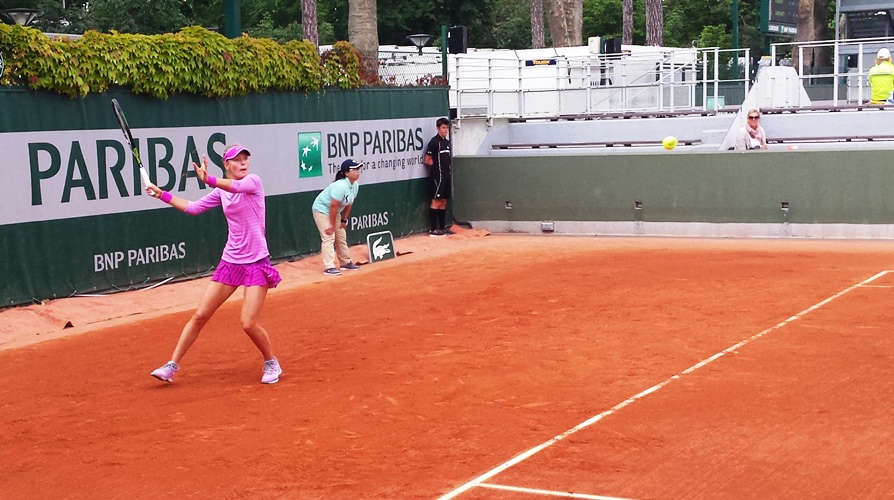 I can comfortably say that chatting with Sofya was a treat. She is a delightful girl with a good sense of humor, and carried a genuine smile throughout the interview, attentively listening to every question so that she could answer as best as she could, despite the language barrier. She also showed great mental maturity on the court in the way she handled different ebbs and flows of the first set at different stages, always keeping a positive body language. Unfortunately, I could only watch the first set of her win over Bains. However, I went on to watch the full match when she took on the American CiCi Bellis in one of the most thrilling matches that I have seen throughout the two weeks in Paris. For those interested, I posted my full tactical analysis of that match later that day on MT Desk, with pictures and clips.
Although I expected that Sofya would successfully introduce herself anyway to the tennis world sooner or later, I did not predict that it would be no more than six weeks later at Wimbledon, when she went on an amazing run of six consecutive wins as an unseeded player to lift the Wimbledon girls' trophy on Saturday on Court 1.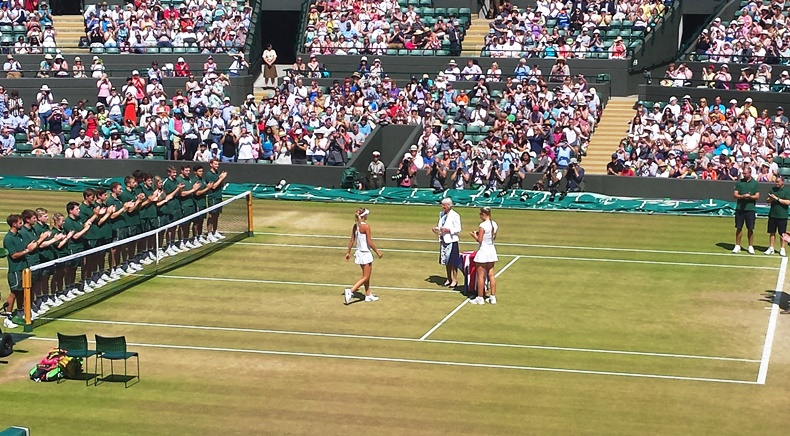 So without further delay, here is the one-on-one with Sofya Zhuk at Roland Garros.
Sofya, let's start with this match. The end of the first set got complicated when you were leading 5-3 and Bains saved couple of set points to come back to 5-5. At that point, you remained composed and positive. You did not lose your temper at all. How were you able to stay focused and not get disappointed?
Sofya Zhuk: I have improved my mental game a lot. At 5-3, I lost focus. From 5-3 to 5-5, in those two games, I began to realize that. Then, I tried to scream "Come on!" to myself when I win points because that helps me a lot. I also realized that I needed to serve well to take the advantage from the beginning of the point. Then I took control again. In the second set, it was easier because I stayed focused every game.
(Side note: I would imagine that Sofya averages around twenty "Come on" yells per match, and that is a very rough estimate!)
I apologize I didn't see the second set since I had to unfortunately leave to go elsewhere.
Sofya (interrupts, laughs loud and adds): Yeah, but the second set was more interesting (more laughter).
I have to admit I also needed to go see a little bit of the Federer vs Monfils match (she says "Oh," laughs again and I feel like she is implying "How dare you?" More laughter ensues.)
Ok, let's move on to your practice schedule. Could you elaborate on that? How many hours a day do you practice? How is your off-court training? How do you practice during tournaments, for example now? Could you give some details on those?
Sofya: Pretty simple really. I practice in Belgium usually. Around three hours a day. I do it in two sessions, 1 hour 30 minutes or 1 hour 15 minutes first, and the rest in the second session. One is usually from the basket a bit slower, the other one with a sparring partner. Fitness is usually one hour with a bit more intensity and thirty minutes just for the shoulders or other things, it depends.
Any days off?
Sofya: Yes, of course. On Saturdays, I practice sometimes and sometimes I am off. On Sundays, I am off. During the tournaments, if we have a sometime before the match, I practice 30 minutes easy. After the match, usually I am not practicing after matches, but here I have doubles anyway so I don't need to practice.
If you have to go let me know.
Sofya: No, no, it's fine. It's three or four hours later (smiles).
What is the next immediate big goal for your game? In other words, what specific shot, pattern or tactic are you working on right now that you would like to have settled in your game by the end of the summer for example?
Sofya: Actually I don't have a specific goal like this. I am improving my game, my movement. I am trying to improve everything.
I don't know if this is something that you work on, but in your match, there were several points in which you made your opponent run and put her on the stretch. At that moment, you took a few steps in, but then you would change your mind and back up to the baseline. Is that a barrier, going forward, for you mentally?
Sofya: No, it's not that. For example, I hit a ball and I understand that she is on the run. I see that she will have a good hitting zone, so I decide it's not a good point to go forward. Because then, she will hit a winner or pass me. So I go back and try to make her move out of the court even more, and after that, I go to the net.
If she is really stretched and you feel like a high floater is coming?
Sofya: Yeah, something like this or just… (pauses, then smiles, and continues)… I am never actually going to the net just if I hit the ball and running to the net. Not logical (laughs again)
How many people are in your team? I mean the immediate people that surround you.
Sofya: It's just my mom and my coach. They travel to every tournament with me. I think my mom understands tennis better than my coach (tongue-in-cheek laughter).
So you are not the first one to start playing tennis in your family?
Sofya: My brother started playing tennis, but then he had a problem with the knee because he grew up too fast. Then, he only kept practicing a little bit. He started tennis a bit late, when he was 9. He never started playing professional tournaments. He decided to go to university and he finished it. he is working now.
You had an injury earlier this year. Is that ok now?
Sofya: Hmmmm, not so much an injury, but it was like.. I just had to rest to get ready for the tournament. It was a bit of a pain here (points to the hip and leg area), so I just stopped and took a bit of time off, in order not to make it worst.
Perfect, thank you for taking the time Sofya.
Sofya: Thank you too.
________________
On Saturday, following her victory over Anna Blinkova of Russia – to whom Sofya has lost four times in the last two years – in the finals of Wimbledon, Zhuk said in the post-match press conference that she loved playing on Court 1 in front of numerous fans: "I love to play on this court. It was the first time I played when so much people are watching me. But I really had a pleasure to make that. I'm just in love when it's so much people, everyone is supporting me, they're clapping their hands when there's a good point."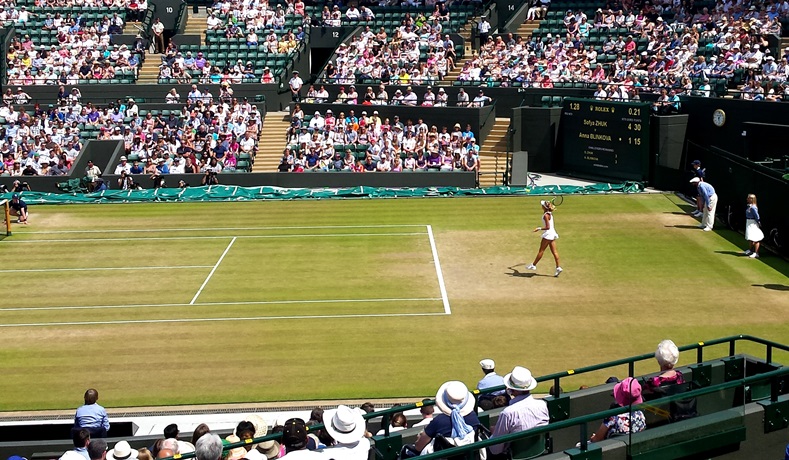 Sofya also said that she follows the same schedule in practice as the one she followed up to the French Open (see above my interview) and added that she was "really focused on each game, each match," and added: "Here I controlled myself and I controlled each ball from first ball to the end."