Denis Istomin, the 103rd-ranked player from Uzbekistan (highest: 33 in 2012), defeated the 20th-seed Kevin Anderson 4-6 6-7(13) 6-4 7-6(2) 6-3 in the first round of Wimbledon. It was a thrilling come back by a player who has gone through his own trials and tribulations throughout his career. He has had to deal with numerous injuries and was severely injured in a car accident on his way to a junior tournament when he was 14 years old, one that resulted in a broken leg and required 80 stitches and a three-and-a-half-month-long stay in a hospital for recovery.
He is also coached by his mother – considered an "unusual arrangement" in a world dominated by male coaches – who got him back on the court two years after his accident. I thought it would be a good idea to give this background information before showing the interview below, because I did not want Denis to have to talk about these topics again. I am sure he has had to answer hundreds of question about them, although, as you will notice, he seems "pretty cool" about it.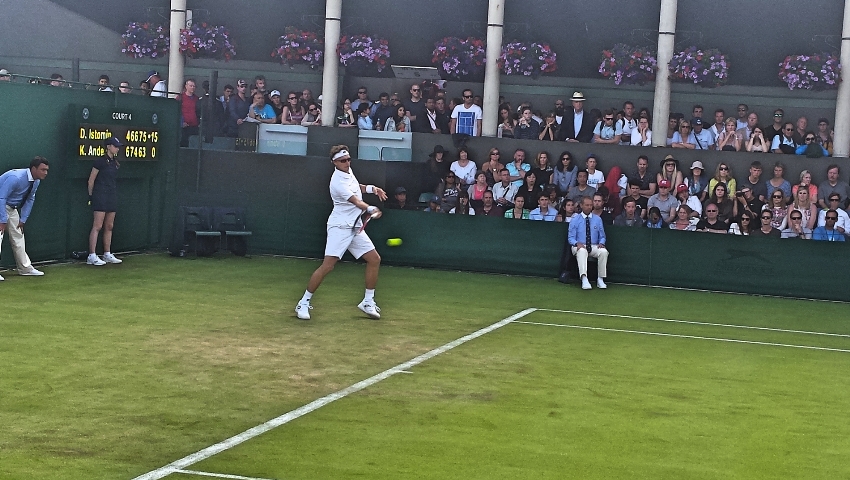 Below is my chat with the soft-spoken, polite 29-year-old Istomin, following his thrilling win vs Anderson. He will face Nicolas Almagro in the second round.
You had 7 set points, yet you lost the 2nd set 15-13 in the tiebreaker to go down two sets to nothing. You were up 6-3 and the first three set points in a row, and the point at 6-4 was the longest rally of the match. Yet, you still managed to come back and win in 5 sets. I am curious, how quickly did you recover mentally after that second-set tiebreaker?
From 6-3 to 6-6 in the tiebreaker, I think he had a good serve. Then, yes, the next point was a Iong rally and I missed the down-the-line backhand a bit long. Then at 6-5, after this kind of point, you know, it's tough to serve well because you are still tired from the last point. He also hit a good, aggressive return and got back to 6-6. After that, he served unbelievable the rest of the tiebreaker, I had no chances to put the set away although it was a long tiebreaker. When I lost that and went down 2-0 in sets, I took the points one by one, and hoped that I can make a break somewhere. I got lucky but I managed to get a break in the third set. But it changed the game completely. I started to play better, more aggressive, with the momentum. It continued and I played very well in the fourth set tiebreaker. I also think he got tired after the fourth set as well. I could see that and I just waited for my chance to break again.
I thought for a little while that he was getting tired toward the end of the second set, but he played another three sets after that.
Well, it's a three-out-of-five-set match anyway, but he is good on this surface and he served very, very well. But I had more chances to break later for sure. For example, in the first two sets, I had maybe two or three break points, but then I started to return well and I had more and more chances. Third set, I also changed my tactic a little bit. I began hitting drop shots to make him run a little bit, maybe that had an effect on him as well.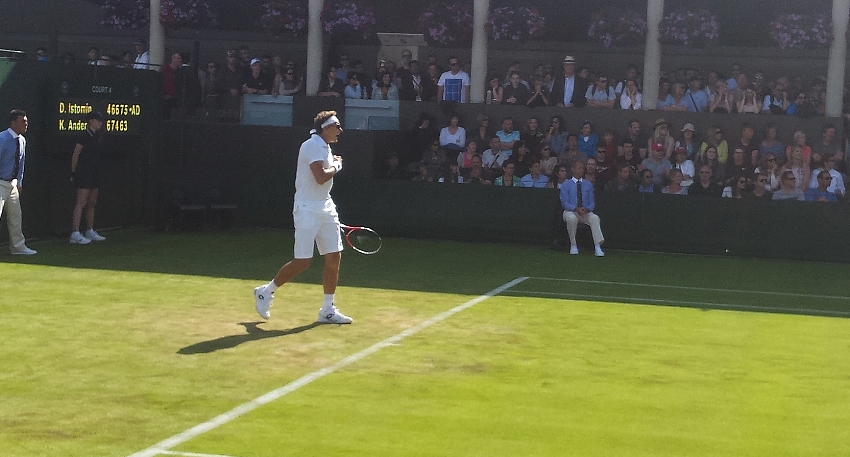 Your peers and coaches who know you seem to admire your work ethic. Is that important to you or does it make you proud?
[smiles] Well, I mean.. I just do my job. I try to do it the best I can. It's my life, that's my charisma and character I would say. I try to do my best and work in the best way I can. After my car accident, I had some trouble with my body, you know, a lot of problems with my body. A lot of injuries. Every season, I had something. I try to not think about it and just work.
You have been playing Majors for a long time and have done your best at Wimbledon and US Open, reaching 4th round in both. You have had a tough season so far too. Are you perhaps looking at this Wimbledon and think that it may be a good opportunity for you to recover and find your best game again?
I have a terrible season this year…
[I interrupt briefly, smiling] I did not want to use the word "terrible" in the question…
[Laughs] No, no, it was terrible, terrible… Let's be honest, it's been a terrible season. I lost a lot of matches. I had crazy injuries and illnesses, losses came one after another. But ok… It happened. You are human and these things happen. You just have to work around it and it's going to be better. I just try to keep playing, you know? This kind of match can change a season as well, so I am looking forward to playing better and better.
Does Wimbledon hold a special place for you compared to the other three Majors?
The grass, in general, is my favorite surface. And of course, Wimbledon has a nice atmosphere and I really like it here. All Slams are strong you know, and you have to be at 100%. Finally, I am at 100%.. I hope [chuckles]. In Paris, against Juan Monaco, I strained my ankle after five games [Monaco won in four sets], but in the end I finished a five-set match today so it looks good.
What is one question that you wished you never heard again in your interviews and press conferences?
[smiles] I am not really like this, questions don't really bother me too much. If someone wants to know what happened somewhere or if I slept well, I mean, that is a question too. They [media] are doing their jobs as well so, for me, it's ok. If you ask me hundred times, like everybody did to me before, "how's working with your mom?" every time I like to answer and say "I'm doing really great."
Thank you for taking the time.
Thank you, I appreciate it.
(Edit: Click here to read my next chat with Istomin three days later, after 2nd-round win.)
Click here to follow MT-Desk on Twitter for frequent, live updates from the grounds.