Side note: I named this "Part 2" because I previously interviewed Denis Istomin after his 5-set, first-round upset win over the 20th-seeded Kevin Anderson on Monday. I would highly recommend that you read that interview first in case you missed it (especially for background information on Istomin), by clicking here before you move on to read this one.
Yesterday, Istomin defeated Nicolas Almagro 6-4 7-6 6-2 to reach the third round at Wimbledon.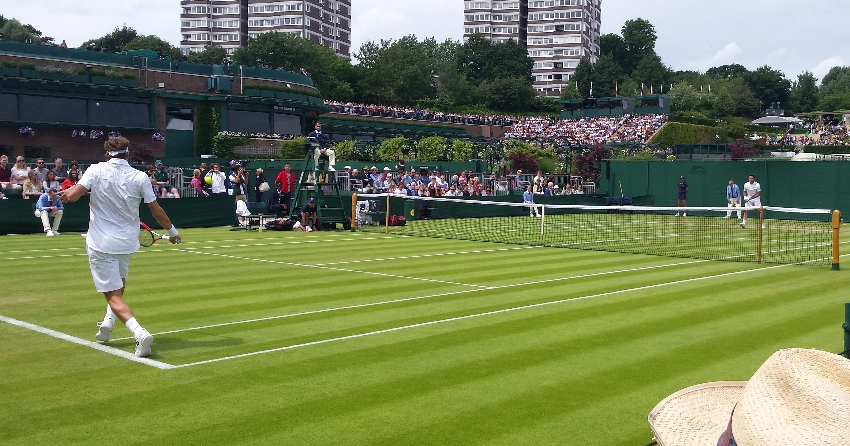 He was nice enough to take the time and talk to me about his pre-match preparation and the details of his win against the former top-10 player from Spain. Here is what he had to say.
Congratulations Denis!
Thank you very much.
You played a big hitter today. Almagro hits big from the baseline, big first serve, and has a game founded on power. Going into the match, did you want to keep the points long in the beginning and force him into mistakes early in the match, or did you perhaps plan to start aggressively yourself in order not to allow him to settle into his game?
I wanted to keep him hitting the ball. He has the kind of game where he wants to hit as hard as he can and it's tough to play like that all the time. If you get four or five balls back, he wants to go even for more. He could start missing, so I tried to play in that way today. But at the same time, I was serving well, so I decided to be aggressive if I get a chance. I mean, I have a good record against him [6-0 now] so that also worked for me. But today, the first two sets were really tough. I was lucky that I broke him back at 5-6 in the second and won the tiebreaker. In the third set, his game went down, it was 3-0 in like five minutes.
You seemed to accelerate your forehand down-the-line a lot this match. Was that a particular part of your game plan? You usually like to hit out your forehand when you are on the run but it seemed that you paid particular attention to attempting down-the-line winners with your forehand.
Yes, but that is the style of game anyway. I feel I can hit down-the-line very good on the forehand and backhand. Many players know that I can be dangerous on the forehand. I knew that if I run so far out of the court, I will not have time to come back, so I hit my forehand full power. If not, I have to run to the other side and it's a problem. I mean, I am not a short guy who can run fast, I need to protect the part of the court that I can cover. I don't need to be playing a style where I run and cover the court like… I don't know… like Djokovic or someone.
In the first set, you won your only break point, and the set at 5-4 up, with an excellent running passing shot.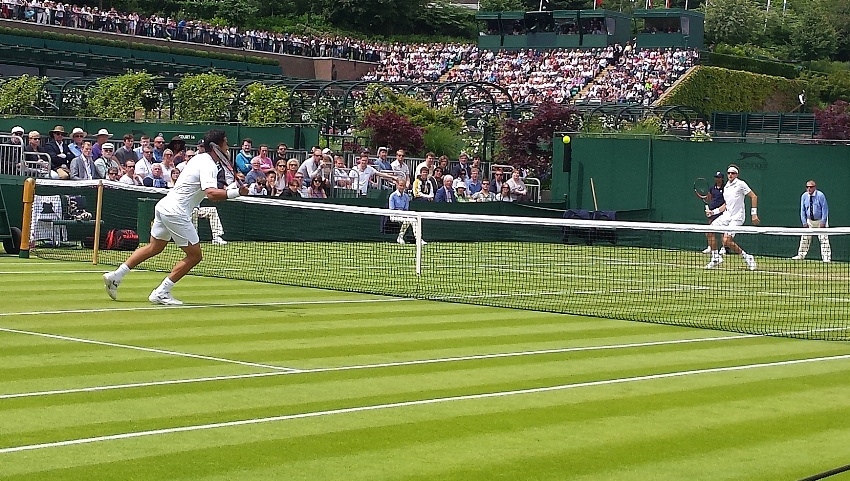 But the second set was more complicated. You had break points at 4-3, didn't break, then you led 0-30 at 5-4 up, did not put it away. Then, you lost your serve at 5-6 but you were able to break back and win the second set. Can you elaborate on that?
Yeah, it's tennis and it happens. If you lose such game against Isner and Karlovic it would hurt more because you know that it will be difficult to break back. But with guys who don't serve as strong, you still have a chance so you keep playing in the same way you have until then and hope you break back. In that 5-6 game, I went up 0-40 and he still came back to deuce but I was finally able to break back. It was a very tough set. Even if I lost that set, I would have felt ok. He played good and deserved to win the set. He held his serve at 4-3 and 5-4 even though he was down in the game.
Are you physically feeling good?
Yeah, today I felt good. I had two days of rest which helped a lot. I play tomorrow again [vs David Goffin] so I am lucky I won in three sets and not 4 or 5. So I kept some energy for tomorrow [smiles].
For fans who may be curious about what players do between matches, what have you done since the end of your match vs Anderson?
After that long match, I showered, had something to eat, got a massage. I tried to sleep early that night but it was tough. It's not easy to fall asleep after such a long match. It was around midnight when I finally fell asleep I think. The next day, I practiced 40 minutes, maybe even less, just to feel the ball and that was it. Yesterday, I did the same, preparing for the scheduled match. But then we sat all day waiting to see if we will go on the court or not, because of the rain. When it cancelled we went home. I tried to sleep earlier last night too. I did the same this morning, warming up this morning.
On Monday, when we talked you called your season "terrible." Has that changed?
No, now it changed a little bit [laughs] but it's still not great [laughs again].
Thank you, and again, good luck tomorrow!
Thank you!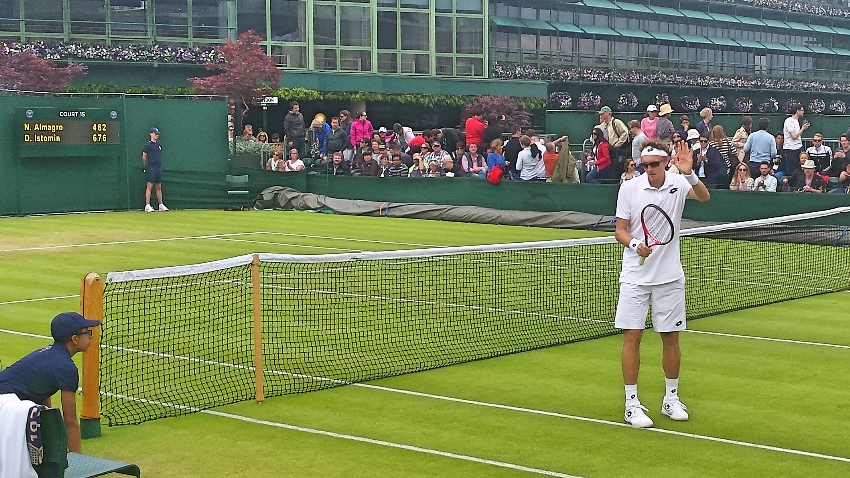 Note: Denis will face the 11th-seeded David Goffin of Belgium on Friday afternoon. It's the third match scheduled on Court 3. I hope to talk to him again following that match.
Click here to follow MT-Desk on Twitter for frequent, live updates from the grounds.